Do you know about no-follow links?! Or are you blogging with no clue about them?
If you are ever in a situation where you don't know whether to give a company a do-follow link? This post will help you!
I see this question quite a bit, "how do you add 'no follow' links?". So today I am going to share with you how to get your 'no follow' links setup.
But before we begin, let's talk about what 'no follow' links are? If you're doing affiliate marketing on your blog or better yet, if you have banner ads placed within your sidebar, then you should probably know that your links should be no-follow links…
But if you don't know about no-follow links yet?
Don't worry!
If you are a blogger and are using affiliate marketing OR getting sponsored for posts on your blog? The first thing that you have to know is that not all links are the same!
Whatever the case may be, let's discover what exactly makes up these links, how to make them a 'no follow' link, so you can stay in good practices with your blogging and of course with Google.
Let's get to it!
"No-follow" Links & Why They Are Important for Bloggers!
Save For Later!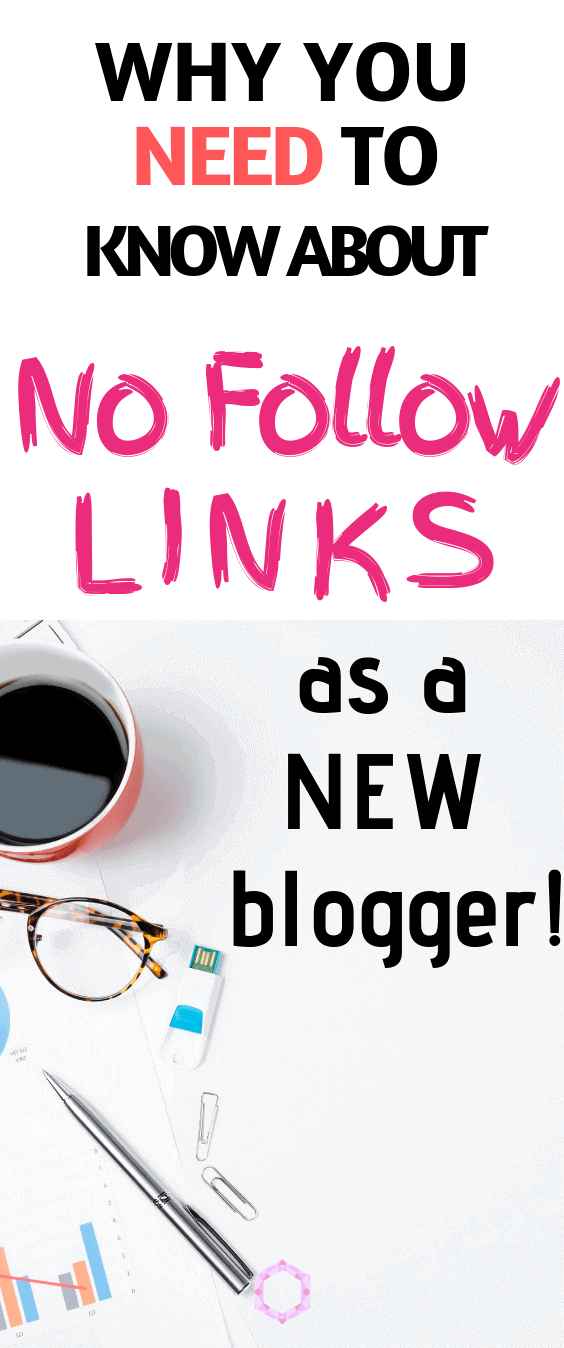 What's the difference between a do-follow and no-follow link
Here's a brief explanation and why you need to know the difference between the two:
It allows both the search engine and the users to reach the site it points to.
It passes the link juice and page rank (very important to know!).
It allows only the users to follow the link and not the search engines.
It does NOT pass the link juice and page rank (also very important to know!).
No-follow links do not allow search engine bots to follow the link. That means if the website owner is linking back to you with no follow attribute, it does not pass on link juice. Only Humans (aka your audience) will be able to follow the links.
Why you need to be aware of them
Now when you have a blog or a website, Google or any other search engines will assign your site some level of authority.
Here's an explanation below…
• Domain Authority (DA) is a search engine ranking score developed by Moz that predicts how well a website will rank on the search engine result pages. This score can then be used when comparing websites or tracking the "ranking strength" of a website over time. Source
You need to be aware of this because you might get your domain authority compromised. Keep reading, this will all make sense towards the end of the post!
Your domain and page authority needs no-follows
There are several things that can hurt your page authority if you're not aware of them and simultaneously there are several things that can increase your page authority if you develop good practices.
Here are 5 tips to follow to increase your domain authority:
1) Work on your on-page SEO
2) Make sure your blog/website is mobile-friendly
3) Improve your sites speed
4) Have good quality content
5) Having really great relevant & quality links
(Having relevant and good quality links are what this post is all about!).
Relevant & quality links
So when you do a do-follow link to another site that means that you're passing some of your authority (your link juice) on to that site. You are basically saying 'Hey readers and Google this is where I want you to go and I give them credit'.
• Relevant links can be in the form of sourcing where you got your information and what your post is describing or selling.
• Quality links are non-compensated links that are also in the form of sourcing and what your post is describing or selling.
Now if and when you place a link on your blog, you are essentially saying to Google that a) the link a great site for your readers that will meet your reader's needs and b) you will stake your domain authority (your reputation) on that link to Google.
Now if a bunch of people links to an article, Google sees that article and thinks that it must be popular and that it must be really important. Also, if a bunch of people links to an article, Google also sees that article as hot and ranks it higher in the search engines.
Google is all about providing the MOST relevant content for its users. It wants you and me to succeed with our search results.
Default links start as a do-follow
The first thing to know is that your default links will always start off as a do-follow. Why? It's the way websites were meant to be built. Linking together was a good thing up until people and companies started to manipulate Google's bots and site crawlers to gain more traffic back to their sites.
Here's a Regular Do-Follow Link: <a href="http://www.google.com/">Google</a> (as you can see this is a regular link)
Here's a No-Follow Link: <a href="http://www.google.com/" rel="nofollow">Google</a> (A no-follow link is with this extra code: rel="nofollow"
If you are a blogger and are hoping to make a living as a blogger, then you need to be aware of the two, how they work, and how to stay in Google's good books.
Google punishes blogs manipulating their links
If you have an article that a lot of people are linking too (that's a good thing!). That's what all we bloggers aim for because it lets Google know that what you are writing is a hot article!
But because Google also investigates those articles (to see their relevance and quality) to see if that article does, in fact, deserve the high search results… If you are getting compensated for that do-follow link, Google will punish you.
How will Google punish you?
Google punishes you and your blog by not indexing your site. If you are linking out to sites with a do-follow and you are being paid for it, your blog will get penalized. Pretty scary! Did you know that if you are paid in any compensation at all, that's against Google's Terms of Service if you have a do-follow on that page pointing towards the company/brand? Google's whole goal is to stop companies from purchasing do-follow links so that it can make the google search engine more authentic and genuine for its users.
When should links be a

"no follow"

?
Now that we know that you cannot tell Google that the article that you are pointing to is an authoritative site if you've been compensated… When should links be a no-follow? First, you should know, that even if you're doing a simple link exchange with a friend, that link should still be a no-follow.
Link exchange is still a form of compensation and Google threatens to stop indexing sites who create content with do-follow links that are receiving link exchanges, sponsored in any way, and yes this includes an exchange of free products!
So if you are linking to your friend's site and you really like it and you want to send your readers over there? Go ahead, because that's totally fine!
BUT if your friend is also linking back to you and you are linking back to them (with do-follow links), that's still a link exchange which means you're getting compensated so it's a bit of a gray area. A few should be fine, but most of your links shouldn't be active link exchanges.
Again if you get products, if you get paid, if you get any sort of compensation in exchange for a link you cannot use that link to tell Google it's an authoritative link (a do-follow link).
Placing affiliate links on your blog
If you are placing Amazon affiliate links, or any affiliate links on your blog, you should be adding the rel="nofollow" tag to your links!
If you are a blogger that is utilizing affiliate marketing, then you need to add "no follow" to all of your affiliate links.
Again, if you're promoting an affiliate offer, and that company has thousands of affiliates like you, Google wants you to no-follow those links because if you don't no-follow those links, that site can rank higher unfairly.
It is totally unfair to be blogging for do-follows and for compensation from them because it hinders your blog, your reputation and it's just not the right thing to do.
ALWAYS "no-follow" links that have potential for you to earn a commission from them.
I can't believe that I am saying this, but advertisers should be paying for access to your audience, not for access to Google!
You will want to get into the practice of adding, rel="nofollow" with no spaces, within your affiliate's link tag.
How to add a "Nofollow" link using WordPress
If you don't have a WordPress blog? Then head on over here, to set up yours in minutes. I go into detail about why I chose WordPress and why it's important to be self-hosted.
So to get around this whole linking thing, so you can get back to blogging, you can download a no-follow plugin and edit your affiliate links to look like this below.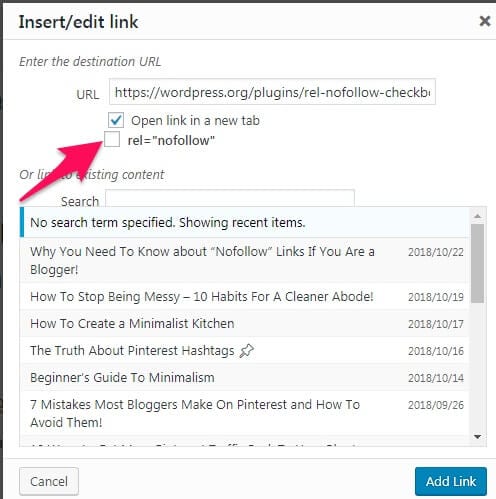 I use the Rel Nofollow Checkbox plugin for my site. It's perfect and all you will need.
You will have to edit the HTML if you do not have this plugin or a self-hosted WordPress blog with Bluehost.
You will want to add: rel="nofollow" (with no spaces) in your links tag. An example of this using a full link again is: <a href="http://www.google.com/" rel="nofollow" >Google</a>
Another plugin that I recommend is called No Follow External Links plugin. What it does is it turns all of your links that are leaving your site (your outbound links) into no-follow links.
This is an aggressive approach but will help you if you don't want to manage each link separately with extra coding.
---
If you don't have a WordPress blog? Then head on over here, to set up yours in minutes. I go into detail about why I chose WordPress and why it's important to be self-hosted.
Oh and if you want your hosting for $3.95 a month? You can go and set up your blog and hosting through my special link here.
---
The good news if you are new to blogging

We all know that growing a site's authority score takes time and hard work.
So if you are new to blogging and worry if you are mistakenly hurting your search engine results? Don't worry! Because you are new and because you have very little do-follow links pointing back to your blog already, your blog's authority level is most probably very low.
In that case, your authority levels can't be any worse. So that's the good news! And now that you know this, it's a great practice to start implementing this practice straight from the start because you can develop good habits from the beginning and naturally grow your authority level!!
Your blog's ranking matters
Having a lot of no-follow links to your site doesn't hurt your site's rankings one bit. But they just don't increase your site's rankings either. So there's no negative to being no-followed there's just no positive to being no-followed either.
What you want to do is you want to get genuine bloggers/people out there to do a normal do-follow link to your blog or to your website and get as many of them as you can. How can you do this? You can start by tackling the 5 steps to increase your Domain Authority Score, which again are:
1.) Work on your On-Page SEO
2.) Making sure your blog/website is Mobile Friendly
3.) Improving Your Sites Speed
4.) Having good quality content
5.) Having relevant & quality links
You have to build relationships & simultaneously create great content that will be worth sharing and linking their blogs too.
How Dofollow links help your blog!
Do follow links are quite handy for growing your blog! This should be your aim if you are a blogger! How you can do this is you can insert all of your do-follow links in your posts sources section or throughout your very informative posts when you are citing information or link to them through infographics that you don't already own.
If you are linking to somebody else's site and they helped you write your post (and it's very relevant to what you have written) then you should probably give them credit with a do-follow.
If it's a reputable source, or if you're citing or if you're linking to a competitor, because you're saying 'hey my competition did a, b, and c' then you want to make those links a do-follow too. Just make sure that you are not being compensated for your do-follows. Google does not like this one little bit.
If companies are asking you for a do-follow
If companies are asking you for a Do-Follow in exchange for sponsorship or goods, here's what to do!
When someone's paying you or you're making money by linking out somewhere, like an affiliate link or advertisement or better yet a sponsored post? Then you want to use a no-follow link when you are linking back to their site.
There's a lot of other factors that determine a site's rankings, but of course, the more do-follow links a website has, it's supposed to in theory help with their rankings. Exchanging do-follows for any compensation is wrong.
Some companies will actually and even willingly email you (sometimes very politely) asking to change your links about their product or service to a do-follow link. It's totally unfair. Compensation for a do-follow is against Google's terms of service and can hurt the level of your blog of authority if done on the regular. So don't do this!
Instead, Politely Email Them Something Along These Lines…
Dear (brand/blogger/company),
Thanks so much for the email and your time!
I am very pleased to provide no-follow links for you in exchange for the article.
However, if you have worked with people that put do-follow links in paid content? Then, unfortunately, they may not know that it can hurt their domain authority score that Google provides.
Google threatens to stop indexing sites who create content with do-follow links that are sponsored in any way and this includes free products.
Here's more information I dug up on this… https://support.google.com/webmasters/answer/96569?hl=en. & https://www.shoutmeloud.com/understand-dofollow-nofollow-link-SEO-basics.html
That's why, unfortunately, I can't take the risk. I do, however, understand why you would want them but fortunately, I take my domain authority very seriously as I continue to grow my blog.
I really do hope to have future content/partnerships with you and respect your wishes. So please do let me know if we can continue working together.
Thank you,
(Insert your name and blog)
And last, if the brand is an authentic brand, then they should know that asking you for do follow links is wrong.
Remember, if it's a site that you want to give authority too and give up your link juice too, then with the plugin route you can just turn the links that you want to a do follow when you come across them.

Work with brands that see your growing brand/blog as an opportunity to introduce them to your audience and that see's your worth. A lot of bloggers get used and abused out there.

Make sure you are doing it authentically and growing your site organically and you should run into little to no problems with Google.

If you have a lot of content on your blog then changing all of your links may seem like a daunting task. So start off with the ones that are on your sidebar first because they appear on every page of your blog.

You want to have a good mix of do-follow and no-follow links on your blog.
---
Moving forward just remember rel equals no follow and as long as you do that you'll be all right. As long as you're doing regular direct traffic building for your blog then you should be in good shape!
Thanks for reading and I have more useful tips like this coming your way, so make sure you subscribe to my newsletter and I'll see you in the next post!
No matter how you feel, know that blogging takes time and consistency. Get back on track, think positively, and you'll do just great!
**P.S KEEP READING IF YOU HAVEN'T STARTED A BLOG BUT WANT TOO!
I really do have to say that starting a blog has really enabled me to be able to make a decent income from working from my own abode.
Secondly, It's pretty apparent that I LOVE blogging…
This was one of the best decisions that I have ever made! I make a decent income now, and my income reports will eventually be coming out to prove to you that this is a legit side hustle and J.O.B!
But I don't do it alone because I have some epic tools (that feel like employees of the most part) that help me hit my numbers and goals each month.
So check them out below, and… If you haven't started a blog, but really want too? Then THIS POST HERE has the basics of starting a WordPress blog (like mine) and after the guide… make sure that you check out THIS POST HERE because it will help you AFTER you have set up your blog and give you the tangible advice that you need, on what to do next.
My Other blog tools that are awesome:
Tailwind – This is a blogger's best friend and their MOST favorite scheduling tool for sharing content on Pinterest because Tailwind saves SO much time, effort and it even increases your traffic and followers. IT'S WORTH EVERY PENNY!!!
ShareASale – This is a great place to find TONS of affiliate programs if you want to start earning money on your blog with affiliate sales! This is my #1 GO TO affiliate network for my affiliate sales and where I made my FIRST $100 dollars just after my first-month blogging! ? YOU CAN SIGN UP FREE HERE!
ConvertKit– This is the MOST popular email newsletter provider. WHY? Because BLOGGERS find it extremely EASY to grow their email list with ease! It's totally worth the monthly fee because it's super easy to create email courses AND give away freebies in just a few simple steps.
Now I want to hear from you!
Do you have any tips with Do-follow & No-follow links?! Feel free to leave your answers below and someone else here may want to learn from them 🙂
Hi, my name is Rebecca and I am the face behind Everything Abode! I am a lifestyle and wellness writer based out of Vancouver Island. When I'm not writing or exploring mountains and beaches with my furry rescue, I love spending time learning creative ways to manifest a healthy home. Thanks for stopping by!
Subscribe to Get the Tools That Make My Blog Successful!
When you join my newsletter, I'm going to send you insider advice and tools that I use to grow my blog! I only save the BEST for my email list so don't wait!