A vegan berry crumble is the perfect summertime treat! This dish is fruity and easy to make. It will be warm and cozy on a cool night or crisp when served for breakfast!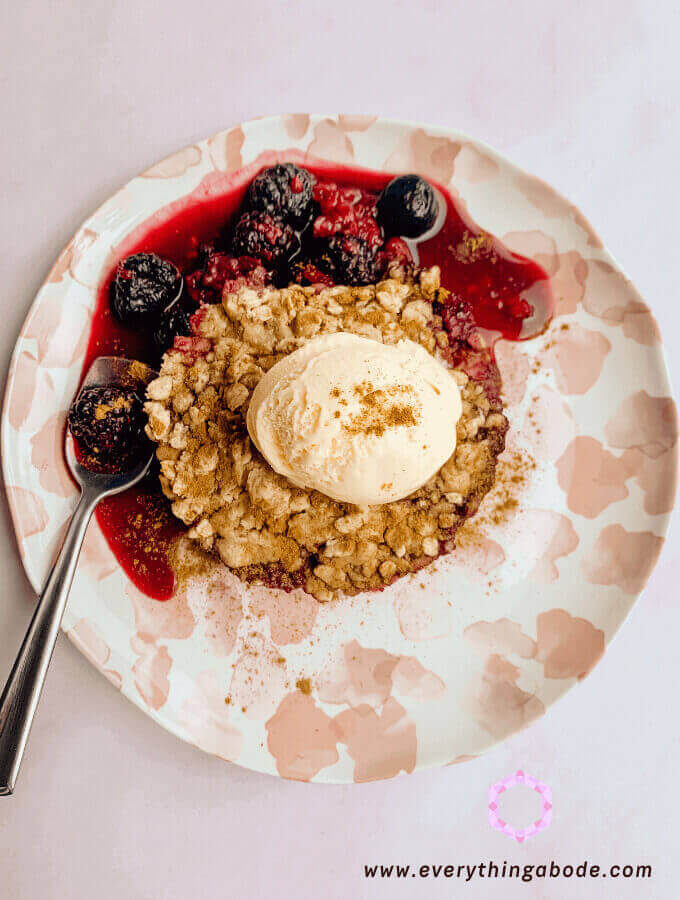 Berry-packed, and easy to make, making a vegan berry crumble all for yourself will hit that sweet craving in no time at all.
It's warm and comforting with a crumble topping that makes it entirely irresistible.
You can enjoy this for an after-dinner dessert but I like having this recipe on hand as an indulgent weekend breakfast treat!
The best part about making this dessert for yourself too is you know exactly what ingredients are going into your dish (no preservatives!), so there's little to no guilt when enjoying your homemade vegan berry crumble for yourself in moderation – which means more room for ice cream!
How to Make an Easy Vegan Berry Crumble Recipe

Why Make a Vegan Berry Crumble?
It's hard to decide between a berry crumble and a pie. But I like this recipe because it takes way less time than making a pie and it still tastes just as good.
The only thing you need is the fruit (berries!), some sugar (or a sugar alternative, I used Swerve), your choice of flour, oats, and a little bit of cinnamon for flavor–easy peasy!
It doesn't have any crust (that sticks to the pan) which means there will be no messy edges to clean up. All you have to worry about is eating the crumbles left on your plate after every bite of deliciousness with your choice of ice cream or yogurt.
I don't know about you, but I can't think of a better way to celebrate berry season than with a crumble! It's vegan and it won't disappoint; with only 7 ingredients needed; there's no excuse not to make one today!
What you will need:
Fresh or frozen berries

Maple syrup

Sugar (of your choice)

Fresh oats (instant or whole)

Flour

Vegan Butter or Coconut oil

Vanilla extract
How to make a single serving vegan berry crumble.

You'll love how nutritious and comforting this vegan berry crumble tastes while it still being irresistibly decadent!

Requiring just 7 ingredients and 2 bowls to prepare, start by adding the berries directly into a baking dish then top the fresh berries with a little vanilla extract and sugar of your choice to bind the acidity! Let stand to room temperature if you are using frozen fruit.

Using a second bowl, add all of the dry ingredients directly together, then add vegan butter or coconut oil, maple syrup. Mix until the toppings form moist crumbs (see picture above for reference).
Cover the mixed berries with the crumble topping and pack it tight like a dough, bake for 15-20 mins until it is golden brown until the berries start to juice and bubble around the edges of the baking dish.

Add a pinch of cinnamon, nutmeg, lemon zest, or ginger to the recipe, serve warm and the end result is both vegan and tasty!
*Optional – Top with your choice of ice cream or yogurt so that it can melt all over your dessert when it's ready to eat. Yum!
If you would like to make this vegan berry crumble for two or three people? Just tap the scale button located in the recipe card and use your oven-safe dish of choice!
[tasty-recipe id="19220″]
This crumble for one is the best! It has a sweet, rich flavor and just enough crunch. Give it shot to see if you like it too! Leave feedback in the comment section or use the hashtag #Everythingabode on Instagram for a chance to be featured!
---
You May Also Like:
Subscribe to Get the Tools That Make My Blog Successful!
When you join my newsletter, I'm going to send you insider advice and tools that I use to grow my blog! I only save the BEST for my email list so don't wait!