Learn all about the wood pendant light style —where to hang them—to add a hardworking and focused light source as a stylish focal point for your home.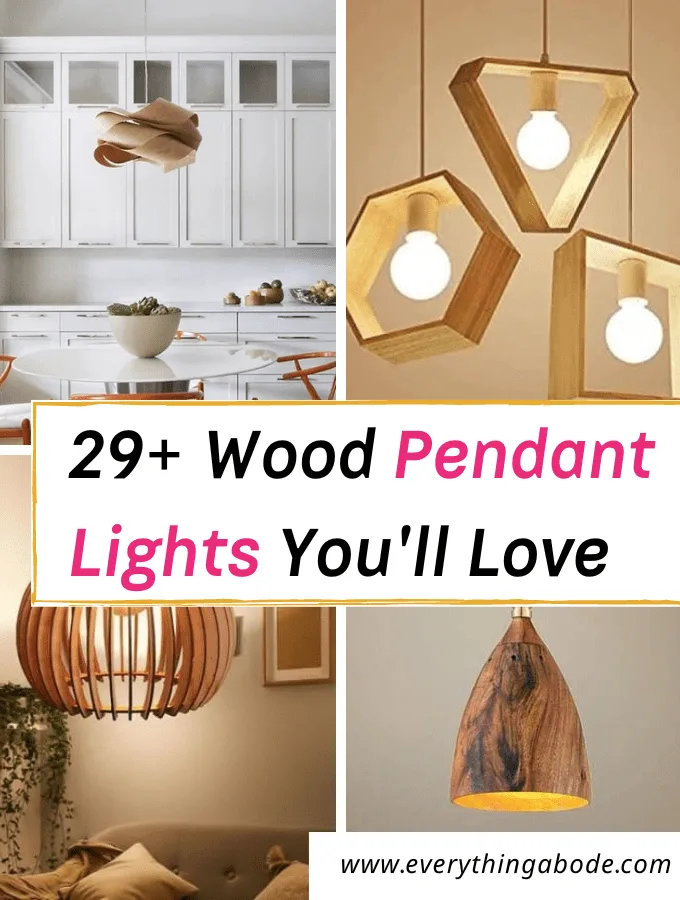 Whether you are looking for an elegant or rustic touch, a wood pendant light suits your needs. These fixtures are perfect for foyers, hallways, dining rooms, and living rooms.
Pendant lights, also known as drop or suspenders, are single light fixtures that typically hang from the ceiling.
Pendant lighting is usually suspended by a metal rod, cord, or chain and is typically hung straight over countertops, dinette sets, sometimes in bathrooms, or even over bedroom nightstands.
What's the purpose of a pendant light?
Pendant lights are excellent lighting sources for task lighting, as this is what they do — they focus light in a singular place.
Why should you choose a pendant light for your home?
They are practical and durable and are an alternative to a heavy chandelier.
Pendant lights provide great ambient or task lighting.
They come in various shapes and sizes, so there shouldn't be a problem finding the right light fixture to suit your home's decor.
These hanging fixtures add brightness and style to any room in the house, especially since the wood feature will add a natural element to the home.
What wooden styles do pendant lights come in?
Since wood can be shaped in many different ways, the opportunity to find one you love is limitless. They can range from mini cylinders measuring 4 inches in diameter to large wooden domes measuring 30 inches in height and 30 inches in length.
Depending on what you are looking for, you will know the design you love when you see it.
What is the cost range of wood pendant lights?
According to This Old House, depending on the size, a 4-inch, colored-glass "mini" pendant from the home center starts at $25; larger hand-wrought metal fixtures and ones with blown-glass shades can go for $500 and much, much more. It all depends on the make and style.
Three questions to ask before you purchase your new light fixture:
How many pendant lights do you need/want?
As a general rule in interior design, the number of one, three, or five fixtures is better than an odd number. Suppose you place the fixtures on a kitchen island, install them evenly, and space the shades between the center and the edges of the shades 24 to 30 inches apart.
How BIG or small do you need the lighting to be?
The pendant shade should be scaled to the space or the room's most prominent piece of furniture. For example, to create a visual buffer, when installing pendant lights over objects, ensure it is minus 1 foot on either side of whatever it is hanging over.
How bright do you want your pendant lights to be?
Aim for 2 watts per square foot for ambient lighting with incandescent bulbs— roughly 200 watts for a 10-by-10-foot room.
If you paint rooms with saturated colors or have dark-stained trim, you can increase the output up to 50 percent.
The rule of thumb for task lighting is 15 watts per sq foot. But you can add more light by installing a dimming device.
Tip: To quickly change the mood and atmosphere in a room, install a dimming switch to get extra lighting options to create a beautiful space!
29 Best Wooden Pendant Lights You'll Love
These light pendants also sit at a wide range of prices, so no matter what your budget is, you will be able to find something incredible for your home.
Check out these best wooden pendant lights that'll make your next home decor project super easy this year! They are the best wood pendant light fixtures that will stay in style for many years!
1.
This dome pendant illuminates your living space with downcast light and an eye-catching style. Shop this Single Dome Pendant with Wood Accents on Wayfair.
2.
This pendant lighting is made from high-quality natural wood and perfectly captures the farmhouse charm. It is entirely handmade. The farmhouse light fixture shines more because of its unique framework.
Shop this Geometric Wooden Pendant light on Wayfair.
3.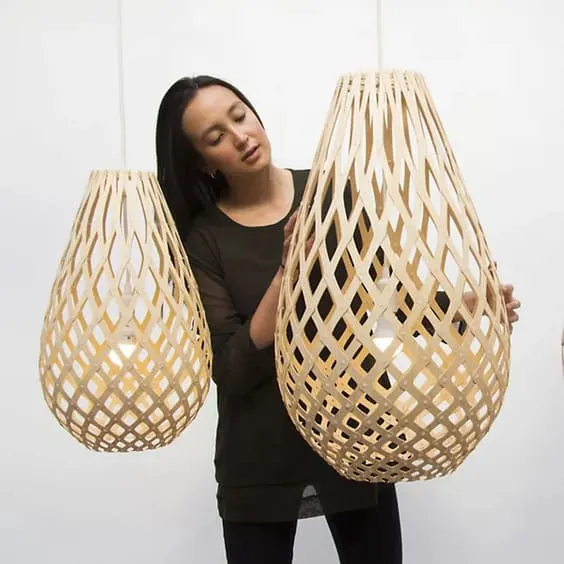 Comprised of natural bamboo pieces in the shape of the same woven traps used for catching koura, the teardrop shape is elongated as if being pulled out of water. Shop this Koura Pendant by David Trubridge on Lumens!
4.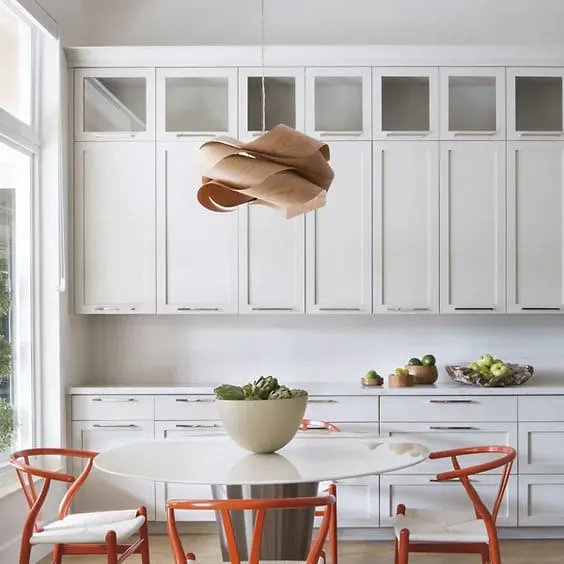 Link's sumptuous curves create an organic yet regular pattern that endlessly engages the eye and glows in tones from light to dark. The lamp also explores the maximum potential of veneer wood. Shop this Link Pendant by Ray Power on Lumens.
5.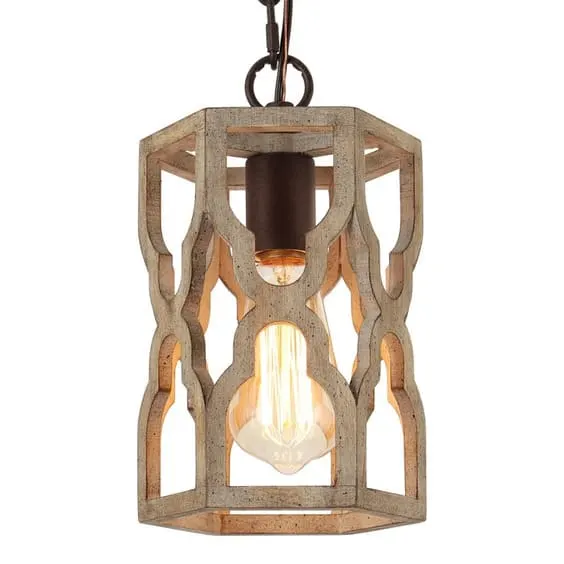 This Light Wooden Farmhouse Single Pendant Light can be a great decoration in your living, dining, entryway, bedroom, or foyer. It is made from top-quality natural wood and perfectly captures farmhouse charm.
Shop this Light Wooden Farmhouse Single Pendant Light on Wayfair!
6.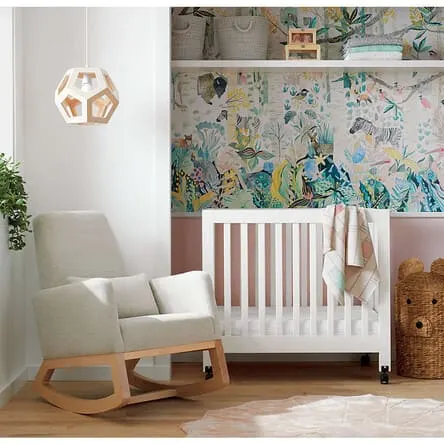 Wood Geometric Pendant Light has all the angles. The caged design is up-to-the-minute modern, while natural pinewood construction gives it plenty of warmth. Shop this Wood Geometric Pendant Light on Crate and Barrel!
7.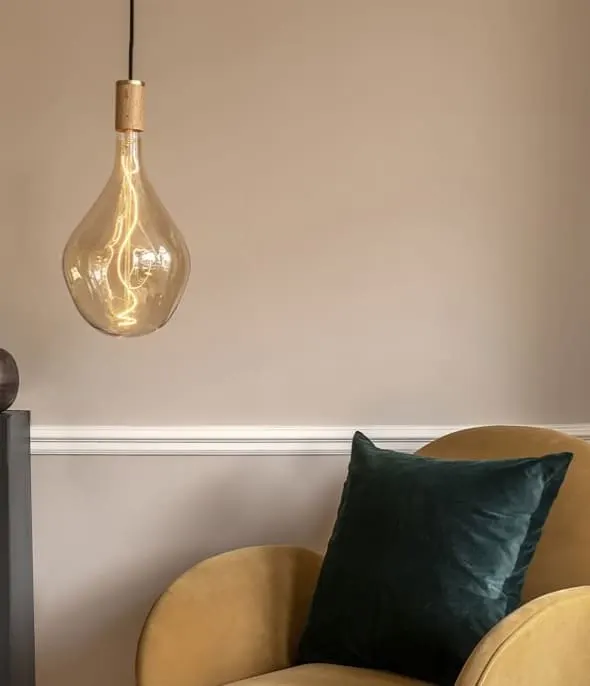 Add vintage flair to your living space with the Tala Pendant and LED Voronoi III Bulb. Featuring chic brass or wooden accents and an intricate, exposed bulb, this pendant will give your room a soft, warm glow. Shop this Tala Wood Pendant w/Voronoi III Bulb on West Elm!
8.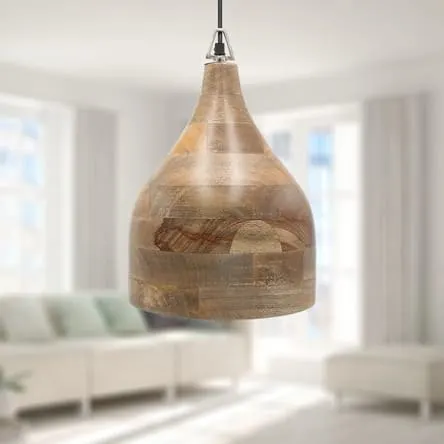 Add some delicate lighting to your home with this 1-light wooden teardrop pendant. This pendant includes a black adjustable cord for various mounting height options, and it can be adjusted anywhere from 19-77 inches high!
Shop this Teardrop Wood Pendant on Overstock!
9.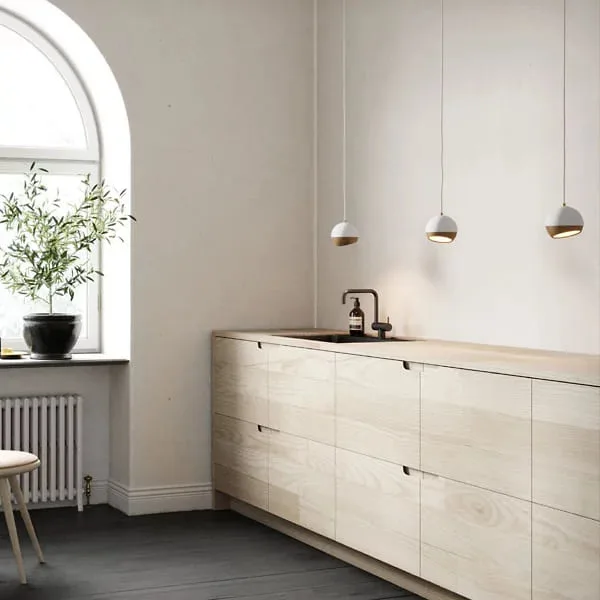 Satisfying mother nature, this pendant uses FSC-certified wood harvested from ethically maintained forests! The wood shades also pop with warmth and organic detail and can adjust to your desired position. Shop this wooden mini pendant light fixture on Lumens!
10.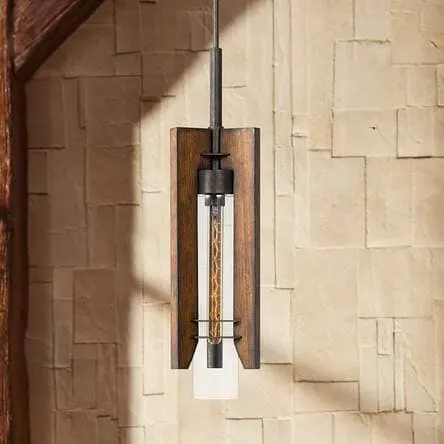 Light up a nook or reading space with targeted illumination, adding this dimmable mini-pendant to a casual, rustic area. Get this Pinewood Mini Pendant Light on Lamps Plus!
More Unique Wood Pendant Lights You Can Buy Right Now!
11.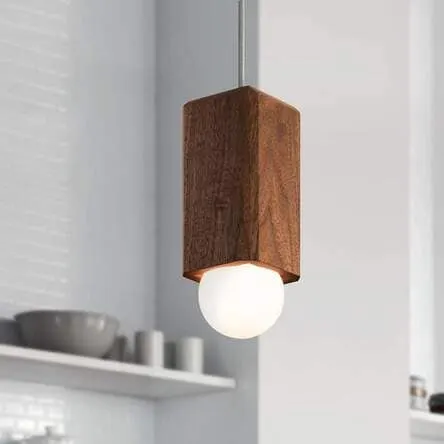 Shop this Walnut LED Mini Pendant Light here!
12.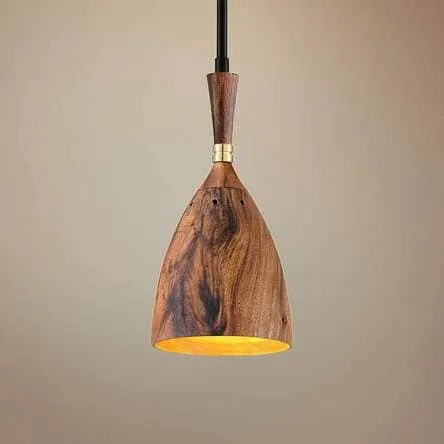 Get this acacia wood pendant light at Lamps Plus.
13.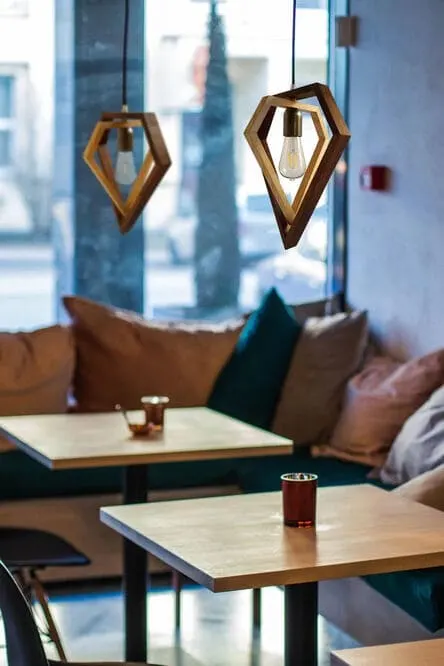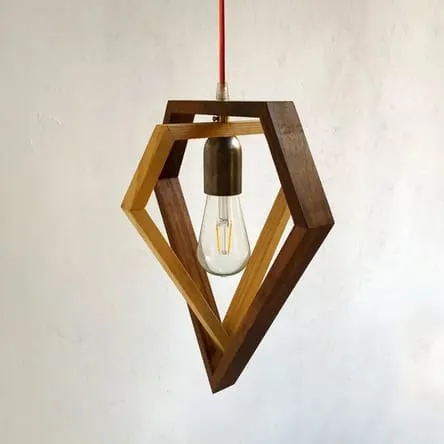 Shop this high-quality solid wood handcrafted pendant light here!
14.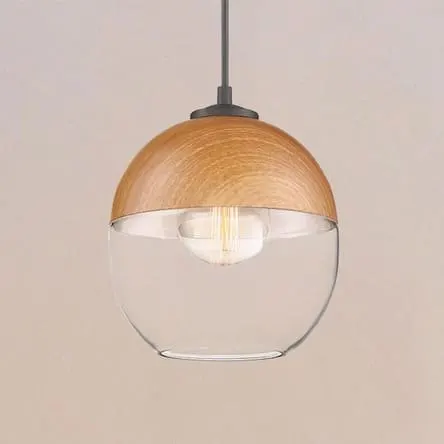 Shop this Robusta Wood Style Finish Hanging Pendant here!
15.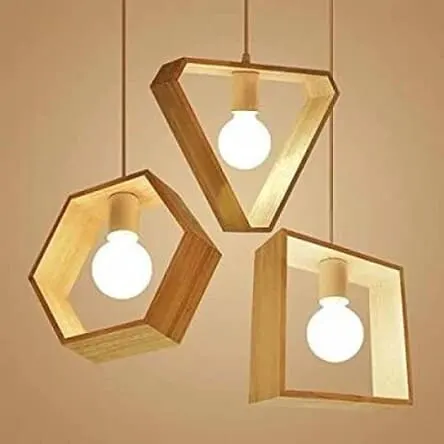 Shope this Square Triangle Hexagon Hanging Ceiling Lighting on Amazon!
16.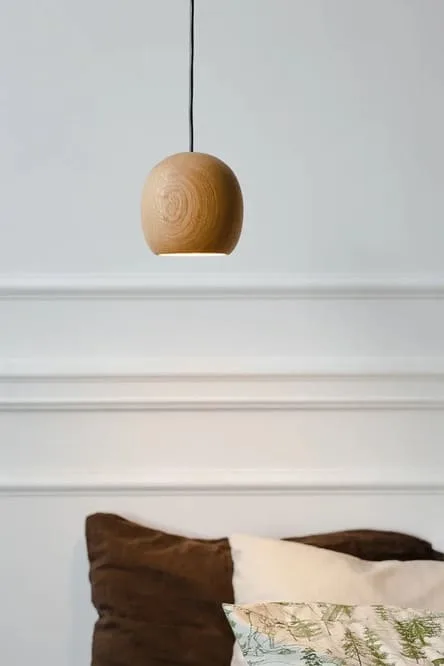 Shop this round wooden pendant light on Etsy!
17.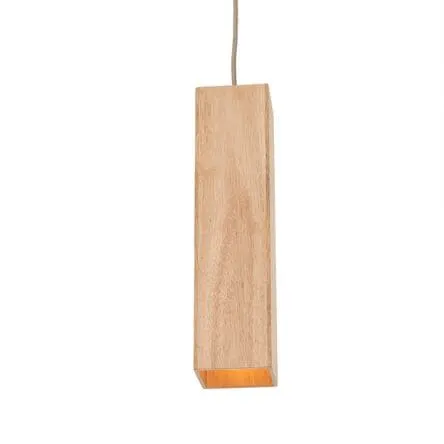 Shop this West Elm Dawn pendant fixture here!
18.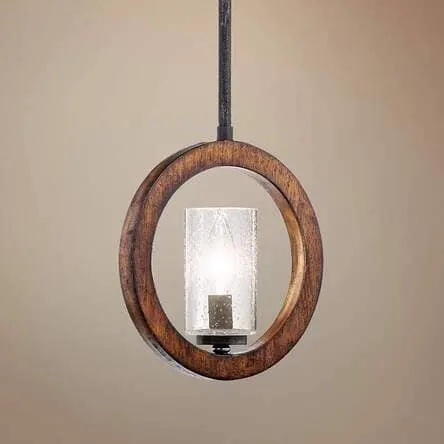 Shop this round wood pendant light at Lamps Plus
19.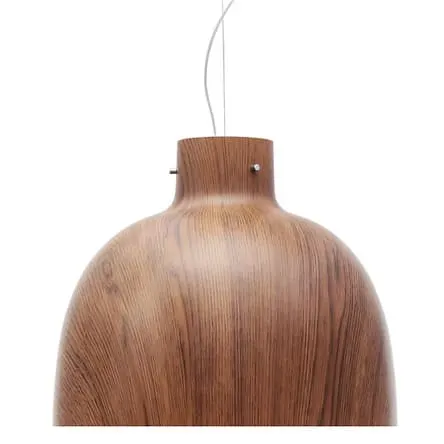 Shop this Bellissima wood pendant light on Lumens!
20.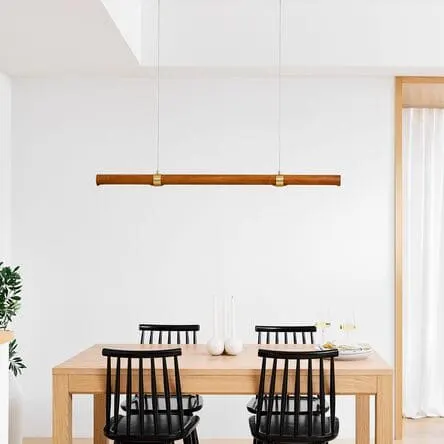 Shop this pendant light on West Elm
21.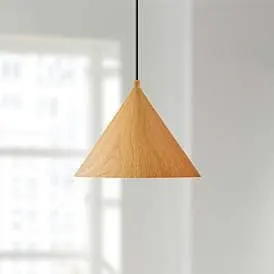 Shop this small wood pendant light on Lamps Plus
22.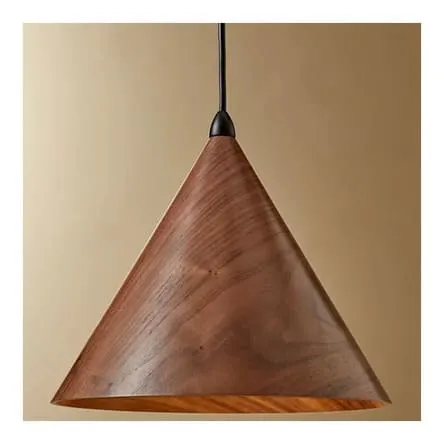 Get this Designer Wood hanging pendant on Lumens!
23.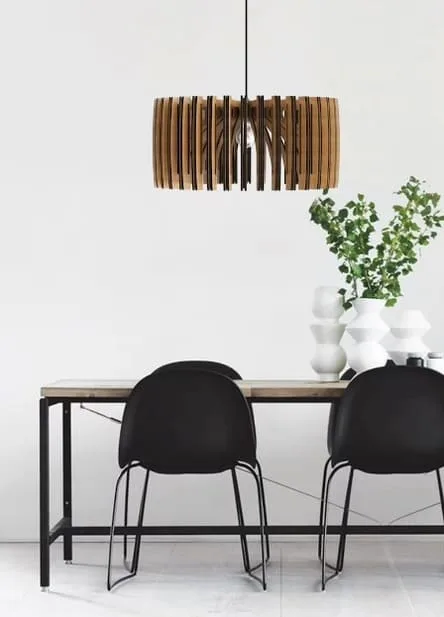 Get this wooden light fixture on Etsy!
24.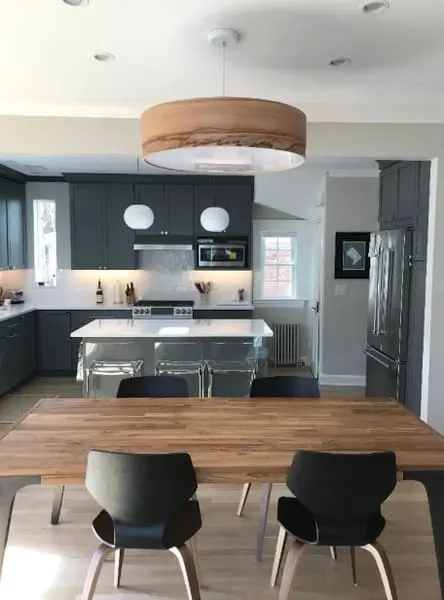 Shop this wooden dining light pendant on Etsy!
25.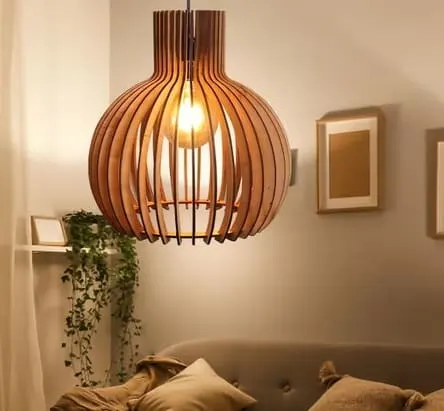 Shop this wooden dome pendant light on Etsy!
26.
Shop this Scandinavian Style Wood Pendant Lamp Shade here!
27.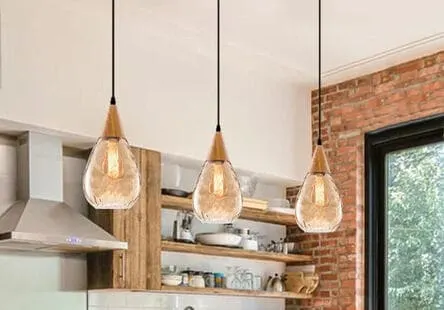 Customer review: "We are so close to having this installed; I can barely stand it. They are so gorgeous in the box! I'll post an update once they are up."
Shop this glass pendant light with a wooden feature on Etsy!
28.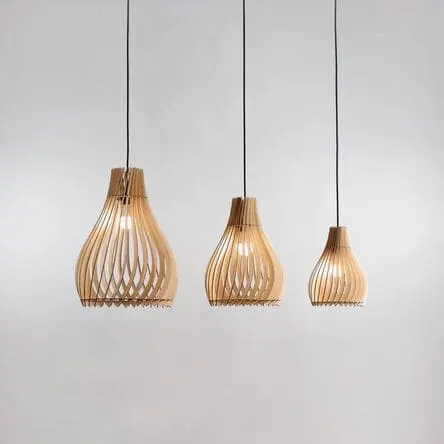 This wood pendant light creates an ambient atmosphere with a soft luminosity that is pleasant to look at on or off. Get this Modern pendant light with wood on Etsy!
29.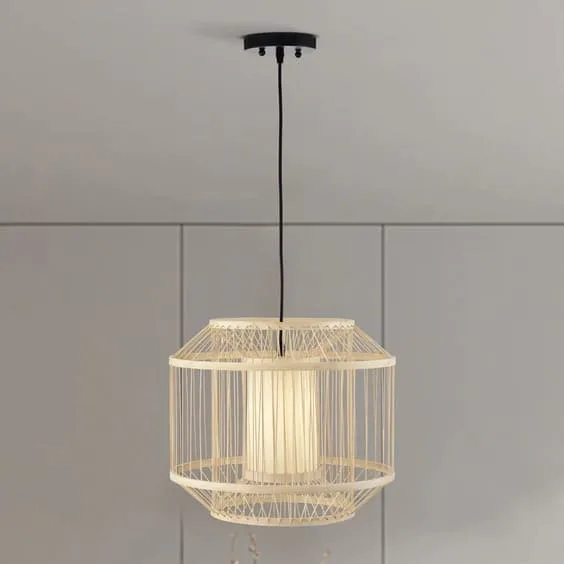 This 1-light pendant will illuminate your home in a bold, boho-chic style. The fixture is made of open-cage rattan and emits a warm, ambient glow. This fixture is ideal for creating a stunning centerpiece above dining rooms and kitchen islands.
Is rattan wood? Although Rattan is a Southeast Asian plant, it is closely related to the palm tree and grows like a tree. And it is considered the most robust wood in the world.
There are close to 600 species in its family. Depending on the piece's design, it can be shaped into many different design styles.
You can shop this rattan wood pendant light at Wayfair
Wood pendant light fixtures FAQ.
Is it easy to install pendant lighting?
To add pendant lighting to your house, you don't necessarily need to be an electrician.
Granted, always read the labels and stay safe when installing anything that can become a hazard to you and your home; however, many pendant lights can come with a long decorative cord and be easily plugged into the wall near where the lamp's going to be positioned.
Easy installation allows the lamp or light to be suspended from a hook, which is usually pretty quickly screwed into the ceiling.
This is why pendant lighting has become increasingly popular for interior decoration in recent years.
What should you do with a pendant light that comes with wires?
If you buy a pendant light fixture with wires, they will most likely come with color-coded wires making installation a snap.
However, if you don't know what you are doing, always consult a professional to help you during installation.
Always read the labels for safe wiring and installation with any interior decorating or home improvement projects you do on your own.
What are the best pendant lights?
Wooden pendant lights are the best to install as they can be easily decorated, shaped, and styled in many different ways.
Striking light fixtures, such as a wooden pendant light, can also make a living space complete, as wood elements are extremely cozy to the eye.
Wooden accents can also easily brighten your living room chair or create a focal point around a fireplace mantle if you install pendant lights in a living room.
Can pendant lights come in open or closed shades?
Closed shades, such as opaque globes in schoolhouse style, can soften the light and conceal the bulb.
Shades with an open bottom create bright spots below them. Shades with open tops like drum shades bounce light off of the ceiling.
How low should pendant lights hang?
According to Better Homes & Gardens, generally, they can hang wherever you want; however, pendants should typically hang 12 to 20 inches below an 8-foot ceiling.
For each additional foot of ceiling height, add three inches.
For example, in kitchens with a 9-foot ceiling, the pendant should hang 15 to 23 inches below.
What other shapes and styles do pendant lights come in?
Lastly, if you didn't find what you were looking for in the roundup above, here are a few more design ideas to consider.
For instance, you can find a traditional pendant lamp with a natural wooden shade or a design that looks like a ship's wheel or bell.
Some designs are made to look like an old door latch or even a tree trunk. They can also be paired with wall lights to create a beautiful effect.
You can also find rustic wood pendant lights that look like they're from the Old West. Many of these fixtures use a metal chain or chain-like design to suspend the light. They are popular for use in a farmhouse or log cabin-style home. They also complement hardwood floors and other wooden decor very nicely.
You can also find wooden pendant lights that are made to look like mason jars. These lights feature impurity-free glass jars filled with bright, energy-efficient bulbs. These are great for a kitchen but also look great in any room.
---
A guide to wood pendant lighting final thoughts.
There you have it! As you can tell, there are some pendant lights that diffuse light across large areas, which creates a warm glow in either your foyer or staircase landing, and some focus their bright beams on one central spot, such as a cutting board, kitchen island, or a family photograph on the living area credenza.
Whatever you decide to get, know that wood pendant lights are a great choice, as they complement a home nicely for many years.
Happy home decor shopping!
Welcome to Everything Abode, your daily inspiration for every activity at home!
Our goal is to inspire you to live an elegant and chic lifestyle from the comfort of your home.
We'll help you express yourself through authentic style, aesthetic beauty, and stylish home decor.
Subscribe to Get the Tools That Make My Blog Successful!
When you join my newsletter, I'm going to send you insider advice and tools that I use to grow my blog! I only save the BEST for my email list so don't wait!