It's crafting season!
And that means its a great time list some crafty inexpensive fall decor fun wreaths to make!
As we all know a great fall wreath is one of the most beautiful fall decorations for your home when the colder months start rolling in.
Fall wreaths are the most ideal fall decoration to have in the fall season and that's because as far as the inside of your home goes, it can buy you a little more time to decorate.
Plus when your friends, neighbors, or guests come over, they'll see that your door is decorated and they'll ask you all about it.
And that's something to feel most proud of, because hey, you made it after all.
Sadly, when it comes to fall wreaths, they are just so darn expensive at the retail store.
And you'll be surprised that they aren't that complex or costly to make.
Yes, you can have a lovely fall wreath, all of your own, for the fraction of the price and in minutes.
So take a look at these 15 festive DIY fall wreaths that'll surely inspire you to start crafting this season.
15 festive DIY fall wreaths to make
Supplies you may need:
1. Fall Embroidery Hoop wreath.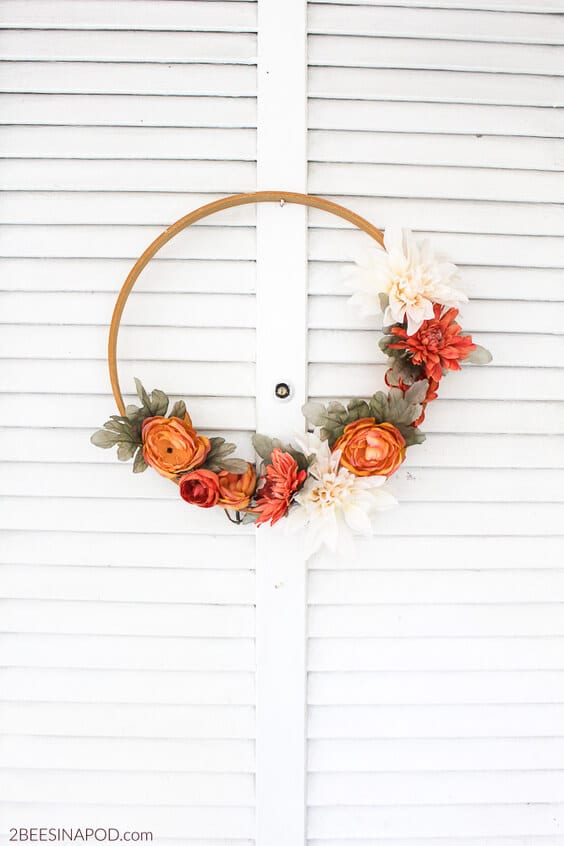 Can you believe this wreath only takes 15 minutes to make? Now that's pretty awesome. It is one of the easiest craft projects you can undertake and it will look fantastic on your front door!
2. Fall Hoop Wreath DIY.
Nothing says fall more like pumpkins and this simple DIY wreath project can be customized to your liking. Bonus!
3. High-End Style DIY Fall Wreath on a Budget.
You'll LOVE how this wreath looks on your front door! It's so soft and pretty, yet totally fall.
4. Make a Fall Wreath from a Thrifted Picture Frame.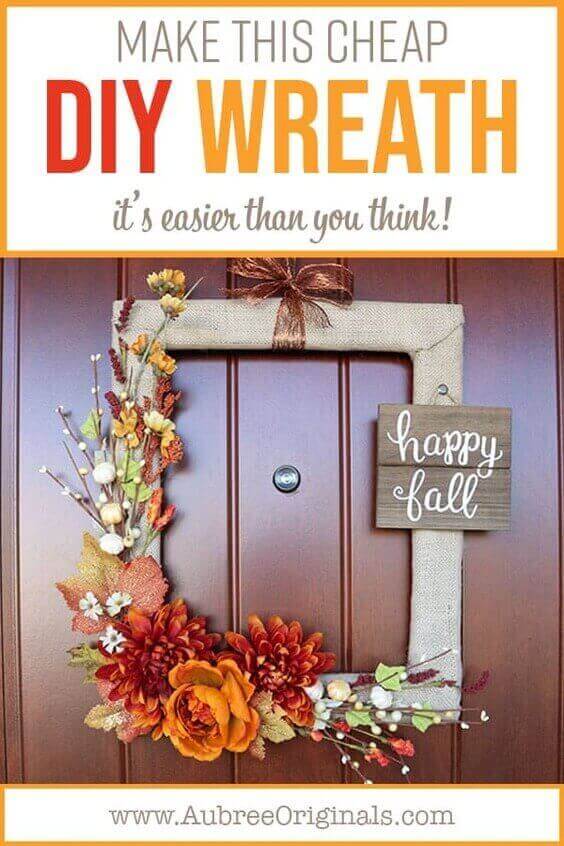 You'll love how easy and cheap this DIY is if you have an old picture frame to make it with! It even comes with full video instructions.
5. DIY fall dream catcher wreath door decor tutorial.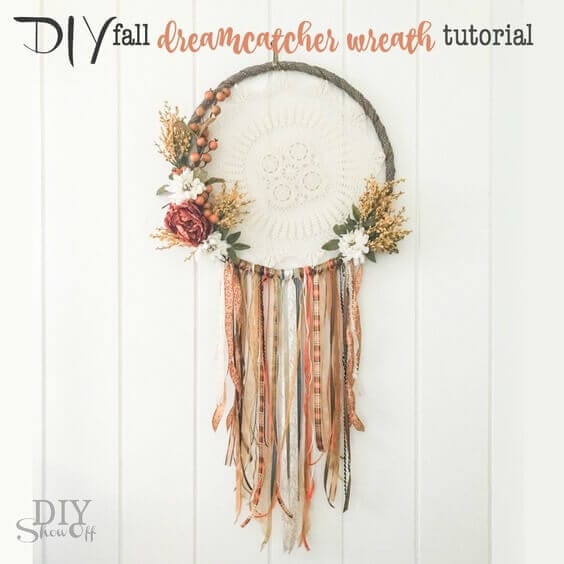 If you are into the Bohemian look then this wreath is for you. It's not only beautiful but most of all it is lightweight for its size!
6. DIY Metallic Leaf Wreath with Painted leaves.

This simple burlap and dollar store leaves wreath has all the tones of fall that's just a little glammed up a bit!
7. Copper and Aqua Gradient DIY Pumpkin Wreath.
If you decide you want to re-purpose and mix up supplies from last fall? Then this wreath is for you!
8. DIY fresh sage wreath.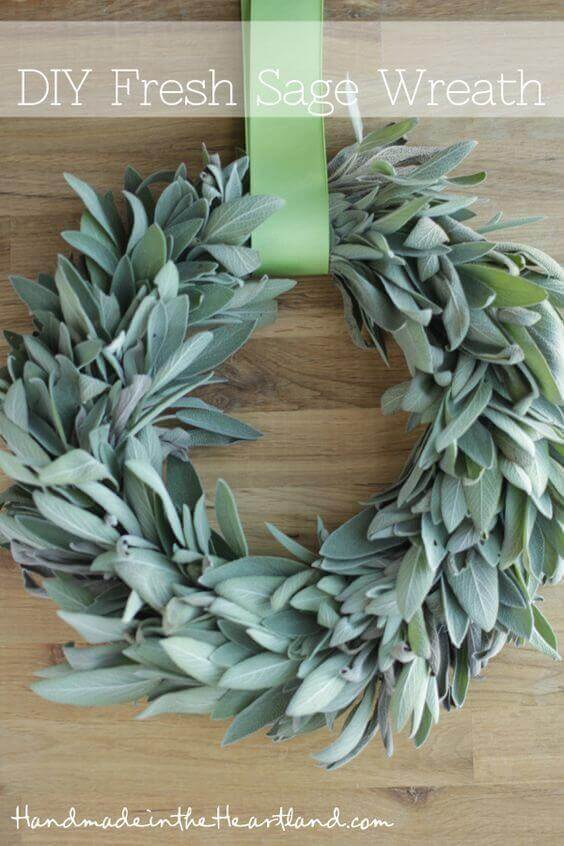 Do you love the smell of fresh sage? Then this Gorgeous Fresh Sage Wreath Tutorial is calling you to make it!
9. EASY Fall Tea Leaves Wreath Tutorial.
What's better than fall paired with tea leaves? This wreath is jam-packed with leaves which gives it its rustic texture!
10. DIY Fall Wreath with faux hydrangeas.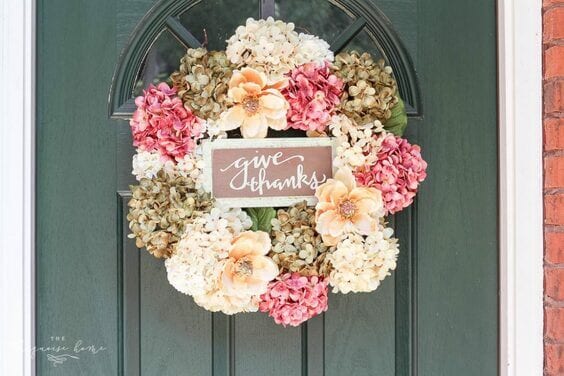 This wreath is super easy to make, it's going to blow your mind. Give it a go and don't forget to place some of those faux hydrangeas around the house as well.
11. Harvest Wheat Wreath.

This easy to make straw and wheat fall wreath will add that fall feel that you are going for. Plus the burlap ribbon adds some simple yet elegant style.
12. A Fabulous Fall Bleached Pinecone Wreath.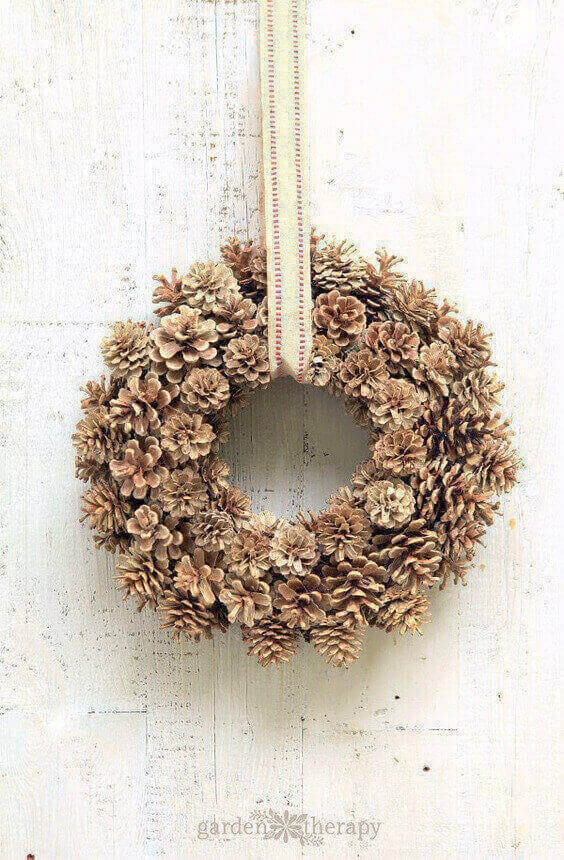 In this easy DIY, bleaching some pinecones are really all there is to it. You're already halfway there if you own a hot glue gun.
13. Eucalyptus Fall Wreath.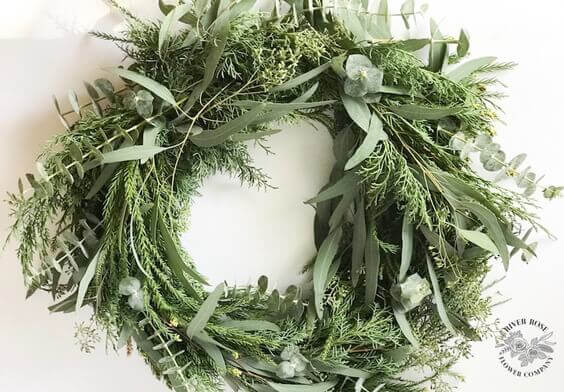 Eucalyptus smells great and is really easy to work with and as long as you keep it secure from the elements… This wreath could remain on your door throughout the year!
14. Ombré Fall Wreath.

All you need to do to replicate this sunburst shape is a hot-glue gun and a few layers of corn husks.
15. Chalkboard Fall Wreath.

If you like writing inspirational sayings? Than this chalkboard wreath will give your seasonal decor a nice touch. You can write cute and thoughtful greetings for each day in fall.
---
Any of these DIY fall wreaths will leave a comfortable and festive look on your front door, just in time for fall. Which one will you make?
You may also like:
Hi, my name is Rebecca and I am the face behind Everything Abode! I am a lifestyle and wellness writer based out of Vancouver Island. When I'm not writing or exploring mountains and beaches with my furry rescue, I love spending time learning creative ways to manifest a healthy home. Thanks for stopping by!
Subscribe to Get the Tools That Make My Blog Successful!
When you join my newsletter, I'm going to send you insider advice and tools that I use to grow my blog! I only save the BEST for my email list so don't wait!