If you want to quickly and easily decorate your home with the Christmas spirit and lack the time, try festive Christmas window decorations! Choose from candles, wreaths, garlands, and more!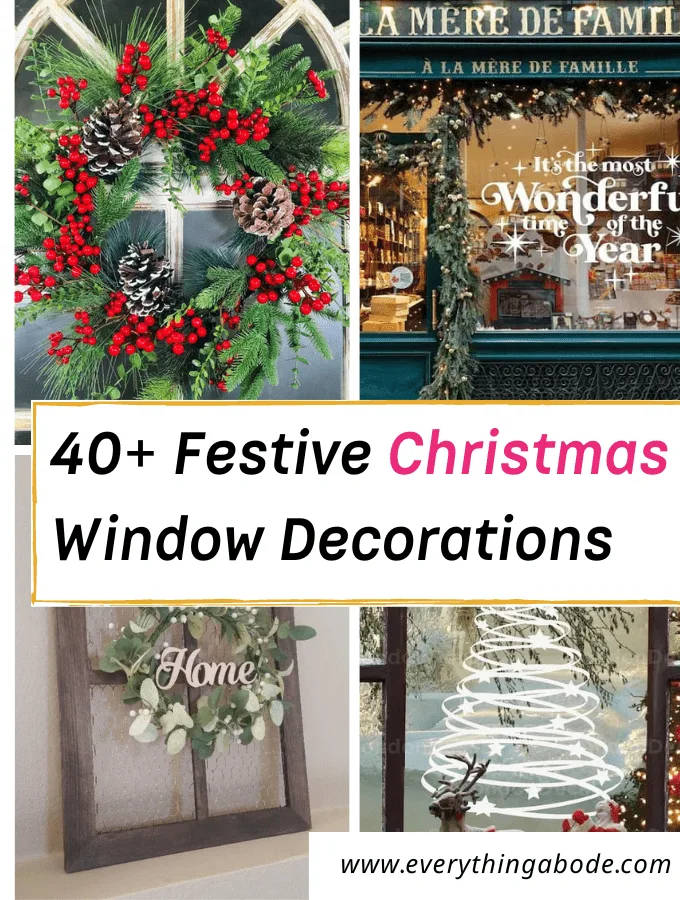 Are you looking to decorate your home for the holidays the easy way? Try decorating your home's windows with Christmas window decorations.
Christmas window decorations can feature small and large window stickers and decals, all the way to lighted-up figurines, to help prepare your home for the holidays this year.
Moreover, the gorgeous Christmas window decorations we found just for you are great for decorating your home indoors and outdoors.
However, before we show you the round-up of our most favorite Christmas decorations to adorn your windows, here's why you should focus on your home's windows when decorating for Christmas…
Why focus on windows when decorating for Christmas?
If you have big or wide windows at home, window Christmas decorations are just the perfect additions that will instantly elevate your home for the festive season.
They're super quick and easy to apply, and if you want to go the extra mile, you can even have them customized to your liking!
Our favorite Christmas window decorations are easy-to-apply window stickers or cling (you'll see several below!).
And there are loads of festive window stickers that you can find online, but the best part is that they're also very affordable – we're talking as little as $15 in some cases!
Things to consider when decorating your home's windows.
Home is where every square inch is merry and bright.
There are many Christmas window decorations available, and top considerations will vary depending on the type of decoration you choose.
However, here are a few things to consider when decorating your home's windows this holiday season…
Christmas lights, stars, and other novelty items are often corded. So you'll likely need an outlet nearby or an extension cord.
It's okay to hang them outside, as long as there's a cover from the rain. For example, Pre-lit artificial wreaths are usually battery-operated.
Other options, such as LED Christmas candles, stained-glass ornaments, or decals, require little to no preparation.
Window decorations can last for many seasons. Most come with mounting materials, and some even have storage boxes.
Pre-lit wreaths are the most expensive, followed closely by lighted decorations.
You can get decals for as low as $15 if you are on a tight budget and need to decorate all your windows in less than a day.
Now let's look at these magical window Christmas decorations ideas and decor that'll put a smile on even Santa's face this year!
The best Christmas Window Decorations to Deck Out Your Home
1. Festive wreaths in symmetrical pairing.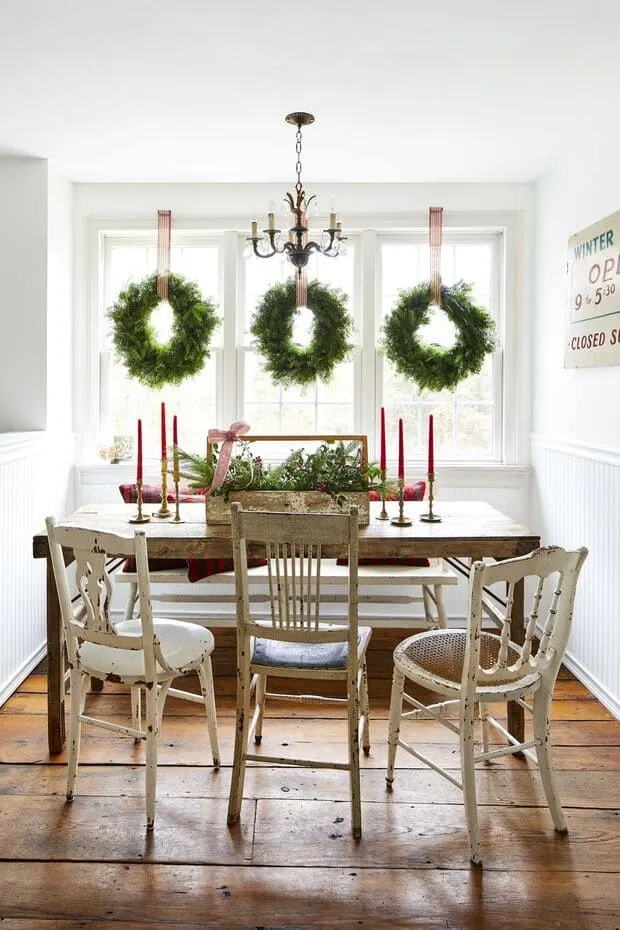 Get into the holiday spirit and hand wreaths in front of the windows! This is an easy way to add the holiday spirit to your home. You can get these similar Christmas wreaths here! And don't forget the ribbon here!
2. Hang a Light Weight Banner.
This DIY paper-leaf Christmas garland can be hung anywhere. However, we love it as an easy window banner for light holiday magic. You can find similar paper garlands on Amazon!
3. A Citrus Wreath for warmer climates.
Laura Wilson says her mother decorated their house with natural greenery and flowers; the citrus wreath is a great example. It combines the warm and cheerful climate of the outside with Christmas cheer in her sunny breakfast nook. Shop similar wreaths here!
4. Hang Christmas Cards.
The vibrant garland that frames the window adds a lot of vibrancy to this kitchen. But the family Christmas cards displayed across the window give the space its personal character. You can hang some string on the window to hold the cards and add them as they arrive!
5. DIY Ornament Garland.
Use your Christmas ornament leftovers for something creative! Hang a garland from your front window, adding lots of color to your home, by stringing the ornaments onto a ribbon and hanging it across your front window to add loads of color and a wonderfully festive display!
6. Winter Wonderland Window Seat.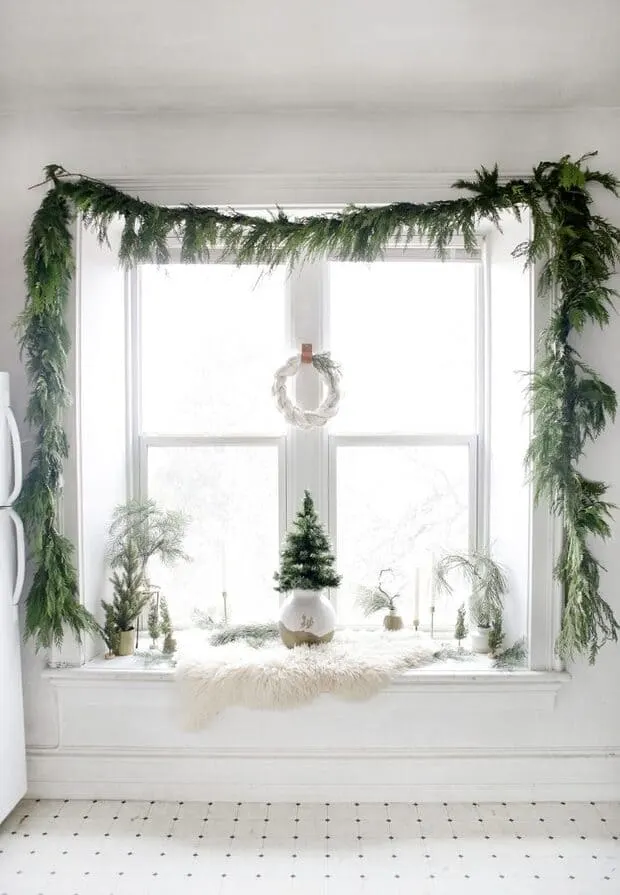 You can decorate a window seat with fresh greenery, white fur throws, and a cute cotton wreath. The Merrythought offers the Winter Wonderland Window Seat Tutorial here.
7. Christmas Card Window Display with mini clothes pins.
Make a garland from the season's greetings and hang it in your window using cute little clothes pins. Snag these mini clothes pins on Amazon!
8. Hang a Wreath From a Bright Red Ribbon.
For an additional eye-catching touch, hang your wreath from the windows using a bright red ribbon. If red is not your preferred color, you can match the ribbon to the room's color scheme.
9. DIY dangling paper lights.
Make this super cute and easy paper craft of Christmas Lights this holiday. It'll make the perfect Christmas room decor to add that splash of color, especially in front of a window.
You only need craft-made construction paper that consists of colorful Christmas colors, yarn, and paper glue. Get the full tutorial at Munchkin Time here.
10. Farmhouse Christmas Decorated Window Pane.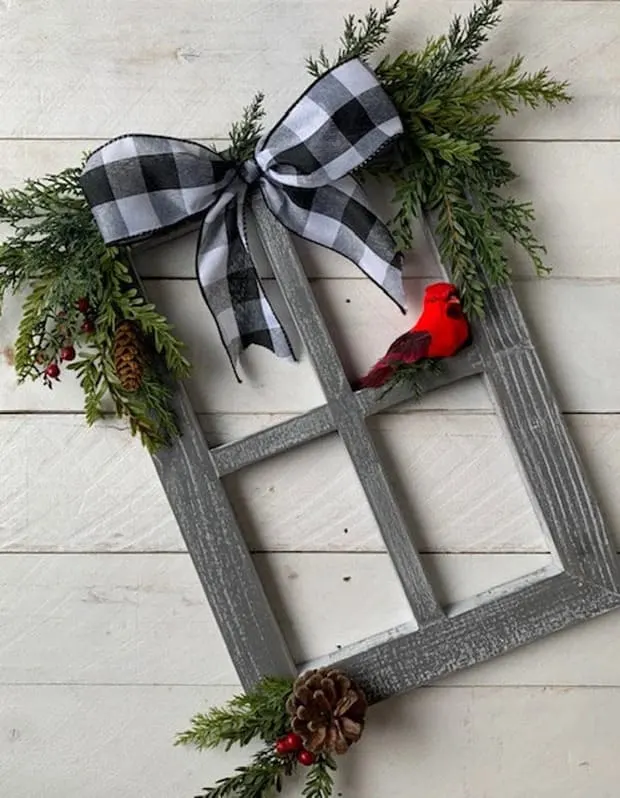 This handcrafted Barnwood four-pane window frame is dressed for the holidays and the whole winter season with faux greenery, cardinal, and a trendy bow. A hanger comes attached, and it measures 12 by 17″. Each item is also handmade! Shop this Christmas window frame on Etsy!
11. Fir garland entrance.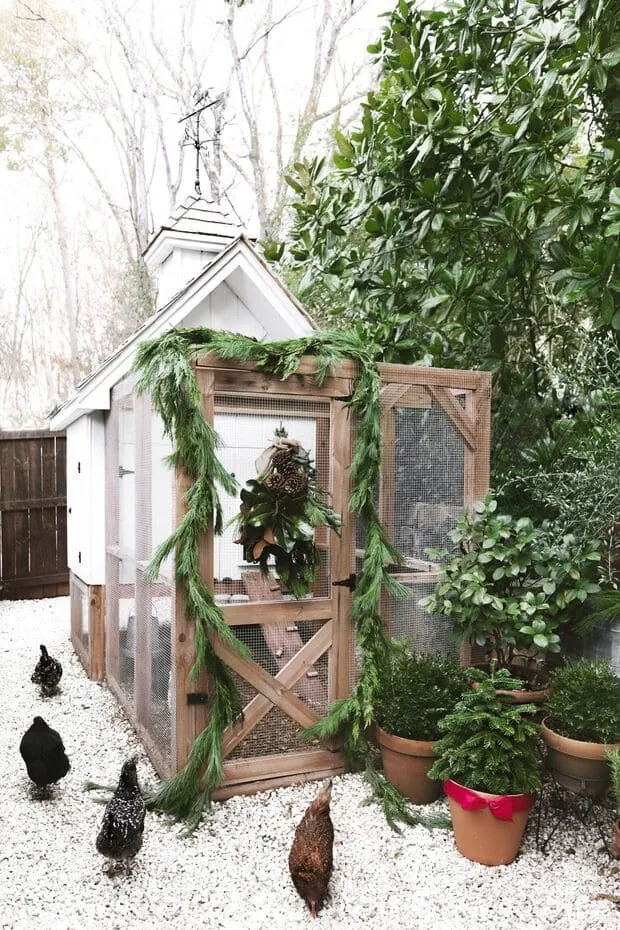 When decorating windows and doors, don't forget about your feathered friends! A simple fir garland is used to flank the entrance. And a magnolia leaf wreath adorns the window very nicely.
12. DIY Dried Orange Garland.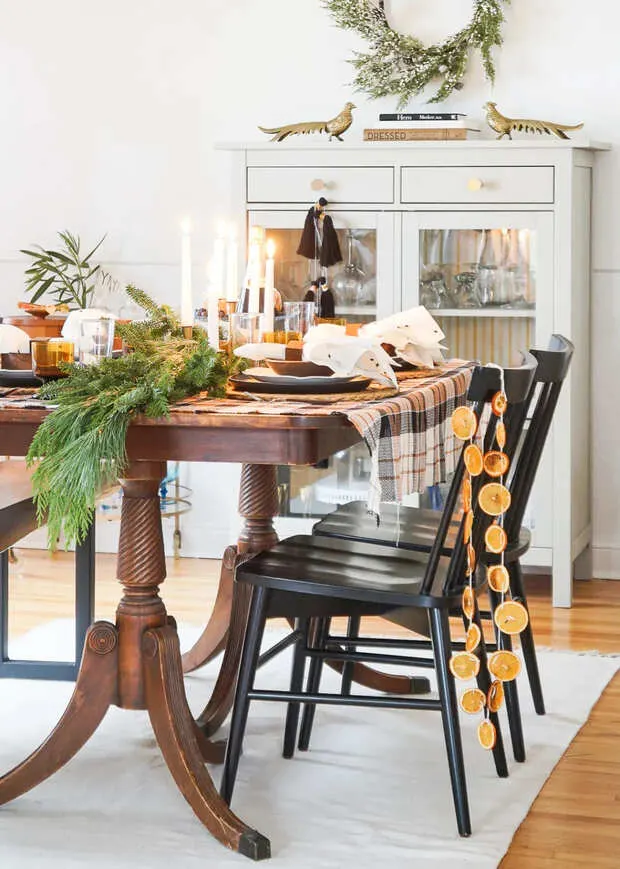 A DIY orange garland made of dried oranges is always festive and can be easily hung in a window as a Christmas decoration. You can get the full DIY tutorial at Francois et Moi here.
13. Give a Mini Tree a Christmas Theme in front of the window!
Place a miniature Christmas tree in your kitchen or dining room window. Instead of using traditional ornaments, you can hang candy from the branches to make them a nice Christmas snack for people passing by.
14. Chicken Wire Frame with Wreath.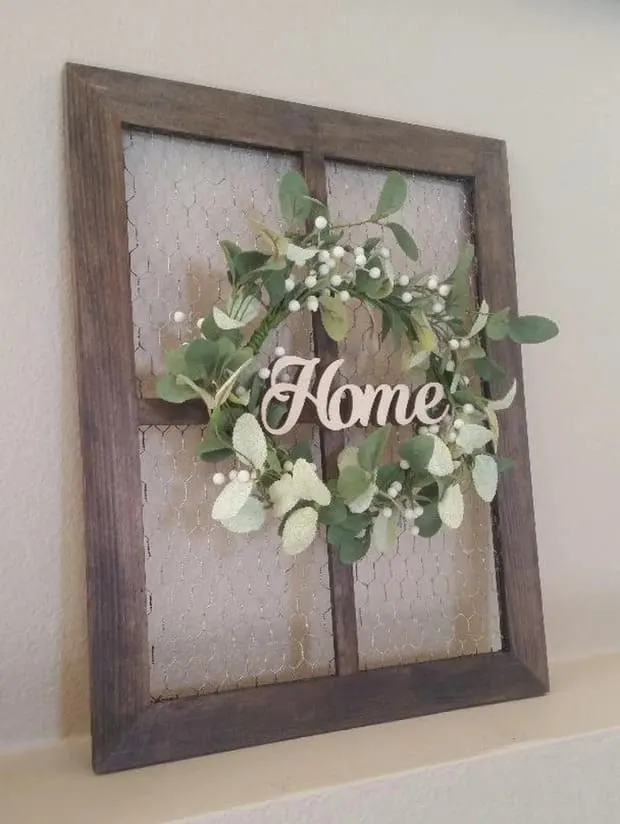 This chicken wire frame has a mini wreath and a cute "home" sign. It will look charming in any home window and can be hung or placed all year round, as the wreath hook is interchangeable for the seasons! You can shop this Christmas window decor item on Etsy!
15. Dried Orange Garland.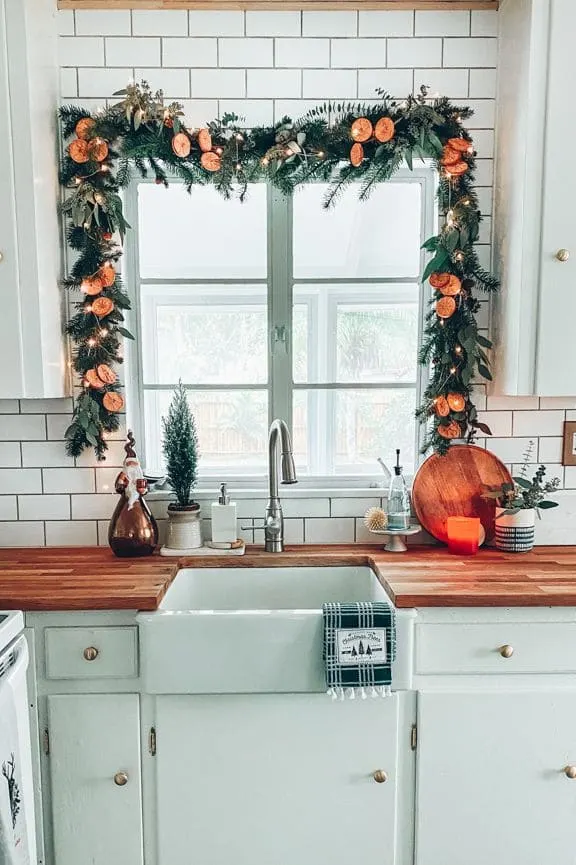 You don't need to limit your Christmas decorations to red and green. For an unexpected pop of color, add dried oranges to your window-framing garland. The Blushing Bungalow offers the Dried Orange Garland tutorial here.
16. LED Lighted Window Décor.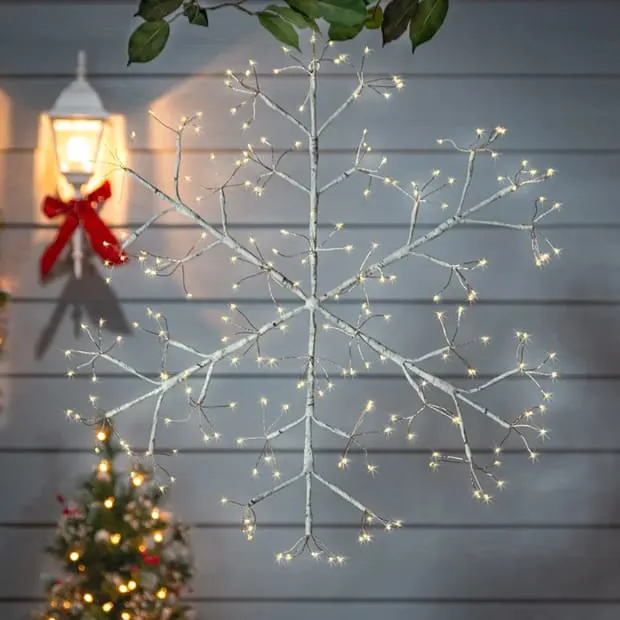 Adorn your home with an artistically designed, battery-operated led lighted snowflake with 216 warm white lights. This stylized, gorgeous snowflake emits a warm white glow and comes with an outdoor-rated battery box for indoor or outdoor use.
17. DIY Christmas window ornaments.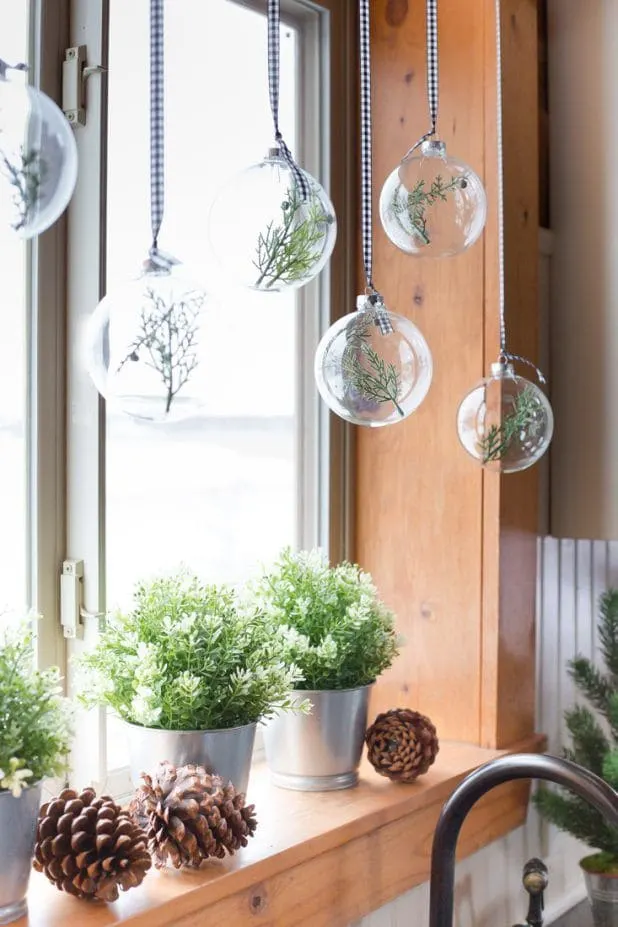 To create a simple window display, fill large glass ornaments with greenery. Then hang them from the ribbon you choose. Creative Cain Cabin offers a tutorial on Ornament Window Treatments here.
18. "Fa La La La La" Banner.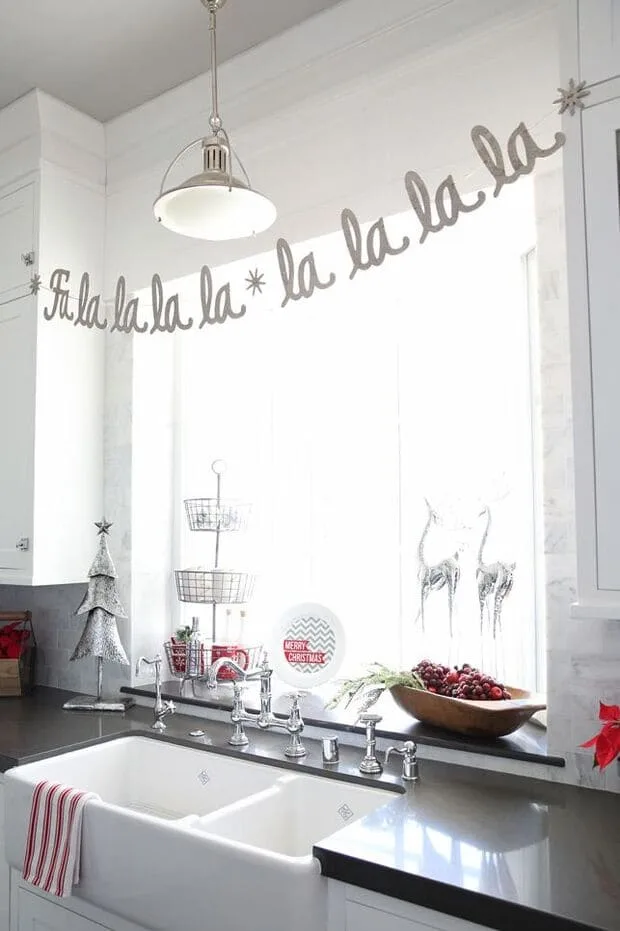 A banner encouraging you to sing will be the best way to get into the holiday spirit. Sunny Side Up offers the tutorial for the "Fa La La La La La La" Banner here.
19. Easy Christmas Window Wreath Stack.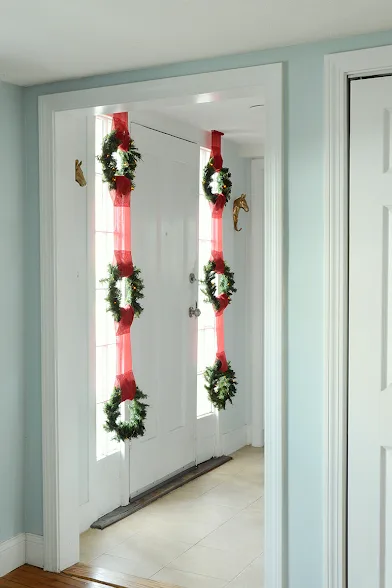 These beautiful wreath displays are perfect for decorating multiple windows and for unity. If you like this holiday decor idea, Design Fixation offers the tutorial Window Wreath Stack here.
20. Window Advent Calendar idea.
You can even transform your window into an advent calendar this year by stringing up treats in muslin bags and hanging a garland made of felt leaves around the window frame.
21. Trompe L'Oeil Christmas Wreath.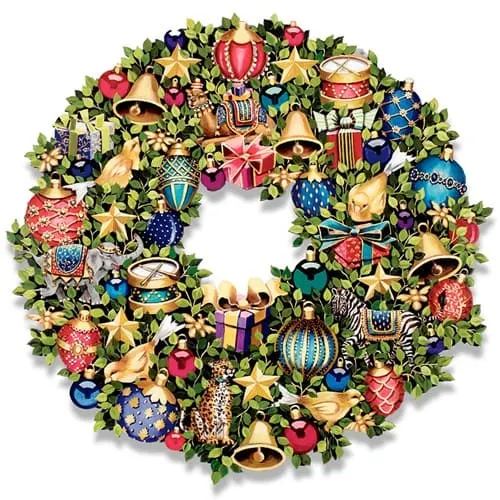 If you want to add color to your windows this holiday season, this wreath will do the job well! You can get this wreath at Scully and Scully here!
22. Christmas Tree Window Decoration.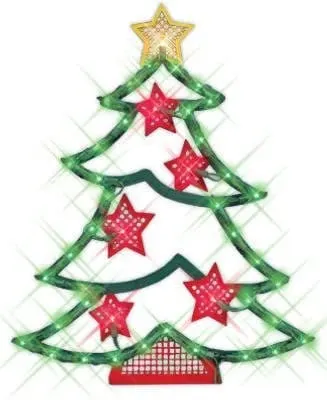 This traditional Christmas tree is 17 inches tall and has 43 mini lights. They shine brightly through the red and green plastic frames.
It has a vintage, crafty appearance thanks to the cutouts at the base and stars. They come in a box that can be used year-round. The lighted tree can also be used outdoors if covered, and the cord and decoration are UL-approved. This means that the product has been tested by UL to nationally recognized Safety Standards.
23. Faux Berry Polyester 24" Wreath.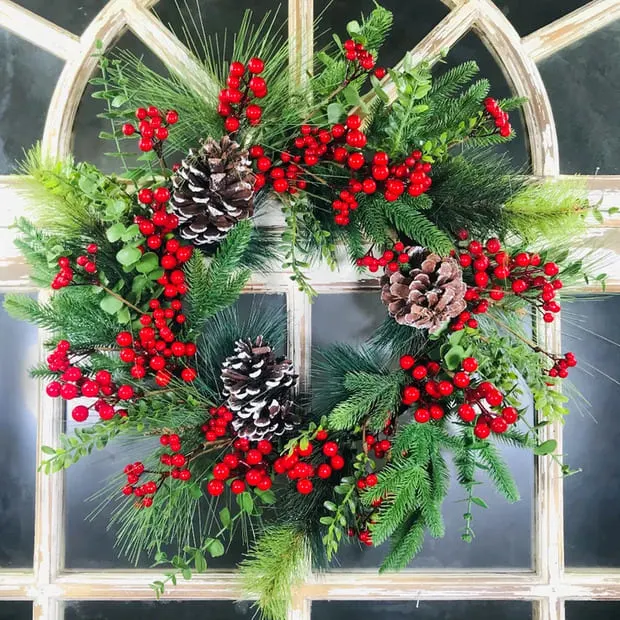 This wreath from Wayfair is an excellent choice for decorating your holiday windows if you prefer elegant, simple Christmas decor.
The wreath is made up of artificial pine, eucalyptus, and boxwood. It has spruce branches that are loosely arranged to give it a natural appearance. There are also bright red holly berries and pinecones. And it measures approximately 2 feet in diameter by 6 inches deep.
24. Hot Glue Window Clings.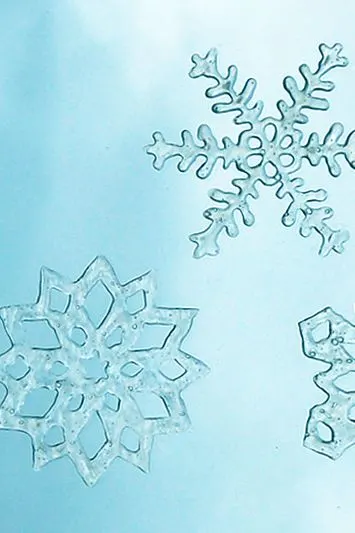 These window clings are not as colorful as their counterparts; however, you can give them a subtle winter makeover with some hot glue. Learn the tutorial at First Palette here.
25. Candy Cane Christmas Window Decoration.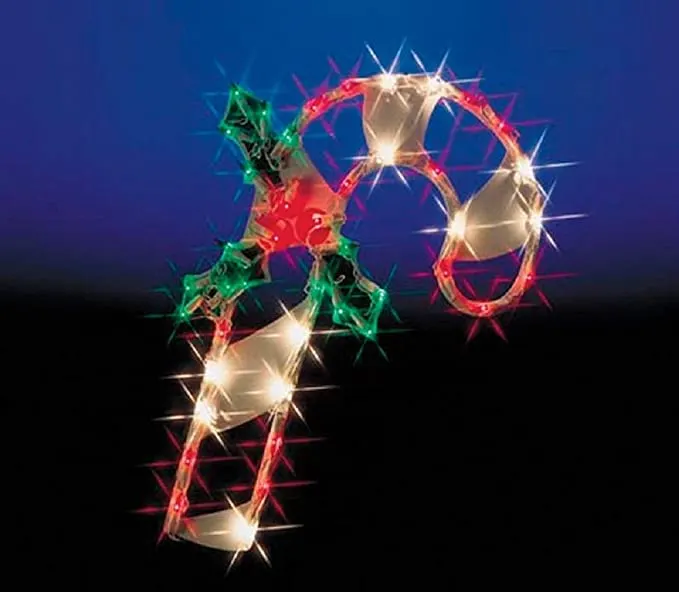 This sparkling candy cane window decoration adds sweetness to holiday decor. Its mistletoe sprig distinguishes it, and it even has 43 mini lights housed in red, green, and white plastic frames. You can snag this adorable candy cane Christmas window decoration on Amazon!
26. Christmas Window Candles with Gold Holders.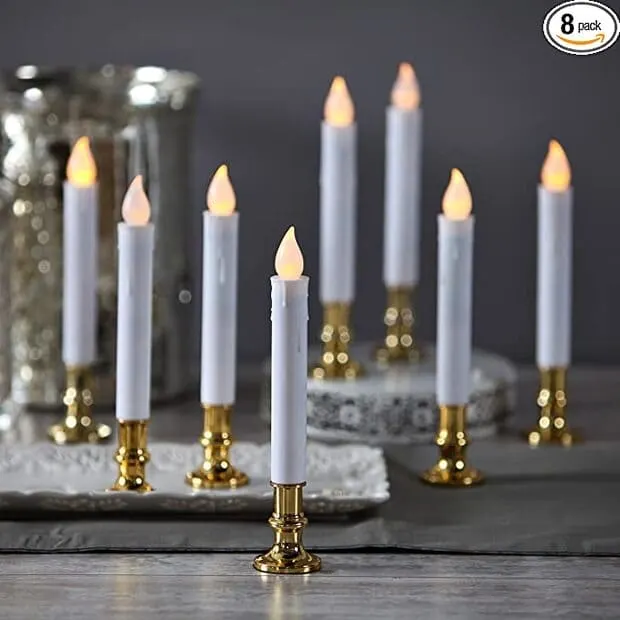 These classy Christmas Window Candles with Gold Holders would make a grand statement in your window this Christmas season.
It has a remote that controls these window candles and allows you to program them easily with just the click of one button, such as on, off, steady light, flicker, and four or eight-hour timer. Get it on Amazon here!
More great ideas for Christmas window decorations.
27. Santa Snowflake Window Decal.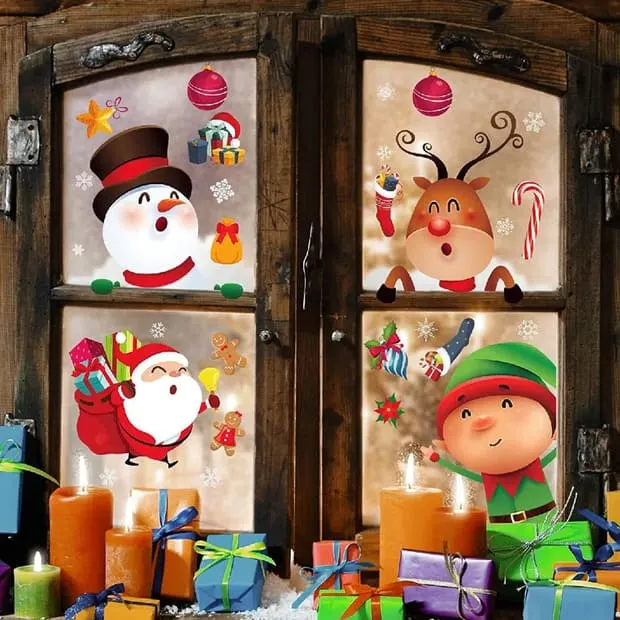 Shop these adorable Santa Snowflake Window Decals here on Wayfair!
28. Gallery Glass Window Clings For Christmas.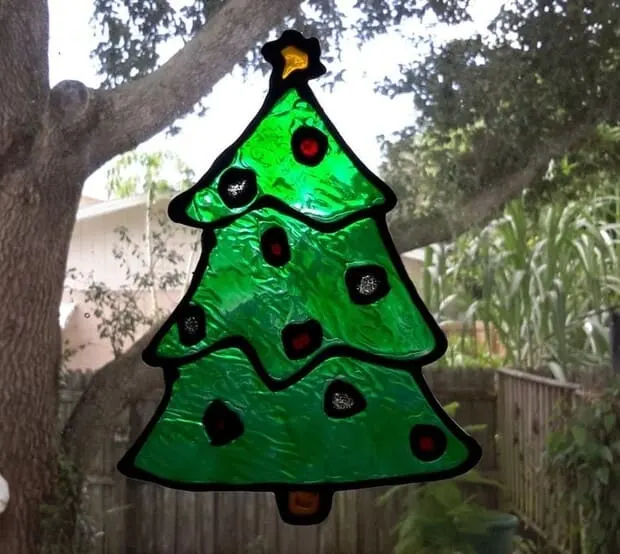 Festoon your windows with an extra dose of festivity with this bright green Christmas tree window decoration only on Etsy!
29. Christmas candle lanterns.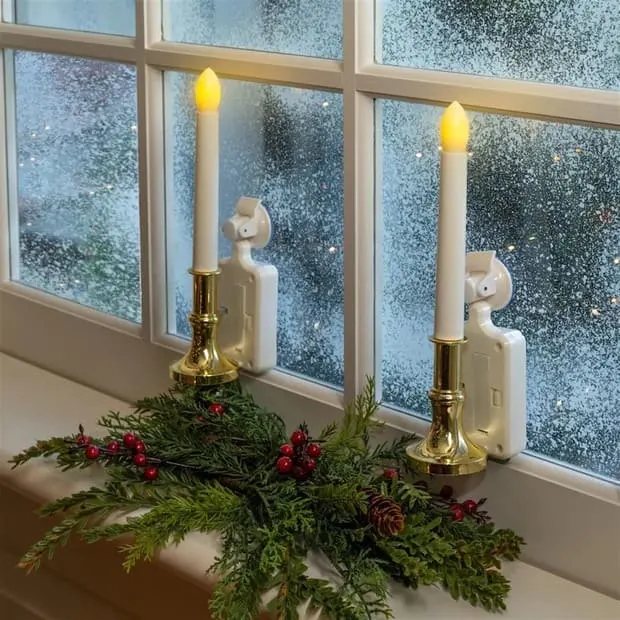 Get these Christmas candle lanterns as window decorations on Etsy!
30. Vinyl Holiday decal.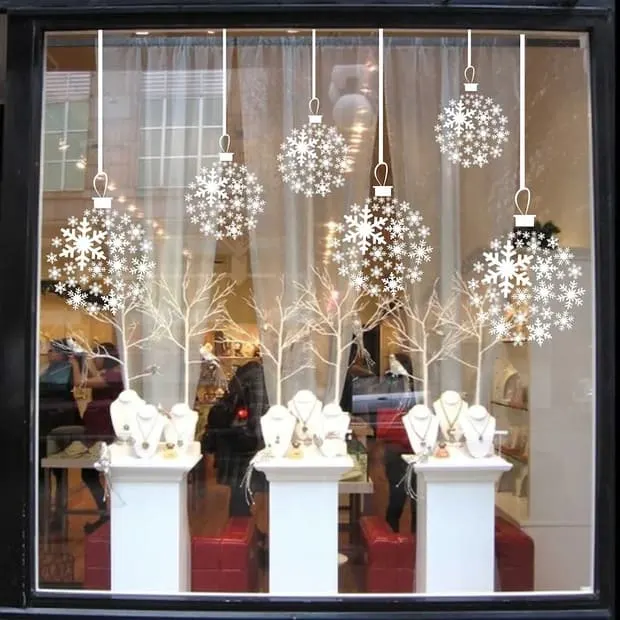 Get these large snowflake window decals on Etsy!
31. LED Snowflake Fairy String Curtain.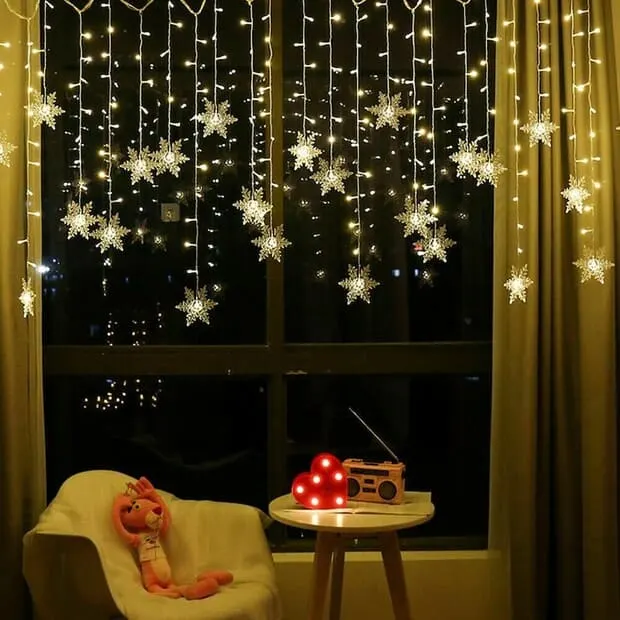 Get these LED Snowflake Fairy String Curtains for your windows on Etsy!
32. 'It's the Most Wonderful Time of the Year' Decal.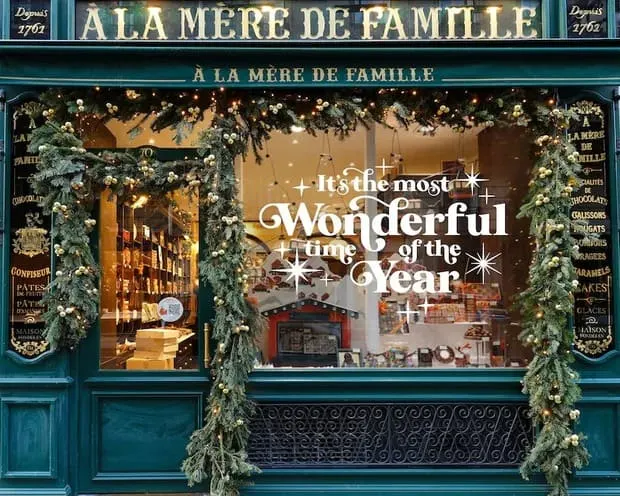 Shop this Christmas window decal only on Etsy!
33. Swirly Christmas tree window wall vinyl.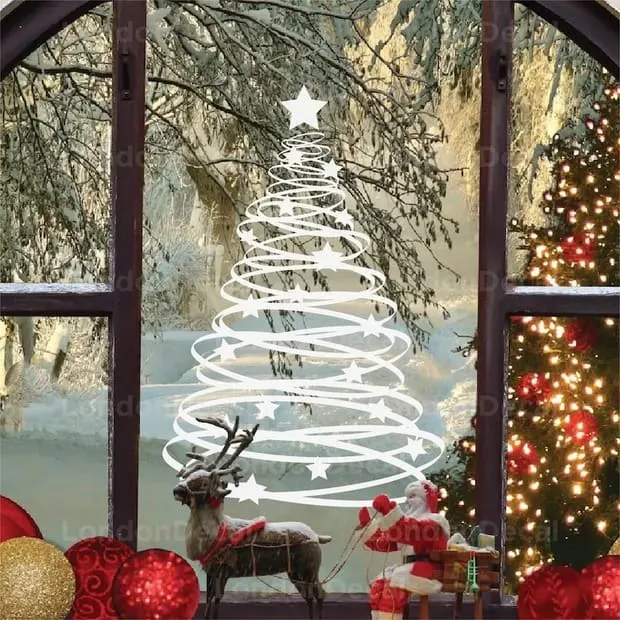 Get this Christmas window decal only on Etsy!
34. Happy Santa window display.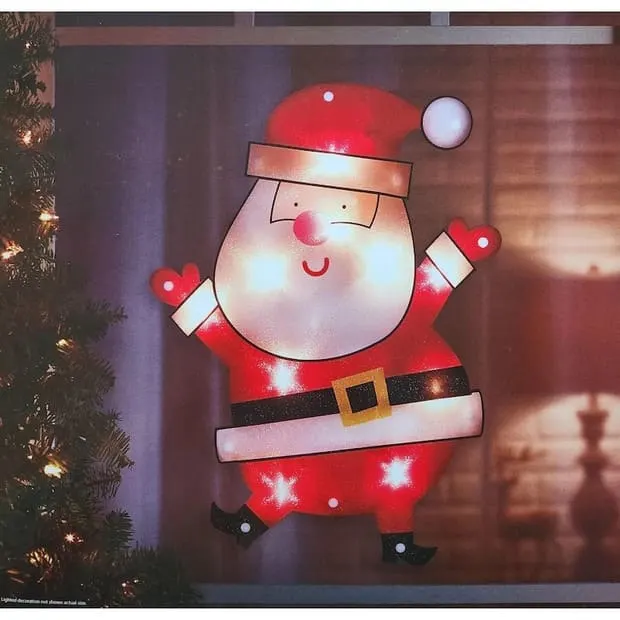 Get this Christmas Santa Lighted Window Decoration only on Etsy!
35. Candy Cane Wire Silhouette for a festive window display.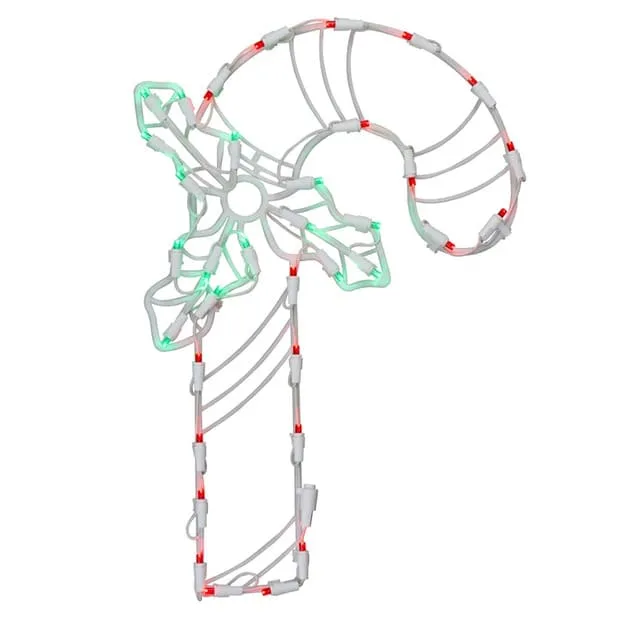 Snag this Candy Cane Wire Silhouette with 35 LED Lights on Wayfair!
36. Lighted Holiday Tree Window Décor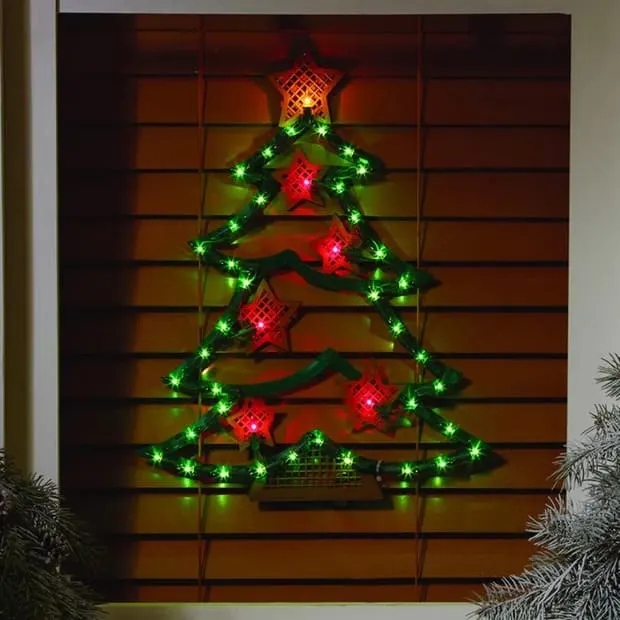 Snag this Lighted Holiday Tree Window Décor on Wayfair!
37. Christmas bell neon sign.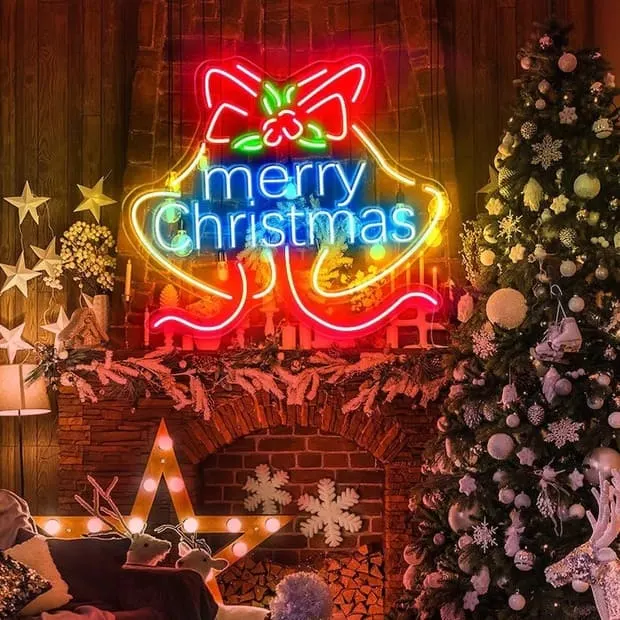 Shop this Christmas bell neon sign only on Etsy!
38. Santa Sleigh Reindeer Window Stickers.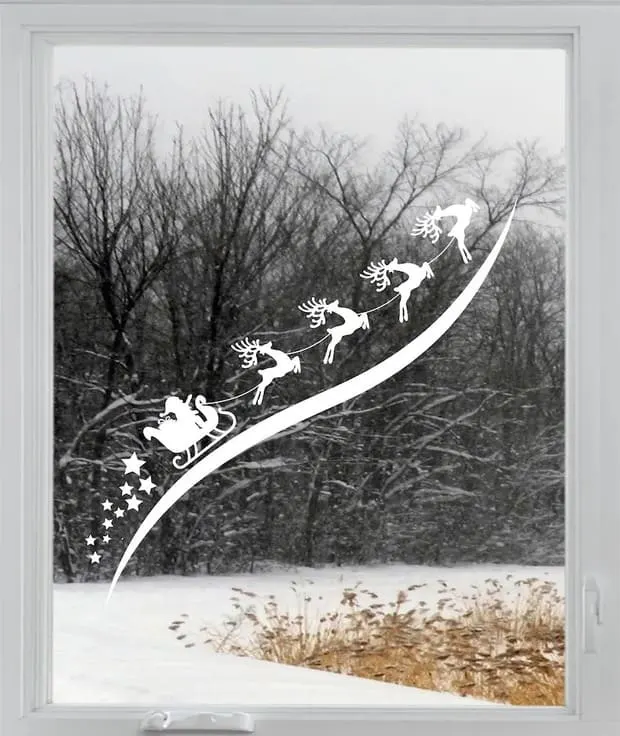 Shop these Santa Sleigh Reindeer Window Stickers on Etsy!
39. Adorable Nativity window stickers.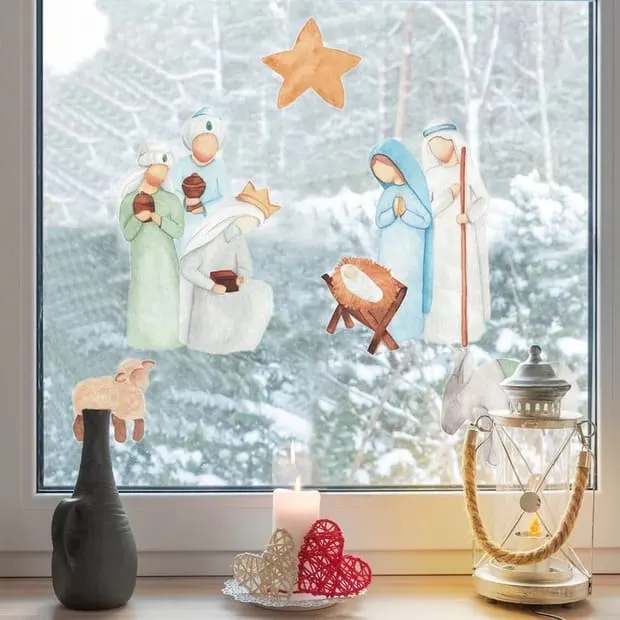 Shop these Christmas Nativity window stickers only on Etsy!
40. Pine Forest Christmas Window Stencil.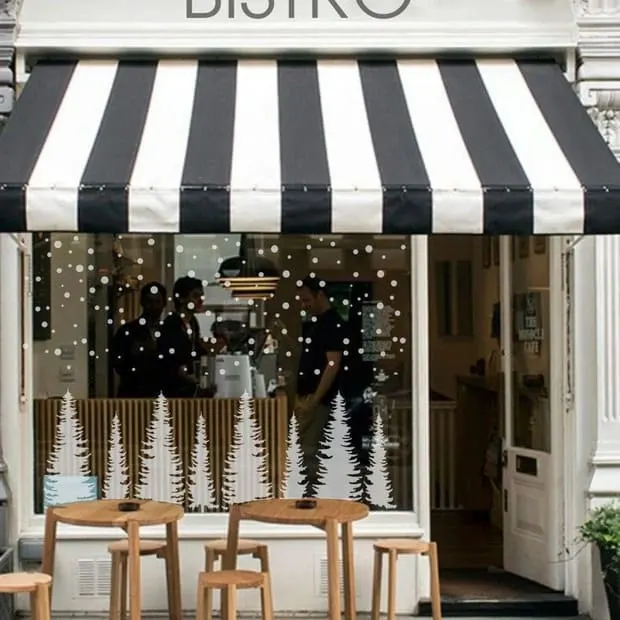 Snag these super cute Pine Forest Christmas Window Stencils here!
Just for FUN Christmas window decorations…
Buddy the Elf Christmas Window Cling Sticker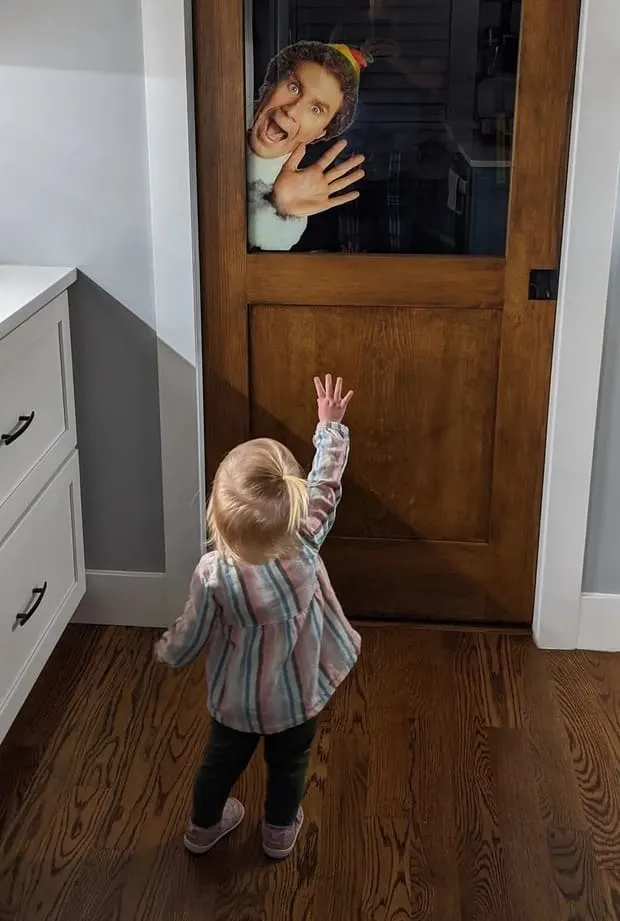 Shop this Buddy the Elf Christmas Window Cling Sticker only on Etsy!
Funny Buddy Elf Window Cling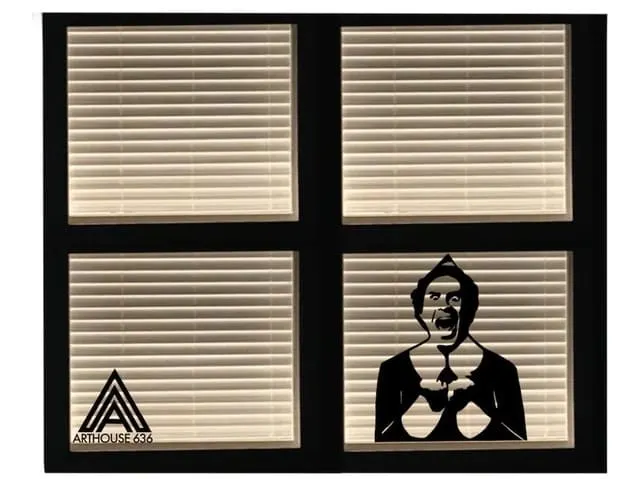 Shop this funny Buddy the Elf Window Cling here!
Jolly Elf Waving WiperTag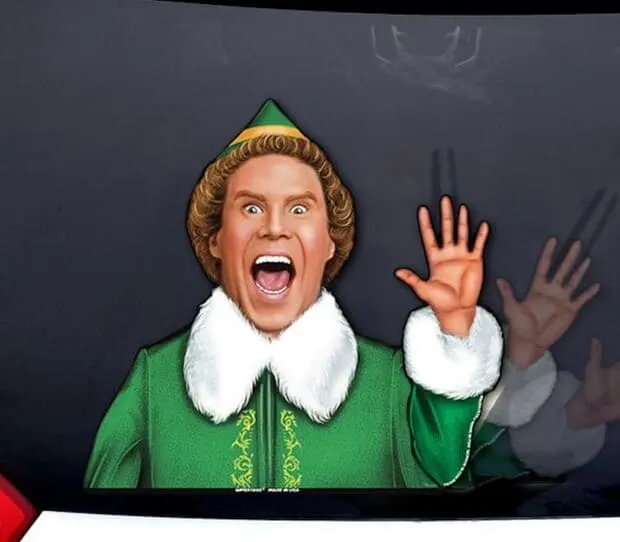 Although this product is not for a home window, just for fun, this wiper tag is always a great idea this holiday season. You can shop this one-of-a-kind item here!
---
There you have it; all these window Christmas decorations are a seamless way to decorate the home.
If anyone knows how to decorate their home for the holidays, then they know that one easy and magical way to prepare their home for the holidays fast is to add decorations to the windows!
Whether you choose the DIY route or buy Christmas stickers, they will undoubtedly add a magical charm to your home for the festive season.
Thanks for reading!
Welcome to Everything Abode, your daily inspiration for every activity at home!
Our goal is to inspire you to live an elegant and chic lifestyle from the comfort of your home.
We'll help you express yourself through authentic style, aesthetic beauty, and stylish home decor.
Subscribe to Get the Tools That Make My Blog Successful!
When you join my newsletter, I'm going to send you insider advice and tools that I use to grow my blog! I only save the BEST for my email list so don't wait!