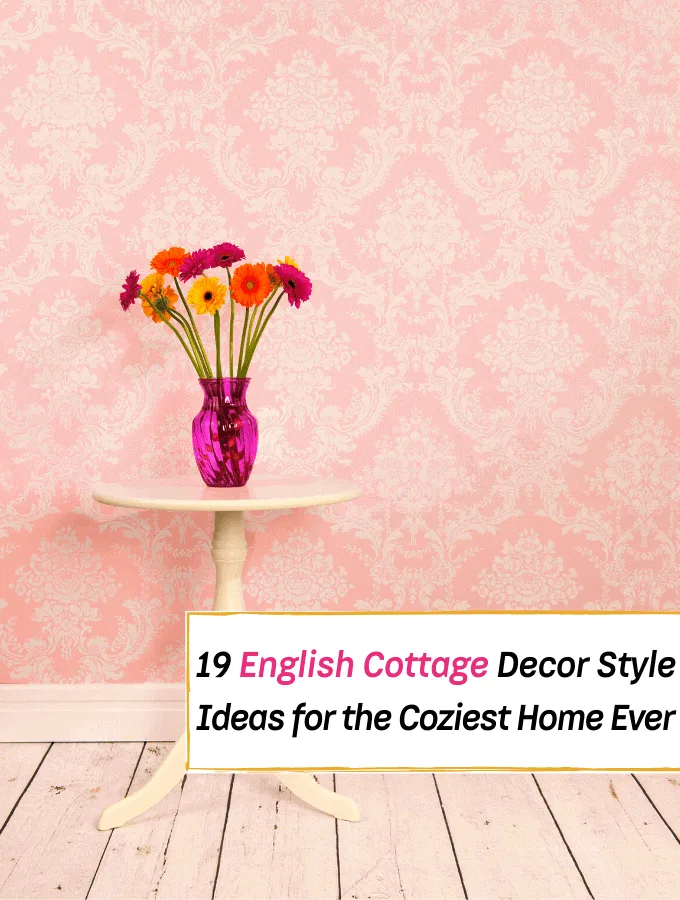 Ready to sit down and relax like the Jane Austen you know you are?
Whether you're still mourning the end of the PBS TV series Downton Abbey or you've been craving a home interior makeover that turns your comfortable abode into a charming English cottage worthy of a Jane Austen novel, you don't need a pricey decorator to do the job.
The label "cottage," originally known as "cotter," was once used to describe a peasant living in a small home with a small lawn and now is used to describe a small building or small home that resides in the countryside — or at least looks the part.
Now more than ever this quaint style of living has captured the heart of the world whether living in an urban apartment or off the grid.
So if you are interested in learning how to make your home as quaint and fabulous and as romantic as a romance novel (without tapping into your 401K plan to underwrite the job), the following 19 brilliant ideas on how to style an English Cottage home will help!
They are also budget-friendly!
Similar topics:
19 Quaint Ways To Style Your Home Like A Cozy English Cottage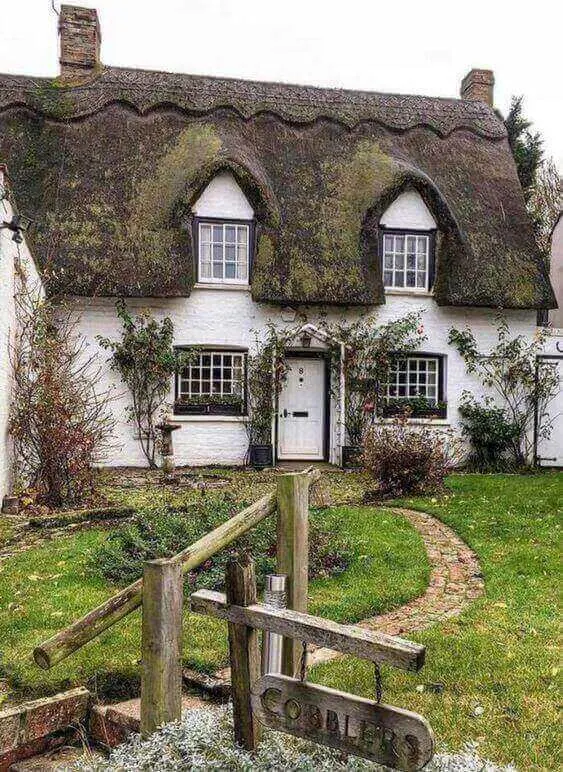 1. Make some floor magic.
Once upon a time, Britain's textile mills churned out lavish rugs, but only estate owners could afford them.
You need ideas calling for more ingenuity than cash and rag rugs are ideal for adding character to a room while warming up cottage floors.
Websites like Alibaba sell all sorts of affordable rag rugs in the colors you seek, but if you're looking for a DIY project, make your own rag rug using the t-shirts you've been hoarding and these instructions.
2. It's about the little things.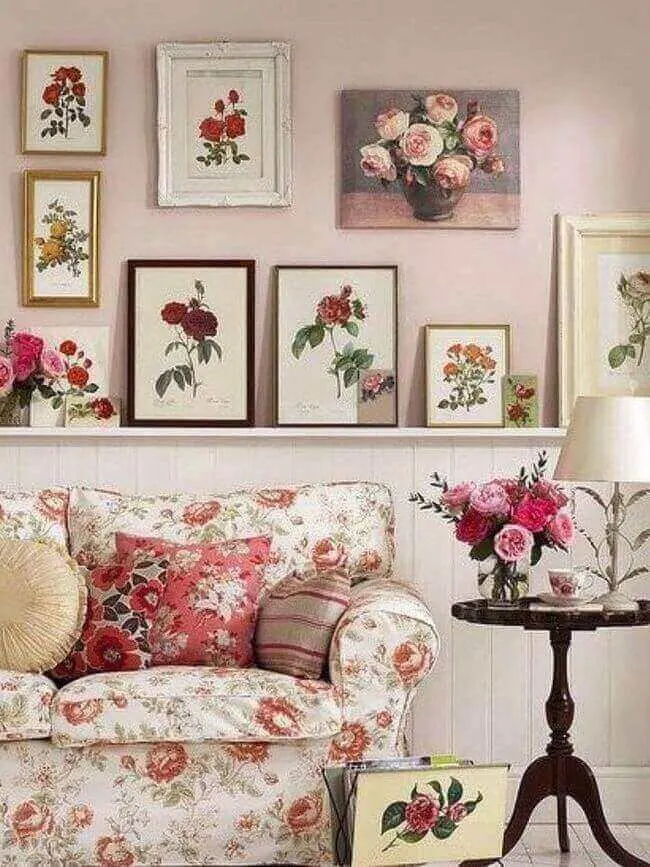 Switch out ceiling fan paddles and pulls; fill bookshelves with hard-cover books (you needn't have read them).
Display collections like porcelain pigs, pottery jars from English creameries, or antique dolls. Hide your big screen TV within the confines of a distressed cabinet so you don't ruin the cottage vibe.
This all goes without saying that all the little nitty and gritty things (those others would stow away), the cottage style loves to embrace those things!
3. Go bold with your wallpaper & paint.
Being the methodical sort, you know that every home decorating makeover begins by recruiting friends, ordering pizza, and turning them loose with paintbrushes. That is if you can't wallpaper your place.
If you can afford the pricey costs of wallpaper, designers all suggest thinking of paisley and colorful wallpaper patterns that look "busy" but still "pleasant" to the eye.
Moreover, using wallpaper will single handily showcase the English-style vibe that you are going for.
Otherwise, "paint is one of the cheapest ways to get a new look", says Brit Emma Sims-Hilditch, whose job it is to transform manor homes located in the Cotswolds.
"Contrast in decorating is like the mascara on a face—it completely brings it to life," Brit says, urging decorators to use dramatic shades of green, burgundy, and brown and pairing them with lighter hues to make the walls of the home pop and come to life.

OR you can reverse it with white walls and dark trim like the photo above.
The main thing is as long as you bring a dramatic bold/feel to compliment the unique decor that you will place in front of it, it will bring you the English cottage home that you are striving for.
4. If you are really hands-on, go dutch when it comes to your entryway.
Dutch doors also called double-hung doors or half doors, are divided in half horizontally so the bottom half can remain shut while the top half opens.
Even though this entails quite a lot of work or money, it without a doubt will add that much-needed charm you're going for.
5. Prioritize comfort above all else.
If your rooms don't look snug after you finish your home styling mission, you've missed the point.
Patterned, upholstered seating—particularly oversized chairs (think plush!) with matching footstools–are staples when injecting the essence of English cottages into your furniture mix.
Gain inspiration via this ArchitecturalDigest.com layout so when you troll resale shops, antique emporiums, and estate sales for frugal cottage ideas you're able to pick out bargains with confidence.
6. Say it Stripes, Florals, Plaids, Burlap, & Canvas.
Forget everything your mum told you about clashing patterns.
If you don't find at least a couple of different ones within the confines of an English cottage home, it's likely the place was decorated by a Swede.
What patterns add the most character to a cottage interior? Stripes. Florals. Plaids. Burlap. Canvas. Especially quintessential toile paisley.
Lavish upholstery and cushions with these patterned textiles evoke a Yorkshire home.
7. Think Paisley when adding extra details.
Without a befuddled armchair or draperies covered in toile or paisley, no English cottage is complete.
Bonus if you hang up lots of paisley decor details to really nail (no pun intended) the English cottage vibe!
8. Old rustic woods will always bring old English charm.
Few items emanate more than misplaced seats, pulled up at a long wooden farm table, from the old country lake home.
Old long tables are the perfect place to play host to all types of friends and family gatherings, added with lively floral wallpaper or bricks for added texture and you got yourself an English charm of your own.
Popular: 25 Items You Must Declutter to Live a Minimal Lifestyle
9. Choose furnishings that always tell a story.
Troll resale shops, lawn sales, and estate sales to sharpen your home styling acumen. Be discriminating. Pick up affordable items that scream "antique," even if they're not.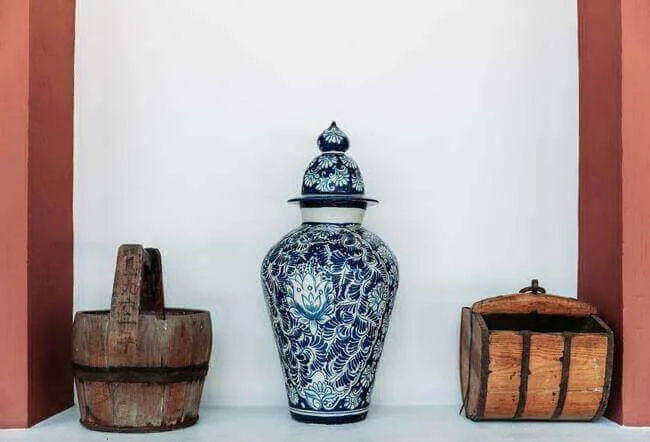 That goes for odds and ends that add a classic English cottage vibe: Paintings of pastoral landscapes, portraits of folks dressed in 18th-century garb, butter churns, glass pieces, and ephemera harkening back to country life.
Add a lap dog portrait to the mix and make it an English spaniel.
10. Consider a British kitchen with patterned wallpaper paired with curtain coverings.
When it comes to English cottage home styling there's no need to replace the bathroom or kitchen cabinets when you can achieve "the look" by trolling yard sales and flea markets for vintage bin pulls, knobs, and porcelain hardware.
If you hate your cabinets, follow the lead of Brits who hide ugly cabinets behind patterned curtains that have been shortened.
Popular: How to Stop Being Messy – 10 Habits for a Cleaner Abode!
11. Bring the English garden indoors.
If your yard barely accommodates a bench and you can't tell the difference between lilac and lavender, you can still pay tribute to the quintessential English garden by planting seeds in window boxes.
Plants peeking from windows are as English as tea.
Have a black thumb? Plant silk flowers in boxes, fill vases with mixed bouquets and acquire a diffuser that disburses lavender essential oil fragrances throughout the home. You can even place flowers in unique old porcelain vases and of course, add all the indoor hanging plants you can find.
12. Patterned & whimsical curtains are a must in an English cottage home.
English cottages are known for cheery red-checked and patterned curtains and valances that frame tranquil views. Are you handy with a needle?
Make valances in contrasting patterns and consider replacing your boring closet door with a patterned curtain stitched of fabric-like options on this site.
When you're ready to sew, find cheaper per-yard prices at a favorite discounter.
13. Ask Mother Nature for even more help with your home makeover with seashells and dried flowers.

Imagine yourself wandering English landscapes. What comes to mind? Seashells on the Dover shore? Discarded bird's nests in Sherwood Forest?
Maybe you envision fields of dried wildflowers or old jelly jars filled with rocks.
As you can see, even small all-natural touches make statements throughout your home that inject all manner of English cottage aesthetics and definitely belong in your home makeover.
Popular: 10 Genius Organizational Tips from Tidying Up with Marie Kondo
14. Light up your world with accent lighting that is deemed to be the perfect cozy light.
Image source // Wayfair
Pattern lamp bases will always be the perfect touch for the quintessential English cottage-style home.
You can also kick it up a notch and string affordable lights everywhere you like for an atmosphere when you'd prefer not to turn on your floor or table lamps.
Light strings can even be strung in the bathroom to turn a long tub soak into a heavenly English charm environment.
15. Sprinkle in some handmade TLC.
How about making a lamp? Lamp-making kits come with simple instructions and come at various price points. You should check out these DIY lamps. Pick the design that calls your name and go for it!
16. When it comes to creating a cozy English cottage-style kitchen — where you place your table matters.
No cottage home is complete without the table being placed in the center of the kitchen (granted if you have space!). If you can't do that, then creating a tiny little nook, tucked cozily in the corner of a room, will work wonders too.
17. Add signature touches & acquire "something ugly" to really give your home that English cottage feels.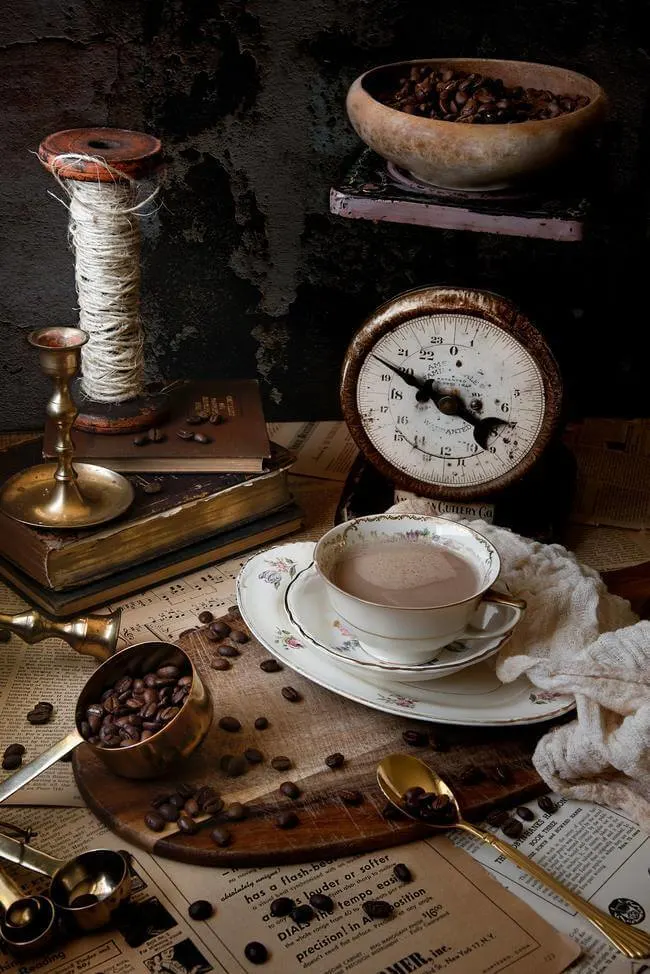 Whether your idea of quaint is a bistro table and chairs tucked into a corner of your yard or the acquisition of crocheted tea cozies, with each home styling touch you show off your decorating acumen and passion for country styling.
English cottage home tastemaker Nancy Lancaster urges you to acquire "something a bit ugly" for each room to finish your home makeover properly.
How to achieve ugly? By mixing and matching touches you wouldn't have dreamed of until you realized that frugal cottage ideas are more than just fantasies. They're easily within your reach.
18. Idea theft is totally okay when it comes to English Cottage home decor.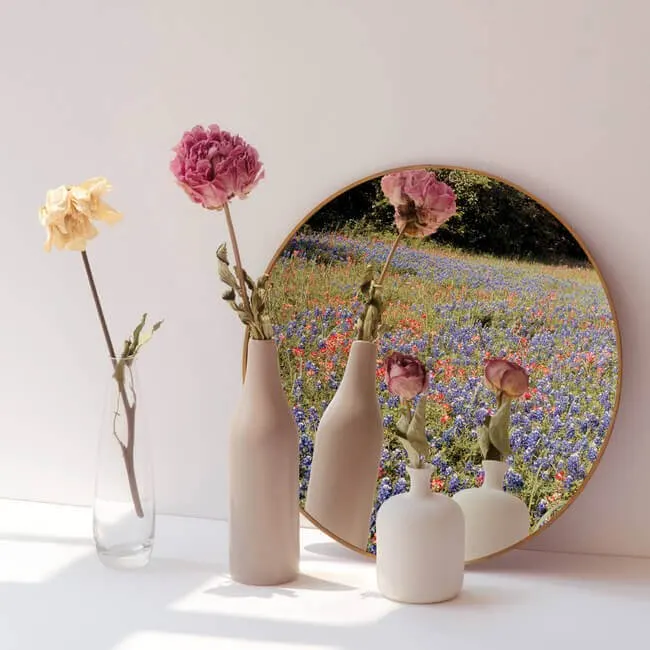 Soak up enough inspiration to decorate your home English cottage by scanning 425 hot ideas on Pinterest!
Feast your eyes on frugal cottage ideas that are ready-made for stealing. Browse this Better Homes & Gardens article if you want more inspiration.
If you don't conjure up images of the characters in "Little Women," perhaps you need to re-read that book so you're properly motivated before you begin your home makeover.
After all, it's such a unique way to design a home, that no two English cottages will ever be alike.
19. Add a taste of homemade for the finishing touch.
There is nothing cozier than a wood fire crackling next to some delicious home-baked goods lingering in the air.
If you don't have a cozy fire, then bake scones when you are expecting company over to add to your home's English cottage ambiance.
---
Whatever you decide to do, just know that the English cottage-style look can be easily achieved. All you have to do is have an open imagination. Now get designing!
See Also: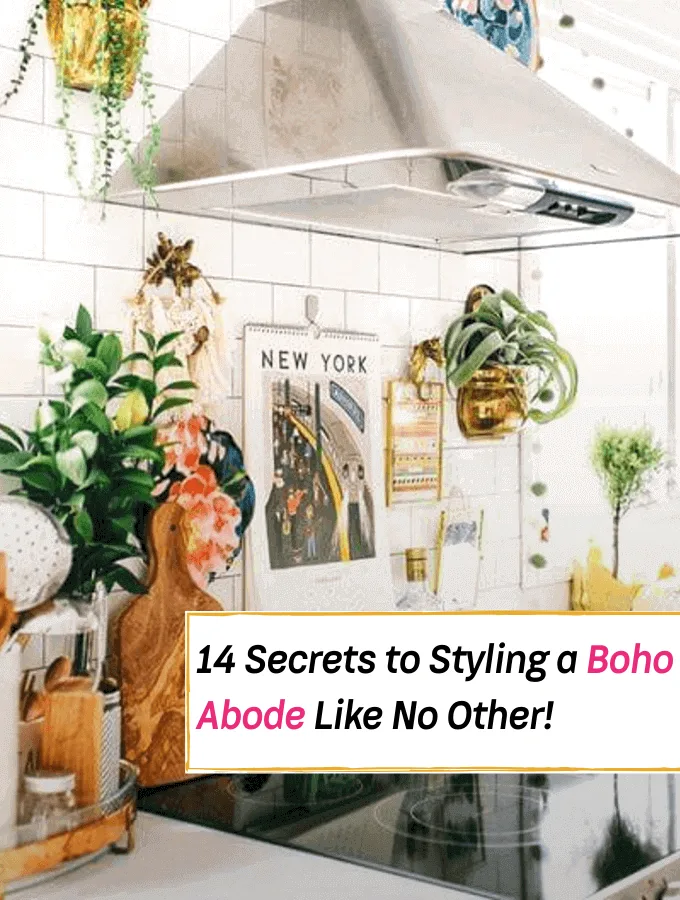 Check out, 14 Secrets to Style a Bohemian Abode, next!
You may also like:
Welcome to Everything Abode, your daily inspiration for every activity at home!
Our goal is to inspire you to live an elegant and chic lifestyle from the comfort of your home.
We'll help you express yourself through authentic style, aesthetic beauty, and stylish home decor.
Subscribe to Get the Tools That Make My Blog Successful!
When you join my newsletter, I'm going to send you insider advice and tools that I use to grow my blog! I only save the BEST for my email list so don't wait!