Are you looking for inspiration to create a relaxing and calming atmosphere at home? Check out these 24 soothing home decor ideas!
Soothing home decorating ideas are a great way to relax at home.
As more and more people work from home, creating a relaxing home environment is becoming more important than ever.
The ideal home environment inspires a person to slow down and take a break from the fast-paced world.
Moreover, having a cozy space to turn to when needed will always make our hearts feel full; however, finding time to relax can be difficult in our hectic world, and creating a peaceful home environment can simplify the task.
Using calm and mellow colors, including pale yellows, blues, and serene artwork, is essential in a soothing space because a relaxing space should stimulate all five senses.
This can be accomplished by keeping scented candles lit, adding a few decorative pieces that remind you of a favorite place or activity, and making the environment more calming through color and texture choices.
So whether you are looking for a quick fix or are looking to revamp your entire living area, these soothing decor ideas are a great place to start.
Let's add a peaceful oasis to your home and help you create a place where you can go to escape daily stresses and enjoy some peaceful respite from life's pressures!
As always, all pictures are linked to find the products you enjoy best!
24 Soothing Decorating Ideas Designed to Help You Unwind at Home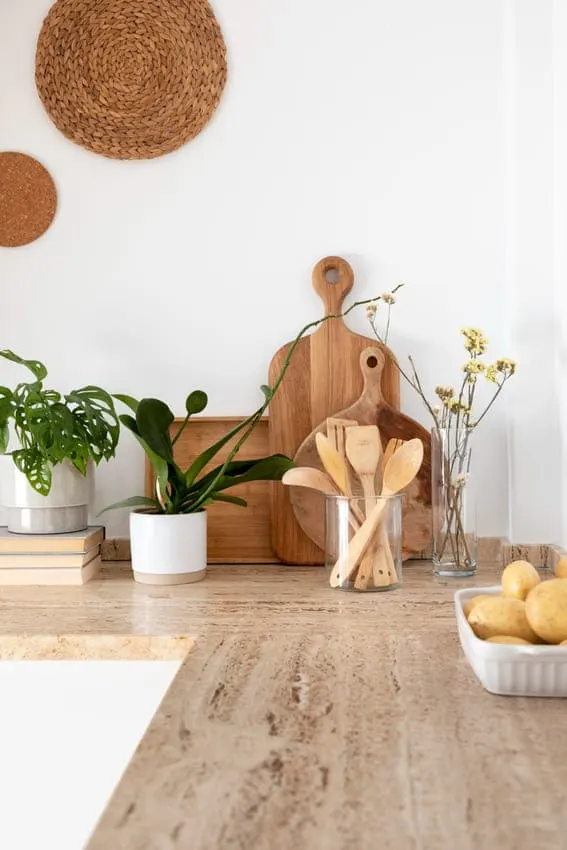 1. Include Soft Lighting.
Soft and warm lighting can create a soothing environment for an inviting space.
Rather than harsh overhead lighting, consider adding table or floor lamps with shades that diffuse their light instead. If you want to go the extra mile, dimmer switches allow you to easily alter the amount of illumination.
Whatever lighting you choose, make sure it's a soft light that doesn't distract or counteract the relaxing ambiance you strive to create.
2. Use Calming Colors and patterns.
Did you know that certain hues can have the power to bring serenity and a relaxed feeling into our lives? If you want the same results, consider painting your walls in soothing blue, green, or lavender to help relax your mind and body.
Moreover, don't forget to incorporate the soft hues from the color of the walls into your decor pieces, such as throw pillows, curtains, and accessories, to really create a calming effect.
3. Include Natural Elements.
Another great way to bring some warm and fuzzy feeling into the home is by including natural elements in your decor to coincide with the outdoors, especially if you can hang a rattan chair in front of a window!
Other natural elements of peace and serenity include plants, natural woods, sand, and seashells for a soothing feeling that's in the details.
4. Add Soft Textures.
Soft and plush textures such as shams and pillows can really help make any space feel extra cozy and welcoming, especially if you can wrap yourself up in them and stay for a few hours!
To add this soothing effect to your home, consider incorporating other decor pieces such as a fluffy rug, velvet throw pillows, or faux fur blankets into your home's decor to bring this cozy and soothing vibe to life.
You may also like: 33 Chunky Knit Blankets That'll Make You Feel Extra Cozy
5. Don't forget Aromatherapy.
Did you know that certain scents like lavender and chamomile have long been recognized for their relaxing qualities?
Keeping that in mind, and if you would really like to create a soothing atmosphere at home, try incorporating Aromatherapy into your daily home routine using essential oils diffused through an aroma diffuser.
Or you can always light scented candles as part of daily aromatherapy practice as well!
6. Declutter Your Space.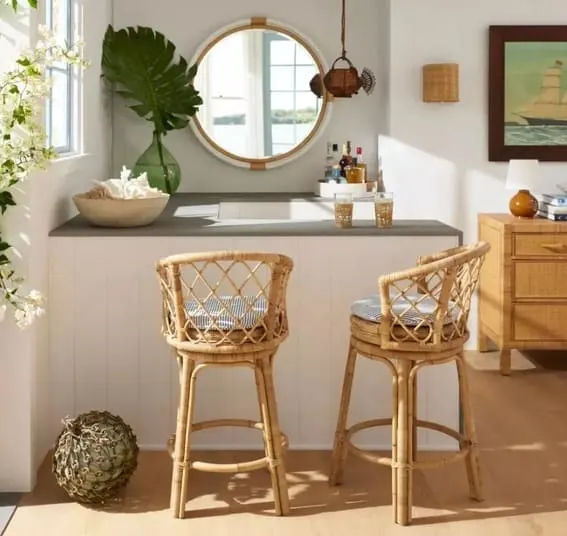 A clean, clutter-free environment with the right decor can also help a person feel calm, and cleaning is a great way to relax.
According to studies, a cluttered space can overwhelm a person, so it is essential to clear away items that are no longer needed.
Moreover, a disorganized home can also create chaos and anxiety at home, so take some time to declutter, disposing of anything that no longer serves a purpose.
You'll find more peace in a clean, orderly space and be surprised by how much more relaxed you will feel after de-cluttering your home.
7. Create an Inviting Reading Nook.
A cozy reading nook will always be a fantastic place to escape with your book. And it can be an effective way to relax and unwind, especially if the book you choose to read is relaxing.
Add comfortable chairs or a chaise lounge with soft throw blankets and a small side table so your book and tea are within easy reach.
8. Use Soft Fabrics.
The sense of touch is another vital aspect to consider when incorporating soothing decorating ideas into your home. If a person feels a blanket or throw is too rough or scratchy, believe it or not, it can cause anxiety and stress.
A textural throw blanket, like a knitted one hung on a decorative ladder or made of soft chenille, can be another easy way to bring comfort and relaxation to your home.
Soft fabrics such as cotton and linen, or even faux fur, can help create an environment of relaxation as well. Consider using these materials in bedding, curtains, or your next upholstery project to make your home extra cozy.
9. Utilize Natural Materials.
Natural wooded decor and furniture can also incorporate textures that are calming. Adding woven wall art, a wooden dining table, or even a rustic-inspired coffee table adds a comforting touch to a room.
Incorporating natural elements and materials like stone and marble, and bamboo into your home decor can be an easy way to bring peace and serenity.
10. Integrate Relaxing Art into Your Decor.
Art will undoubtedly add an eye-pleasing visual element to your space, especially if your chosen art has soothing hues and natural features such as beach scenes or landscape views.
Add the artwork to your decor using a large statement piece or even a gallery wall to add relaxing visual elements for that soothing visual appeal effectively.
11. Use Candles.
Stress-relieving candles will always be an excellent go-to for relaxing while adding an intimate and inviting ambiance to any room in your home.
Consider choosing candles in soothing scents like lavender or chamomile to enhance their effectiveness in creating those desired restful vibes.
12. Create a Meditation Space.
If you want that soothing, relaxing feeling at home, consider setting aside a dedicated space for meditation or even doing yoga!
This space will be an excellent way to promote relaxation and mindfulness, and a small meditation corner with comfortable cushions or mats will be a great place to unwind anytime.
13. Utilize Soft Music.
Studies suggest that relaxing classical or instrumental music can create an ambiance in your home that encourages that simple 'calm feeling' we all crave.
Just play some soft tunes as background noise while doing your daily tasks with a little Bluetooth speaker, and let your worries disappear!
14. Create an Inviting Outdoor Space.
Did you know that just by creating a relaxing outdoor space, such as a patio or balcony, it can provide you with the ideal place for unwinding and enjoying nature at home?
Consider adding comfortable furniture, soft lighting, and potted plants to achieve an outdoor oasis you can call all yours quickly.
15. Soft, neutral tones curtains.
Soft, neutral tones in curtains will always and very easily create an inviting and soothing environment in any room of the home. Consider including beige, cream, and gray shades for maximum relaxation.
16. Add Some Faux Plants.
Plants like small succulents on a window sill or tall fiddle leaf figs in the living room can really help to soothe the mind and body while also providing a beautiful focal point.
Moreover, plants will undoubtedly create an appealing natural atmosphere in any room of the house without the fuss and expense associated with real ones.
You can find faux plants at most home goods stores or online retailers such as Wayfair or Amazon, usually costing $10-75 for each plant.
You may also like: 6 Bedroom Plants that'll Help You Breathe Better
17. Add a soothing Sound.
Another decor item to consider when trying to relax at home is noise. Sound machines can do the job well significantly if you can't reduce noise disruptions in your home!
The sense of sound from specific sound machines can be as gentle as trickling waterfalls and chirping birds. These handy devices provide relief and are worth investigating further if you want to relax while winding down.
18. Indoor Water Fountain is ultra relaxing.
Investing in an indoor water fountain is another great way to bring nature indoors to relax and unwind.
The soothing sound of running water from a natural source is a very comforting ambiance in any setting.
You can find water fountains between $50 to $200 from online retailers such as Wayfair and Amazon.
19. Essential Oil Diffusers.
If you don't have a green thumb, adding a plant-inspired diffuser that looks just as gorgeous as it smells and wafts calming aromatherapy scents like lavender and eucalyptus into the air is a great way to bring on those relaxing vibes.
Essential oil diffusers create an inviting ambiance in any room of the house. Depending upon size and function, they can be purchased from retailers such as Walmart or Urban Outfitters from $20 to $100.
20. Himalayan Salt Lamps.
Himalayan Salt Lamps are widely renowned for their air purifying capabilities, and they do a really great job at creating a tranquil, relaxing ambiance when lit.
You can find salt lamps anywhere online, from Amazon, and Wayfair, to Etsy.
21. Cozy Throw Blankets.
Add comfort and coziness to your home by investing in a few cozy throw blankets. You can always go right by having a couple of throws available within arm's reach.
22. Cozy Throw Pillows.
Comfortable and cozy pillows are vital for a more soothing added touch on your sofa or bed. Soft throw pillows are a simple way to relax in any space, and many of these pieces can also be found at a discount on Amazon or Urban Outfitters.
23. Aromatherapy Candles.
If you want to kick your candle game up a notch, Aromatherapy candles are scented candles designed to promote relaxation and well-being through essential oils.
They can help create an atmosphere of tranquillity by filling your home with soothing scents while offering aromatherapy benefits. You can find these specific Herbal Intention Candles on Etsy.
24. Meditation Cushions.
They always say for one to have an enjoyable meditation experience, it involves finding an appropriate meditation cushion.
These handy round cushions are great for sitting on and can typically be found at most home goods stores and online retailers.
However, this one at Urban Outfitters is an excellent find for just $44.
---
Soothing home decorating ideas.
A relaxing and soothing home atmosphere, wherever you create it, will always give you a place you can always turn to rejuvenate.
Moreover, if you can implement just a few of these simple and relaxing decorating ideas into your own home, there is no way you won't be able to create a soothing space to unwind in quickly.
From cozy reading nooks to serene meditation spaces, these ideas will help bring tranquility and peace to any room!
Welcome to Everything Abode, your daily inspiration for every activity at home!
Our goal is to inspire you to live an elegant and chic lifestyle from the comfort of your home.
We'll help you express yourself through authentic style, aesthetic beauty, and stylish home decor.
Subscribe to Get the Tools That Make My Blog Successful!
When you join my newsletter, I'm going to send you insider advice and tools that I use to grow my blog! I only save the BEST for my email list so don't wait!