Beginner's Guide for Decorating Your Living Room: How to Decorate Your Living Room in 13 Easy Steps!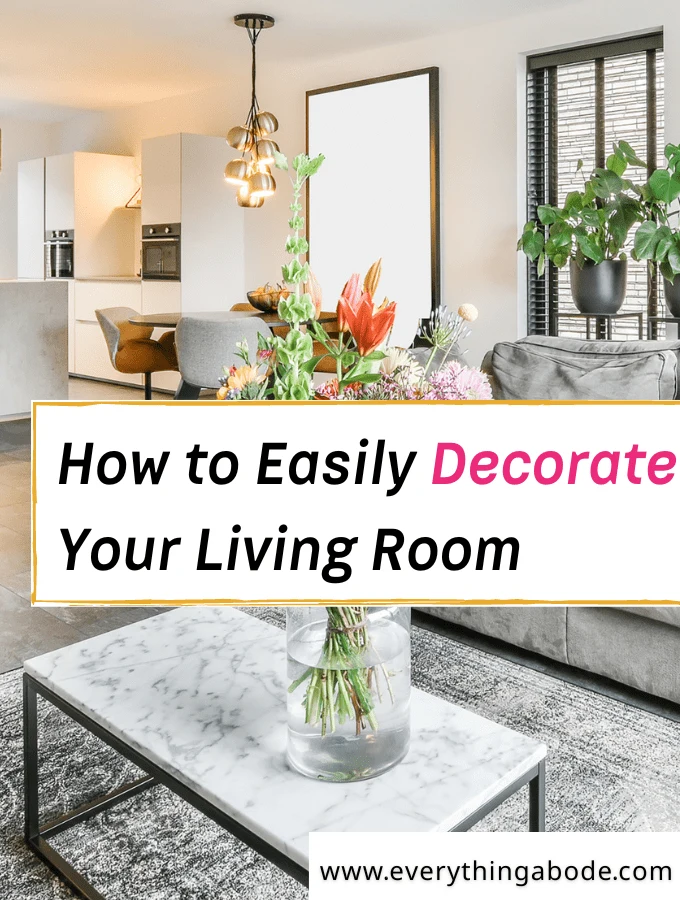 Decorating your living room can be exciting and daunting, depending on where to begin.
As the centerpiece of many homes, where family and friends gather to relax and spend time together, creating an aesthetically pleasing living room that represents your taste is critical for its success in looking great.
When designing your living room, one of the first decisions should be choosing your desired style or theme.
Are you drawn towards classic decor with rich colors and intricate details or minimalist chic with clean lines and neutral tones?
Once you know which aesthetic speaks to you, finding furniture, accessories, and decor that complement it becomes much more straightforward.
So, to refresh your living space with stylish yet practical decor, here are simple ways to decorate your living room in 13 easy steps!
How to Decorate Your Living Room:
Measure Your Space
This is the perfect example of measuring space in a living room to see what fits, especially with the entryway right behind the sofa.
Before decorating your living room, you must measure its dimensions precisely.
Accurate measurements will help you select appropriate furniture pieces, rugs, and window treatments while saving time and money by eliminating ordering/returning issues.
RELATED:
Establish Your Intentions
See how everything in this living room shows most breakable items are placed up high. It's the perfect example of being intentional.
Understanding how you plan on using your living room will have a dramatic effect on its design process.
Be clear on your intentions for the space before diving in – be realistic about your needs and ensure the room reflects your lifestyle.
For example, if you have young children, avoid glass coffee tables and excessive floor lamps that might present potential tripping hazards.
Focus On Your Aesthetic
There are many living room ideas with cozy corners, like the one above.
Establishing an aesthetic scheme for your living room design is vitally important. Before starting, consult design books, magazines, or Pinterest boards for inspiration; having at least ten images that inspire a room design would be ideal.
Get inspired and save your favorite on Pinterest!
Create a "Room Board"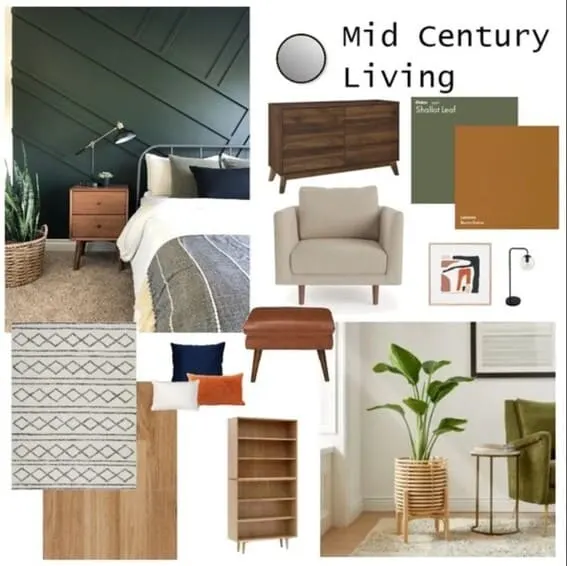 Shop this interior design room board idea on Etsy!
Gather images of the furniture pieces you intend to use and assemble them on a "room board." This will let you see how all the furniture and decor interact and play off each other before bringing them into the home, helping identify potential mistakes that require correction before it's too late.
Select a Cohesive Color Palette
You can boldly paint your walls black, as this example illustrates beautifully.
Just make sure you have enough light and complementing furnishings.
A cohesive color palette makes selecting prints, furniture, and textiles easier and instantly more stylish.
A predominantly neutral living room color scheme with splashes of color can tie the room together seamlessly.
This is another color palette example when bold colors (like tangerine) can make an impact in a living room!
Begin Shopping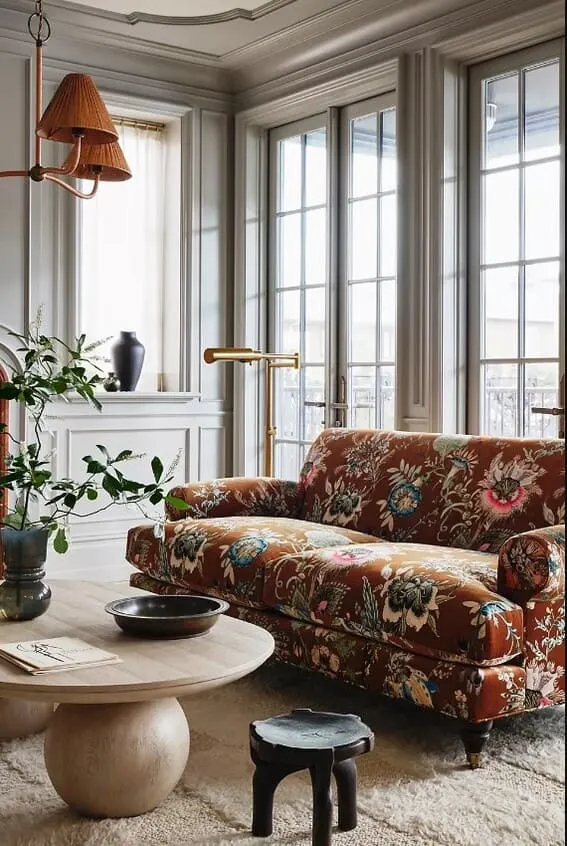 Shop this sofa at Anthropologie!
Start with larger pieces to anchor the room, such as a sofa or an area rug, and build from there. Always purchase the best sofa you can afford then; after all, this is where most of your time will be spent in your living room, so make sure it offers maximum comfort!
Select Furniture That Complements Each Other
Shop this sofa at Anthropologie!
Achieve a luxurious living room design by selecting pieces that complement each other without necessarily matching. Please take note of the textures and colors used when selecting furniture pieces to consider how well they play off each other.
Ground the room with a rug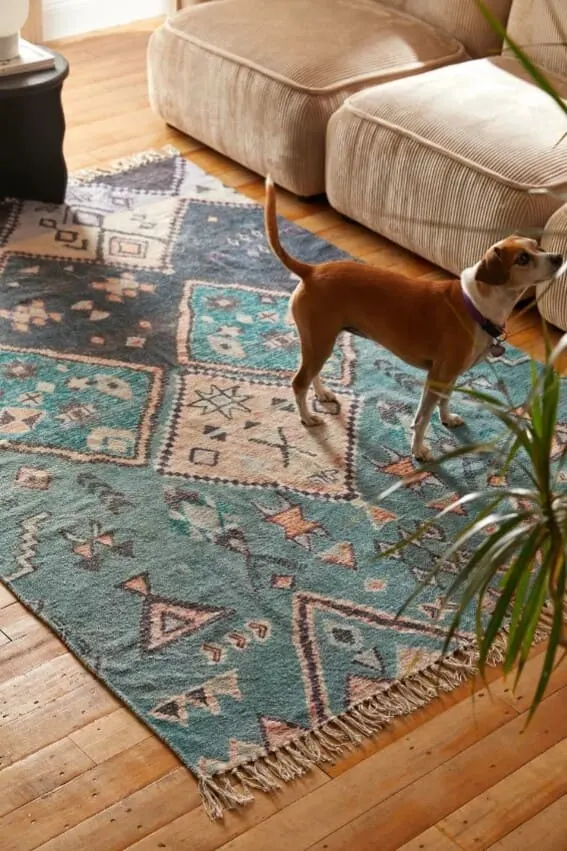 Shop this rug at Urban Outfitters!
Take an inventory of your living room pieces and their interactions, and determine a rug's ideal size by placing each item of furniture where you would like it to sit – then measure how large of an area rug needs to be so that all main sitting area pieces have at least their front legs resting on it.
Add Styling Moments Throughout the Space
This living room illustrates a gallery wall perfectly. It shows that styling moments can be as creative as you want.
Look beyond walls for opportunities to add decoration moments throughout a room.
From coffee table books and wood bowls on coffee tables to artwork on walls and candles placed on mantels, this living room demonstrates how decor can be strategically incorporated throughout it all.
Establish a Focal Point
Every living room requires a focal point – an object that draws the eye and anchors the space.
For instance, take the warm blue color with the tiger statue as an example. This focal point really stands out!
This could be anything from a fireplace, artwork, or statement piece of furniture; just be sure that its scale and shape complement other elements within the room.
Consider Lighting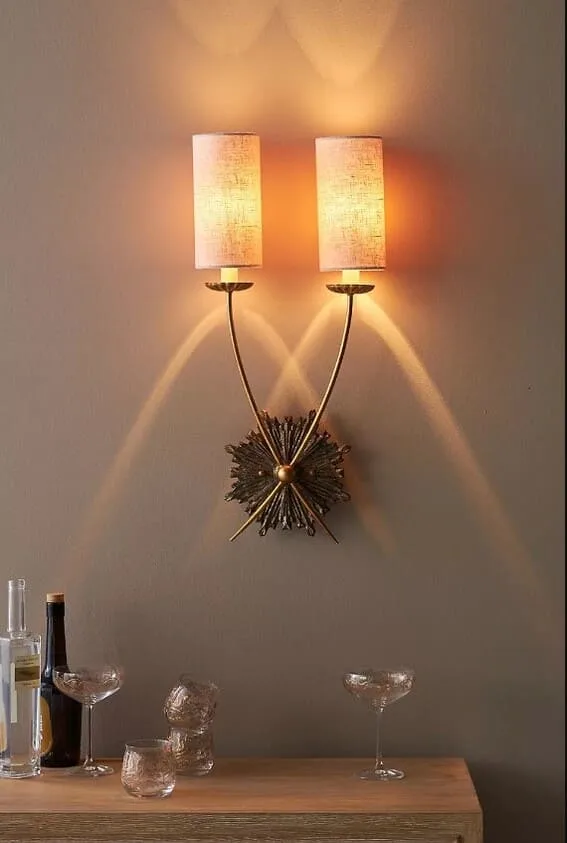 Shop this light at Anthropologie!
Lighting is essential to creating the desired ambiance in any room, especially living rooms. Careful consideration must be given when selecting floor lamps, table lamps, wall sconces, and chandeliers in creating an atmospheric lighting scheme for living rooms.
Add Accessories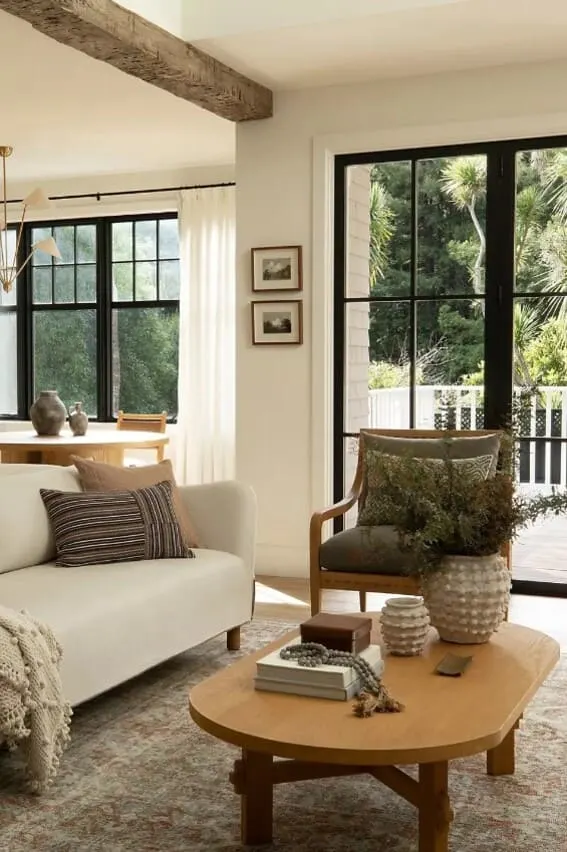 Shop this plant pot at Anthropologie!
Accessories are the finishing touches that bring any living room together. Think of throw pillows, throw blankets, plants, and artwork as ways to bring life and depth to the space. Varying textures and materials add depth and interest while giving it dimension and personality.
You can Still Design Your Space on a Budget.
Decorating your living room doesn't need to break the bank. Consider shopping second-hand stores, repurposing your own furniture, or creating DIY accessories yourself. Graph paper will help measure and plan your space, while new paint can completely transform a room without costing an arm and a leg.
Follow these 13 steps to create a living room that is both stylish and functional. Stay true to your aesthetic and intentions for the room, mixing and matching furniture pieces and accessories until it creates a space uniquely your own.
Decorating on a budget can be an enjoyable and creative challenge!
Below are some budget-conscious suggestions to decorate your living room:
Make the most of repurposing old furniture or purchasing second-hand pieces to bring life and texture into your living room by using rugs to add color and texture.
Enhance it further with decorative pillows on your sofa and curtains to add depth and warmth to your space.
What Are Some Modern Living Room Ideas?
Modern living room designs emphasize simplicity, functionality, and minimalism in design.
Here are some modern living room ideas:
Utilize neutral colors such as white, black, and grey
Incorporate clean lines and geometric shapes
Use natural materials like wood and stone
Add pops of color with decorative accents
Utilize functional furniture with storage capabilities.
What are some tips for decorating a small living room?
Historically, decorating a smaller living space can be challenging; however, with some practical advice and ideas from professionals such as yourself, you can maximize its potential.
Here are a few helpful suggestions for decorating a smaller living room:
Light colors will help your living room appear larger
Multi-functional furniture will help save space
Hanging mirrors will create the illusion of more space
using shelves and wall-mounted storage will keep clutter at a minimum
What are some essential living room decoration items?
Various items will add character and flair to your living space, making the room truly personal.
Here are a few essential living room decor items:
Area Rugs
Decorative Pillows
Curtains or Blinds
Wall Art
Plants or Flowers
Coffee Table and Books
Candles or Diffusers
These are the perfect items for the ideal living room setup.
What are some fundamental rules when decorating my living room?
When decorating a living room, there are a few essential guidelines to achieve an aesthetically pleasing space.
Here are a few rules to keep in mind:
Use lighting to add ambiance
Choose a color scheme you love for your living room decor.
Create a focal point by mixing patterns and textures moderately
choose an inviting focal point
to balance furniture and decor items when selecting accessories for the room
Do You Want a Beginner's Guide to Home Decorating?
Starting home decoration may be daunting at first, so here are some essential tips for beginners:
Begin with a plan and budget
choose a color scheme and style you adore
purchase quality furniture pieces that will last
add decorative accents for personalization
take your time
enjoy the process!
UP NEXT: 8 Reasons Why You Hold On To Too Much Stuff
Welcome to Everything Abode, your daily inspiration for every activity at home!
Our goal is to inspire you to live an elegant and chic lifestyle from the comfort of your home.
We'll help you express yourself through authentic style, aesthetic beauty, and stylish home decor.
Subscribe to Get the Tools That Make My Blog Successful!
When you join my newsletter, I'm going to send you insider advice and tools that I use to grow my blog! I only save the BEST for my email list so don't wait!