A minimalist kitchen is a great way to create a kitchen where you know where everything is. Here are 11 easy ways to create a minimalist kitchen at a moment's notice!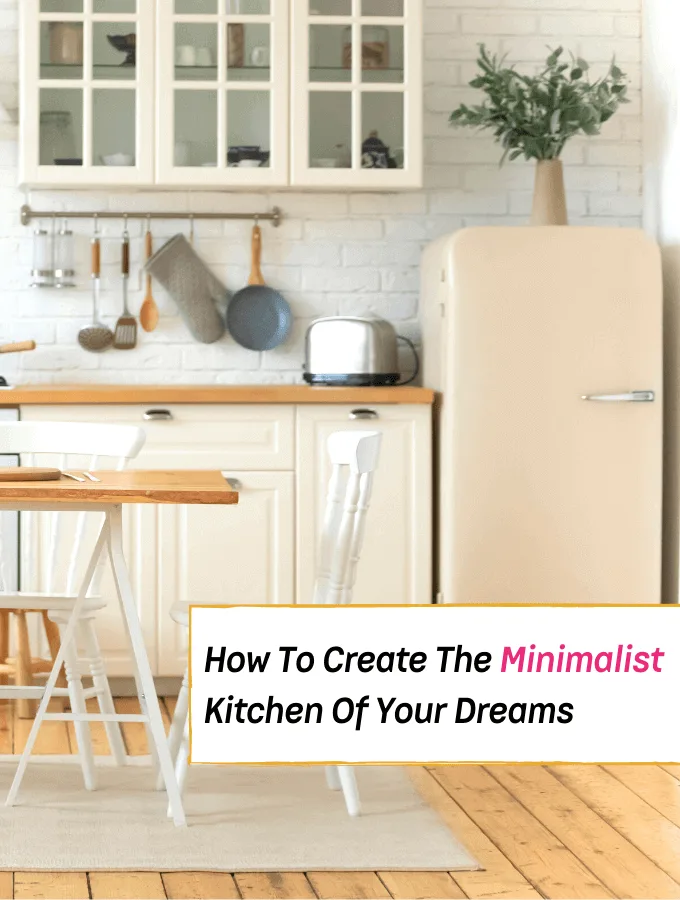 Have you ever craved to have a minimalist kitchen?
A kitchen where you know where everything is at a moment's notice?
If you have, then you also know that the minimalistic style is all about using restraint and thoughtfulness in your product selections.
Moreover, a secret to simplifying this orderly way of life is to first read a few quick words on interior design and minimalism.
Because first off, being a minimalist can be for anyone. Anyone who simply wants to lead a more simple and organized life.
Second, even though minimalism is about owning less (while reusing what we already have), being a minimalist is NOT about having the latest gadgets and expensive furnishings.
Third, a minimalist doesn't translate to having rooms that are cold, stark, and empty.
Rather it's about investing in useful things that last longer while having a "less is more" mentality.
So if you are ready to discover how to turn the kitchen you have into a minimalist kitchen?
Here are 11 tips to create the minimalist kitchen you've always wanted!
How to Create a Minimalist Kitchen to Save Space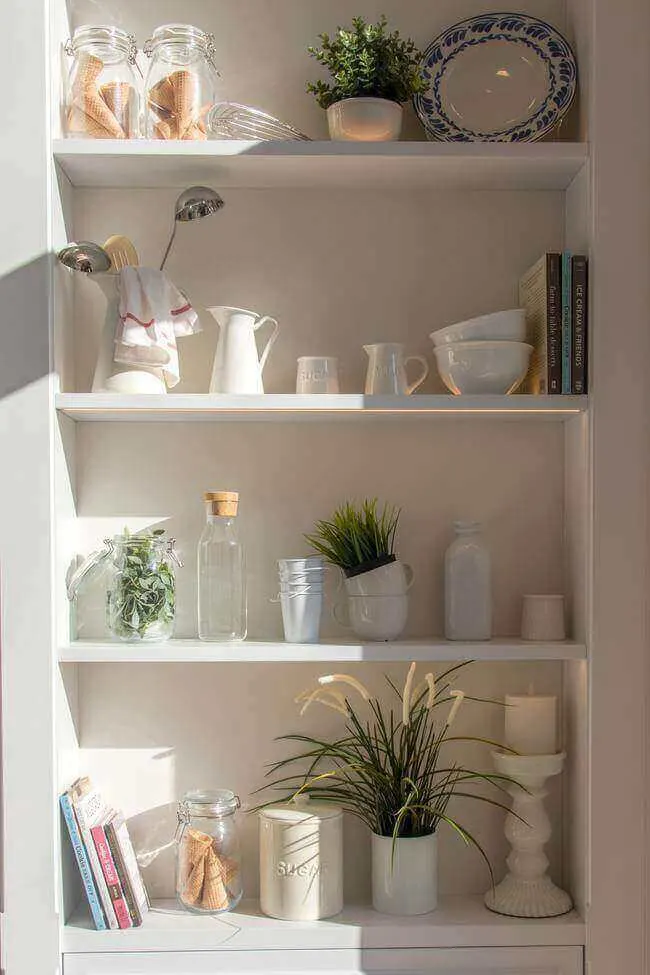 1. Banish the Clutter.
According to behavioral psychologists, too much clutter can be caused by depression, attention deficit disorder, low self-esteem, or lack of personal boundaries.
Who knew?! So if you find that your kitchen is overly cluttered for any of those reasons, now is the best time to grab a box, set a timer for twenty minutes, and fill that box (or two) with all the kitchen clutter that has accumulated over the years.
Once you do, you will be well on your way to creating a minimalist kitchen!
2. Keep the counters clear.
Ah, the clear surface rule! I've gone over this in the classic house rules to keep a really clean home.
But you've probably heard this before and you're about to hear it again. Clear surfaces can seriously make all the difference when creating a minimalist kitchen.
Not only that but when we have less stuff accumulating space on our kitchen counters, our kitchens will always look tidy no matter how many dishes get piled in the sink.
Moreover, it takes only ten minutes to take your kitchen from messy to amazing. And you can do that in a breeze by simply keeping all the kitchen counters clear.
Here are a few ways to keep your counters clear:
Keep all surfaces cleaned and sanitized after you cook.
Place all nonessential kitchen equipment out of sight.
Use soap and disinfectant to keep your kitchen counters sparkling. Doing so decreases the number of surface germs, dirt, and impurities from building up. And disinfecting clears most surface germs.
As a rule of thumb, any area of your home that has high traffic surfaces is the first area you should keep clear and clean. This usually results in the kitchen island being the messiest, so if you have a kitchen island that hosts an array of items, clear it all off and try to keep it that way.
3. Do a trial run of only what you need.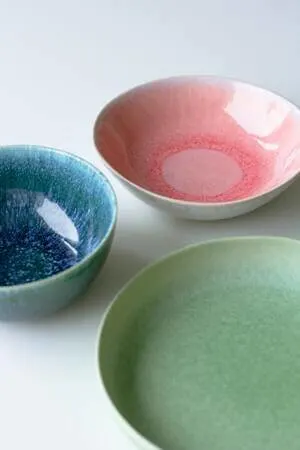 Now if you would really like to have an ultra minimalistic kitchen, pack away all those extra kitchen items that you don't use often.
It doesn't mean you have to throw or donate them yet! All you have to do is pack them away for a trial run to see how living minimally feels.
Generally speaking, these are the types of things that you don't use on a daily basis such as extra bowls, an oversaturated amount of cutlery, and any other kitchen things you have way too much of.
When it comes to minimalism less is more, so consider holding onto one set of mugs, glasses, bowls, and plates if you live on your own.
Naturally, when it comes to the deciding factor of what needs to stay or go, keep the kitchen items that you use often.
Test things out with what you can live without and see how things go.
4. Keep your counter appliances hidden.
When it comes to creating a minimalist kitchen, things like blenders, toasters, coffee makers, and stand mixers can easily accumulate on top of your kitchen counters.
When this happens it makes making a minimalist kitchen not look minimalist at all!
So if you have too many kitchen appliances taking up a lot of space, consider hiding them out of sight.
Remember, the minimalist approach is not about hiding everything away but only keeping out one or two appliances that you frequently use!
And if you can get away with storing all the others out of sight, all the merrier.
Now if your kitchen lacks the extra storage space it needs, try elevating your appliances as your next best bet.
Doing so will ensure you get that minimalistic kitchen you are striving for.
5. Invest in One to Two Good quality knives.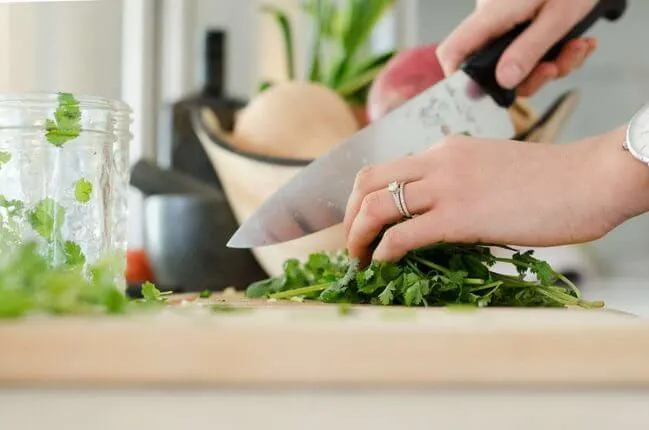 When it comes to living the minimalist lifestyle, less is really more, but quality really does matter so you can have less.
So when it comes to knives in a minimalist kitchen you really only need two — One to mince vegetables with and the other for everything else!
Also if you make sure that you keep your kitchen knives in mint condition by always sharpening them and placing them in a special drawer, they will not only last longer, but you won't need that classic wooden block of knives that takes up a lot of space on your kitchen counter.
6. A set of nesting pots takes up less space.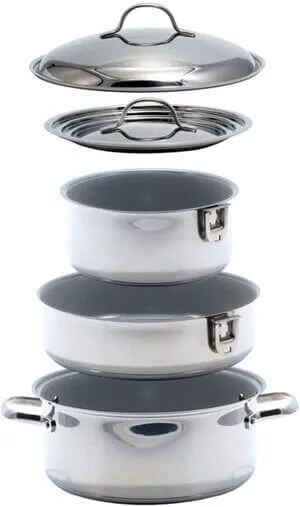 Another great idea to create a classic minimal-looking kitchen is to invest in good quality cookware sets that nest inside each other!
Nesting pot sets not only save space but will give you everything you need all in one investment.
Better yet, if you aim for stainless steel, cast iron, or copper in your choice of nesting pots these materials are not only durable but will be cost-effective in the long run.
Materials like these are not only hardy but they can last a lifetime.
Also if you care for them and treat them well, they will practically pay for themselves because you won't need to replace them.
7. Have one good-sized baking bowl.
Now if you like to bake, I'm sure you are aware of all the baking bowls that you think you might need.
But really, when it comes to baking, you really only need one large-sized baking bowl to get the job done!
Having one baking bowl will not only save you a ton of space in your kitchen but it will most likely save you from cleaning up after multiple bowls after you've baked something delicious. A win-win!
8. Reuse old glassware.
When it comes to having a minimalist pantry think about reusing your store-bought jars and recycling out the rest!
Doing so will not only save you some cash but reusing glass jars and bottles for things like spices, oils, sauces, and dry goods will save you so much space and also save the environment.
Remember, minimalism is also about consuming less, and reusing jars is also a great way to save space.
9. Think long-term when purchasing big-ticket items.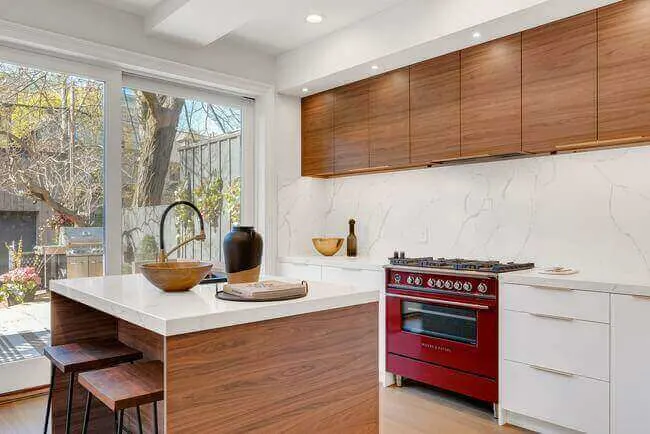 When it comes to saving money on minimalist décor, sometimes it's worth spending a little bit more money now to save even more money down the road.
For instance, when it comes to the bigger purchase items such as dining tables and kitchen stools, if you buy quality items that last, you won't need to worry about fixing or buying new decor for many years to come.
Moreover, when choosing great quality furniture, if you purchase modern yet timeless shapes and materials (think neutral colors), they will tend to last longer and won't go out of style or fall apart easily.
Natural materials to consider are natural woods, glass, stones, metals, and natural fabrics.
Also, try your hardest to stay clear of synthetic materials as much as possible. Materials like these tend to wear and tear very easily and will cost you more money in the long run.
10. Elevate everything else that meets the eye.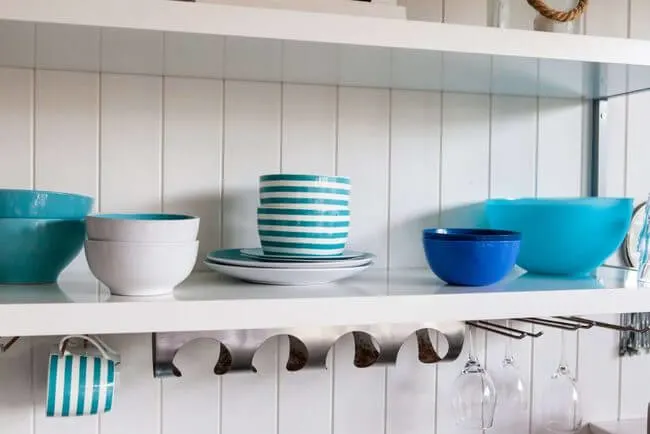 Elevating your kitchen supplies by placing your soap dispenser on the wall or towels on hooks or even adhering them to your backsplash area is a great way to create a minimalistic kitchen on a budget.
You can hang your cups and mugs under the kitchen cabinets or place your knives on a metal magnet up against the wall.
The opportunities are endless to create loads of space in the kitchen and doing so will allow more surface room for your kitchen counters.
Another minimalist kitchen tip: If you have multiple outlets exposed that you don't use? You can easily hide them by placing a hanging oven mitt right in front of it.
11. Keep it simple with colors and tones.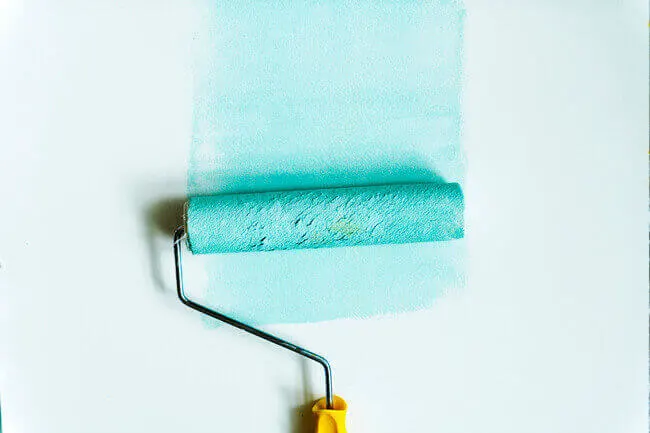 Lastly, simple will always out win everything else, especially when it comes to the paint colors and accent tones you choose.
But that doesn't mean you can't have bright colors in a minimal kitchen. It just means that you should make sure that you are intentional about it!
For instance, bright and overly patterned wallpaper will make your kitchen look busy.
So when choosing paint colors or wallpaper for your kitchen, if you make sure your backsplash tones and hardware complement your appliances, dishware, and cabinets in a cohesive manner, you've got yourself a minimalist kitchen to be proud of!
---
There you have it! Minimalism is all about simplifying your life by getting rid of any excess stuff that is weighing you down.
It's really not a whole look that you are going for but rather a lifestyle that creates the space you need while providing comfort to live life with less.
If you follow a few of these tips, surely you will have a minimalist kitchen in no time at all!
Welcome to Everything Abode, your daily inspiration for every activity at home!
Our goal is to inspire you to live an elegant and chic lifestyle from the comfort of your home.
We'll help you express yourself through authentic style, aesthetic beauty, and stylish home decor.
Subscribe to Get the Tools That Make My Blog Successful!
When you join my newsletter, I'm going to send you insider advice and tools that I use to grow my blog! I only save the BEST for my email list so don't wait!