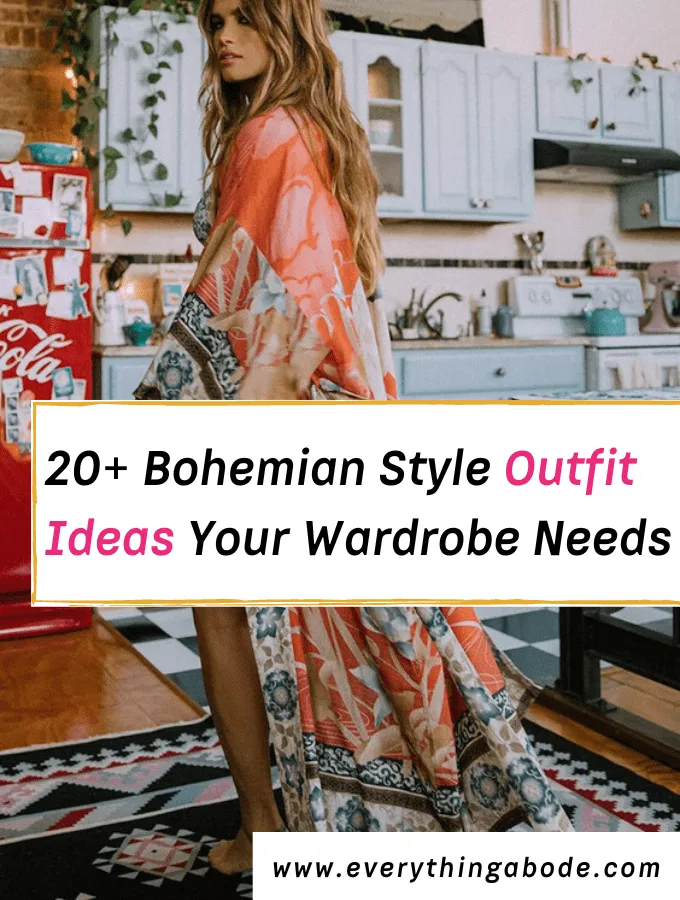 If you think of yourself as a nomad and free spirit, then the boho style is the perfect way to express your earthy, artsy personality.
Or if you ever dreamt of a Boho outfit that would be a head turner wherever you end up, you have to check out this collection of bohemian outfits and dress ideas!
The list below shows the materialized reality of that boho look that every fashionista pulls off seamlessly.
Not only that, but most boho-inspired outfits can be mixed and matched with an array of jackets, boots, and heels or worn on their own to make a statement.
Let's get started!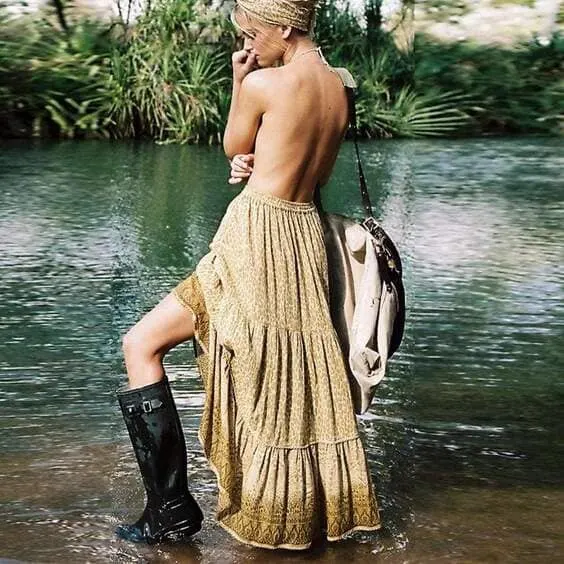 If you would like to know the basics behind what makes up the bohemian style in fashion, here are five facts you should know:
Bohemian (Boho) is minimalist, comfortable, artistic, and environment-friendly – this style is perfect for your free-spirited self.
Bohemian outfits are a great way to move away from fast fashion and towards stylish, sustainable clothing.
Bohemian fashion is a long-term, easy-to-finance lifestyle option.
Bohemian outfits are more than a fashion statement.
Bohemian fashion is counter-culture clothing. If you're a wanderer and want an unusual style to define yourself, Boho outfits might be the right choice for you.
How do you get the bohemian look (in an outfit) just right?
When dressing in the bohemian fashion trend, opt for these six basic rules:
A Bohemian-inspired outfit can be created by blending warm and cool tones in the right proportion.
Choose four to six colors.
Loose-fitting tops, flowing dresses, and bottoms are the most ideal.
Use floral patterns to add some flare to your look.
In addition to tops, your wardrobe and outfits should include a variety of skirts, wide-legged pants, flared jeans, and other flowy bottom pieces.
For outerwear, opt for oversized pieces with decorative fringe or cute trims.
Now, look no further if you are looking for creative bohemian fashion ideas.
Here are 20-plus bohemian outfit ideas that will scream boho in any season!
1.

Boho layers.
Layering your outfits is the first classic approach to achieving the bohemian style at its best. Whether it concerns comfort and warmth or you are opting to layer with more boho jewelry, the more, the better!
Also, remember that bohemian styling your wardrobe doesn't mean you must be cold to stay stylish, especially during the cooler months.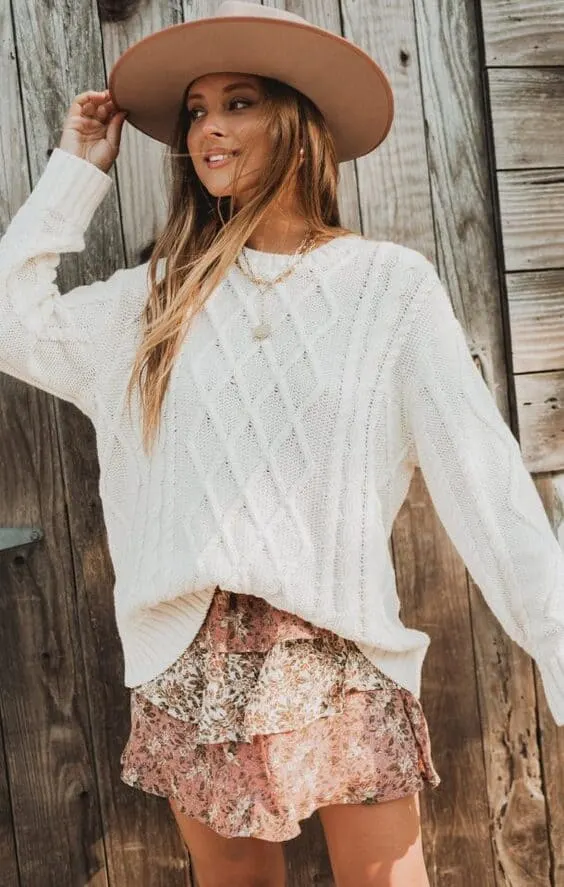 Get this bohemian-inspired outfit here.
2.

Tassels and boho go hand in hand.
When dressing in bohemian outfits, stunning neutral shades are your best friends during summer. Also, bohemian clothing in neutrals is a classic approach, especially if you add in a tassel or two.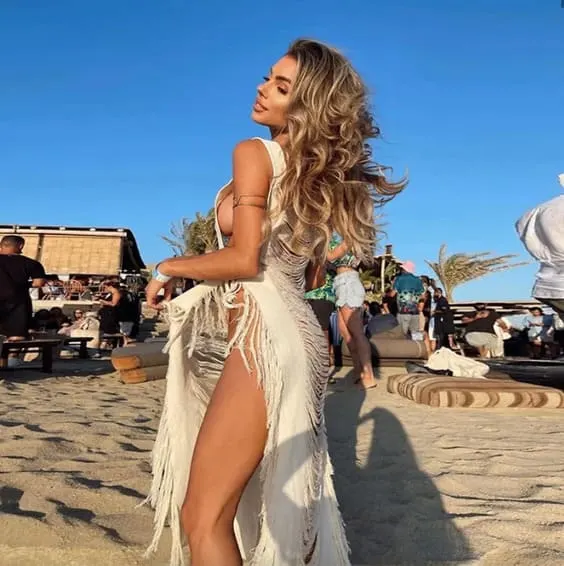 Get this bohemian-inspired outfit here.
3.

see-through rebellious lace.
For the jumpsuit of your dreams, look no further than this lace bohemian-inspired one-piece jumpsuit. You'll be turning heads wherever you go wearing this bohemian outfit. Especially if you do the little Anne Hathaway turn all day too!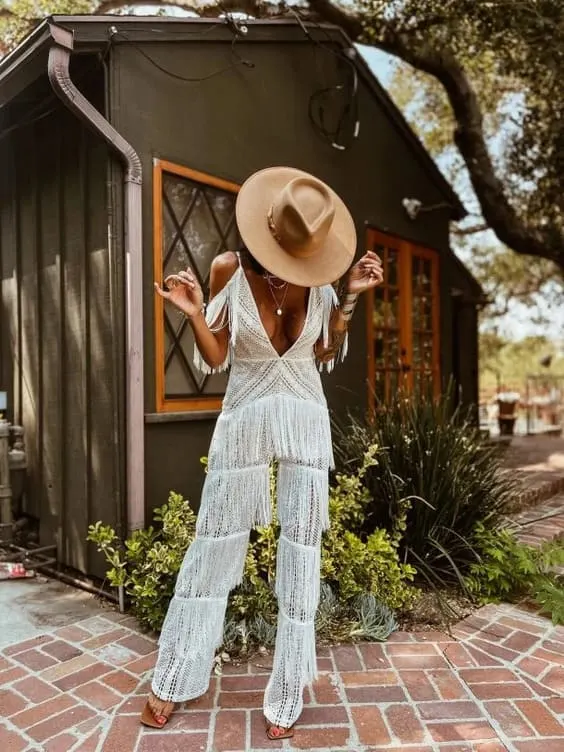 Get inspired by these similar looks on Etsy.
4.

Bohemian crop tops.
Check out Bohemian crop tops if you're looking for a new style to add to your boho closet. This trendy style features a crop top with vibrant colors and crochet lace detailing. It's a great option to pair with flared pants and espadrille sandals.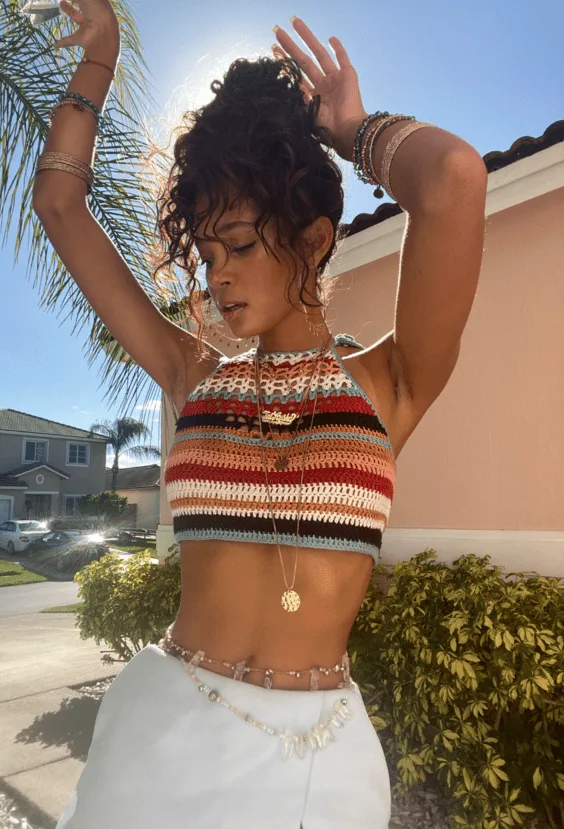 Get this bohemian-inspired crop top here.
5.

Chic bohemian charm wraps.
The boho vibe is about being carefree and close to nature, with an added pinch of soft pastels. Take this beautiful bohemian coat inspired by the sandy dunes' colors with the right texture.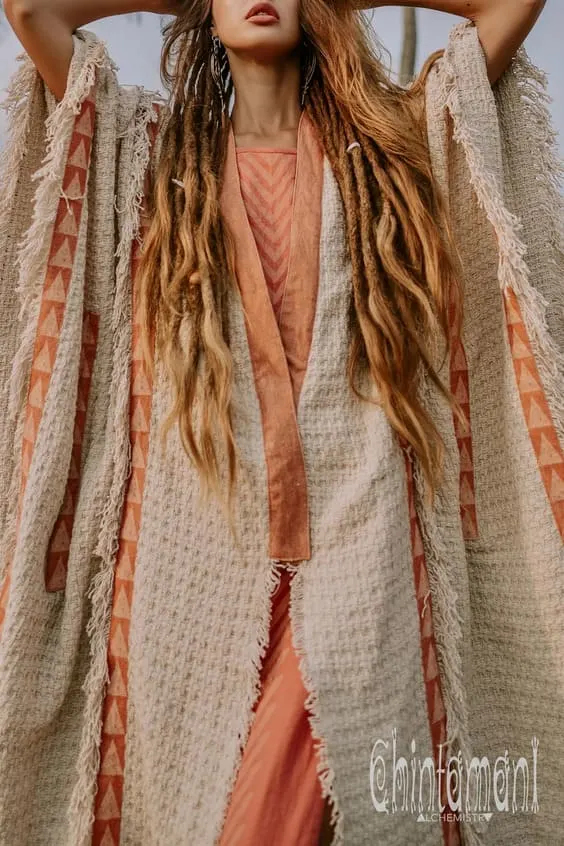 Get this exact bohemian-inspired outfit here!
6.

Cool boho Jumpsuits.
Trendy boho jumpsuits can be worn as contemporary outfits if worn in a neutral color or seen as exotic, depending on your choice of fabrics and patterns.
The classic blend of a casual one-piece in a boho chic style is striking.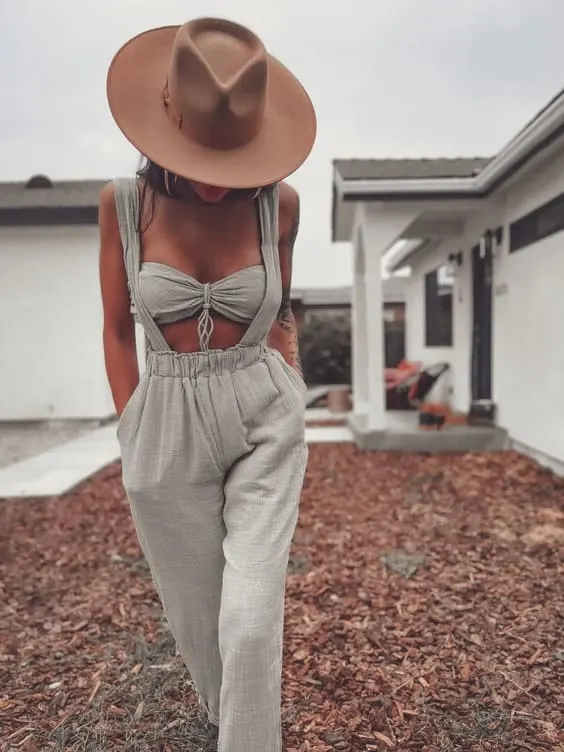 Get this bohemian-inspired outfit here.
7.

Tiered Bohemian Maxi Skirts.
A bohemian maxi skirt is a beautiful piece of clothing that can be worn on any occasion. These skirts are easy to wear and come in various textures and prints.
They can be dressed up with a pair of high heels or down with a pair of ankle boots. You can pair them with a vintage tee to add a little rocker flair to your boho outfit.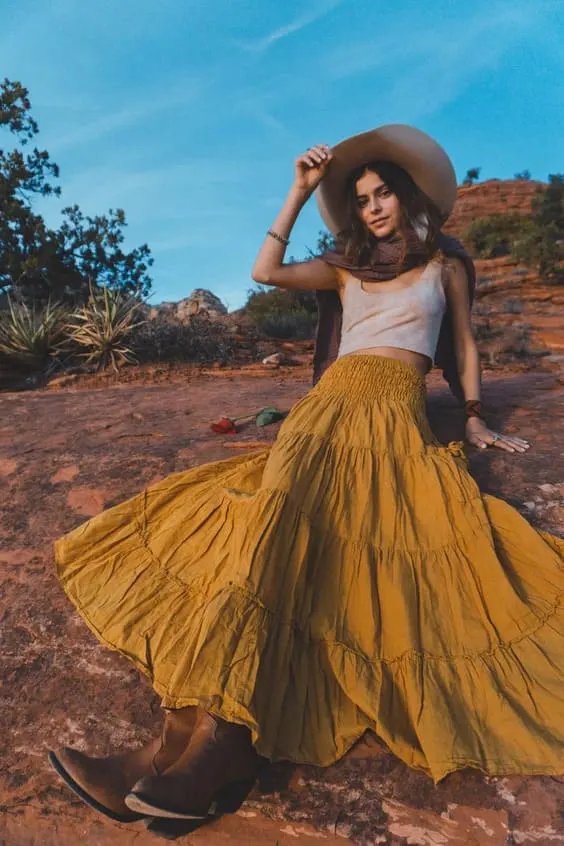 Get this bohemian-inspired maxi skirt here.
8.

Floral bohemian summer dresses.
A Floral bohemian dress has a romantic feel, with a square neckline, ruffled sleeves, and a tiered skirt. Wear this dress as an alternative to a traditional evening dress. It is perfect for a summer evening or a special event.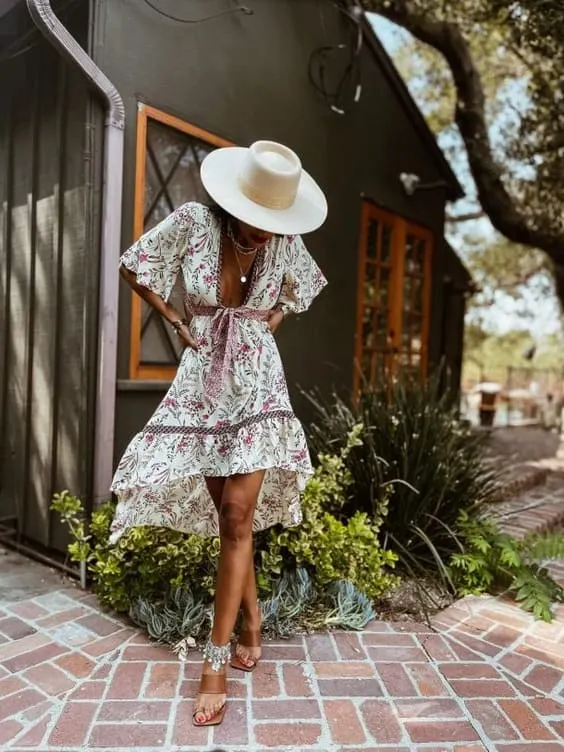 Get inspired with these similar dresses here.
9.

Daring bohemian festival outfits.
For a free-spirited boho vibe, or if you are attending a festival soon, try wearing a daring one-piece festival outfit. You can dress it in a bohemian-looking coat or pair it with fringed ankle boots to add a touch of sophistication or edginess to your festival look.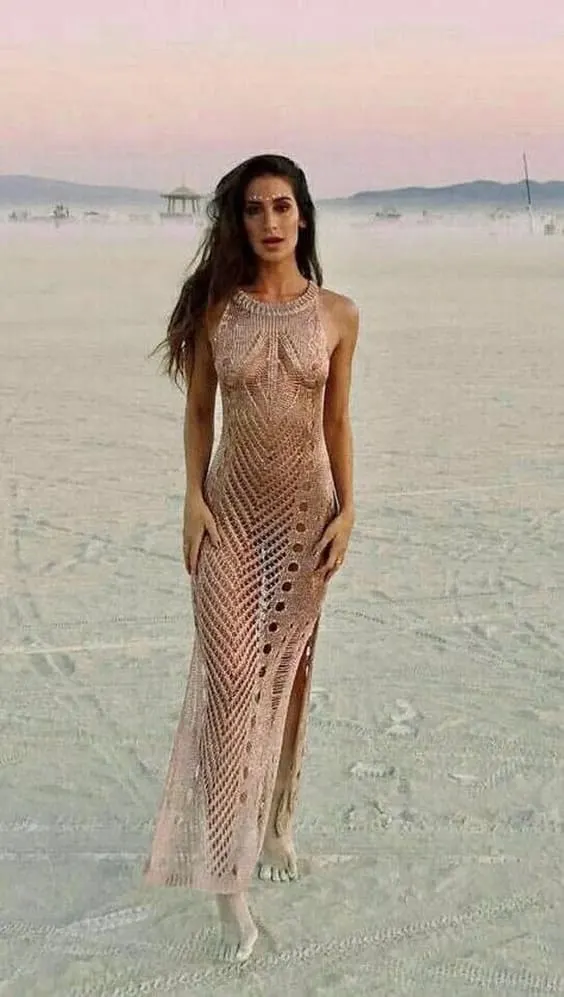 Get this exact outfit on Etsy here.
10.

Leopard/animal prints.
A bohemian leopard print outfit is a versatile look, especially for the warmer months.
This print works well as a neutral base for almost any outfit pairing. You can wear it as a summer dress or pair a leopard print top with various pants, from denim to straight trousers.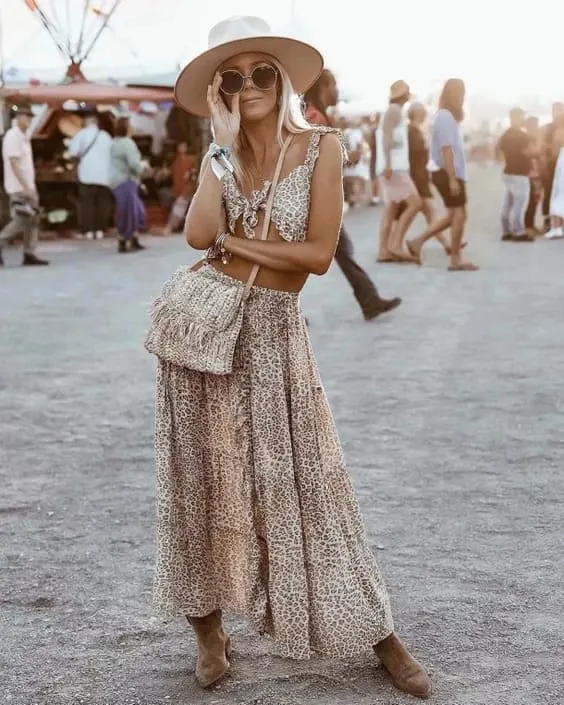 Get this exact look here.
11.

Paisley midi bohemian dresses.
If you love the bohemian style, you may want to consider purchasing a paisley midi dress. Paisley midi dresses come in various styles and designs and can fit most body types.
These dresses are often lightweight, which makes them comfortable to wear on warmer days. Depending on your preference, you can even wear them with flats or boots.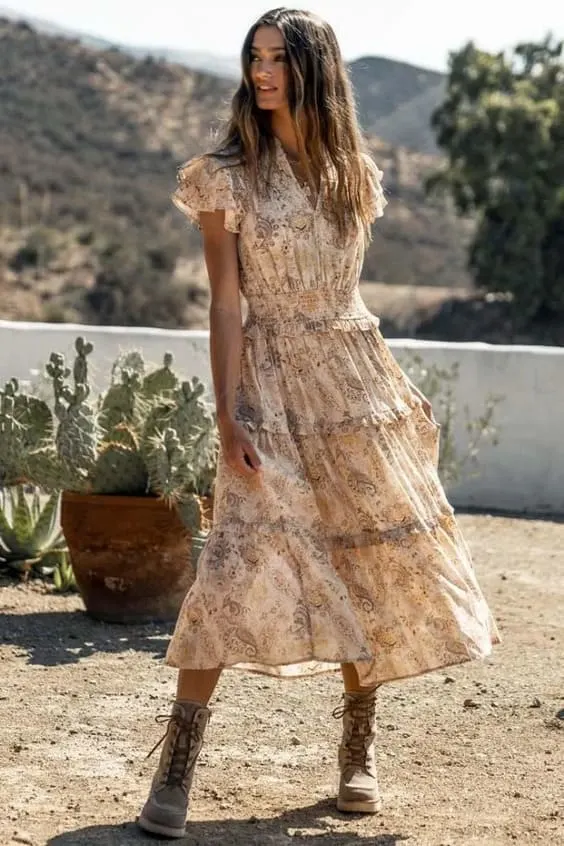 Get this exact dress on Bohme.
12.

Gypsy bohemian jewelry.
This beautiful outfit features a lot of innovative and unique bohemian-style jewelry to make even a white dress feel more special. This outfit is also perfect for a beach party.
Get inspired with these bohemian-inspired jewelry options here!
13.

Nonchalant Bohemian headwear.
Boho Style is not only for summer but rather for all seasons. All you have to do is add some bohemian headwear and boho-inspired wraps and coats to finish off the look.
14.

Large buckle belts.
When adding details to your bohemian-inspired winter outfits, don't forget that belts with large buckles can also make a subtle bohemian statement when walking around town.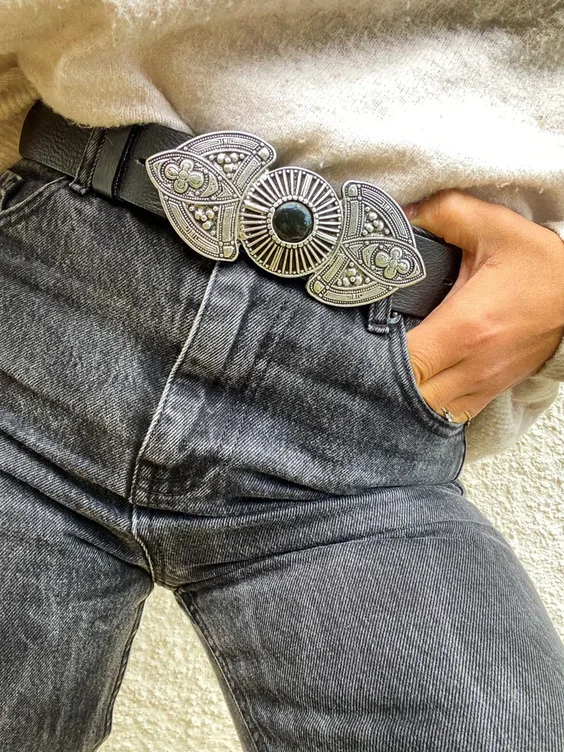 Shop this exact belt on Etsy here!
15.

Bohemian Summer casual.
One of the best things about dressing in bohemian outfits is you can go as casual as you want and still look effortlessly put together when you pair your summer outfit with a bohemian wrap.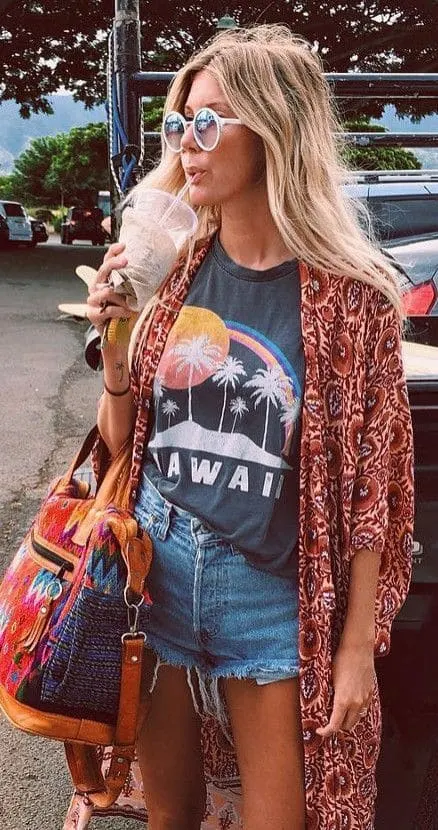 Get inspired by something similar here!
16.

Vintage Bohemian Kimonos.
Or try your hand wearing a long bohemian-inspired kimono. You won't need anything but a great shade of nails from your manicure to match the look!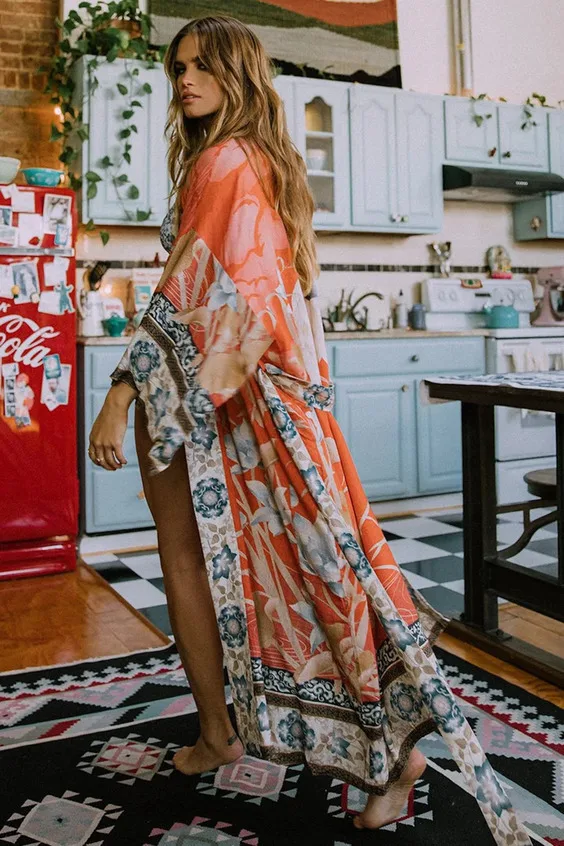 Shop this exact bohemian kimono here!
17.

vintage leather boots.
Whenever you need to dress down an outfit to make your ensemble feel more casual than it ought to be, don't be afraid to grab a pair of your vintage-style cowboy boots. After all, bohemian outfits are just as casual and laid back while effortlessly looking cool.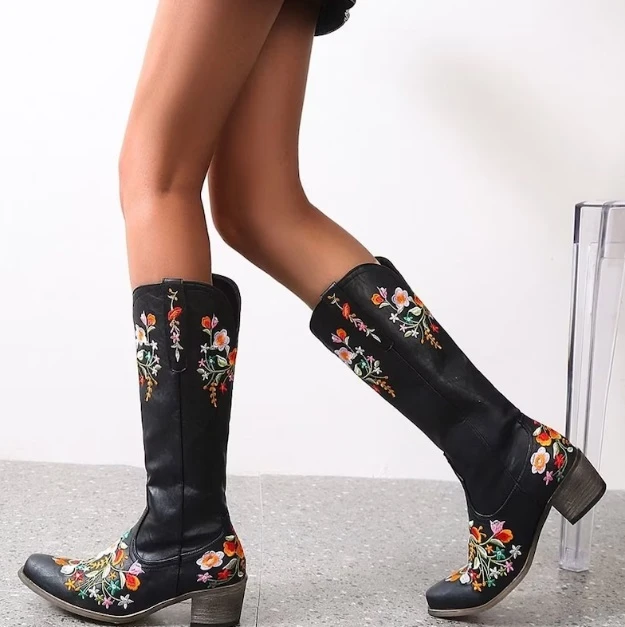 Get these exact boots here!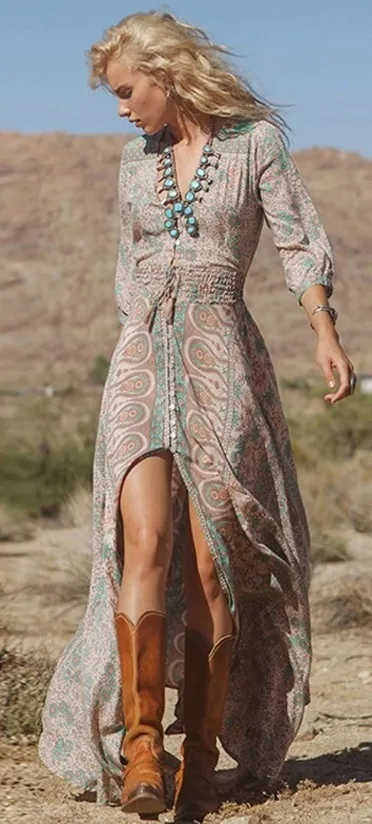 Get this exact bohemian outfit here!
18.

Boho high-rise front slit skirts.
At your next event, why not wear a boho-inspired skirt with a high front slit. For instance, this particular skirt can be worn two different ways; as a skirt or hiked up as a tube top dress.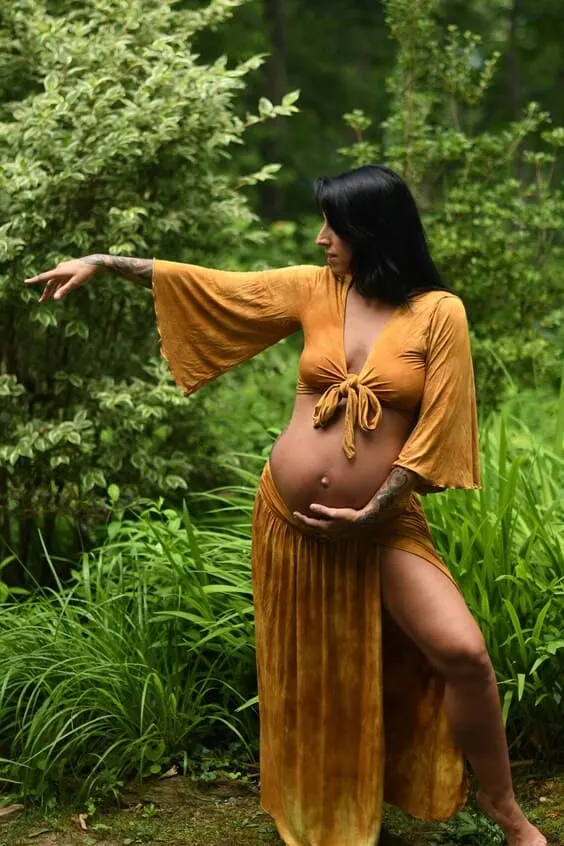 Get this exact bohemian outfit here!
19.

Long floral skirts.
The gorgeous boho style can also be worn with long floral skirts. Floral patterns, especially on the beach, are the classic bohemian style that first made it appealing to the masses.
Get inspired with this similar bohemian long floral skirt on Etsy!
20.

Crochet.
If you want to nail the authentic boho beach girl look, add a mix of crochet with a maxi skirt to make the best bohemian beach outfit combo.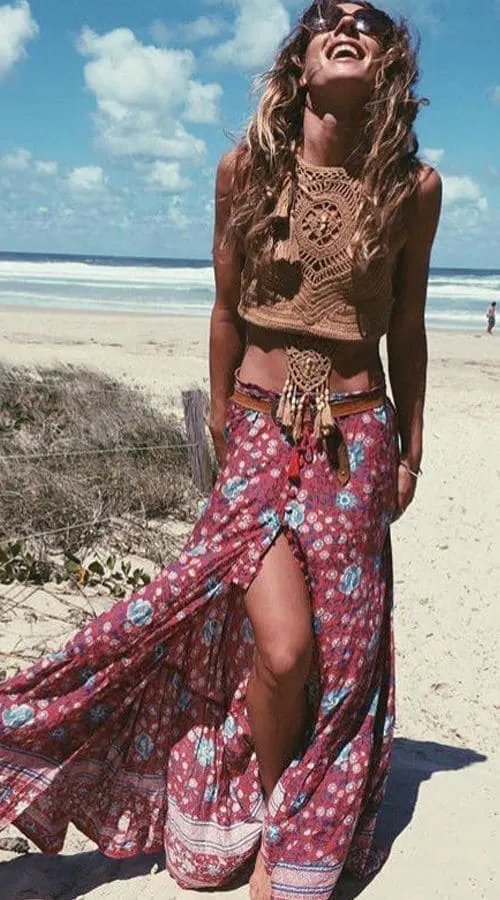 Get inspired with this similar crochet top here!
& this similar maxi floral skirt here!
21.

Hand-woven dresses.
If your budget can handle it, try investing in a loose, lightweight, and comfortable handwoven dress. Hand-made and hand-woven dresses are meticulously crafted with care and attention to every little eye-catching detail.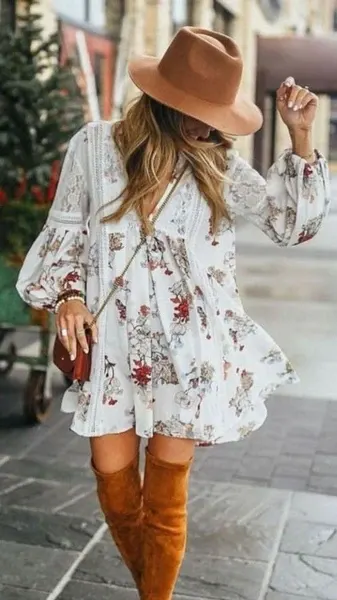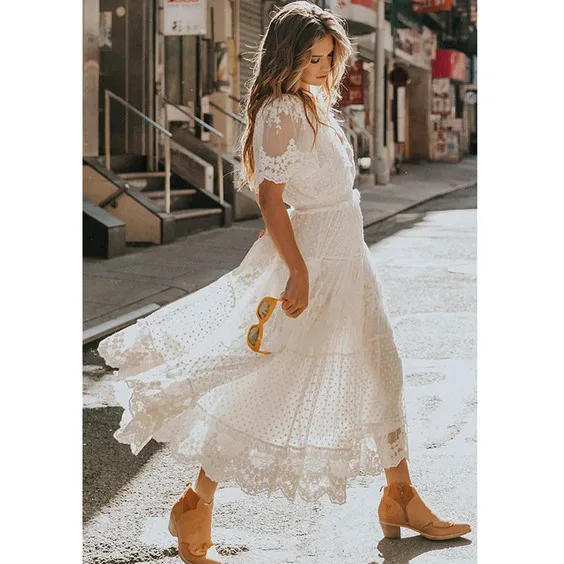 Get this exact white bohemian outfit here!
---
The boho style has a way of always being true to its aesthetic.
You may be able to associate specific motifs, silhouettes, and details with the bohemian style, such as floral prints, maxi dresses, and embroidery, to name just a few. However, once you wear this style, you are instantly transported back to the 60s and '70s.
That's why dressing in bohemian outfits is so much fun! From prairie dresses to western details, it is safe to say that the bohemian style will always last much longer than we think.
For more bohemian ideas, check out these articles next:
14 Bohemian Styling Tricks Your Home Needs
55 Chic Boho Wall Decor Ideas You'll Swoon Over
Thanks for reading!
Welcome to Everything Abode, your daily inspiration for every activity at home!
Our goal is to inspire you to live an elegant and chic lifestyle from the comfort of your home.
We'll help you express yourself through authentic style, aesthetic beauty, and stylish home decor.
Subscribe to Get the Tools That Make My Blog Successful!
When you join my newsletter, I'm going to send you insider advice and tools that I use to grow my blog! I only save the BEST for my email list so don't wait!