{this post contains affiliate links, see disclosure for details}
Even though our individual budgets determine how much we can spend on our clothing each season…
That doesn't mean that we can't have a great looking wardrobe all year long!
All you need is a great eye for quality and a few essential changes so you can change and preserve the clothes you already have so that you feel absolutely extravagant — no matter how much you spend.
Here are 11 simple ways to make your wardrobe look more expensive than it really is!
Similar topics:
11 Simple Ways To Keep Your Clothes Looking Expensive

1. Get everything tailored.



Send those clothes that are second hand or cheap to a tailor before you take them home. If the fit is not spot-on right off the rack? Those tailors will virtually save every dime you would otherwise spend on pricey form-fitting clothes.
This really is the next best cost-effective thing you can do, instead of blowing your whole paycheck on more extravagant items. Keep in mind when shopping, the tailoring is simpler if the garment is made very simply!
---
Similar: How to Stop Being Messy – 10 Habits for a Cleaner Abode
---
2. Replace those buttons.
If you are really handsy and you have a lot of time on your hands at home?
You can scrap those plain plastic buttons for something that looks much better, like metal or stone. Most fashion insiders say that adding a little detail like this will really give your clothing a whole new lift, with the cost being next to nothing!
You can purchase chic buttons from online websites like Amazon or Etsy (at a remarkably low cost) or you can also find them at your nearest fabric stores. Or if you are really creative? You can even remove them from old clothes that you no longer wear, to save even more cash.
Recommended:

3. Stop washing your stuff so much!
Yes, you still want to keep your clothes clean but the solution is not to wash everything too much! Washing clothes too many times strips the fabrics down and wears the colors down, making them look old and outdated long before they really are.
If you end up getting a blot or spot on a piece of clothing? You can clean the spot with a little bit of laundry soap and a toothbrush, or use a handy tide to go stick like the item recommended below!
Recommended: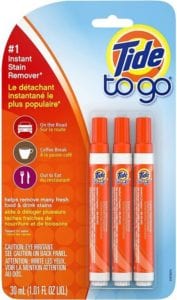 4. Always wash clothes with like colors & fabric textures.
There are also specific piles (where you can arrange clothes for laundry) to get the most wear out of your clothes when you are washing them like… Whites, darks, lights, denim, and delicates. Keep up with this strict laundry system and your money will go a long way to building more stunning looks. You'll ensure your clothes last way longer by sticking to this laundry rule.
5. Invest your money in Your Jackets.
Your coat is the first thing in the colder months that people will see the most, so fashion insiders suggest to spend your money wisely on everything else for the winter season and invest in a comfortable jacket that will look great. The key feature of most of your outfits in winter will no doubt be your outdoor coat, so pick something that you would love to wear year after year.
6. Get a steamer.
Although ironing can be a pain and you can't iron too many synthetic fabrics anyways, creases will make everything just look cheap and you don't want to turn up to work looking like you haven't attempted to look your best.
A proper steamer will work wonders to make your hard to iron clothes look just that much more respectable. It will tackle those wrinkles out of sight in just a few minutes. Fashion experts suggest, if you are running out of time, to steam the item the previous night.
Recommended:

7. Never wash clothes at home that specify "dry-clean only".
We've all done it, we've not all followed the instructions given and we've paid the price in the end! Fashion experts always suggest following the instructions for fabric washing that is usually listed on the clothing tags.
Since most of the time they're right, this will help keep the fabric in its pristine condition just like the day you bought it to stay looking sharp.
8. Know how to take care of your jeans.
Not only are jeans the most wearable clothing item to this day, here are a few things to consider to up your wardrobe skills!
Try to refrain from washing them too much so they don't fade. Most fashion goers say that buying jeans with extra pockets or extra motifs (such as embroidery) will tend to go out of style as well.
Plus, those added details will make your clothes wear and tear more easily the more times you wash them.
Fashion experts also suggest that you maximize purchasing darker skinny jeans with a higher waistline. They say that this will give you a more 'slimming effect' because darker jeans are more attractive across the board.
Recommended:

9. Work with your body's size and level up.
It has been said before, but it still remains genuine — just dress in the clothes that fit you precisely! If you can merely cram yourself into a smaller size, that doesn't mean you ought to buy it (even if it's on the clearance rack).
Clothing that fits easily will make you look smaller, and not the other way round.
10. Store out-of-season clothes in a cool, dry, dark place.
When we have more clothes for all the changing seasons, we can be very untidy to keep them in good shape, especially when they're not being used.
That's why most fashion experts suggest that storing your extra clothes in a cool, free of moisture and dark place.
This will be the safest and easiest way to ensure your clothes stick to their former structure and have the best survival chances.
Recommended:

11. Spend less on logos and more on classics.
Lastly, although logos generally make a statement (that they are expensive!), fashion insiders tend to prefer well-crafted clothes to brand title.
So, instead of hunting down bargains on merchandise from brands the next time you are at the mall? Look for classic items that will stay in fashion all year long.
Doing this will ensure that you look incredible in your clothes all year round!
---
See also:

Check out 20 MORE small ways to make your wardrobe look even better!
You may also like:
Hi, my name is Rebecca and I am the face behind Everything Abode! I am a lifestyle and wellness writer based out of Vancouver Island. When I'm not writing or exploring mountains and beaches with my furry rescue, I love spending time learning creative ways to manifest a healthy home. Thanks for stopping by!
Subscribe to Get the Tools That Make My Blog Successful!
When you join my newsletter, I'm going to send you insider advice and tools that I use to grow my blog! I only save the BEST for my email list so don't wait!