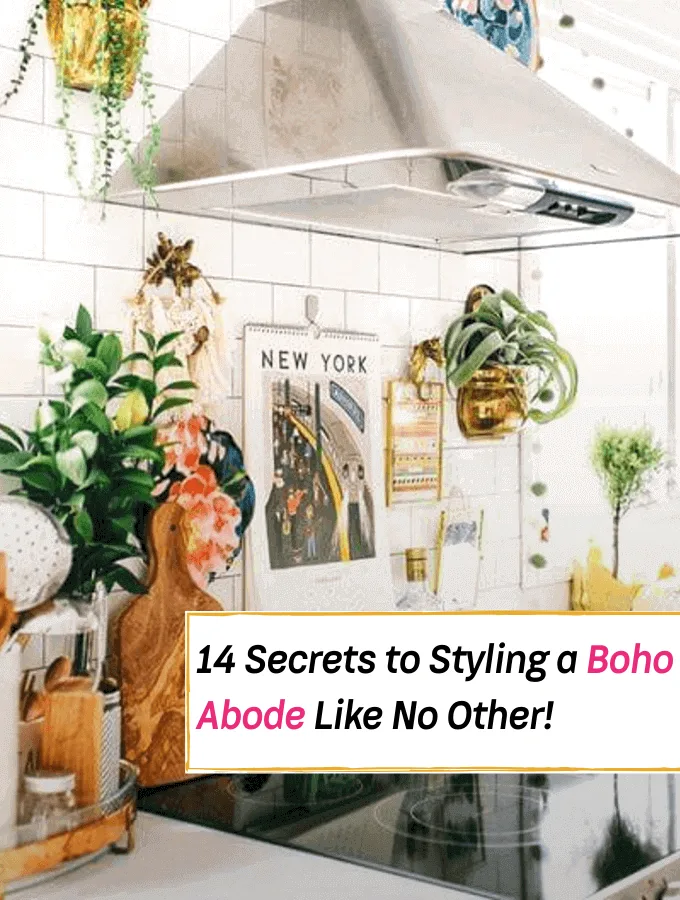 When it comes to bohemian styling. The bohemian style and boho decor can be described in three words: exotic, creative, and relaxed!
The boho style is a lot of designers' favorite looks and that's because it is considered global!
Bohemian styling originated all the way back in the 1700s but it really came to life in the early '70s, and now in current times, it's making a comeback!
What's the real reason bohemian styling is making a resurgence? It's because the bohemian design has a global feel that gives off the impression that a free-spirited traveler lives there.
Not only that but the color scheme is very experimental and the key to the bohemian design is the more unique you go, the better!
If you're not a seasoned and well-traveled traveler? Don't worry!
Anyone can design a bohemian aesthetic home and still make people believe a free-spirited traveler lives there.
Here are 14 designer secrets for styling a bohemian home like no other.
Similar Articles:
14 designer ways to style your home bohemian
1. Lighting is critical.
First off to achieve the right bohemian look or when it comes to good bohemian styling it's all about using the right lighting.
Lighting makes a heck of a difference in any room and to achieve that Boho look you will want to use very dim whimsical and candle-like lighting.
You can easily achieve a romantic boho environment (once the sun goes down) if you use any of the lighting options listed below for your own home.
Your space will be instantly transformed into a sexy lounge if you aim for dim lighting and it also creates that zen and peaceful at-night-look that the bohemian design is going for.
For tips to help you create the bohemian style with lighting, try this:
Think about creating a romantic ambient look/feel when designing your home bohemian and try looking for fairy lights, string lights, and even old Christmas lights (which a lot of designers use to recreate the bohemian look), to soften up your space.
2. Embrace traveled-looking art.
Artwork can really tie a place together nicely and the bohemian style can handle just about everything.
Designers usually buy art with exotic jewel tones, airy hues, and natural colors because they can easily accentuate and pull out the existing colors from the room's main color palette.
This way everything looks cohesive and it creates that global bohemian vibe that you are going for.
But there are no rules! Even a good-looking calendar The Kwendy Home used above the stove (in the picture above) can do the trick.
For tips to help you create the bohemian style with art, try this:
You can easily do this by creating your very own gallery wall.
You can add in a tapestry.
You can create some sort of a macramé wall hanging.
Or you can even find different artwork that looks a bit more traveled that involves feathers like dream catchers or statues of animals.
3. Layer and angle all of your rugs.
If you are looking to achieve the bohemian style in your own home, your bohemian home decor must include soft comfy rugs.
Rugs are vital for bohemian styling and creating a bohemian look, especially when it comes to either a bohemian bedroom or a bohemian living area.
Rugs not only ground the space, but they also make it cozy and comforting for your eyes and for your feet!
But for the boho style, and taking it one step further, you will want to try the layered look. Try angling the rugs to enhance more square footage and to cover a wider space for the perfect boho feel.
Layering your rugs will also help you save money because larger rugs that fill an entire room can be really pricey and you can still get the same look with two or three cheaper rugs.
4. Scents will set the mood & enhance the bohemian vibe.
All bohemian interior design characteristics must include a good scent.
A good scent can change the atmosphere in whatever room you find yourself in, especially if you want to enjoy your newly boho chic bohemian-styled space.
For tips to help you create the bohemian style with scents, try this:
The key with scents here is to try to go with natural scents/smells that are not going to be over-empowering.
Try keeping a lookout for room sprays, candles, or incense, that will give your space an effortless natural smell to enhance your decor.
Also, try looking for a classic fall scent (like woods and forest smells) during the colder months or if it's summer you can try for a very beachy-like scent.
Creating a great aroma adds a lot to the boho vibe.
5. Incorporate lots of plants – plants are a boho's best friend (even in the bathroom!).
There are many different types of bohemian styles when it comes to bohemian styling but one thing they all share in common is plants.
So be prepared to be a plant lady, because bohemian styling and plants are a match made in heaven!
Apart from life growing in your home that not only adds benefits like purifying the air and releasing healthy oxygen into the home (allowing us to breathe easier) but they are just so darn cute!
For tips to help you create the bohemian style with plants, try this:
Try getting plants such as flowers, succulents, cactus (for easy maintenance),
Or hanging plants adds to that bohemian look without having to buy big-ticket plants. You can also check out this hanging plant guide for more help!
Craigslist is great for buying plants. Just be safe about it and make sure you do your research.
Lastly, always pay attention to plant colors! (More on that in tip #14!)
Of course, you do have the responsibility of keeping them alive, so take on what you can handle and start from there.
6. When choosing bohemian fabrics, always choose soft & textured.
If you are creating a bohemian chic bedroom for your bohemian styling adventures, you have to incorporate cozy blankets.
You can find cozy textured blankets virtually at any store or online like this one.
When it comes to getting the bohemian style right, try to get blankets that make you want to touch and feel them, and with an added color is always best.
Remember, bohemian styling is all about texture and color so the softer the fabric and more exuberant the color the better!
Think fluffy, soft, colorful, and lightweight blankets because they are key to creating the bohemian oasis that you are striving for.
7. Repurpose old furniture to save extra money.
One of the best things about the bohemian style for bohemian styling is that anything can be repurposed and replenished when you are trying to recreate a bohemian space for less money.
Granted it will be a bit of extra work, but the outcome will be your very own one-of-a-kind item that you can call your very own.
For tips to help you create the bohemian style with old finds, try this:
These are all simple ways to create that boho feels that you are going for.
8. Layer with different textures & embrace DIY accents.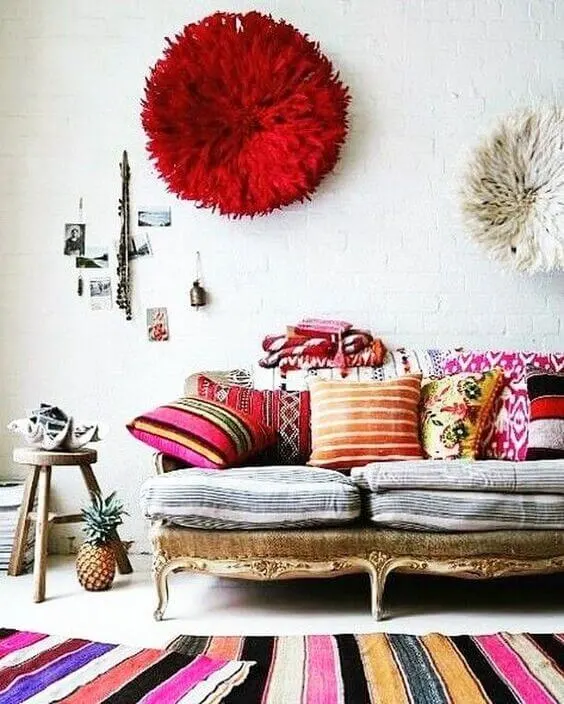 It's time to raid your closet for sari scarves, pashminas blankets, or even upcycle your old bedsheets or fabric samples.
Because the more the merrier is what the bohemian style is all about when it comes to bohemian styling.
Remember, when you're styling your space to get the right bohemian feel, then feel free to add two to three layers of various fabrics to show off the gorgeous textures that you have.
Pro tip: By placing sari's and blankets on an angle you can add a dynamic element to the mix without breaking the bank.
You can also get different throw pillows and accent pieces with varying different textures to complete the boho look.
Doing so will really create an organized boho vibe in your space and achieve the right bohemian flare that you are going for.
For tips to help you create the bohemian style with DIY, try this:
Try this Bohemian Pillow DIY. All you'll need is an accent cushion and a large scarf or pashmina in a lightweight fabric to dress up your pre-existing cushions!
Center it on a flat surface and place your accent cushion in the middle of a 45-degree angle.
Grab opposite corners of the scarf and tie a knot adjusting the fabric so the edges look clean.
Tie a second knot to secure and fold the extra fabric towards the knot tucking in any extra materials to finish things off.
Continue to tie loose knots and tuck in the ends to create a soft bohemian look.
Voila! Super simple no-sew pillow scarf in no time at all!
9. Go pattern crazy when designing a bohemian home.
When it comes to achieving a bohemian style like no other, there is a method to the madness when it comes to patterns (without being overwhelming to the eye).
That's because a lot of patterns work perfectly to achieve that boho look you are striving for.
Try mixing different patterns with others by connecting patterns through color and textures.
You can also unify your color palette with accent pillows and cushions that are going to be placed next to each other.
Don't forget to vary the size of patterns as well so they don't look too similar together and make sure to use solid colored cushions in the background for a little breathing space for the eyes.
10. Add bohemian-styled trays and knickknacks for added depth.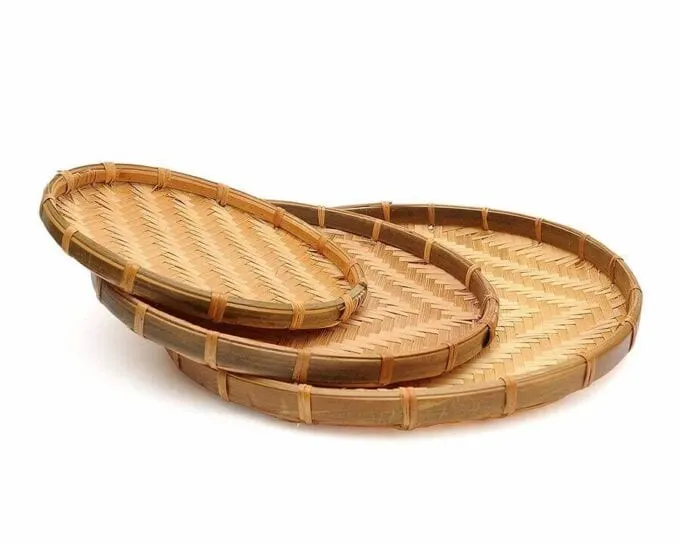 Trays are the new obsession with the bohemian look and style because when it comes to bohemian styling depth is key.
So try looking for ornate gold metal trays, wooden trays, mirrored trays, or even better 80's style rattan trays.
Pretty much anything that helps add depth to your tables is great when it comes to bohemian styling.
You can also add fun floral centerpieces or showcase your cool jewelry finds from your travels on your bohemian-looking trays.
And be sure to place them in different parts of your home so that all of your guests can interact with them and see all your unique boho-inspired pieces.
11. Edit your travel finds.
Going a bit further when it comes to unique boho knick-knacks and bohemian styling, the next time you are on a road trip and you see an archaic piece of art or a cool art statement like this?
Do not hesitate to buy it!
The unique factor is always going to make a bohemian home stand out and these unique pieces may be an instrumental way of making your home look more bohemian.
For those of you where traveling is not on your to-do list, don't worry, you can still find unique travel finds at your local thrift stores. Just remember to keep a bright color palette in mind!
12. Incorporate as many natural wood tones as you possibly can.
When you think of bohemian styling, warm woods, light woods, or raw woods should come to mind.
That's because natural wood is usually warmer to the eye and considered less formal which is what the bohemian style is all about.
So to achieve the bohemian style always incorporate as many natural woods as you can.
Natural woods will add that casual vibe you are going for and will round out the boho vibe very well in your home.
Additionally, don't forget to mix colors and woods together while keeping an eye out for accessories of different colors to blend them with your wooden accents to add depth.
Doing so will add a timeless boho feel to your home.
Also, bonus points if you use natural woods that are authentically a part of your lifestyle such as these wooden surfboards.
13. Embrace your inner uniqueness to be one-of-a-kind.
Another great reason why bohemian styling is super fun is that you can really go wild with all your accessories.
Every accessory that you choose can blend in well with the other if you happen to understand how bohemian styling works.
And when it comes to achieving a unique bohemian space, if you choose accessories that represent who you are and how you want to feel when you are in the space, the better your space will turn out.
If you need help, try buying two to three accessories with a pop of color and go from there. Accessories you can find to achieve a great bohemian look are cute antique bottles, using fun patterned coasters, collecting old ceramics, etc., Just have fun with it!
14. Buy plants with lots of colors and textures.
Just because you don't live on an exotic island doesn't mean you can't surround yourself with your favorite tropical plants!
We already went over how plants can achieve a bohemian feel in your home instantly.
But I forgot to mention that when it comes to buying plants, the bohemian color scheme is also very important when it comes to your plant's colors!
A lot of designers know that plant colors are a key element to achieving the right boho look, so when you are creating your own tropical bohemian sanctuary, know that the more color you have in your plants the better.
Try to go for pops of reds, purples, pink hues, and lots of contrast such as beautiful canna lilies, zebra plants, and hibiscus trees since they are an all-time bohemian go-to!
---
There you go. Bohemian styling is such a great way to style any home.
It's the perfect design to showcase all of your travel finds and since there are no rules but a few essential must-haves, it's a very pleasing home aesthetic anyone can easily pull off.
A few tips to create this look are to just be free and creative. Don't be afraid to play with lots of shapes and patterns (because the boho style embraces all finishes). And anything goes so have fun!
And if you are looking for a few great brands to create this home aesthetic, check out Wayfair, and for a more cost-effective choice check out Over Stock.
All you need are a few extra layers of cozy vibes, some creativity, and you'll master the bohemian style in no time. Enjoy decorating!
You may also like:
PIN + SHARE + SAVE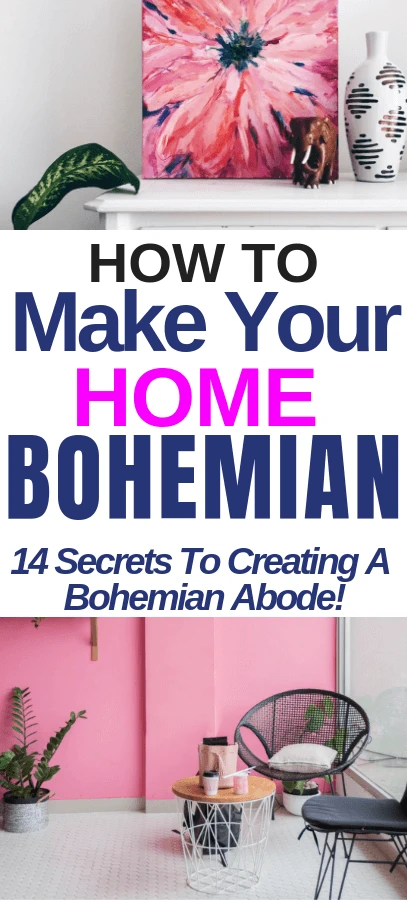 Welcome to Everything Abode, your daily inspiration for every activity at home!
Our goal is to inspire you to live an elegant and chic lifestyle from the comfort of your home.
We'll help you express yourself through authentic style, aesthetic beauty, and stylish home decor.
Subscribe to Get the Tools That Make My Blog Successful!
When you join my newsletter, I'm going to send you insider advice and tools that I use to grow my blog! I only save the BEST for my email list so don't wait!