If you are looking for the perfect first apartment gift for her, look no further! These apartment gifts are so good that they will blow that housewarming party out of the water!
Whether new or rented, a first apartment is a time of new beginnings and independence.
But it can be hard to know what to get for your best friend, your daughter, or your sister or niece who just moved into their first apartment, but we've got you covered!
Below are 50+ gifts that any girl or woman would love: these items range from useful and practical, and are ultra-cute and chic.
From planters to home decor to shelving, these presents will make the perfect addition to her first apartment or even for this fall and Christmas!
And since moving, in general, can have so many responsibilities, especially during their first few months…
They need certain things for their first apartment to either decorate their home with or something they need but never thought to get themselves.
So if you are looking for the best housewarming gift?
We created a gift guide with all the best gifts for her, so you can find what she needs for her first apartment.
These practical, chic gifts will make their apartment feel more feminine and cozy, too!
*Prices are accurate and items are in stock as of the time of this publication.
Enjoy!
56 First Apartment Gifts (2022 Gift Guide)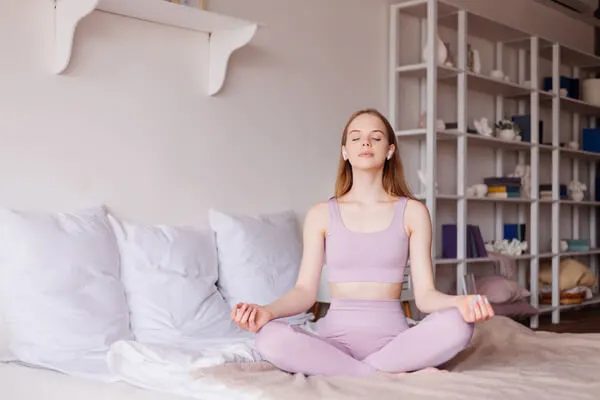 Foyer First Apartment Must Haves
1. Sloth key hook, $10.00.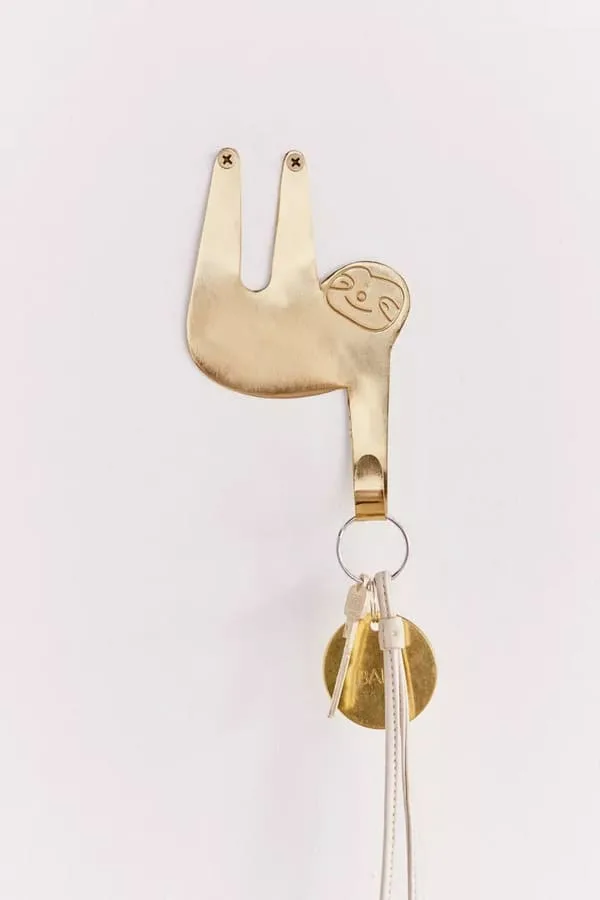 Key hooks are a great housewarming gift, especially if you give them this cute gold sloth key holder.
They can store their keys and other items in the foyer in style and since it's very easy to screw in securely, your giftee will never forget where she placed her keys!
Get this on Urban Outfitters
2. Asher Rope Hanging Wall Shelf, $16.00.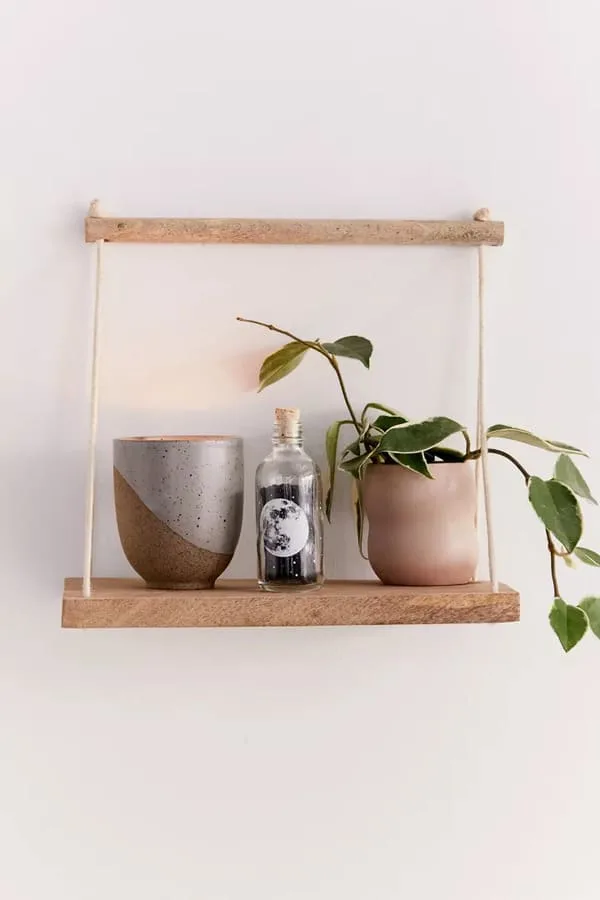 Bring fresh minimalism to their front hall in their apartment (or bedroom) with this mango wood hanging wall shelf.
Featuring mango wood plank and dowel along the top with a cotton rope this makes the perfect little statement shelf. It also comes with two sawtooth hooks at back for stabilization. Get this on Urban Outfitters
3. Wooden Coat Rack, $26.94.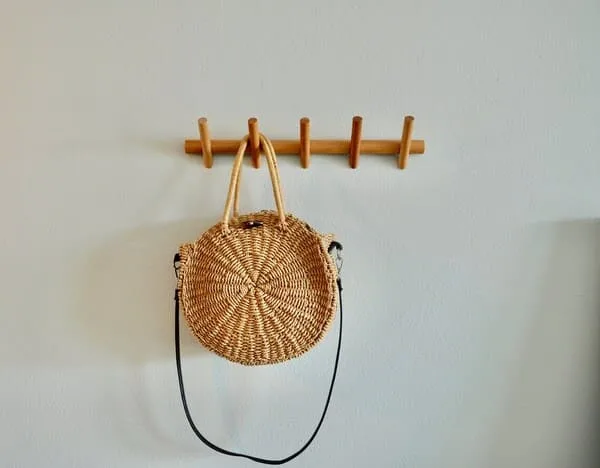 This is a minimalist coat rack that will go with absolutely any style of apartment. She'll love the simplicity of this gift for her front hall. Get this on Etsy
4. Welcome mat, $10.98.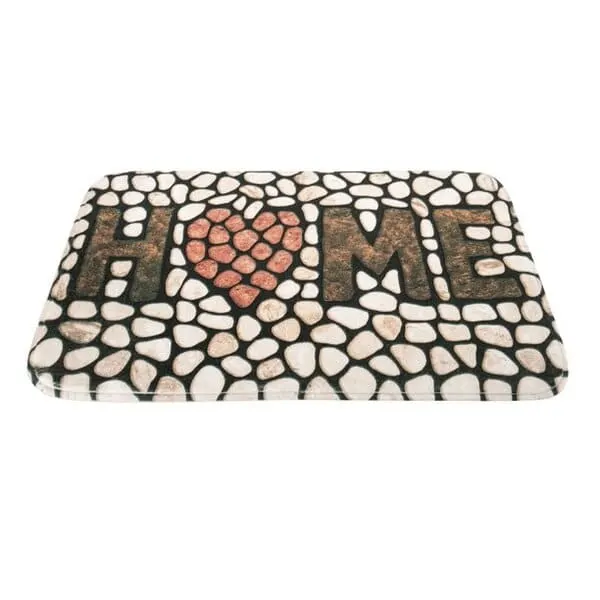 A welcome mat is another home basic a first-time homebuyer will need but isn't going to want to purchase. This one is fun enough without bordering on tacky. Get this on Walmart
5. Loop Metal Wall Hooks,

$

27

–

$

30

: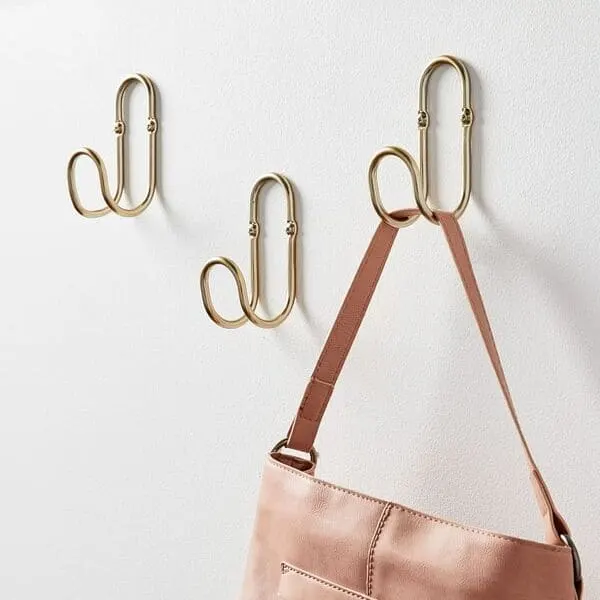 Storage solutions for people who live in small apartments are often limited to the size of their closets and drawers. Fortunately, wall hooks can be hung up near an entranceway or along one wall so that jackets don't have a chance of getting lost. Get it on West Elm
6. Mid Century Modern Inspired Double Wall Hook, $22.50.
These mid-century modern front hall hooks were featured in HGTV Magazine September 2019 Issue! They are colorful, simple, durable, and modern. Keeping track of their stuff has never looked so good. Get it on Etsy
First Apartment Must Haves (for the bedroom)
7. Himalayan Glow Salt Lamp, available at Bed Bath & Beyond, from $24.99.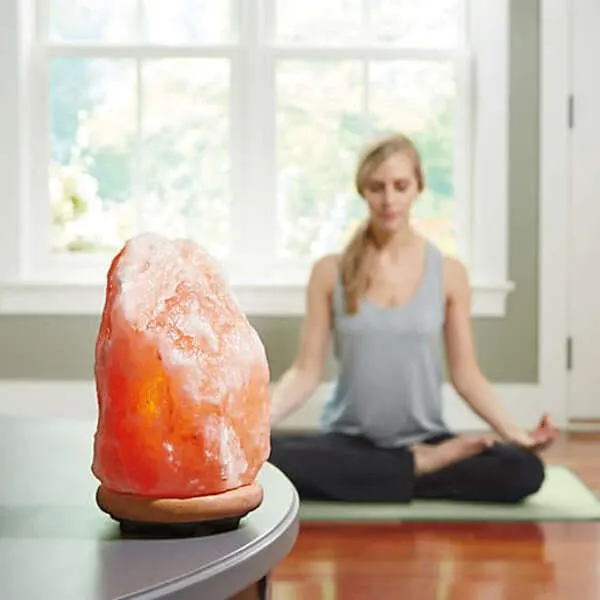 The Himalayan Glow salt lamp is an artificial light source that produces negative ions. Negative ion technology has been used in other household items such as air purifiers and humidifiers but the salt lights provide soothing colors for your living space while providing beauty AND wellness benefits.
The natural glow created by these amazing lamps will let peace fill in every corner! Get this on Bed Bath & Beyond
8. Elie Macramé Hanging Shelf, $16.00 – $29.00.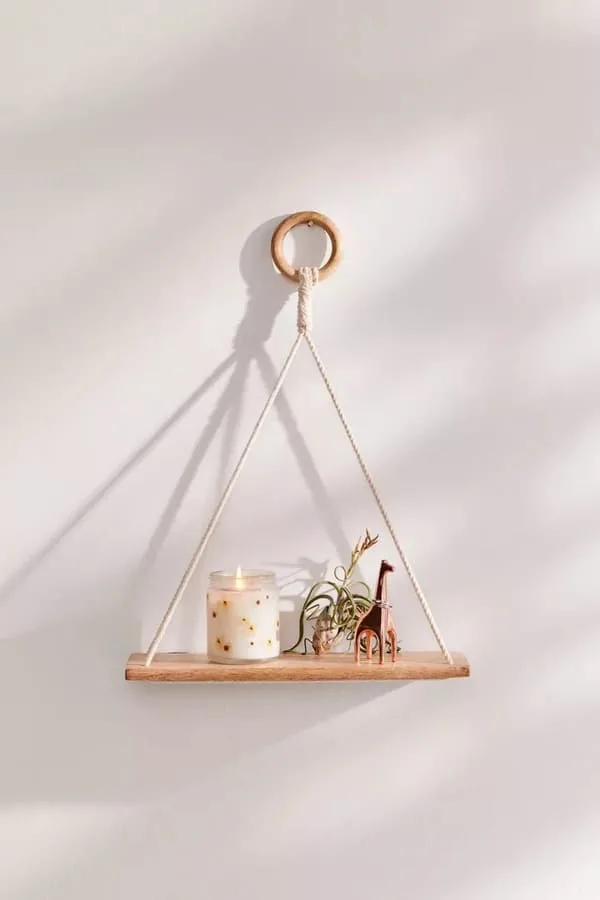 This exclusive petite wall shelf is crafted from natural mango wood. It's wrapped with sturdy string and a rounded wooden hanger to easily hang it from the wall or ceiling. Perfect for storing their favorite little things. Get this on Urban Outfitters
9. Handmade Moon Star Macrame Dream catcher Tapestry Lights $21.15.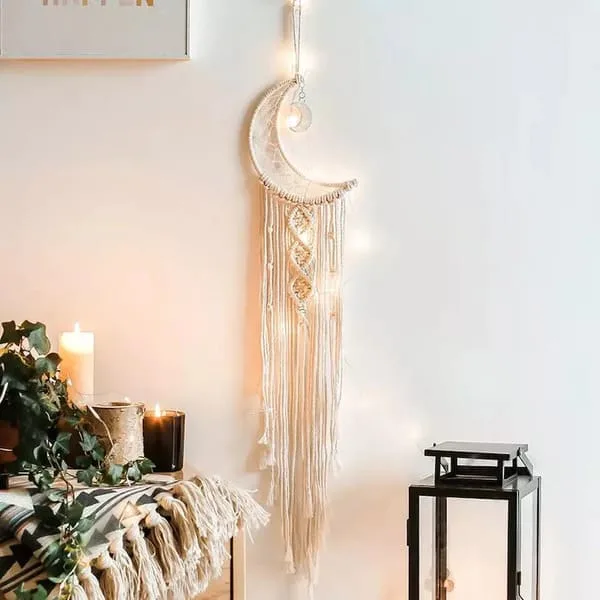 This beautiful hand-woven moon star macrame dream catcher would make a perfect gift for anyone's new bedroom. Get this on Etsy
10. Photo Clip String Lights $14.48.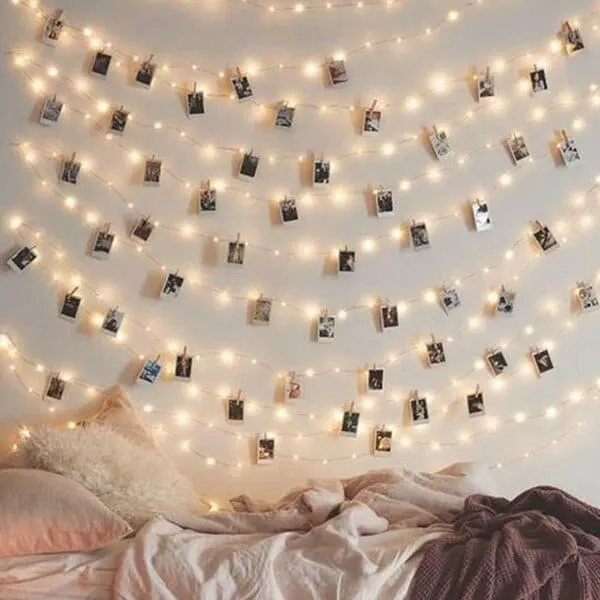 The right string of lights can make all the difference in how someone feels about their space! Whether they're hanging from a ceiling or sitting on shelves, these modern-looking photo clips provide an interesting way to display pictures without taking up too much room. Get this on Walmart
11. Mustard Pink and White Yarn Hoop Wall Hanging $26.00.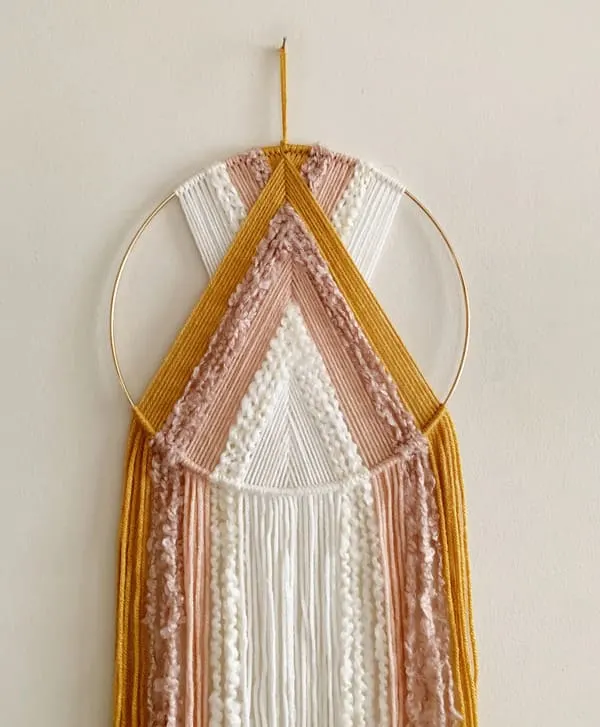 This is a lovely, mustard, pink and white yarn halo that will make their bedroom look like an enchanting fairyland! Get this on Etsy
12. UO Satin Pillow Case $18.00.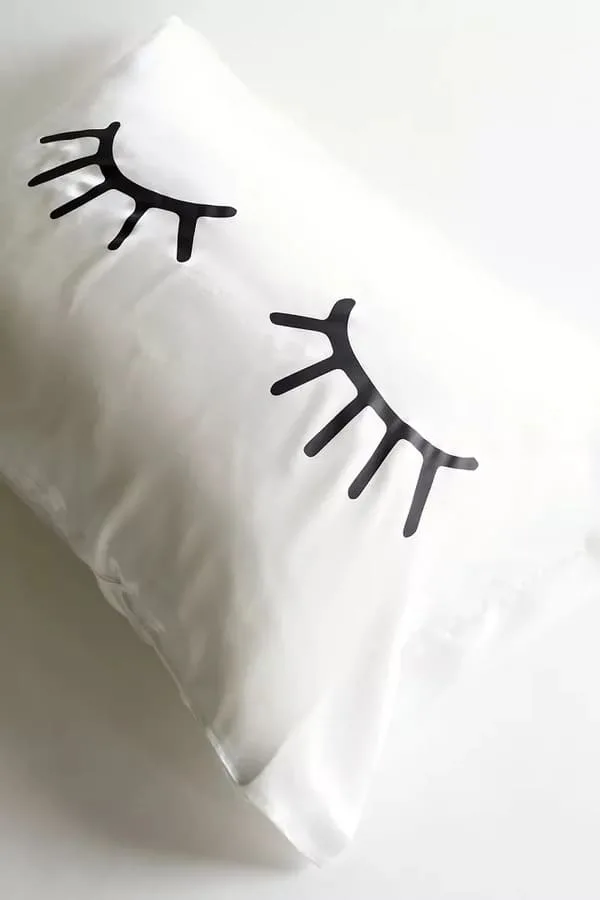 Satin Pillowcases are a great gift as they can be used as an overnight beauty treatment. They are also hypoallergenic, soft, smooth, and breathable, which will help your giftee not only sleep better but help them wake up with a great morning hairdo, too! Get this gift.
13. Palmer Linen Blend Sham Set, $34.00.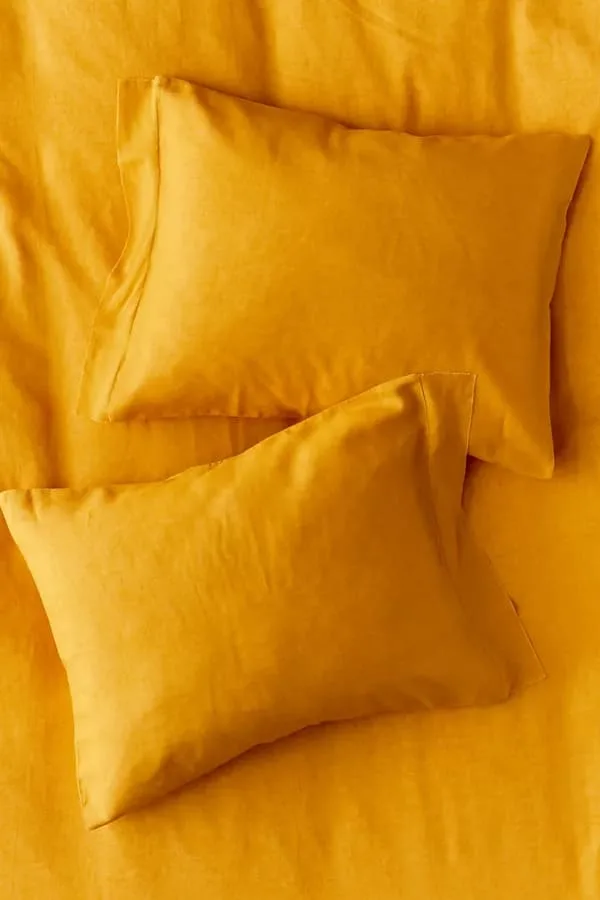 A bedroom should be set up in an aesthetically pleasing and comfortable manner for your giftee, which includes décor that helps promote extra relaxation. Get this gift.
14. Allover Peaches Sheet Set, $64.00.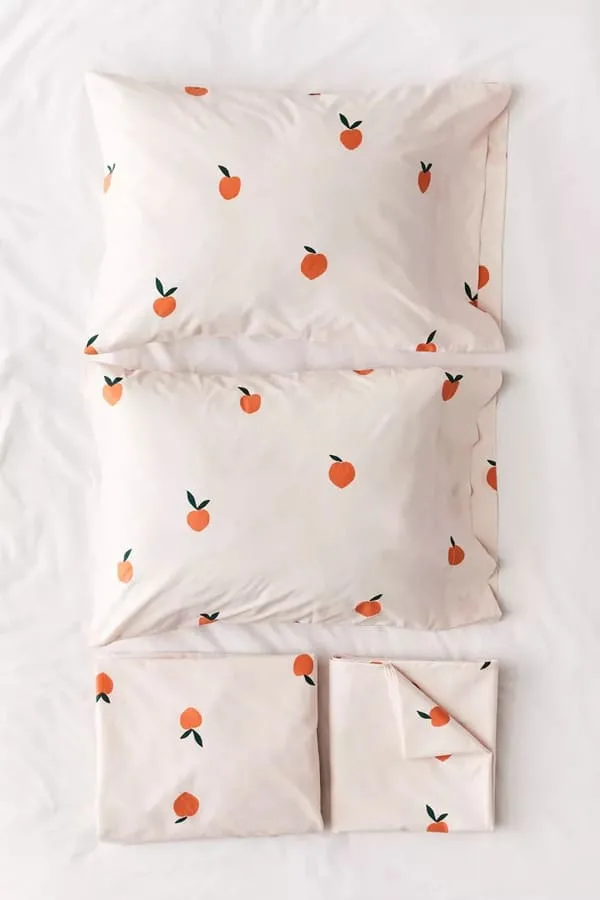 A peach sheet set for your friend's new apartment bed is the perfect way to make it feel like a fresh start and an escape from winter. The colors will be bright and cheery-even in midst of January! Get this gift.
15. Large Decorative Laundry Basket, $15.00.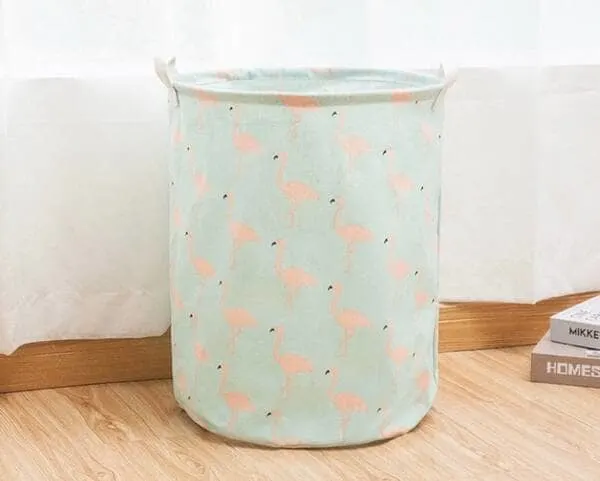 There's nothing worse than a house filled with clothes that need to be washed, without a space for all of them. The solution? A chic laundry basket for their new apartment bedroom! Get this gift
16. Funny Housewarming Gift Candle $17.45.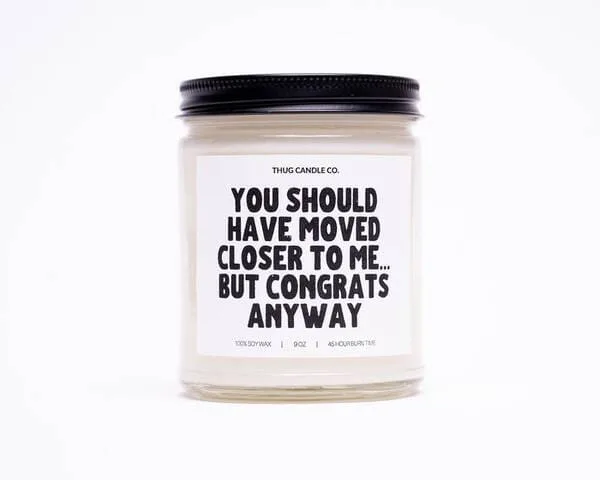 A Funny Gift Candle is a great gift idea for a brand new apartment. This candle is also ideal for someone who also has it all but you want to make them laugh! Get this on Etsy
Bathroom new apartment gifts.
17. Bluetooth Water Resistant Suction Speaker $16.99.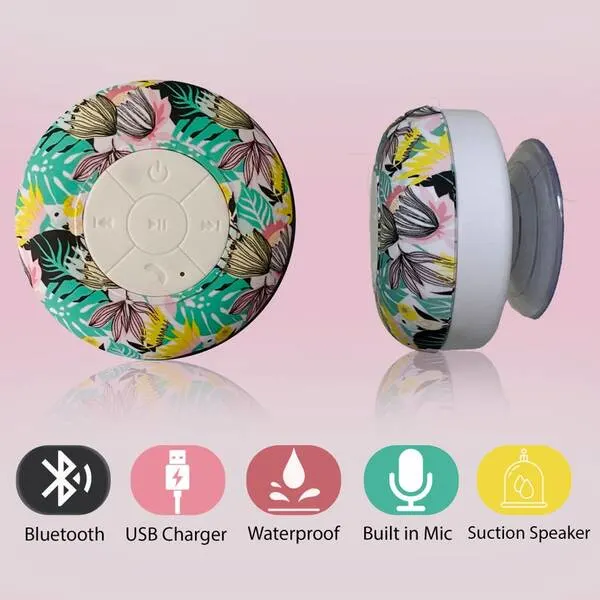 Now your favorite giftee can listen to music while bathing without worries about water ruining their device, or even if they want some privacy for that matter! This speaker has also been tested in harsh conditions like rivers so there will be no problem whatsoever when cleaning up after themselves afterward too. Get this on Etsy
18. Boho 3d Sign "Happiness Looks Good On You", $28.00.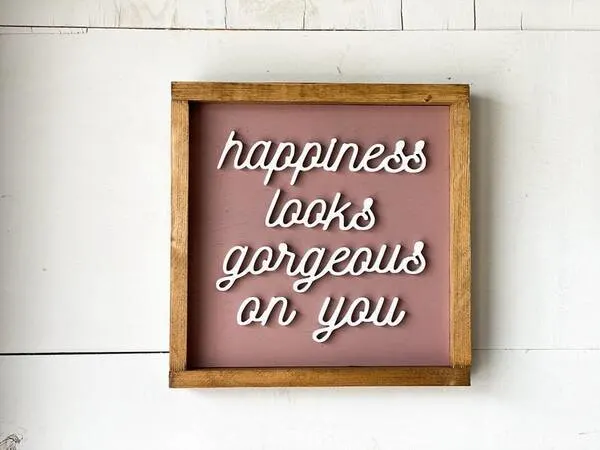 With a fusion between modern curves and sleek 3d lines, this eclectic boho wall hanging will provide them with a dose of bohemian style and color for their bathroom. Plus who doesn't want to read it after they get out of the shower?! Get this gift.
19. Sunbeam Bath Mat, $48.00.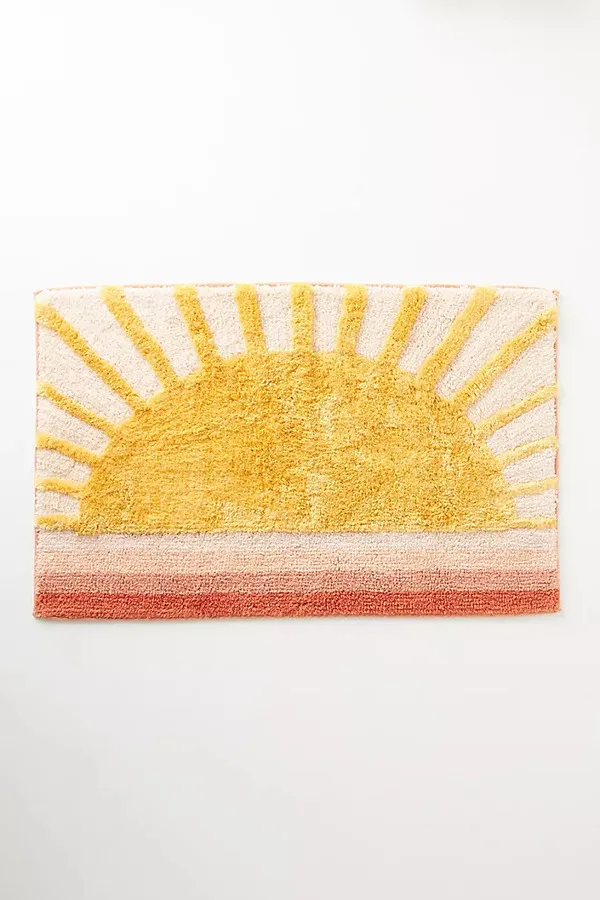 This sunbeam Bath Mat is a great way to not only keep their floor clean and dry but also help bring in the sun on cloudy days. This bathroom mat also has an absorbent core that helps trap water while they step on it from their shower! Get this on Anthropologie
20. Hello Lovely Bath Mat, $48.00.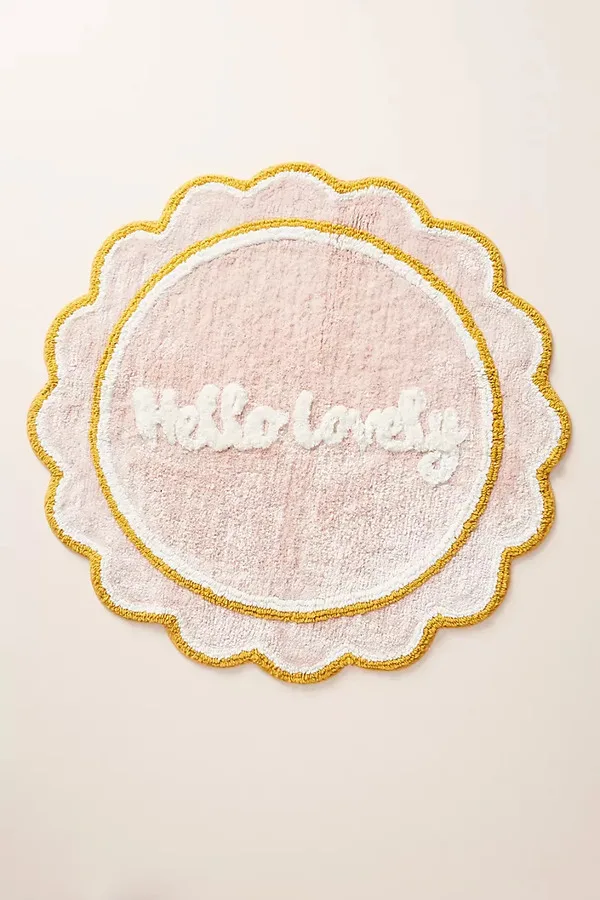 Get this on Anthropologie
21. Briya Bathroom Storage Basket, $29.00.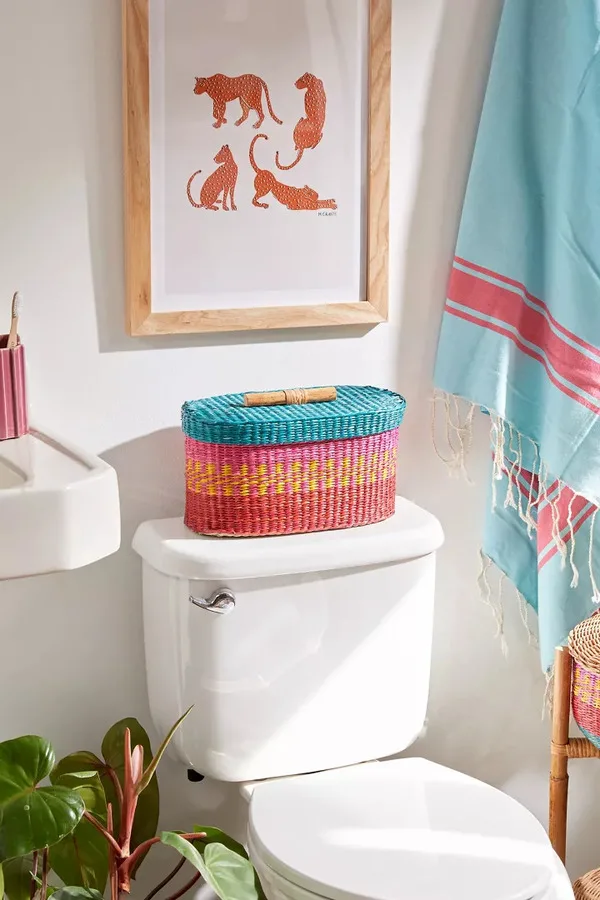 This boho-inspired woven seagrass storage basket is ideal for hiding away clutter in the bathroom. The lidded design also features a rattan bar for easy handling. Get this on Urban Outfitters
Living room new apartment gifts
22. Madison Park Sachi Oversized Faux Fur Throw Blanket in Grey, $24.99.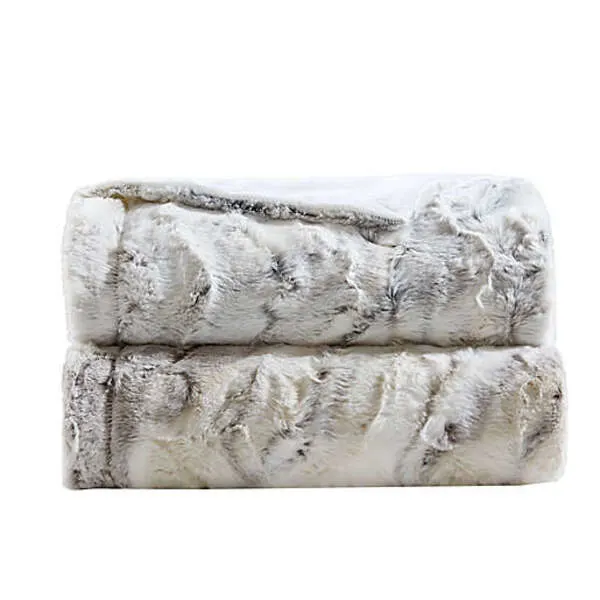 Give the perfect gift for your giftee's first apartment this winter with a Faux Fur Throw Blanket. Faux fur throws are warm, cozy, and stylish all in one! Get this on Bed Bath & Beyond
23. Suncatcher Hanging Crystal Prism, $15.99.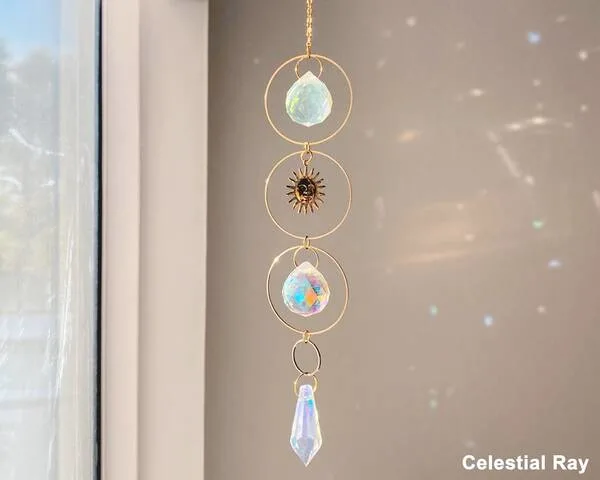 The sun is a powerful source of light, warmth, and energy. This hanging crystal prism reflects the power by creating an interactive 3d light show that's perfect for any room! Get this on Etsy
24. Winnie Floral Taper Candle Set, $18.00.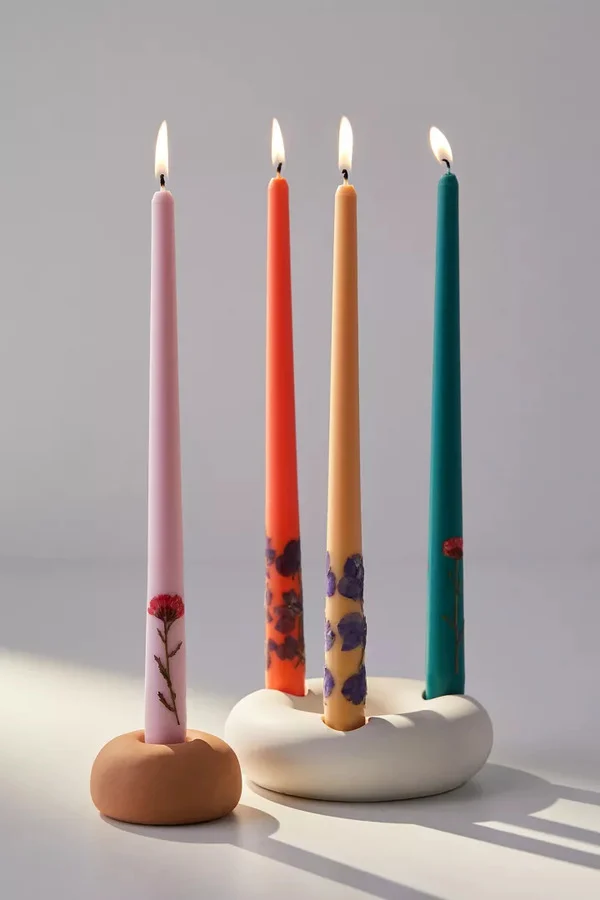 Give their next dinner a romantic touch with this set of four taper candles featuring dried florals inlaid along with the paraffin wax. Get this on Urban Outfitters
25. Handmade (White) Cotton Rope Basket, $8.90.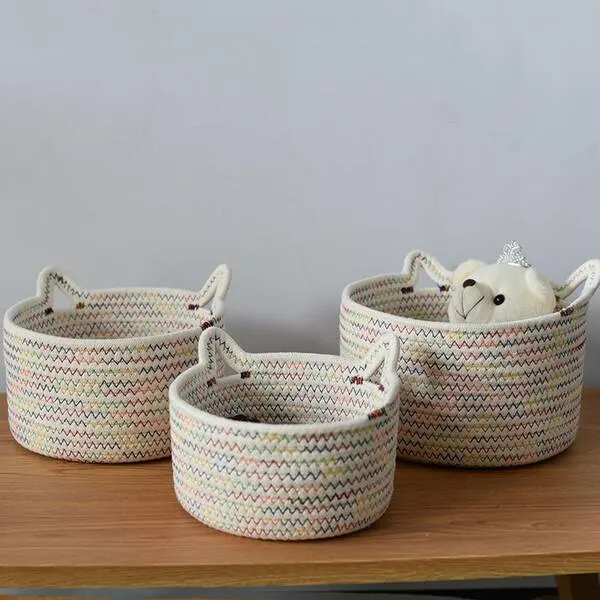 A beautiful storage bin that'll help keep their belongings tidy and organized while adding a nice texture to their living space is a perfect first apartment gift for her. Get this on Etsy
26. Open Weave Zigzag Seagrass Baskets, $12.50 – $112.50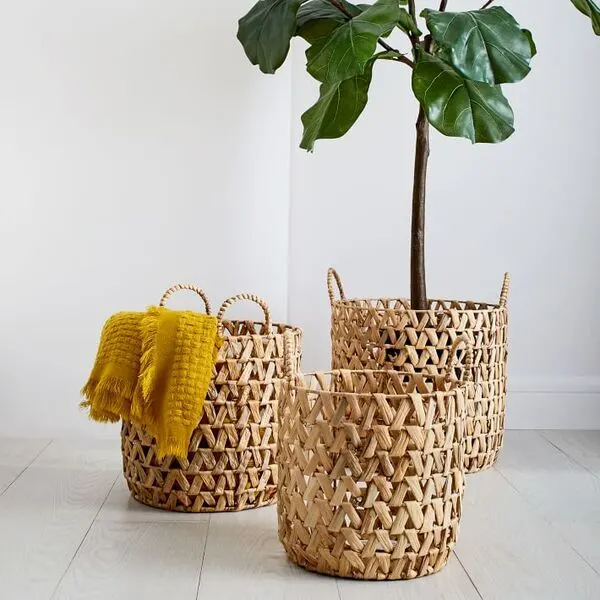 These eco-friendly baskets are made from a sustainable material that is both soft and durable, making them perfect for any living room or office space! Get this on West Elm
27. Phantoscope Pom Pom Velvet Series Decorative Throw Pillow, Orange, 2 Pack. $30.98.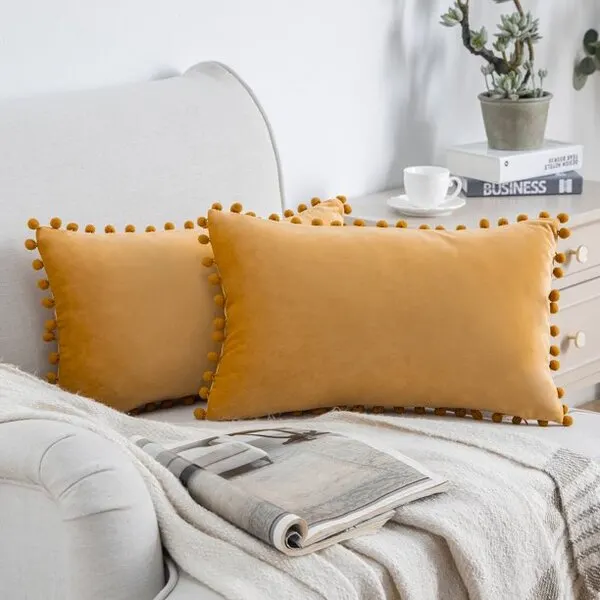 The delicate pom-poms on this decorative pillow add a feminine touch to any room and is a perfect first apartment gift that will steal the show. Get this on Walmart
28. 6 Pack Round Wooden Wood Coasters with Holder, $10.99.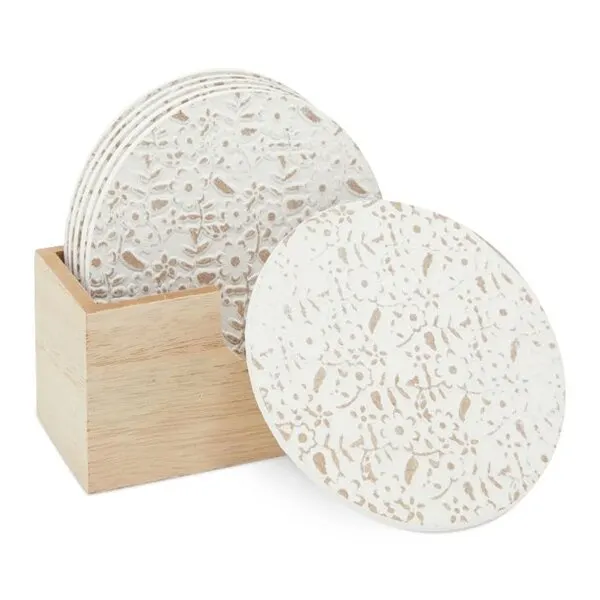 These round wooden coaster sets are a great way to minimize water rings or messy coffee stains for your giftee's first apartment, while still looking chic and blending nicely with every decor style. Get this on Walmart
29. Mainstays Create Positive Energy & Beleaf anything is Possible Scented 3-Wick Candles, $11.76.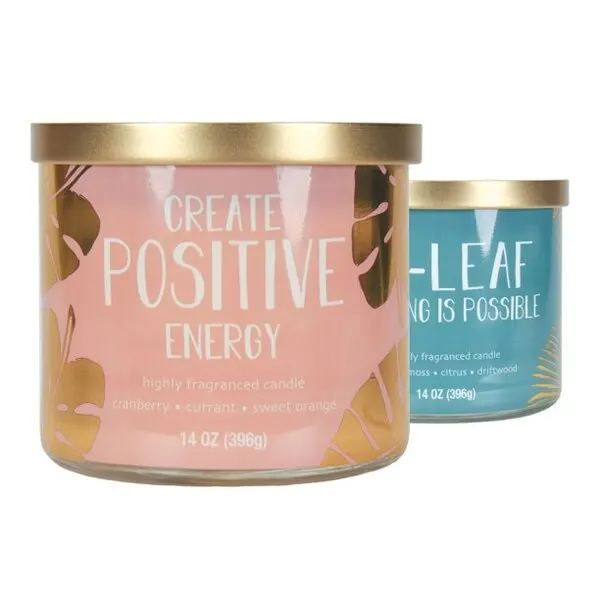 Candles are always going to be a great gift to give anyone for their first apartment. It'll also add a special touch and scent to their home. Get this on Walmart
30. Smart tv remote, $43.72.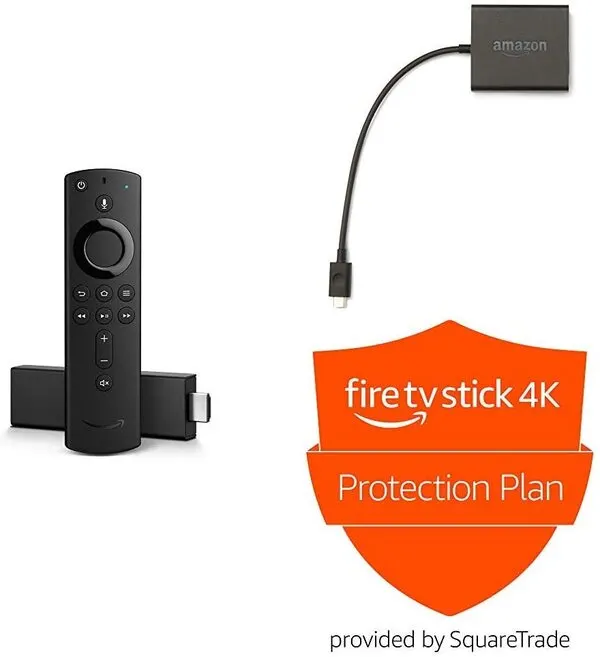 Give the gift of fewer cable fees. A streaming stick is a great option for those who want to reduce the cost of cable. The streaming stick turns any TV into a smart TV, making all their favorite media apps such as Netflix and Hulu accessible through a voice-controlled remote. Get this on Amazon
31. Wall art hanger, $26.96+.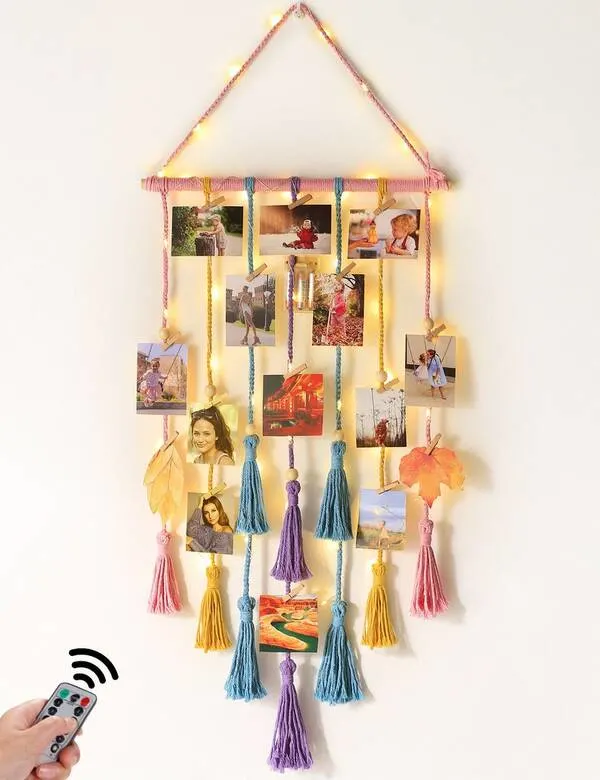 This hanging wall mount is simple to set up and allows them to bring back their most treasured memories. You can choose from a variety of colors, including rainbow and beige. Get this on Etsy
32. Edison string lights, $17.99.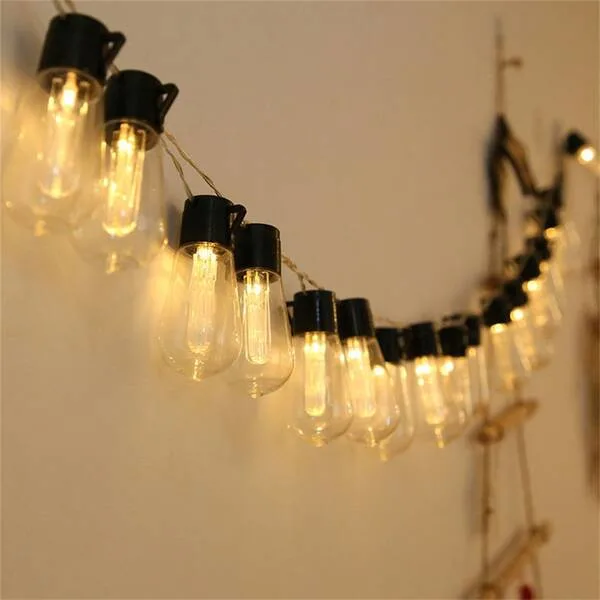 A perfect gift for a first apartment this winter is a set of Edison string lights. These vintage-style bulbs are sure to warm up any space and create an atmosphere that will leave them feeling cozy all year long! Get this on Etsy
kitchen new apartment gifts
33. The Original Macrame Fruit And Veggie Hammock, Hooks Included, $18.90.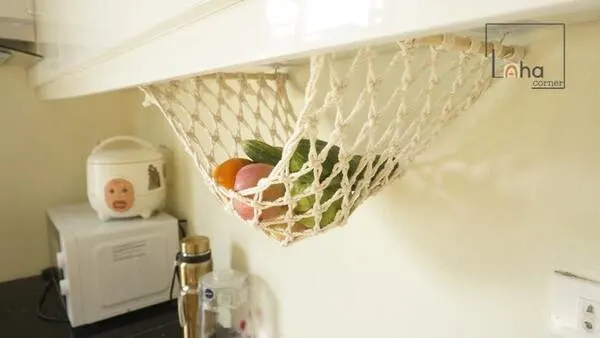 Just imagine a hammock where they can hang their favorite fruit and veggies in! Get this on Etsy
34. SodaStream Fizzi Sparkling Water Maker, $99.99.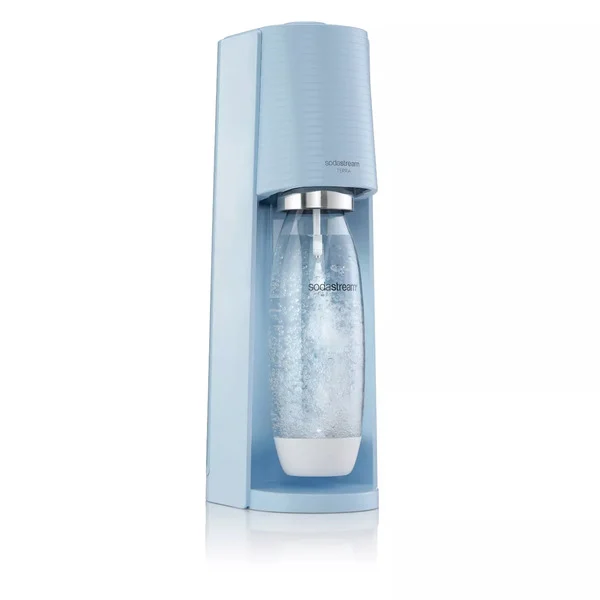 A SodaStream is a great option for those who drink a lot of sparkling drinks. They can even flavor it and make their own soda infusions. Plus, this will save them a lot of money. Available on Target
35. Refurbished Instant Pot/Pressure Cooker, $39.00.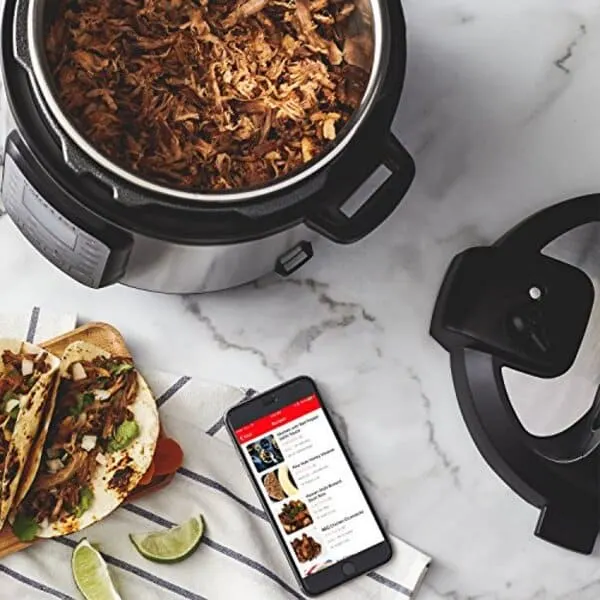 The best multi-use kitchen tool ever is the Instant Pot pressure cooker. An Instant Pot is a pressure cooker, slow cooker, and ricer cooker all in one. Yes, that's right! Get this on Walmart
36. "It's too peopley outside" funny mug, $11.21.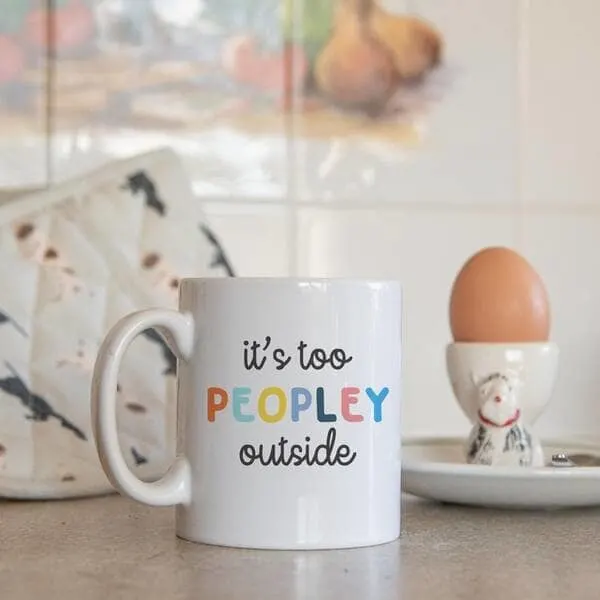 a decorative little cute mug for when they want to just stay in their new warm apartment and enjoy some peace and quiet. Get this on Etsy
37. Odor-Free Plastic Compost Bin, $25.00.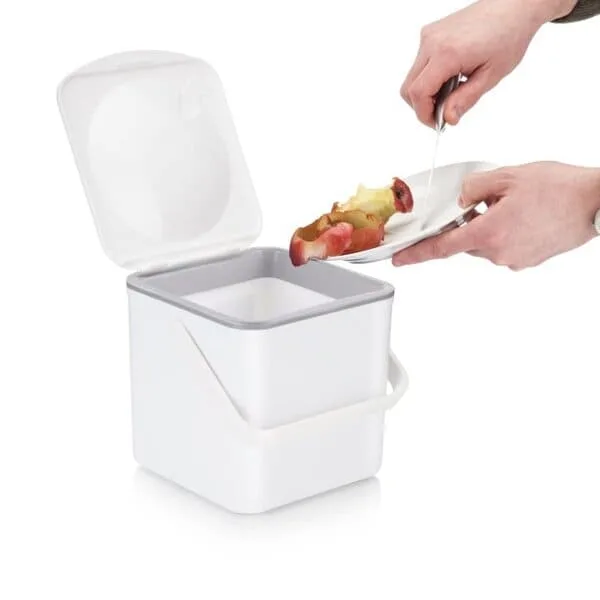 Every new apartment needs an odor-free compost bin for their kitchen or under the sink. In fact, I bet it's something they haven't even thought of yet. Get this on Walmart
38. The Pioneer Woman 10.5 gal Stainless Steel Garbage Can, Vintage Floral, $29.98.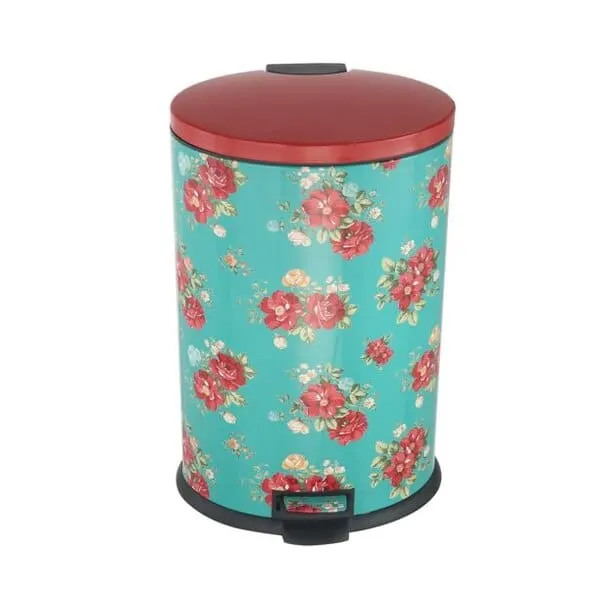 Who says garbage cans cant be pretty? If your giftee loves color this pioneer woman's garbage can is a very thoughtful and unique gift. Get this on Walmart
39. Urban Outfitters unique soup and cracker bowl, $24.00.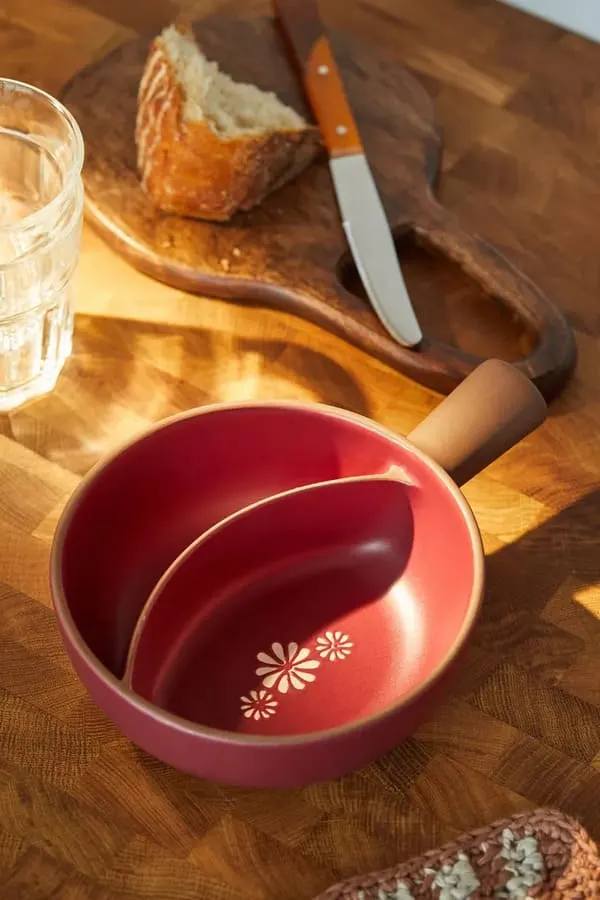 Help them serve up a soup with crackers on the side in this unique ceramic bowl featuring a rustic glazed finish and divided interior. Get this on Urban Outfitters
40. The Pioneer Woman 8-Piece Stoneware Measuring Spoon and Scoop Set, $17.98.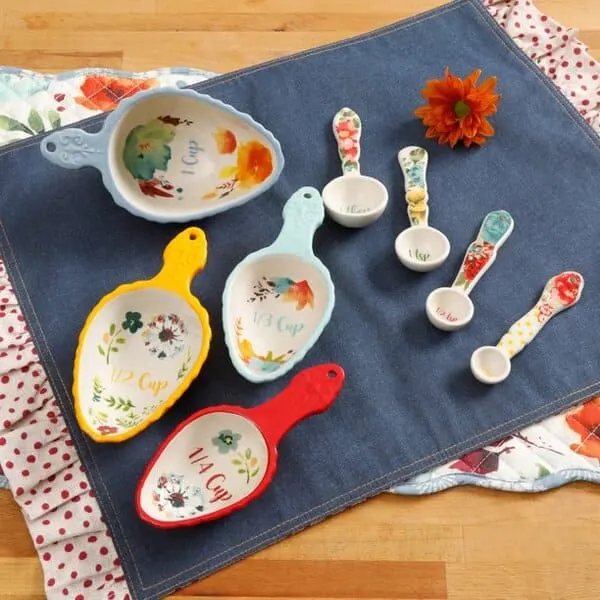 This measuring spoon and scoop set is not only pretty but very functional and they'll be really happy with the color and prints on these spoons and scoops. Get this on Walmart
41. The Pioneer Woman 6-Piece Round Ceramic Nesting Container Bowl Set, Assorted Sizes $15.98.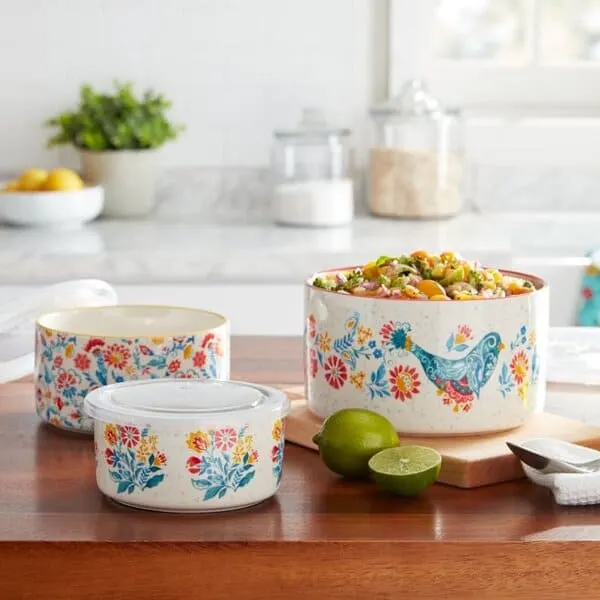 These container nesting bowls are well made and they will be pleasantly surprised at how sturdy the lids are for leftovers and how heavy they are. They'll also love the colorful, vibrant design on the bowls, and the various sizes they come in. Get this on Walmart
42. A decorative kitchen mat, $19.97.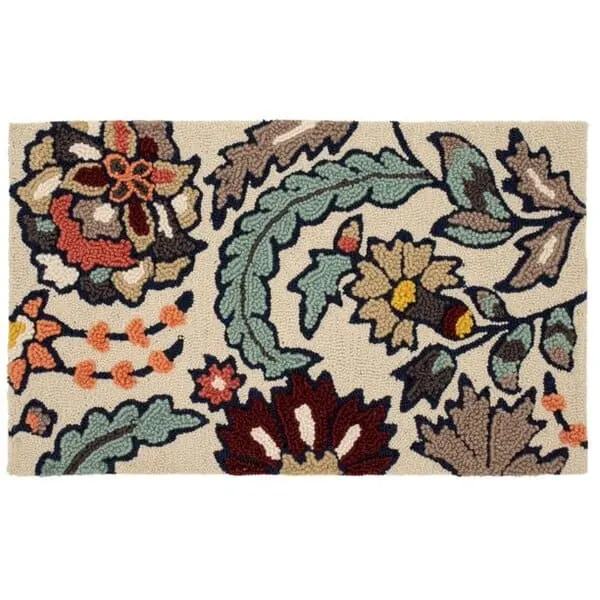 This better Homes & Gardens Boho Jacobean Hand-Hooked kitchen mat has a memory foam layer and will add the perfect texture and color to any new apartment kitchen! Get this on Walmart
43. Small Blender for one, $41.73.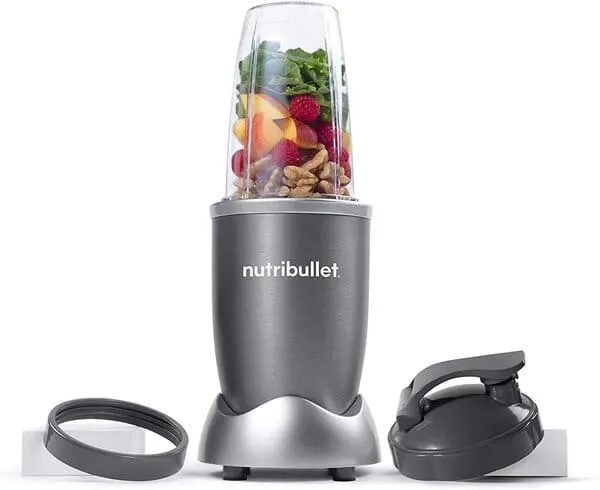 A full-sized blender is unlikely to be needed so gift them a small blender to help them make healthy smoothies at home. Get this on Amazon
44. Dutch oven $46.49.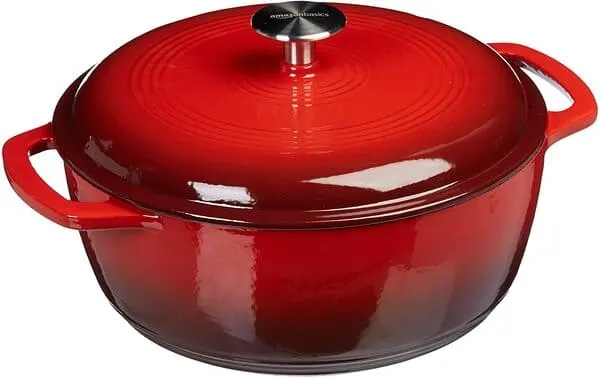 A Dutch oven is a highly sought-after kitchen item that most people only get if they're lucky. And since the real thing is very expensive, this is a unique and similar dutch oven that's a quarter of the price. I recommend getting this gift for someone who loves to cook. Get this on Amazon
45. Gold Pantry Labels Stickers for Kitchen Pantry & Fridge Organization, $13.99.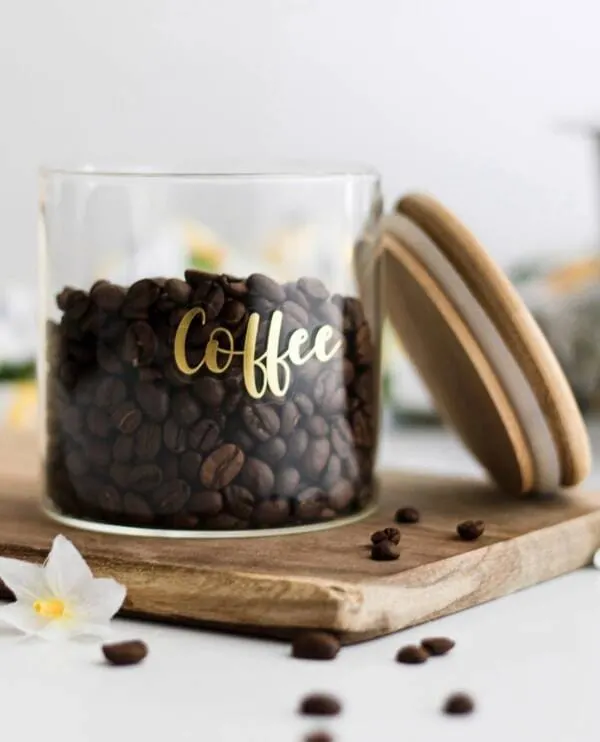 Add a touch of Gold to their Kitchen and Pantry with these exclusive Gold Pantry Labels set! Get this on Etsy
46. Brushed Aluminum Spice Racks, $34.00.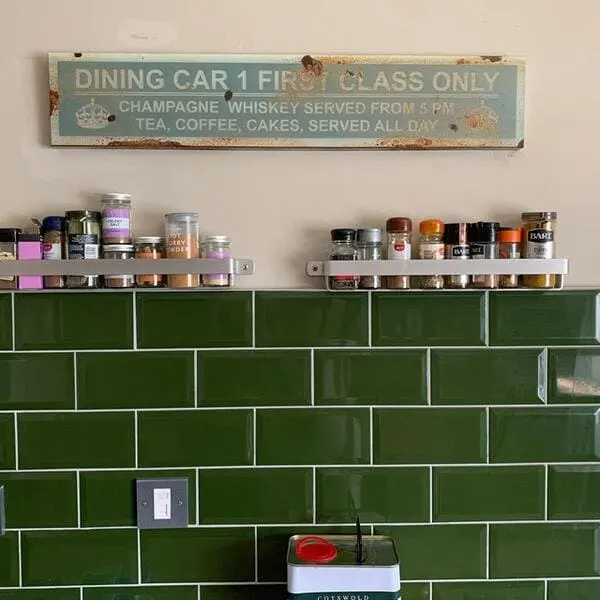 These Aluminum Spice Racks are a really lovely addition to any new apartment kitchen. They are very well made and quite versatile in where they can be placed. The workmanship on this spice rack is also excellent. Also, there are no rough edges so they will look beautiful displayed anywhere in the kitchen. Get this on Etsy
Colorful plant pots & accessories gifts for her
47. Set of 6 Wall Hanging Planter Vases, $26.90+.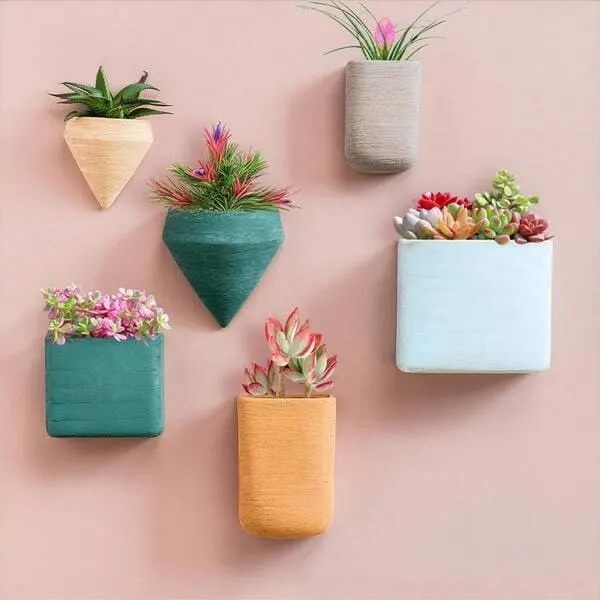 These decorative planters are a great way to fill your giftee's first apartment with color, and they're also easy to hang up. So whether they want to leave them as decorative pieces all on their own or fill them with plants, let them decide. Get this on Etsy
48. Boho Rainbow Hanging Planter, $21.24.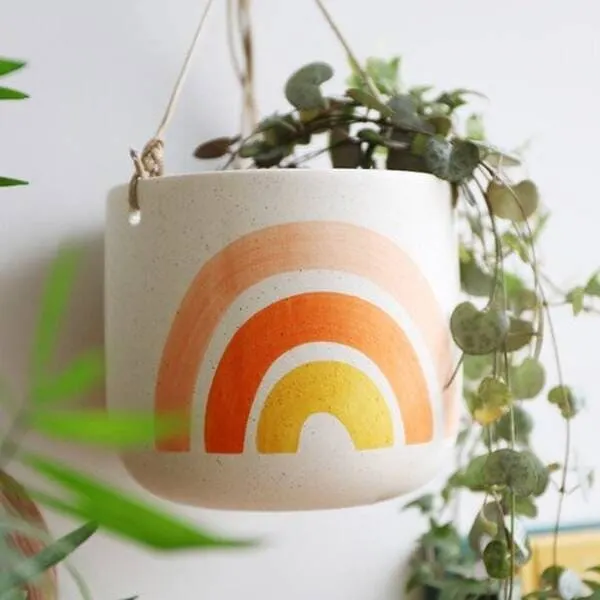 Instantly update their home with this boho rainbow hanging planter. It's a perfect addition for those who love the aesthetic of natural plants and color, and it is durable enough to hold a lot of weight. Get this on Etsy
49. Large retro Eco-friendly plant pot, $44.50+.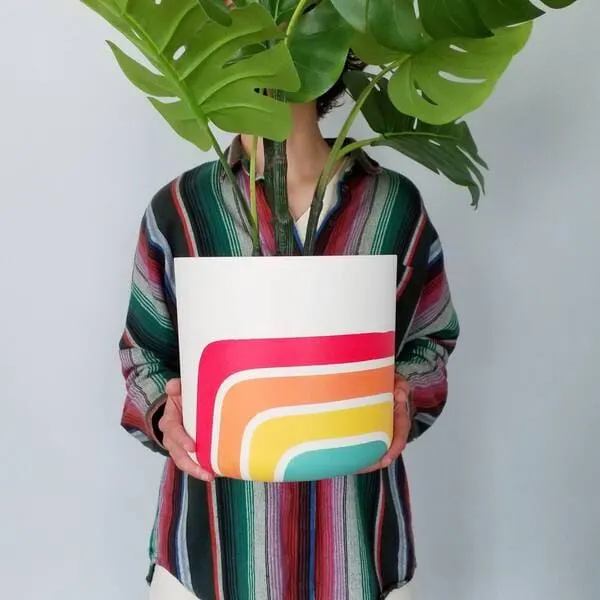 This retro eco-friendly plant pot will give a retro minimalist design that is perfect for any space. The strong base also ensures stability and the pot is made from 100% recycled plastic! Get this on Etsy
50. Estrella Planter And Tray, $24.00.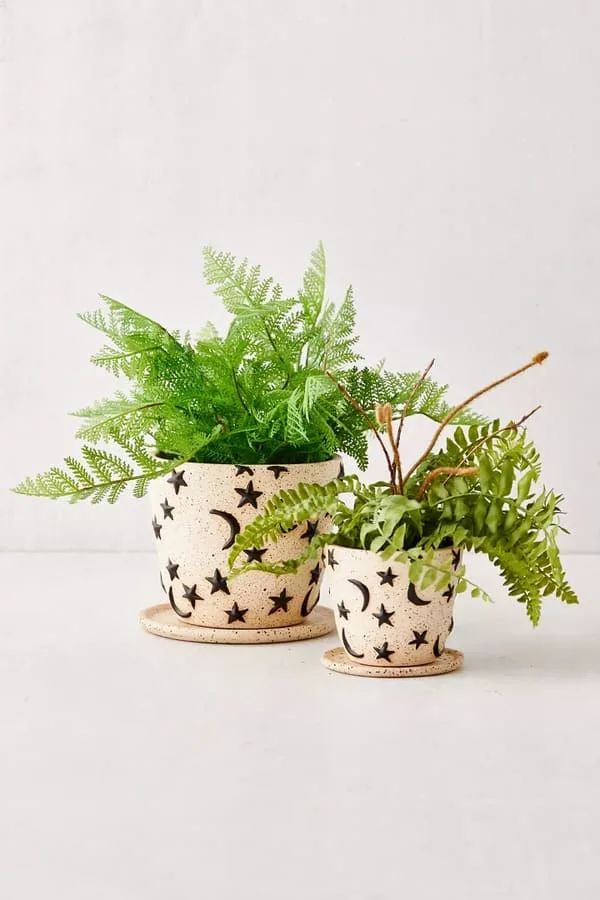 Starry ceramic planter and tray stamped all over with celestial motifs that are so dreamy. Made from a speckled ceramic with a drainage hole and dish. Get this on Urban Outfitters
51. Sloth 4" Planter, $18.00.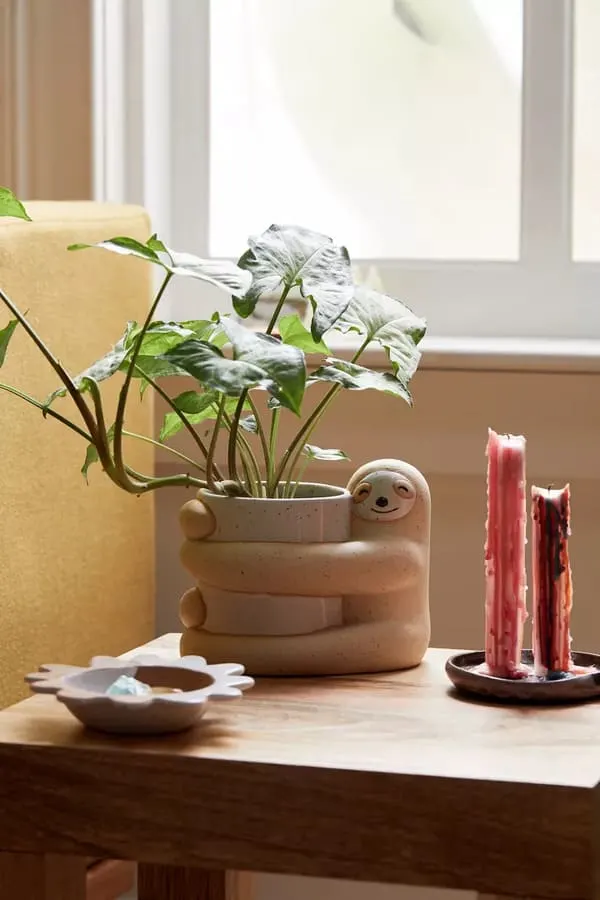 Give their first apartment some love with this ceramic planter featuring a super-snuggly sloth giving their greens a hug. It has a speckled finish, with a drainage hole, and a plug at the base. Get this on Urban Outfitters
52. Izzie Self-Watering Planter, $39.00.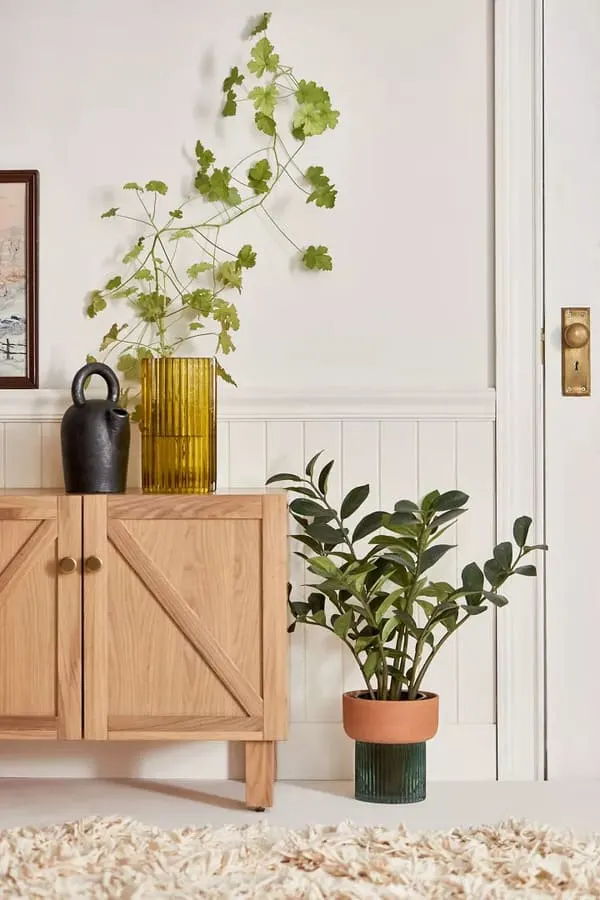 Help them keep their greenery perfectly hydrated with this self-watering planter, featuring a rounded ceramic vessel that sits on a glass watering basin. Get this on Urban Outfitters
53. Roxy Watering Can, $12.00 – $20.00.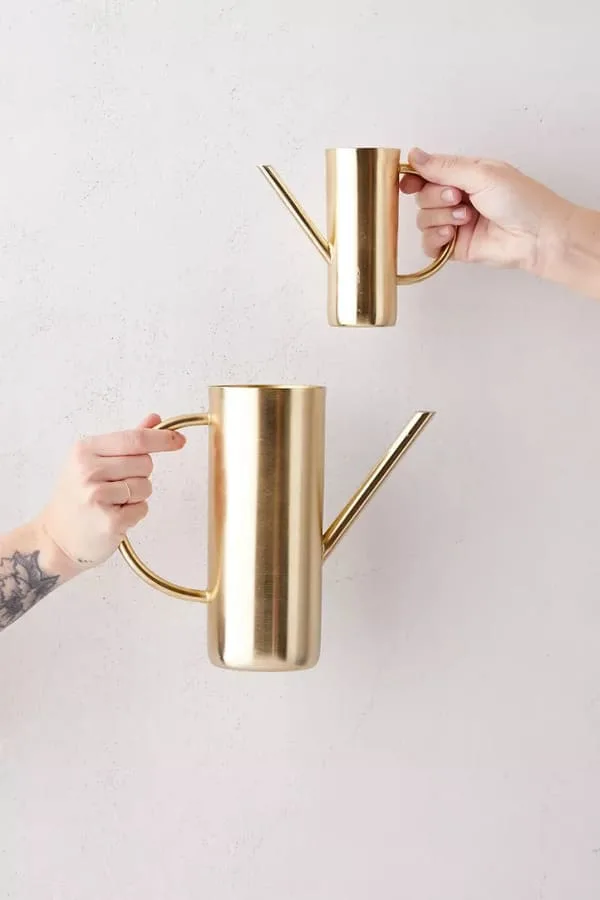 With gleaming metal featuring a slim cylindrical basin topped with a narrow spout and arching handle, they'll have a fabulous time watering their plants. Get this on Urban Outfitters
Household tools and practical apartment gifts
54. Robot vacuum, $108.14: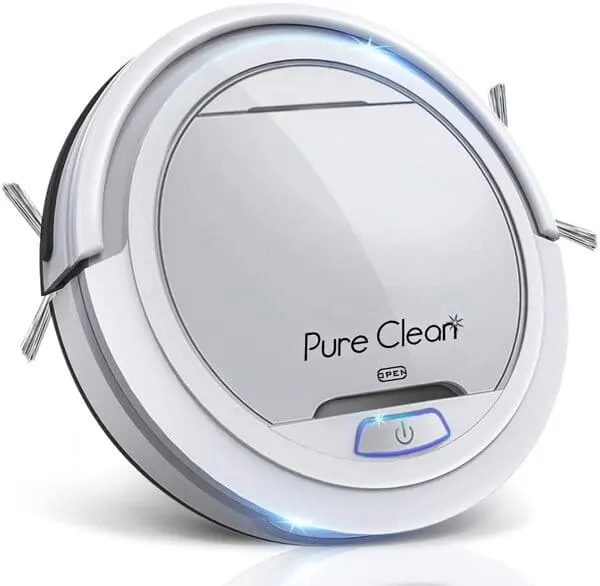 Vacuuming can be a time-sucker. A robot vacuum will give them the gift of time back and take the hassle out of vacuuming. This vacuum is also a great budget option it's the least expensive option I could find. Get this on Amazon
55. White Wall Mounted Mop & Broom Hanger, $15.99.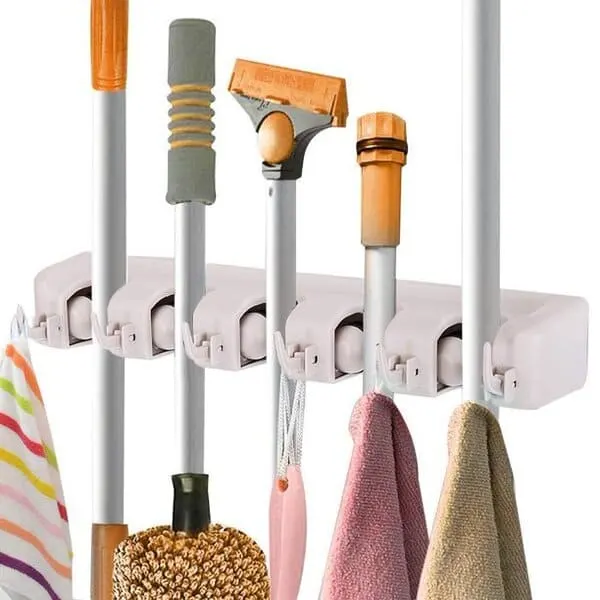 If you want to help them keep a clean house, this is the perfect wall mount to hang their mops and brooms on! Get this on Walmart
56. Broom and dustpan set, $29.98.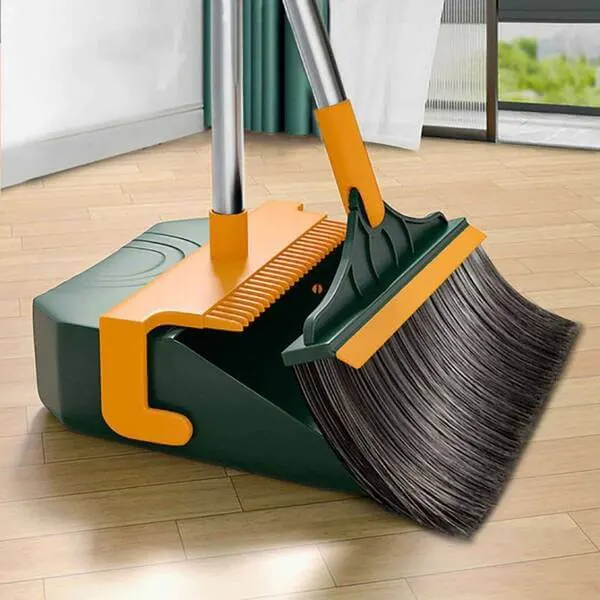 The best way to help them keep their home clean and organized is with this new Broom & Dustpan Set. Also, this set includes a great dustpan that doesn't require any bending. Get this on Etsy
---
As you can tell we are all about making any home be it yours or someone else's better!
Additionally, when it comes to how the home functions and looks as a whole, improving the home is one of our favorite topics of conversation to talk about, research, and share.
Not only that, when it comes to home furnishings, trinkets, organizing tools, (and everything else that makes a home awesome), we love finding new things, that can make an old home or new home, just a tad bit more special.
We hope you found a wonderful gift that is going to be perfect for her first apartment!
Welcome to Everything Abode, your daily inspiration for every activity at home!
Our goal is to inspire you to live an elegant and chic lifestyle from the comfort of your home.
We'll help you express yourself through authentic style, aesthetic beauty, and stylish home decor.
Subscribe to Get the Tools That Make My Blog Successful!
When you join my newsletter, I'm going to send you insider advice and tools that I use to grow my blog! I only save the BEST for my email list so don't wait!