If you are looking for the perfect chunky knit blanket, look no further! These blankets are well made, affordable, and will keep you extra warm on those cold winter nights!
A classic chunky knit blanket is one of the most well-made blankets you can invest in.
They will keep you warm during any cold winter night and are also very durable.
You can hold onto them for many years and are an excellent investment for yourself or as a wonderful gift for someone you love.
You can store them anywhere you like, including your living room, on comfy chairs, and even at the end of your bed to keep your feet extra warm.
Plus, these warm blankets are also great for people who are always cold!
Where did the term chunky knit blanket get coined?
Nocturnal Knits blogger Laura Birek was the first to popularize the knit blanket trend. Soon thereafter, comfort fanatics followed her lead by sharing numerous video tutorials sharing their own instructions.
This means you too can easily jump on the chunky knit blanket-making bandwagon and at the end of the article, I'll explain the process.
But first, if you would like to know which thick and chunky knitted blanket you should bring home or gift to someone?
I've rounded up 33 of my top favorite chunky knitted blankets that range from small to large, lightweight and weighted, and are ultra-chic and extra cozy.
*Prices are accurate and items are in stock as of the time of this publication.
Enjoy!
33 Cozy Chunky Knitted blankets
(Although knitted blankets tend to be on the pricey side, I found lots under $100, keep scrolling to view them!)
1. Chunky Knit Blanket by ShepsWool.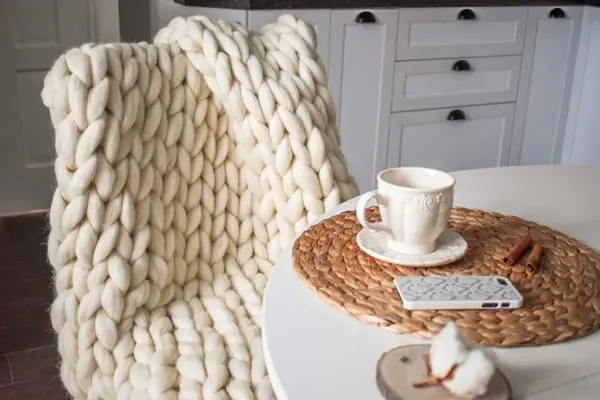 This blanket is perfect for a staycation. Add a book and a glass of wine to the mix and you will be in paradise. Price: $158.00, Get it here.
2. Anti-allergic chunky blanket by LoopStudio.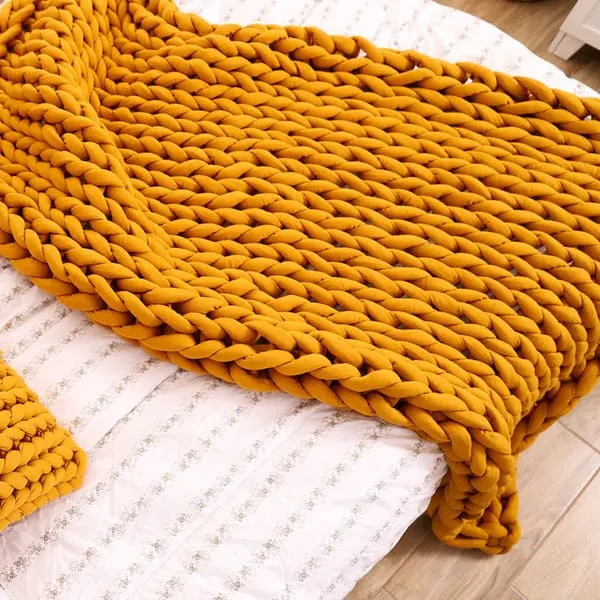 Mustard orange is the classic go-to color for fall, especially when wrapped up warm in this knitted blanket. $57.60+, Get it here.
3. Chunky Knit Wool Throw Blanket By Anthropologie.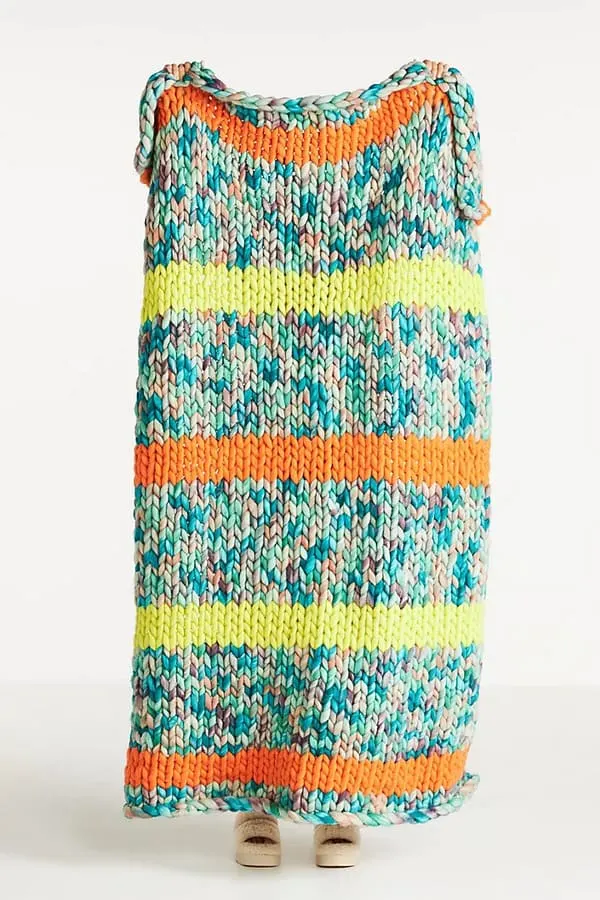 It doesn't matter what season it is, snuggling in with a blanket makes a better choice than running errands or going to work. This large, chunky knit blanket will do the trick. Price: $228.00, Get it here.
4. Chunky knit blanket by the knit beyond.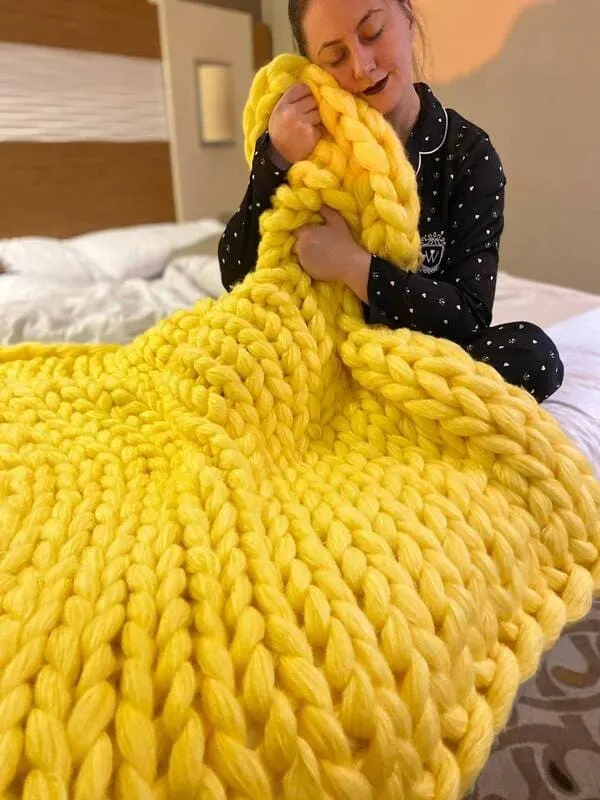 A classic yellow unique blanket will surely make it stand out from the rest of your blanket collection. Price: $65.00+, Get it here.
5. Moonchild cozy knitted throw.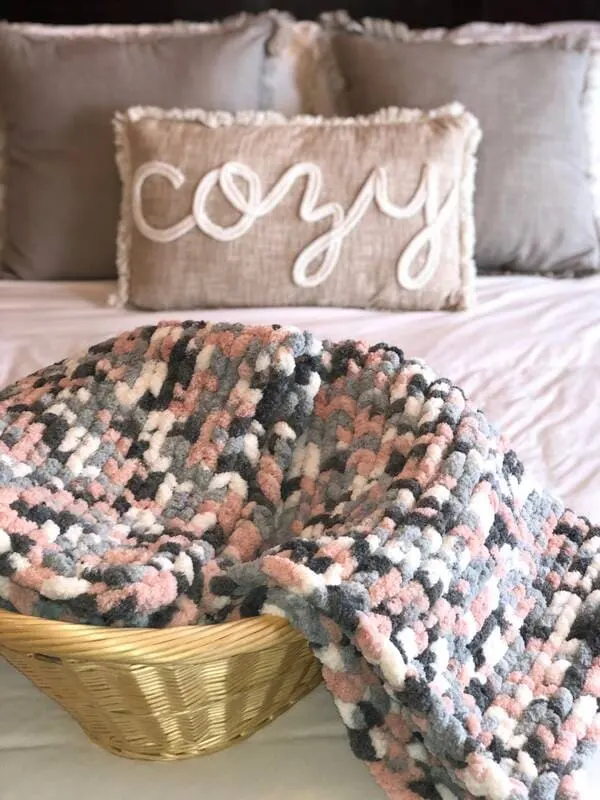 This multicolored large knit blanket will add just the right amount of femininity to any room. Price: $150.00, Get it here.
6. Sunset Chunky Knitted Blanket by wool hugs.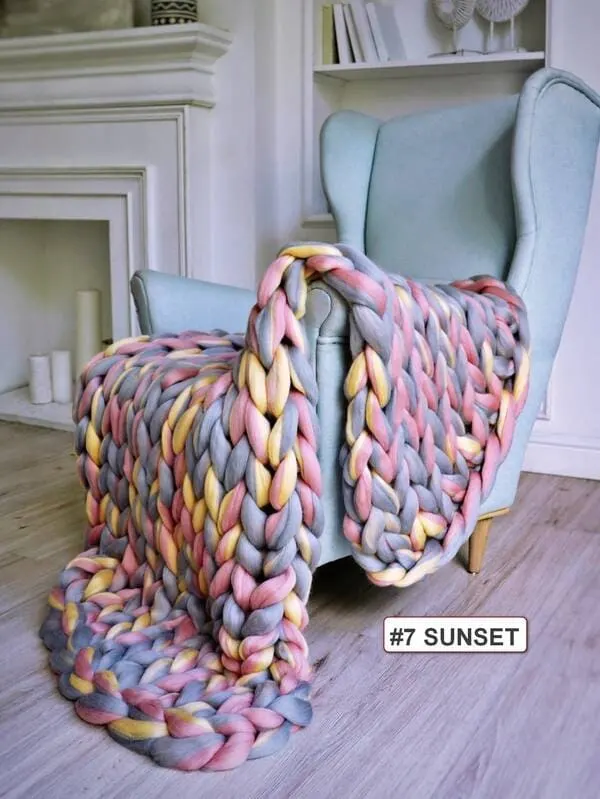 This rainbow sunset knitted blanket is the perfect way to add color to your home. Price: $90.00+, Get it here.
7. Chunky knit blanket by Sofia Ledger.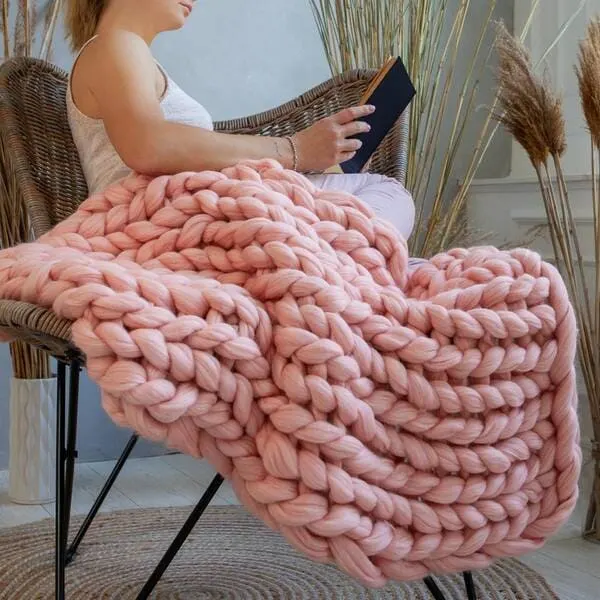 Price:$51.59+, Get it here.
8. Red knit blanket with Merino wool and Pom poms.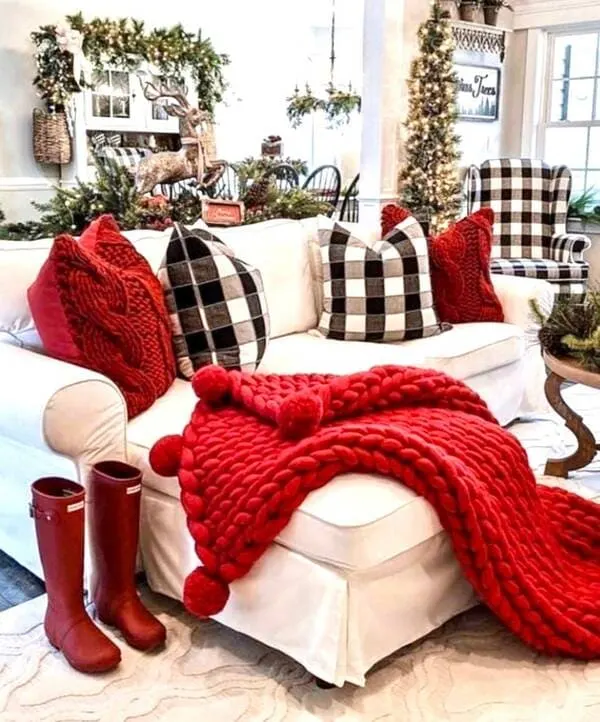 A bright red knitted blanket is the perfect color to go with holiday decor. Price:$102.00+, Get it here.
9. Dark Rainbow Pattern Chunky Knit Blanket.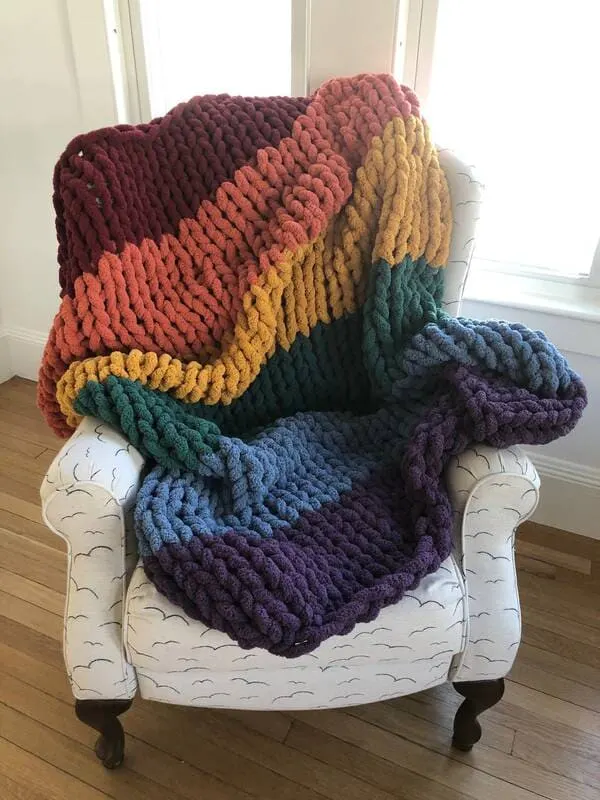 Price: $89.00+, Get it here.
10. The Lesbian Pride chunky knit blanket LGBT flag.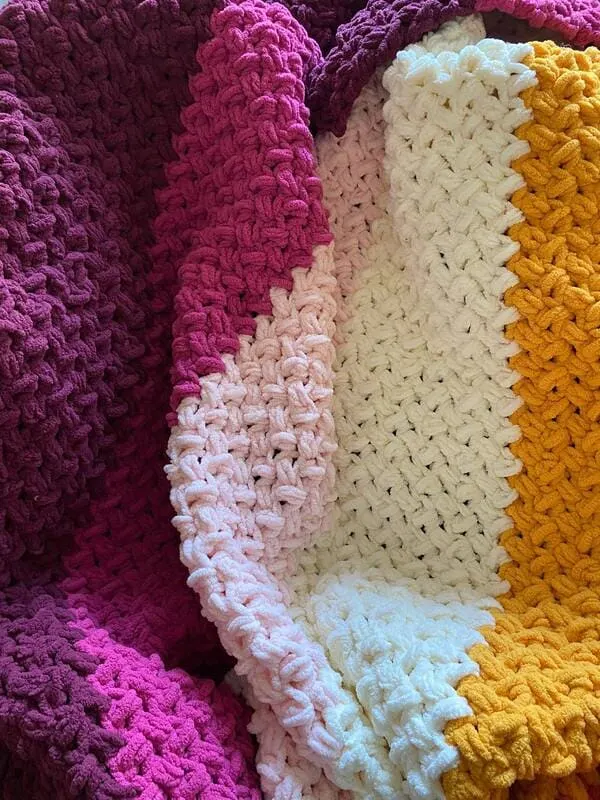 Price: $210.00, Get it here.
11. Handmade Custom Chunky Knit Blankets gifts.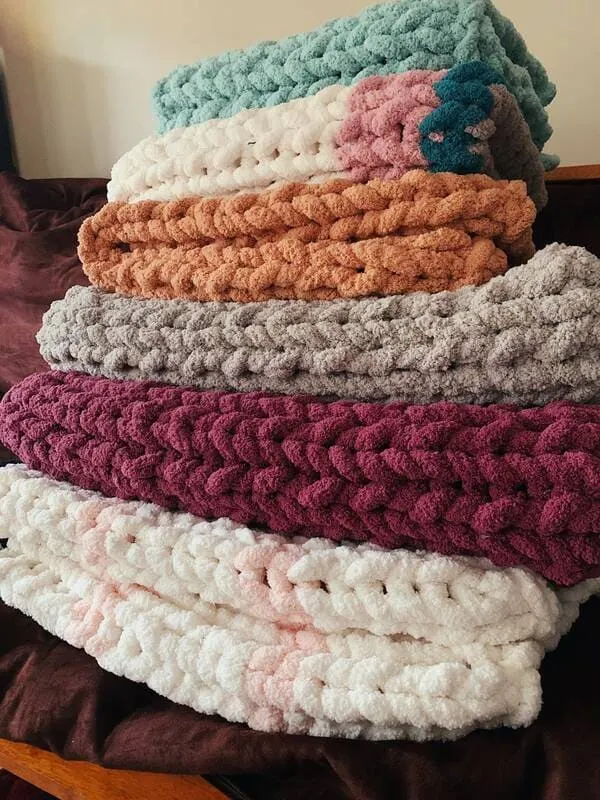 Price: $38.00+, Get it here.
12. chunky fuzzy hand knit chenille throw blanket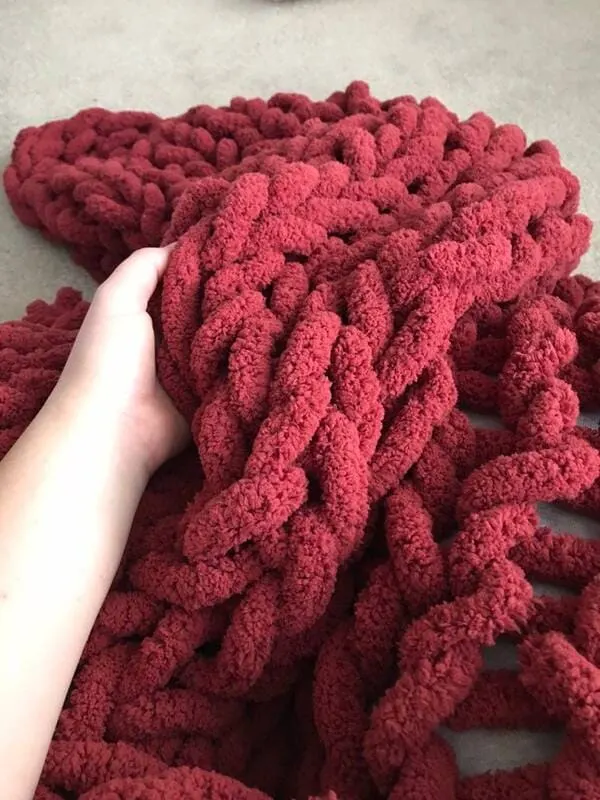 Price: $71.99, Get it here.
13. Oscar/Oliver Luca Knit Throw Blanket in Aqua.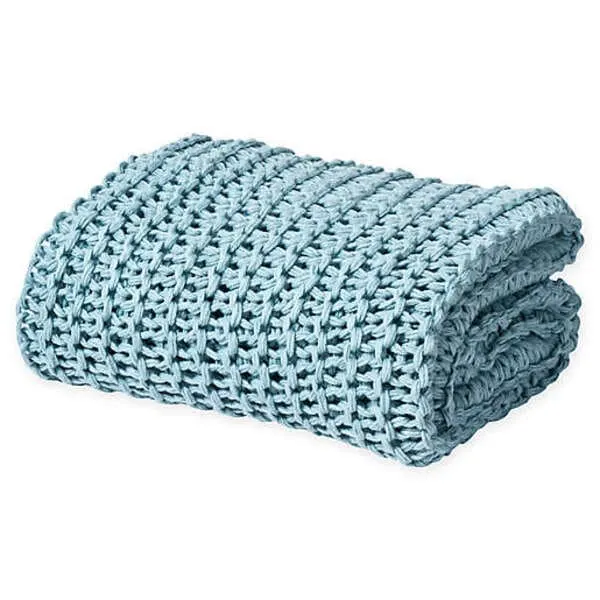 Price: $71.99, Get it here.
14. Alpine Mega Cable Sherpa Back Throws.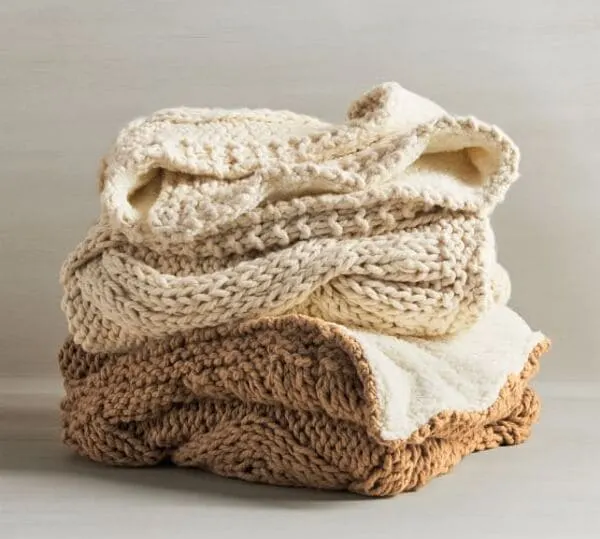 Price: $169, Get it here.
15. Petya Winding Wave Throw by George Oliver.
Price: $31.99, Get it here.
16. Celeste chunky wool throw, handwoven in Uruguay by the citizenry.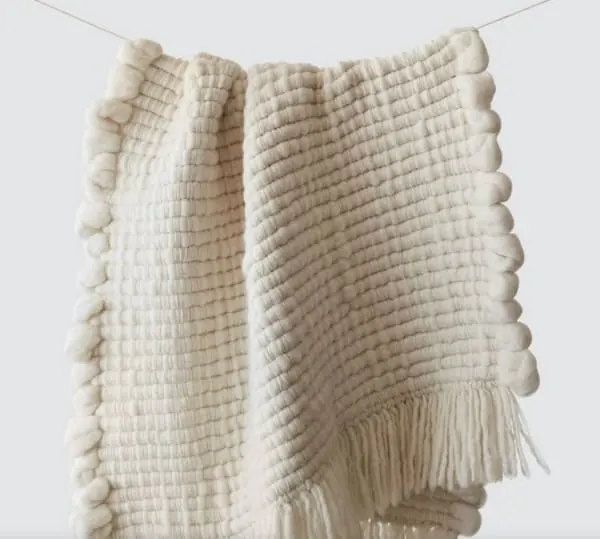 Price: $495, Get it here.
17. Cotton Napper by Bearaby.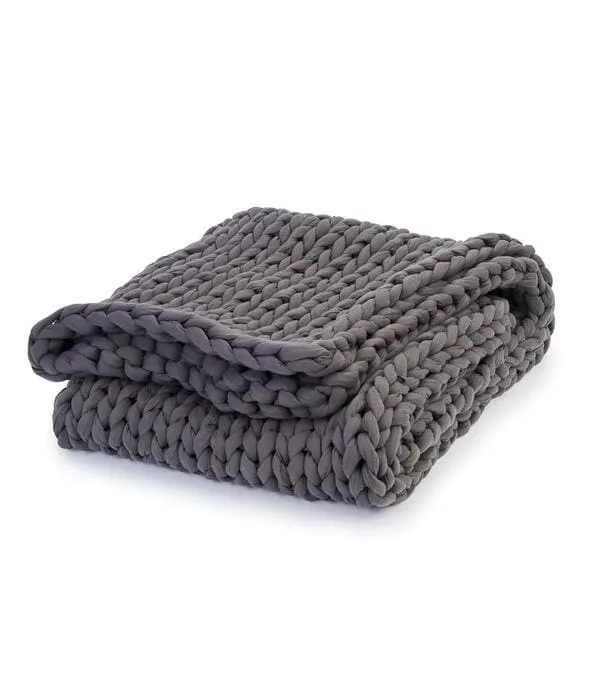 This knitted blanket with extra weight will help you feel calmer and sleep better. Made from organic cotton. Price: $199, Get it here.
18. Color block large Knit Blanket – Just Because Gift.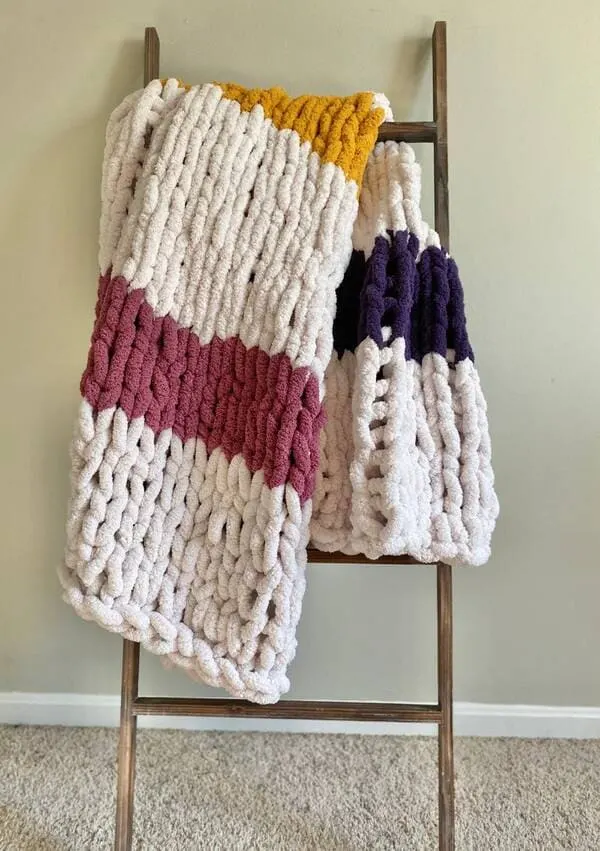 Price:$157.50, Get it here.
19. Hand Knitted Oversized Blanket by VivianLyndsey.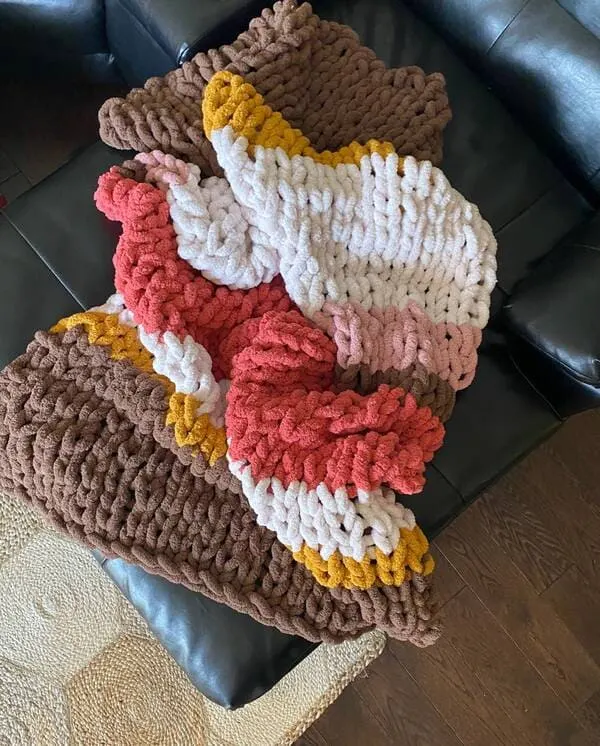 Price:$270.00, Get it here.
20. Chunky Knit Blanket Large by VivianLyndsey.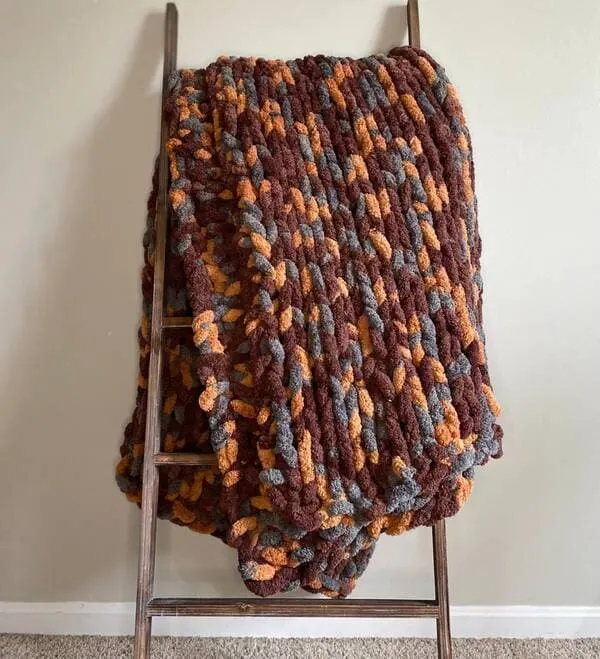 Price:$170.10, Get it here.
21. Handmade colorblock Knitted Blanket by Cuddlebugknits.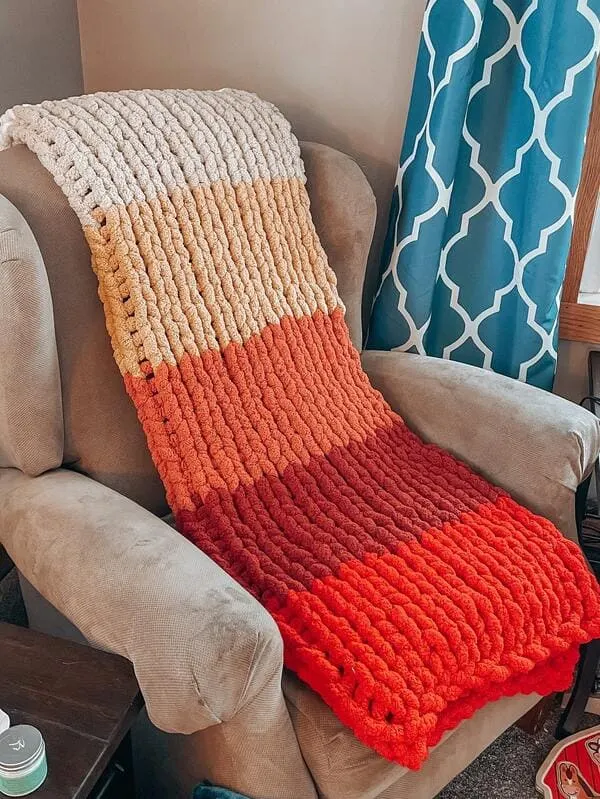 Price: $135.00, Get it here.
22. Funky chunky bright hand-knit blanket with tassels.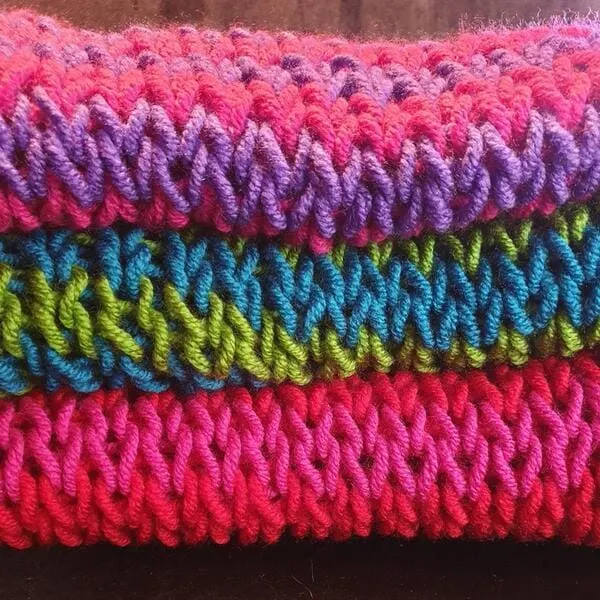 Price: $31.19, Get it here.
23. Chunky knit blanket by ThejoysofcraftingCo.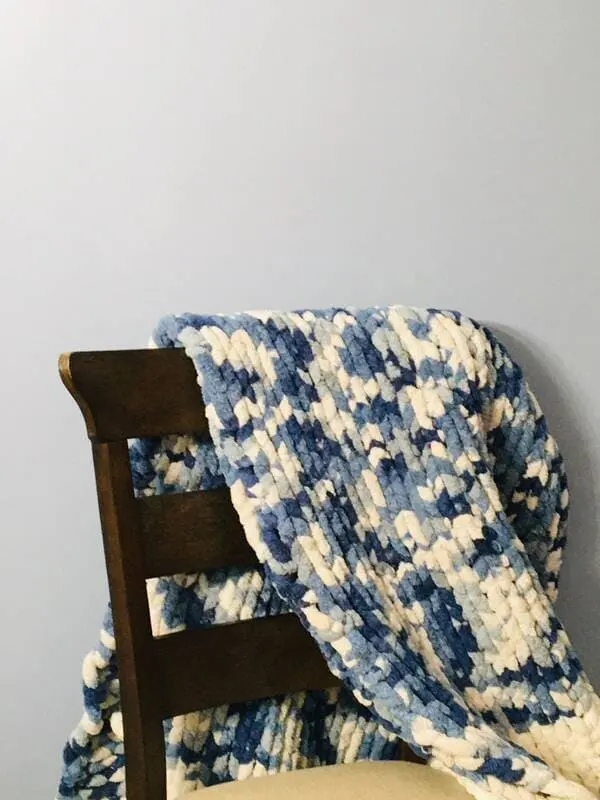 Price: $180.00, Get it here.
24. Chenille Knit Blankets and Throws by the Cozy co.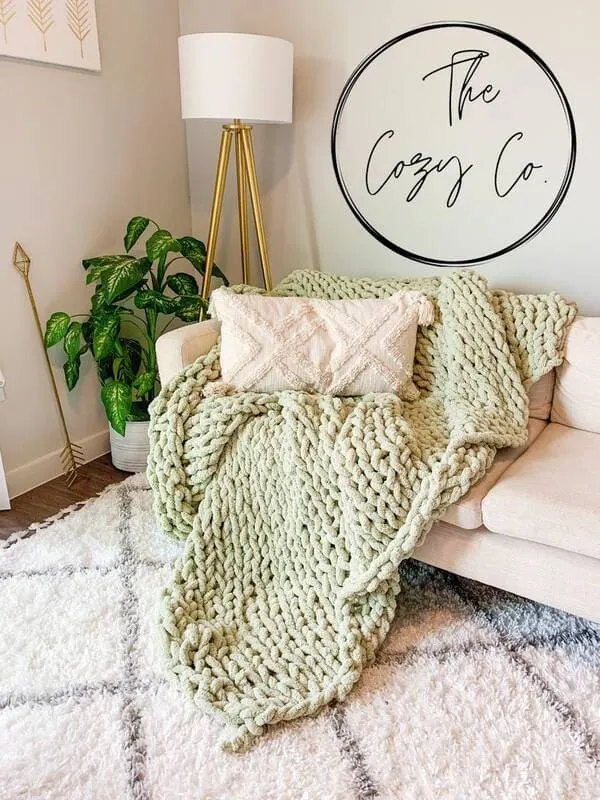 Price: $80.00+, Get it here.
25. Vintage Crocheted Knit Blanket With Bright Bohemian Colors.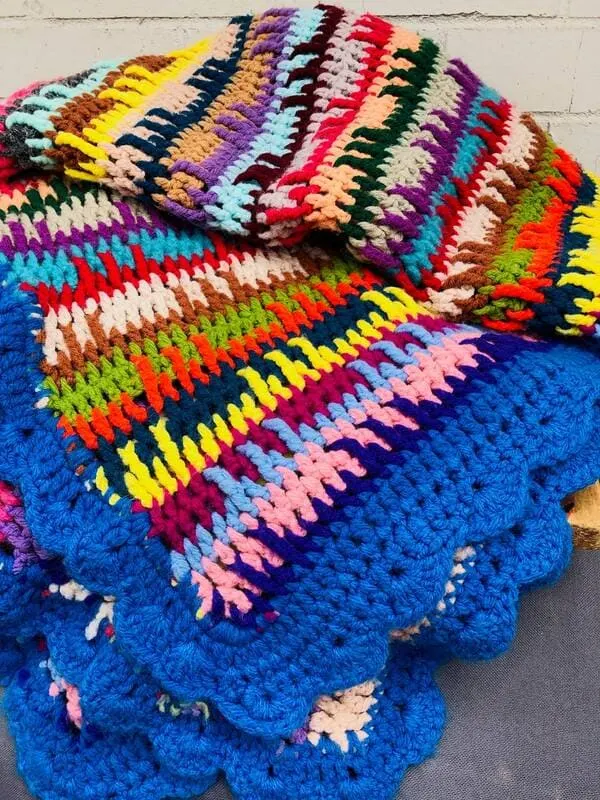 Price: $36.00, Get it here.
26. Colorful color block Chunky Knitted Blanket.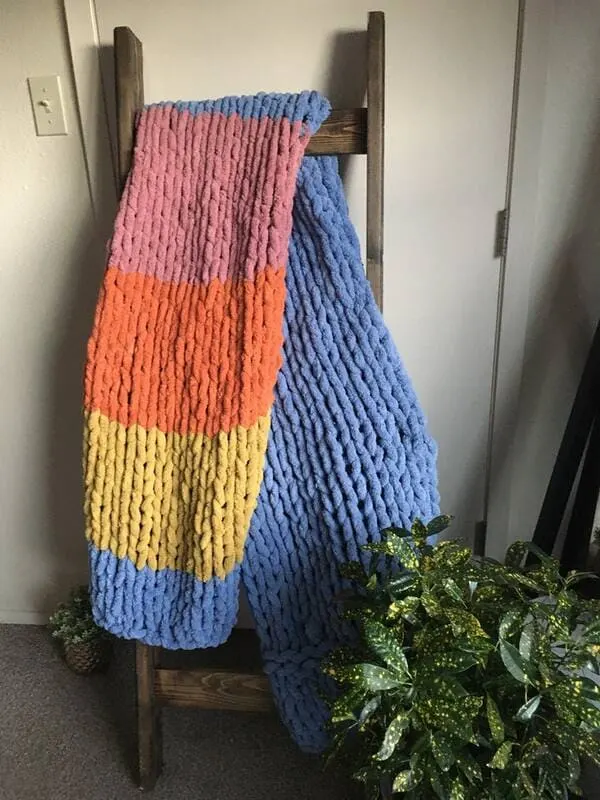 Price: $100.00 Get it here.
27. Two-Tone Personalized Chenille Blanket.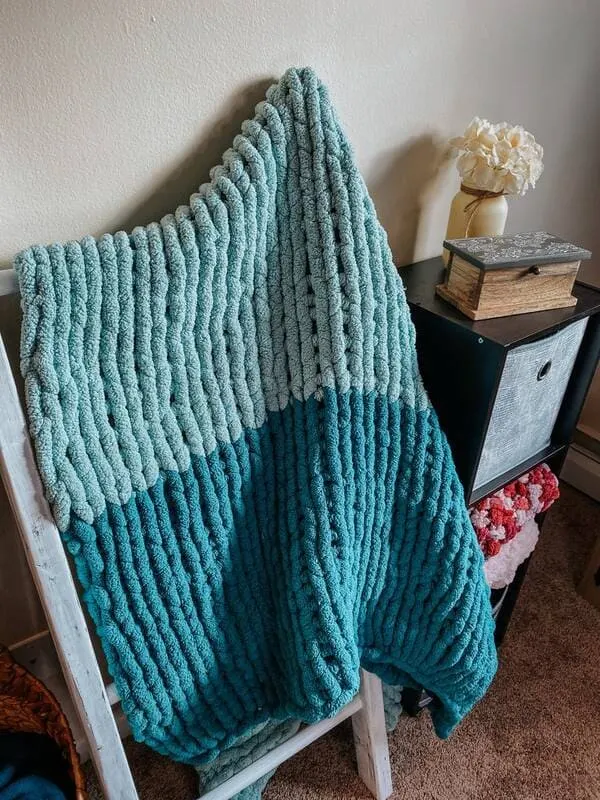 Price:$77.39, Get it here.
28. Handmade Knit Chunky Afghan Blanket.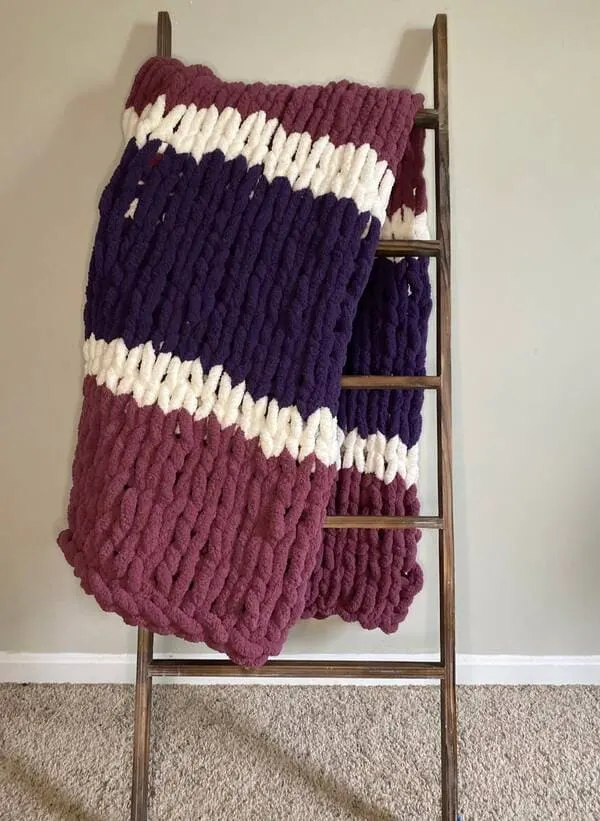 Price:$170.10, Get it here.
29. Chanasya Knit Fluffy Soft Throw Blanket by Wayfair.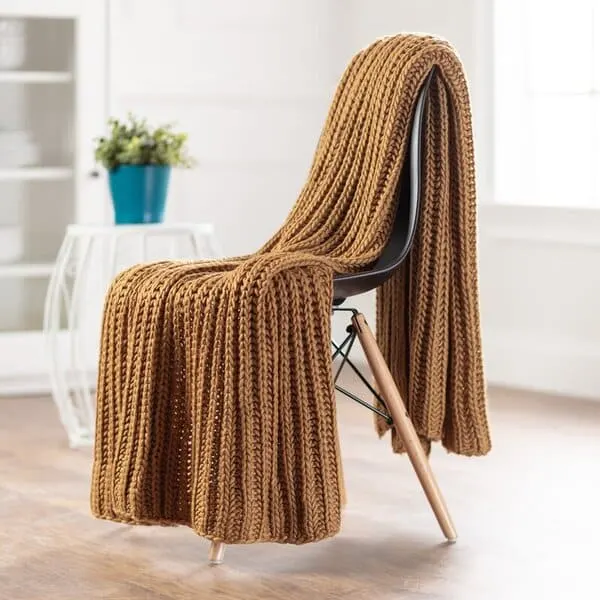 Price: $44.99, Get it here.
30. Velvet Napper weighted knitted blanket by Bearaby.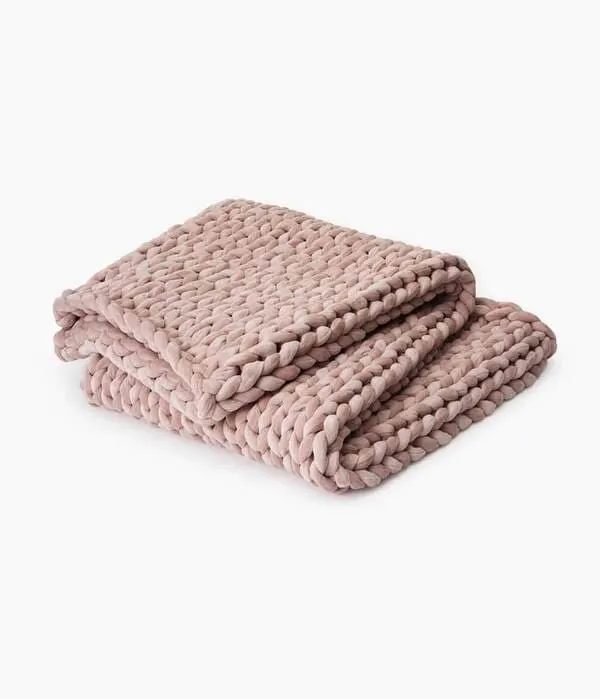 A velvet weighted blanket will help anyone sleep better and feel calmer. Made of sustainable eco-velvet.
Price: $289, Get it here.
31. Telly Knit Throw Blanket by Anthropologie.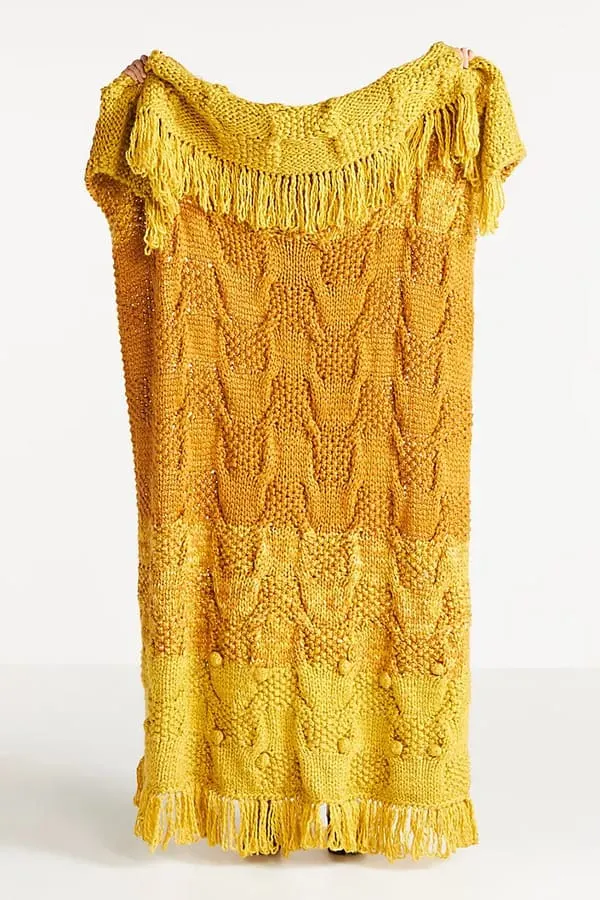 Price: $138.60, Get it here.
32. Penelope Knit Throw Blanket by Anthropologie.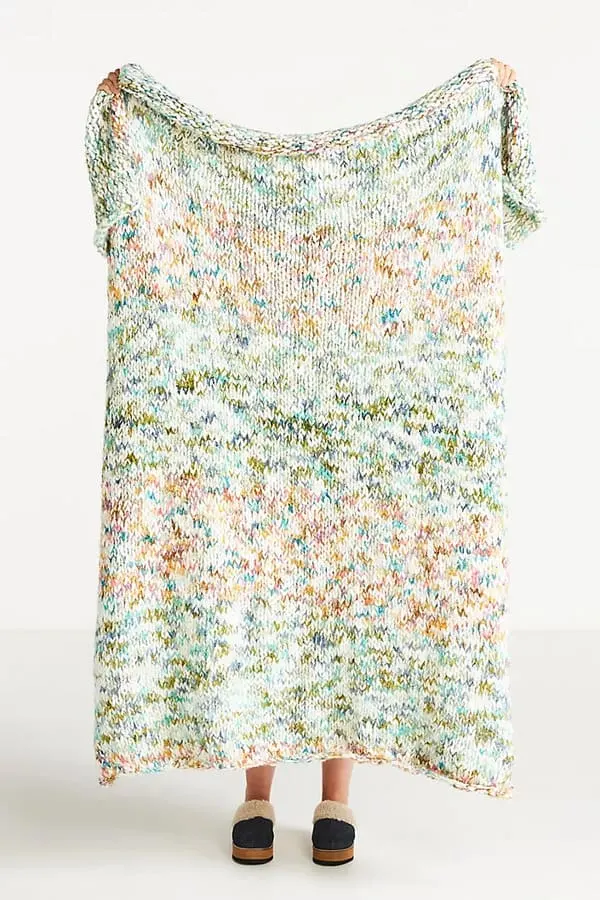 Price: $103.60, Get it here.
33. Cozy Darian Textured Striped Throw by Pottery Barn.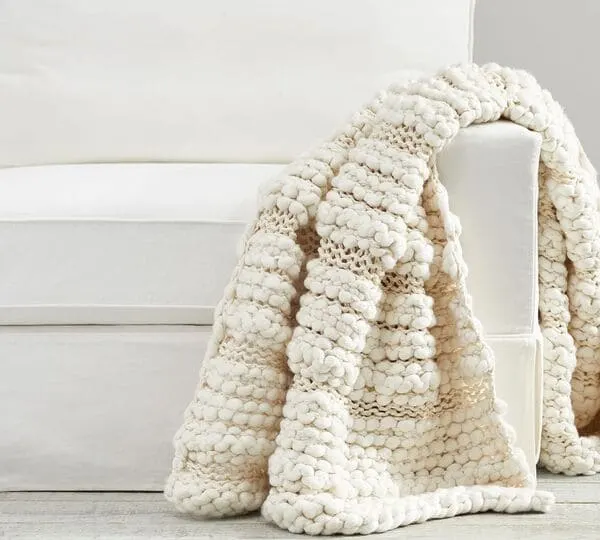 Price: $199, Get it here.
How to make a chunky knit blanket.
If you're looking for your next DIY home project or a fantastic indoor hobby, knitting can be the perfect weekend activity that only requires less than an hour—for both beginners and experienced knitters alike.
This type of project needs only a few simple stitches, extra-large yarn, and a knitting needle if you prefer not to use your arms.
The working yarn will then be passed through the loops as you work, and then you'll pull it through the next loop as you work your way through the whole blanket. Keep doing this until the whole blanket is complete.
What kind of needle do you need to knit a chunky blanket?
The most common type of knitting needle is a wooden one.
Smaller wooden needles are used to make smaller items such as socks, sweaters, and scarves, but not for chunky knit blankets.
Giant knitting needles are needed to make chunky knitted throws and blankets and can be purchased from stores such as Micheals, Walmart, or Amazon.
Large needles are also great for making chunky knit blankets because they will be much easier to work with. They'll also give your hands more room to grab and steer the large fabric.
So if you're looking for a large-sized knitting needle, you can buy a jumbo needle right here.
Just remember if you choose to make a chunky knit blanket yourself, a thicker wool yarn will give you a warmer blanket. This type of wool will keep you warm during the coldest weather!
---
Final thoughts on the coziest chunky knit blanket.
After looking at all these warm blankets, or reading about the process of making your own, I think we can agree that if you make an investment in a blanket (like one of the knitted blankets listed above), you're most likely going to hold onto it for many many years!
Additionally, making your own will also save you a good portion of your money but do keep in mind that both wool & yarn is still quite costly on their own.
But still, things considering, a soft chunky knit blanket whether made from your hands or another, is one of the most comfortable textures to wrap yourself up in whilst reading a good book on a cold rainy day.
I hope you found an awesome chunky knit blanket to either gift someone or bring home!
Welcome to Everything Abode, your daily inspiration for every activity at home!
Our goal is to inspire you to live an elegant and chic lifestyle from the comfort of your home.
We'll help you express yourself through authentic style, aesthetic beauty, and stylish home decor.
Subscribe to Get the Tools That Make My Blog Successful!
When you join my newsletter, I'm going to send you insider advice and tools that I use to grow my blog! I only save the BEST for my email list so don't wait!