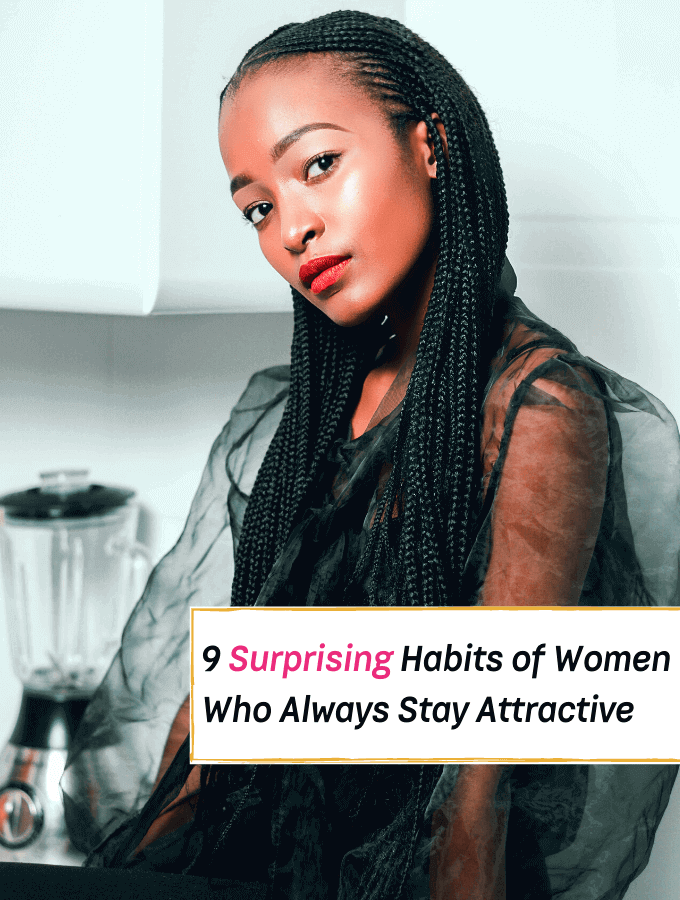 You notice people gawing at them, gravitating towards them, and sending them drinks from across the bar.
It seems like wherever they go, they are the center of attention and always manage to effortlessly trick the common folk into eating out of the palms of their hands.
These people are universally attractive, but as you pay closer attention, you will find that they vary in physical features, making their dynamic impact all the more confusing.
It's time to do some serious decoding.
Here are nine scientifically proven traits that you fail to notice about people who always score high on the attractive meter.
Similar Topics:
See Also:

Looking for some fast beauty hacks? Check out these 12 Helpful Tips from Beauty Experts You Need to Know!
9 Unique Habits of Attractive Women

1. They are friendly & Never Stop Smiling.
The old saying might allure that nice people finish last, but friendliness with an added smile will always come out on top of the attractive meter.
A number of experiments have proved that while people can't get enough of apathetic and mysterious-looking counterparts they actually prefer pearly whites over anything else.
So instead of spending hours choosing the perfect outfit to wear, get to flossing and smiling instead.
2. They Always Smell Amazing.
This one might sound a bit obvious, but you would be surprised how many women reach for unscented soaps and deodorants.
Unless you have allergies to tend to, this is a huge no-no.
A research group made up of 94 participants concluded that people with nice scents were considered to be more attractive because pleasant smells are associated with youthfulness, fertility, and overall beauty.
3. They are good listeners.
When it comes to being attractive to other people, attractive people make other people feel really good. They have good intentions and one of their best qualities is to be able to relate to almost anyone.
Being both authentic and honest, they are the kind of people who bring out the best in you and you really can be yourself around them.
They listen and care about what you say and they have compassion and make you feel good when you are with them.
4. They Run With a Crowd.
Sorry introverts, but before you go out alone research participants swear that there is beauty in numbers.
Not only do potential mates tend to prefer people that other people seem to adore, but they also like to use the extra company to aid them in comparing facial features.
This is where things take somewhat of an odd turn and it is dubbed as the "cheerleader effect"…
As potential suitors examine a crowd of friends, they are more likely to find themselves attracted to an individual with the most average-looking features because they are convinced that they will breed healthy children.
It turns out that subconsciously, people do actually think that far ahead, with just a glance.
5. They Sport Red for that important interview or date.
If you are looking to catch the eye of a cutie or two, or land that important interview you have next week? Then sporting red might just seal the deal.
According to a 2013 study conducted by Dr. Beal, participants found themselves drawn to people wearing this bold shade, whether they wear it as a lipstick or as a dominant piece of attire.
And quite frankly, this study is only one of the many cases that revealed that people were subconsciously drawn to red.
6. They Double Up On the Giggles.
It is safe to say that both ladies and gents alike crave a spouse with a good sense of humor but for entirely different reasons.
Even though men and women may have different roles when it comes to comedy, laughter plays a crucial role in flirtation all the way through to long-term commitment.
Experts found that people are actually looking for partners who will appreciate their candor and that they can impress with their sense of laughter, and that having a good sense of humor is one of the best forms of appearing attractive.
Don't be afraid to share a good laugh as it'll make you more desirable than you ever thought possible.
7. They Go Easy On the Makeup.
This one may come as both a shocker and a bit of a blow, but as science calls it, people aren't all that impressed by a full face of makeup.
We may have discovered that red lipstick can go a long way, but that is the extent of it.
An in-depth research study recorded that because cosmetics have the power to redefine facial features, a person covered in full makeup can appear untrustworthy in the eyes of others.
Moreover, participants were more attracted to people who went light on the brush or were shown completely bare-faced. But remember, wearing makeup is your prerogative.
8. They Love a Good Thrill in the dating game.
It's about time to ditch your fear of heights and live for the thrill because who knew that fearlessness could be so captivating?
A well-known study carried out by Dutton and Aron found that rollercoaster dates were more likely to warrant a call back versus more traditional nights out on the town.
Thus making you all the more appealing and attractive just for having a sense of fun!
9. They Know When To Throw On a Good Pair of Frames.
We all know that glasses add to the intellectual appeal, but were you aware that eyewear can score you some extra beauty points?
Whether you are making a fashion statement or are making an honest effort to correct your vision, a pair of lenses will make others gush over you.
According to research, wearing glasses can make look more authentic and trustworthy, similarly, also boosting your confidence.
They add to one's mystic and uniqueness, and not to mention, a lot of frames create the illusion of symmetry, which has been linked to beauty for quite some time.
So if you are ever feeling doubtful, throw on a pair of shades, and smile for that interview.
---
As it turns out, you don't actually need to be a top model to steal the show. Just add a few of these attractive habits and you'll be well on your way to feeling all the more attractive — because you are!
Hi welcome! Everything Abode's mission is to instill an appreciation for your home life through lifestyle tips, home decor, and everything else you do at home. Your home should be more enjoyable and comfortable and we appreciate you stopping by!
Subscribe to Get the Tools That Make My Blog Successful!
When you join my newsletter, I'm going to send you insider advice and tools that I use to grow my blog! I only save the BEST for my email list so don't wait!