A good photo is worth more than ever in the digital age.
In mere seconds, you can upload your picture to numerous social media platforms and share your face with all of your friends, family members, coworkers, and acquaintances.
You want to present the best version of yourself to the world, and that's only possible when you strike the right pose.
Unfortunately, properly posing a photo is easier said than done, but it's not impossible.
If you want to look incredible in every photo, then check out these seven useful tips to remember when posing for photographs.
Similar Topics:
7 Things to Remember When Posing for Photographs

1. Angle Your Features.

If you're self-conscious about your double chin, then you may be able to make it disappear by angling your chin towards the camera. Individuals with a high forehead or receding hairline should keep a neutral chin posture, and their eyes should be close to level with the camera.
As stated before, if you don't personally care about these things, then you have no reason to adjust your pose to compensate.
Still, there's no shame in being a little insecure about your physical features. In fact, feelings of poor self-image are very common.
According to a health study at fherehab.com, around 80% of women in the United States negatively compare themselves to pictures of other women on social media. No matter what, you're beautiful, and you should simply do whatever makes you happy.
2. Lighting Is Key.

Your appearance can drastically change in different lighting conditions. Sometimes, lights will make you look older. In other cases, lights can exaggerate certain facial features.
Since everybody has a different face, different lighting conditions will affect your appearance in very unique ways.
If you have thinner hair and are self-conscious about it, then you may not want to stand under a bright light that's pointed directly at your scalp. If you have puffy cheeks, then lighting conditions that cast shade on the edges of your cheeks may make your face appear slimmer.
When setting up optimal lighting conditions, try not to make it too obvious. If most of your face is obscured by a shadow, then it's simply not going to be a good picture.
Lighting conditions can be a bit trickier to adjust in outdoor environments, so if possible, try to take photos when the sun is at the most flattering angle.
To get a better idea of how different lighting conditions affect your face, try taking a few selfies with a handheld light in various positions around your face.
3. Consider Your Purposes.

What message are you trying to send? Are you trying to look flirty? Do you strive for a professional vibe? Are you curating a unique style for Instagram?
Know that your business headshot should look more serious than a snapshot of you at your niece's quinceañera. If you're not quite sure how you should pose in a certain context, then look up a few photos of other people posing in the target setting.
Your search will be even more useful if you manage to find photos of someone whose features are similar to yours.
A skilled photographer will set you up with the best poses and angles for your purposes, but even without a professional by your side, you can strike a pose that will wow anyone in any context.
4. Show Your Best Side.

A study at springer.com found that most people tend to be more expressive on the left side of their face.
If you want to emphasize a certain emotion, then you should probably show off the left side of your face. Naturally, if you have scars or blemishes that you'd like to hide, then it's better to angle that side away from the camera.
Also, if you regularly sleep on one side, then that side of your face may look older, so bear that in mind when situating yourself in front of the camera.
That's not to say that you should be expected to hide any scars, blemishes, or signs of aging. These things are natural. At the end of the day, the only thing that matters is that you're satisfied with the photo.
Nobody who matters will focus on the things that you're insecure about.
5. Maintain Good Posture.
You shouldn't stand like a banana; your back should be straight! If you want to be taken seriously, then you're going to have to straighten your back.
An academic study at sciencedaily.com found that good posture is linked with higher self-confidence, so even if you're not the most confident person, standing upright can help make your inner confidence shine.
6. Don't be too critical.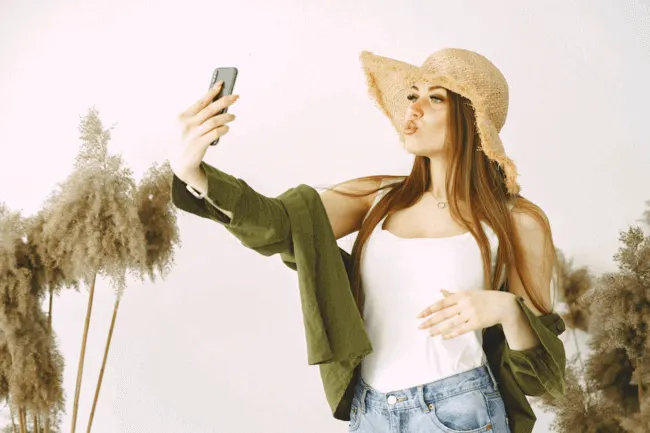 Nobody is paying as much attention to your photo as you are. You're the only person who will notice that your eyebrow is raised a little too high.
You're the only person who cares that the sun didn't hit your new highlights at the perfect angle. It's good to be thorough, but don't let your pursuit of the perfect picture stress you out.
Nobody's perfect, and nobody expects you to be perfect. Life's too short to let the little things bring you down, so instead of obsessing over how your picture isn't as great as some celebrity's edited social media post, you should just love your picture for what it is — a special moment that captures your incomparable beauty forever.
7. Be Wary of Your Surroundings.

Lastly, no matter what kind of photo you're trying to take, it's absolutely vital that you remain aware of your surroundings.
Many people have been seriously injured or killed while trying to take the perfect photo — it only takes one misstep to end it all.
Your life is precious; it's worth more than any single picture or social media post. So before snapping that perfect picture, make sure that you've scanned the local area for any environmental hazards.
If you're in a dense city or packed public place, then you should keep a close eye on the people around you as well. Pickpockets and other criminals love to sneak up on people who appear to be more focused on a camera than their immediate surroundings.
Do not put yourself in a precarious situation for the sake of getting an awesome shot. Nobody cares about your clout nearly much as you do, but people will care if you end up in the hospital.
---
See also:

Now that you know these tricks, why not sell your photos online?
Welcome to Everything Abode, your daily inspiration for every activity at home!
Our goal is to inspire you to live an elegant and chic lifestyle from the comfort of your home.
We'll help you express yourself through authentic style, aesthetic beauty, and stylish home decor.
Subscribe to Get the Tools That Make My Blog Successful!
When you join my newsletter, I'm going to send you insider advice and tools that I use to grow my blog! I only save the BEST for my email list so don't wait!