Whether you are looking for multicolored french tip nails, french manicures in two colors, or single colored french tip nails, this article has over 40 nail designs to choose from!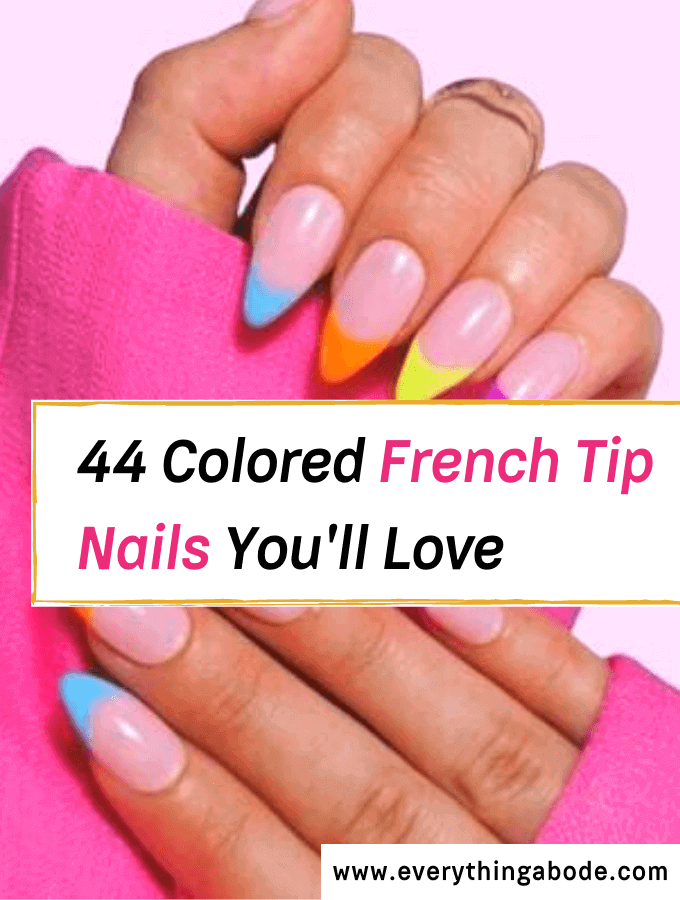 Colored french tipped nails are a fun and fashionable trending nail design with the base of the nail being a different color than the tips of the nails.
French manicures or simply just "French Mani" as they call it in the nail world can be an interesting and fun way to pamper yourself with colored french tips being the most desirable look.
There are many types of french manicures that have many different variations with some common ones including multi-colored french tip nails, french tip manicures in two or five tones of different colors, or your basic single-colored french tip nail design.
Whatever your preference is, this article will give you all the colored french tip nail design inspiration that you need, from rainbows to hearts, all the way to gradients and ombre!
Here are 44 hand-selected colored french tip nails for the best bright-looking manicure ever!
How to save colored french tip nails images to your device:
Also, you can purchase any one of these nail designs below or simply download the photo to take to your nearest nail esthetician to replicate the look!
Mobile: press down on the photo and click "save to camera" or you can simply take a screenshot.
Desktop: right-click on the image and select save as, save to your downloads, or you can airdrop the nail design to your iPhone or email them to yourself or your nail salon.
Enjoy!
44 Colored French Tip Nails for a Bright Manicure
1. Chic French tip nail art stickers.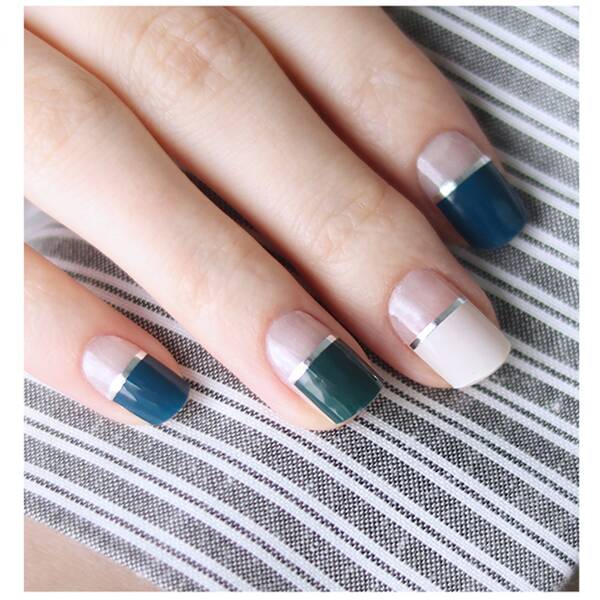 2. Brown colored french tip nails.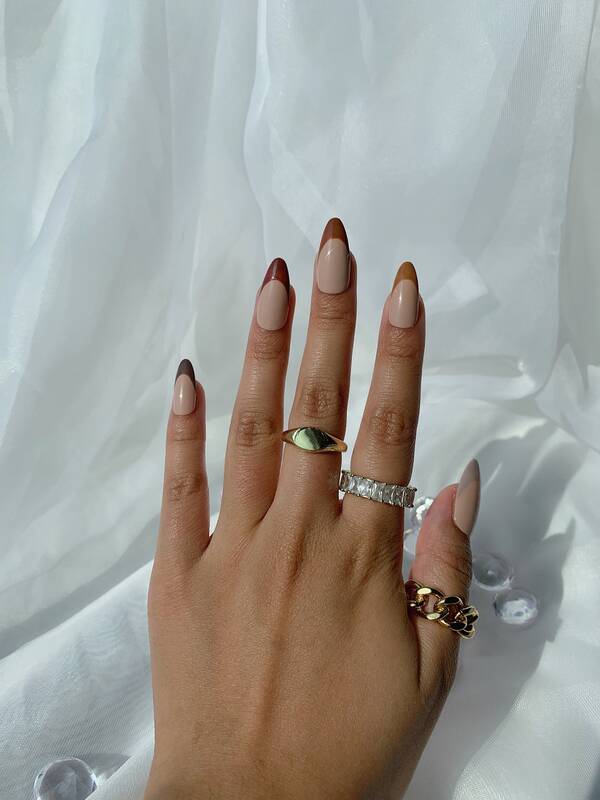 3. Brown colored french tip minimalist nails.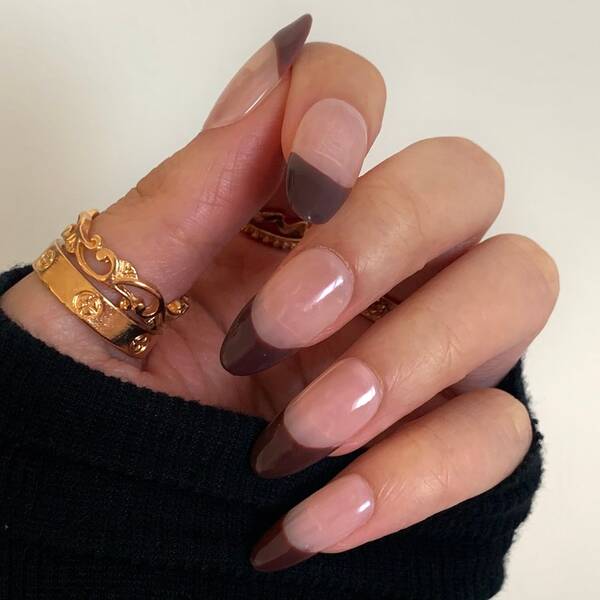 4. Nude mixed coloured french tip nails.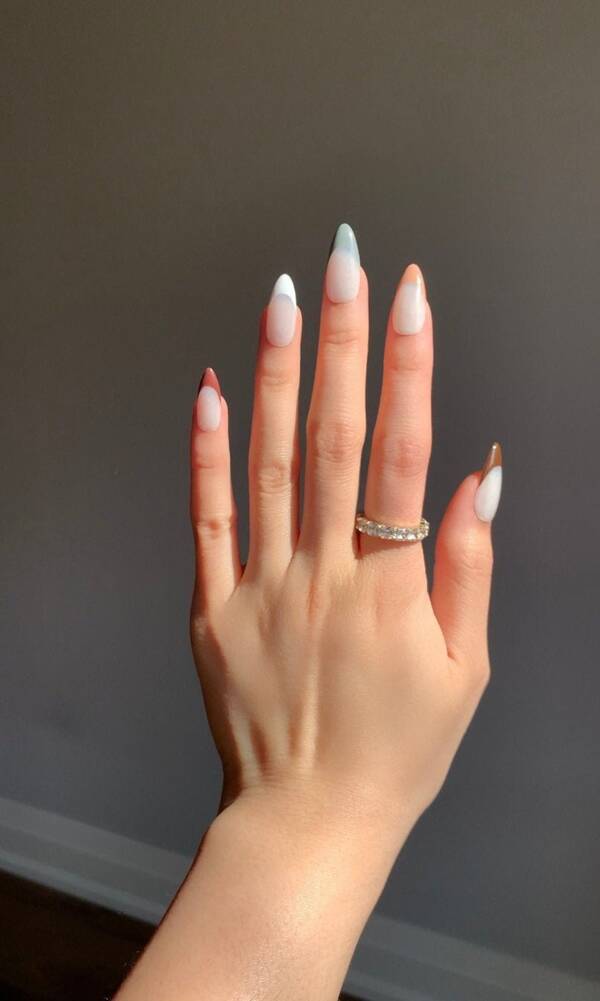 5. Sage colored french tips with pearls nails.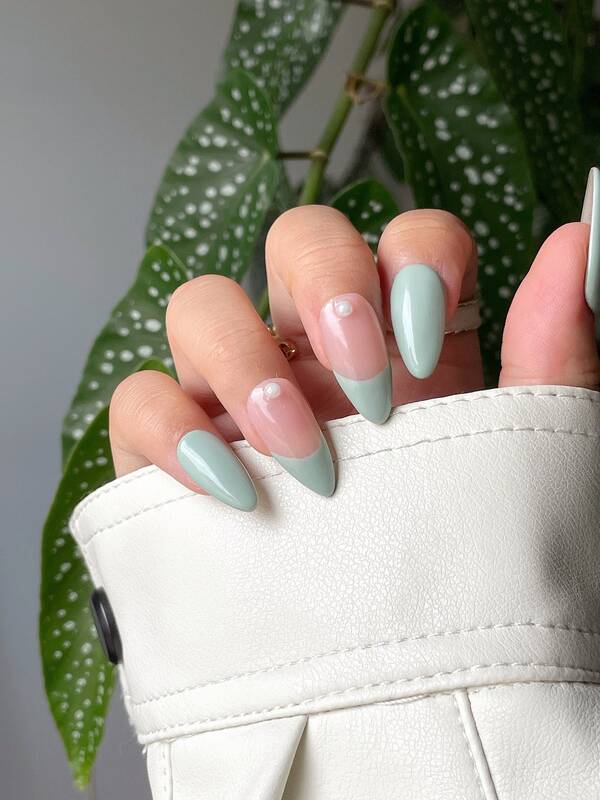 6. Chocolate brown french tip nails.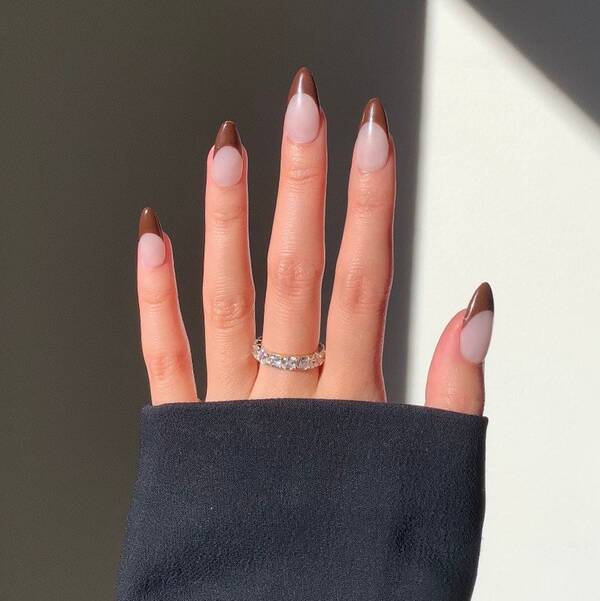 7. Brown cow print french tips detailed nails.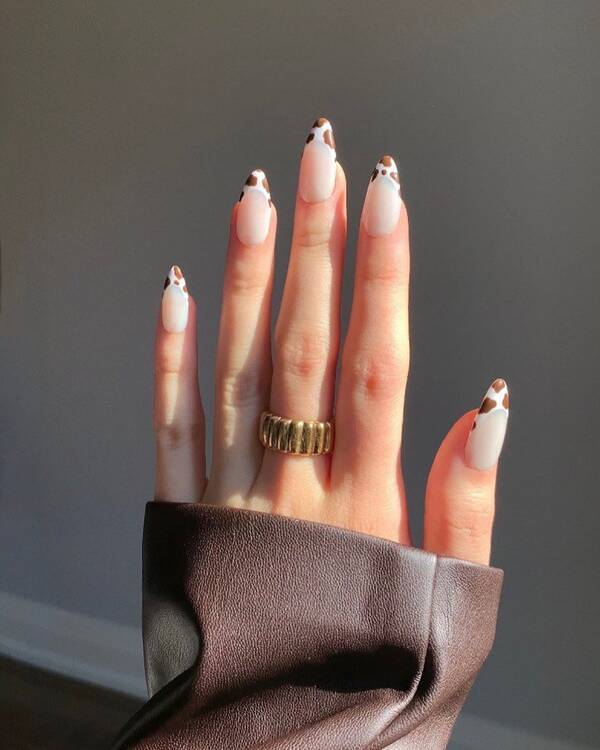 8. Beige and white-colored french manicure.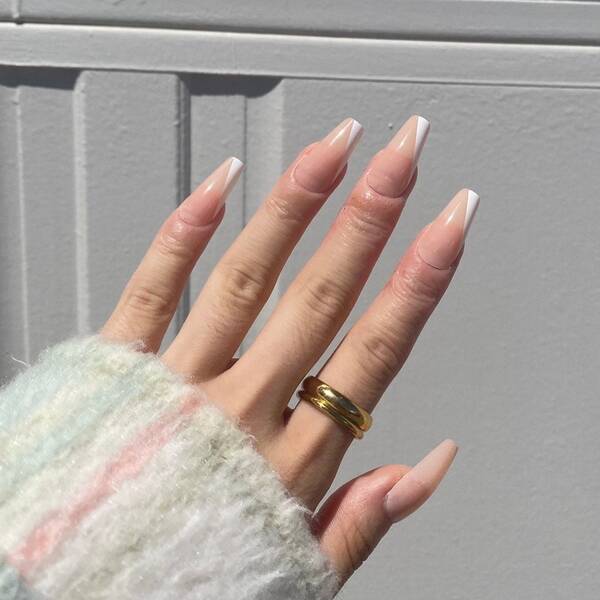 Short ankle doc martens look-alikes
9. Abstract swirly green french manicure.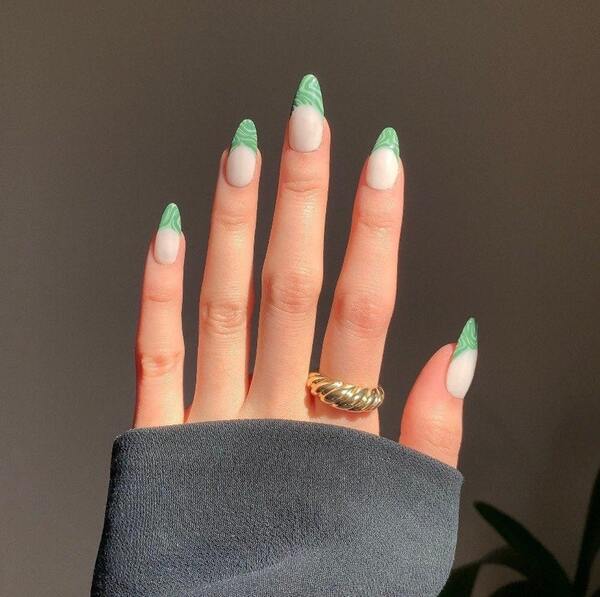 Multi-colored french tips
10. Pastel french tip glow in the dark nails.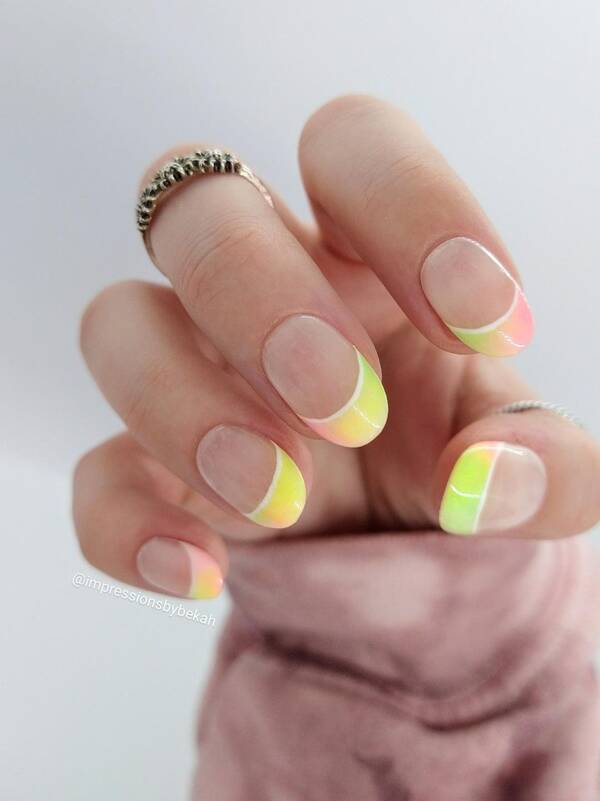 Colorful Doc Marten dupes alternatives
11. Purple french tips press on nails.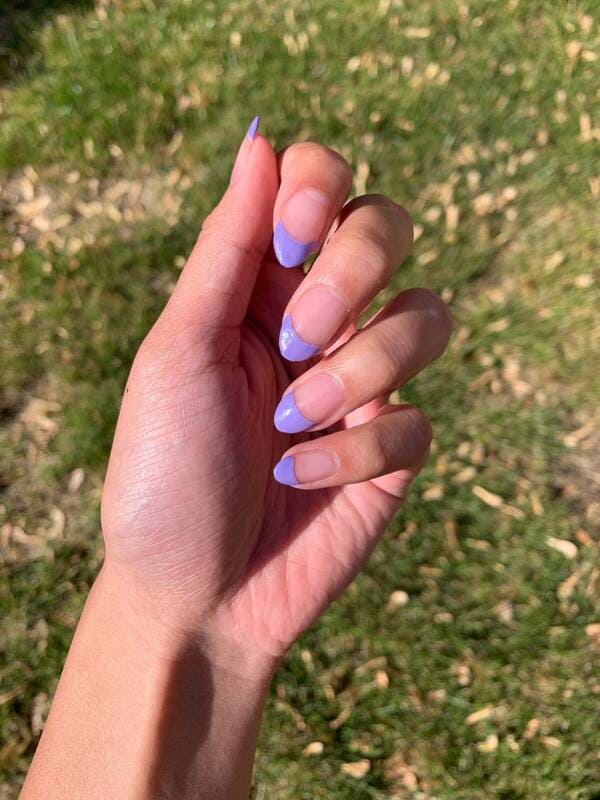 12. Split French tip colored nails.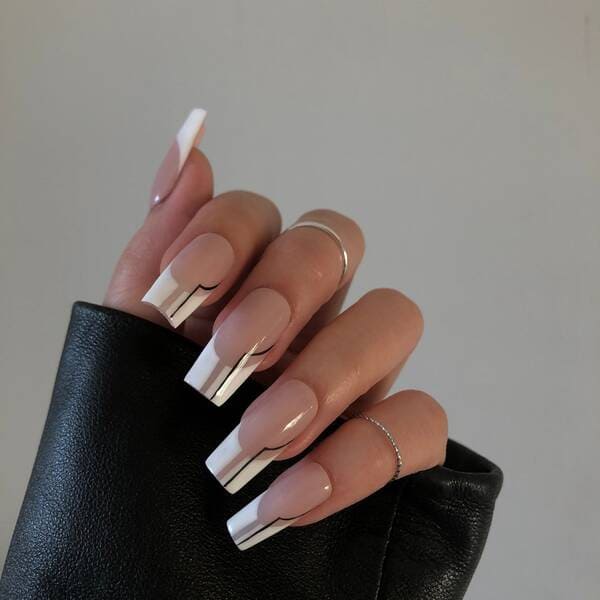 13. French tips yellow nails with rhinestones.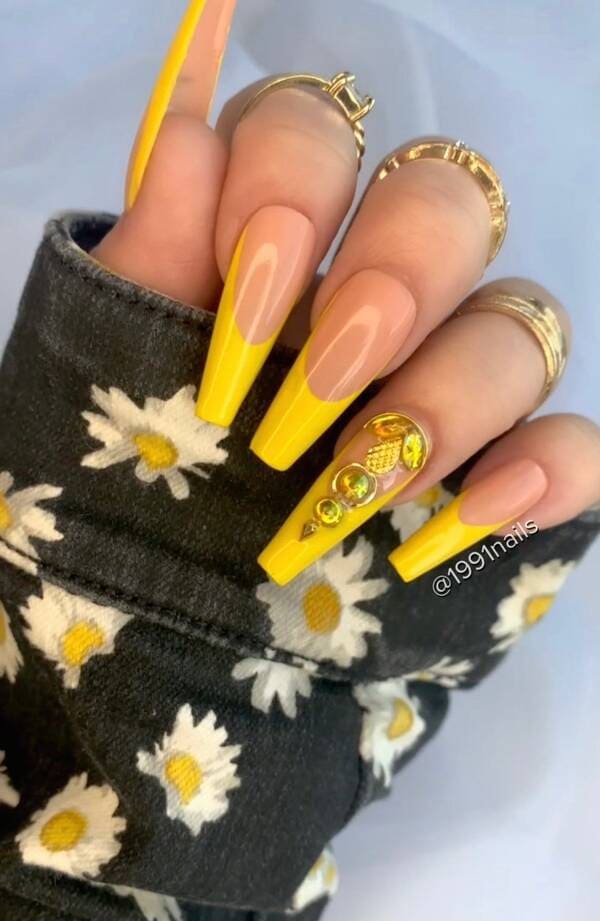 14. Lemon drop yellow french tip nails.
15. Rainbow V french tip nails.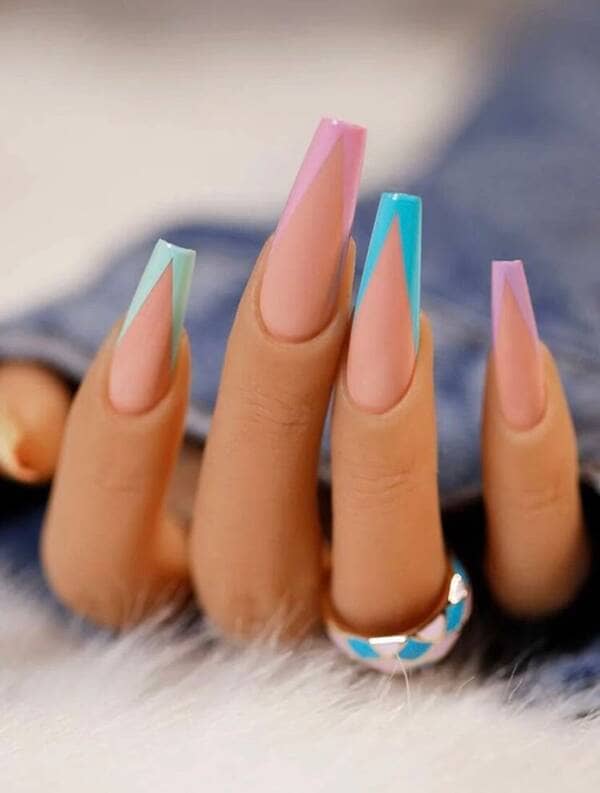 16. Modern Red colored v tip french tip nails.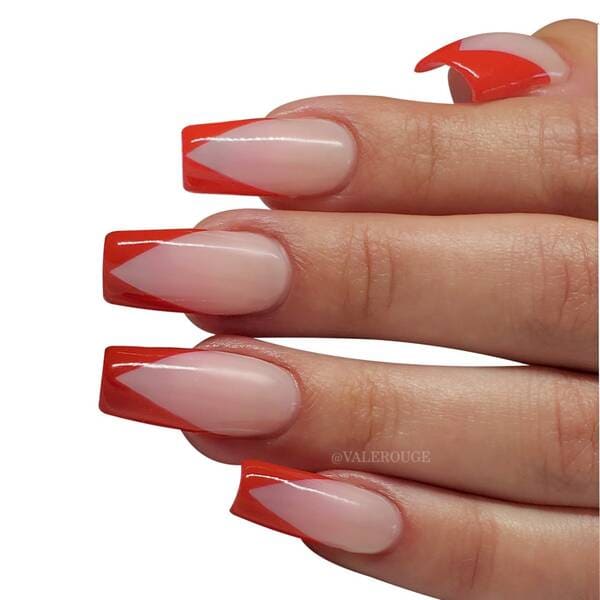 17. Yellowy green colored french tip nails.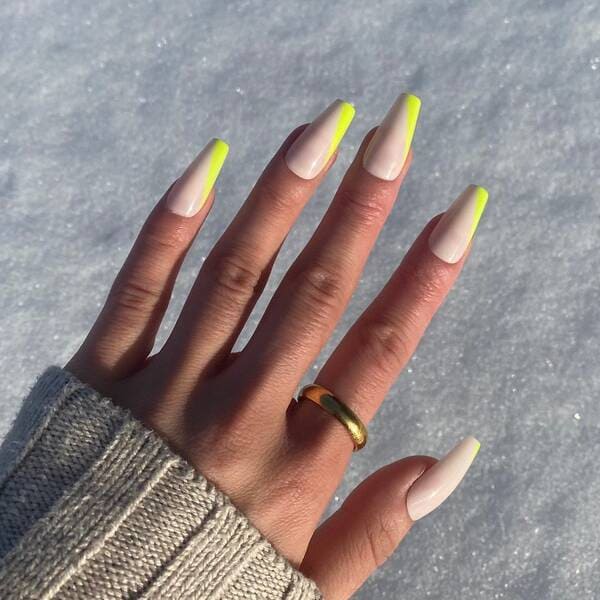 18. Rainbow gradient french manicure with clear top.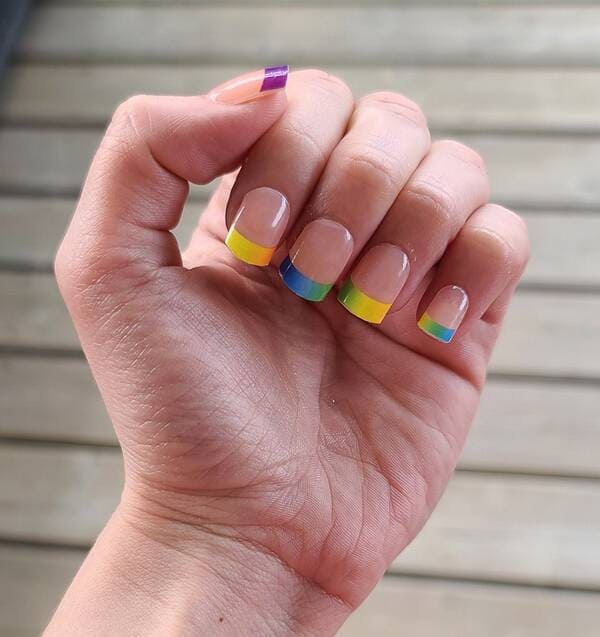 Two-toned colored french nail designs.
19. Rainbow pastel french press on nails.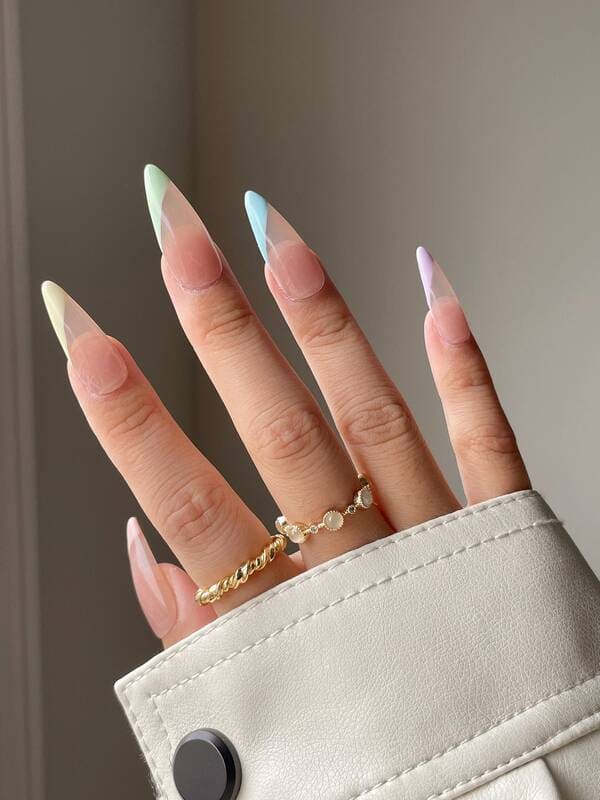 20. Five tone blue ombre french tip.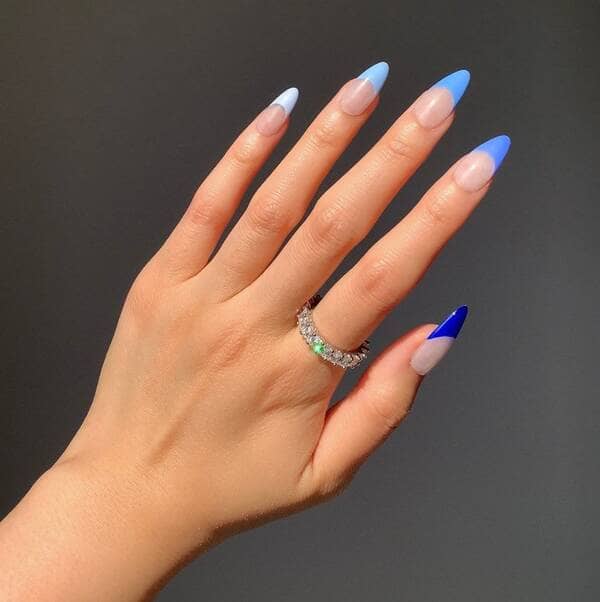 21. Multicoloured french rainbow nails.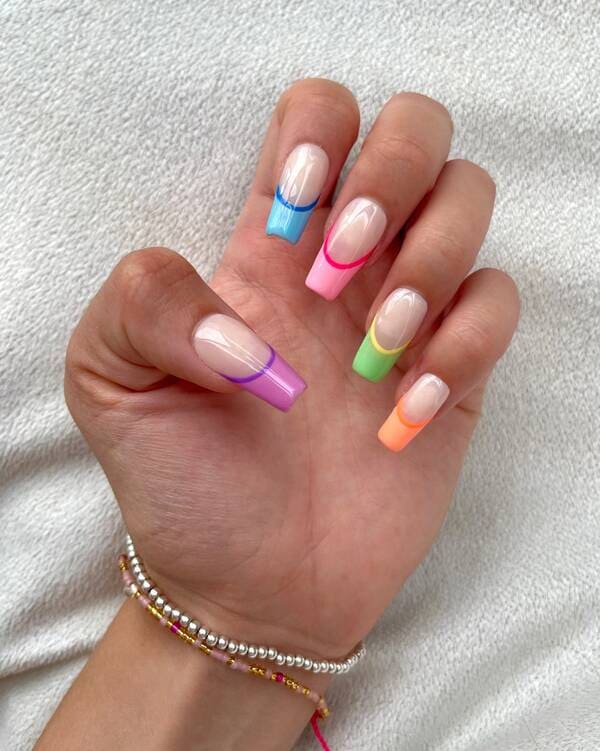 22. Pink colored french tip press on nails.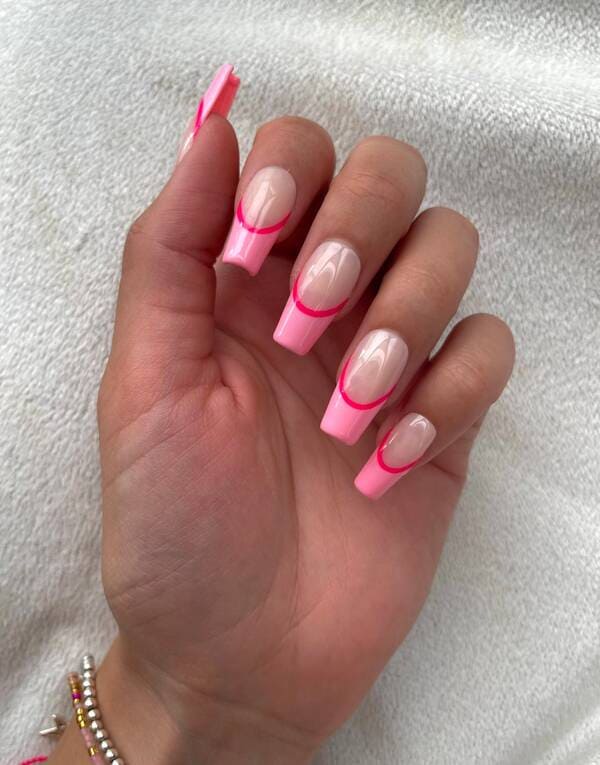 23. Pink hearts french tip nails.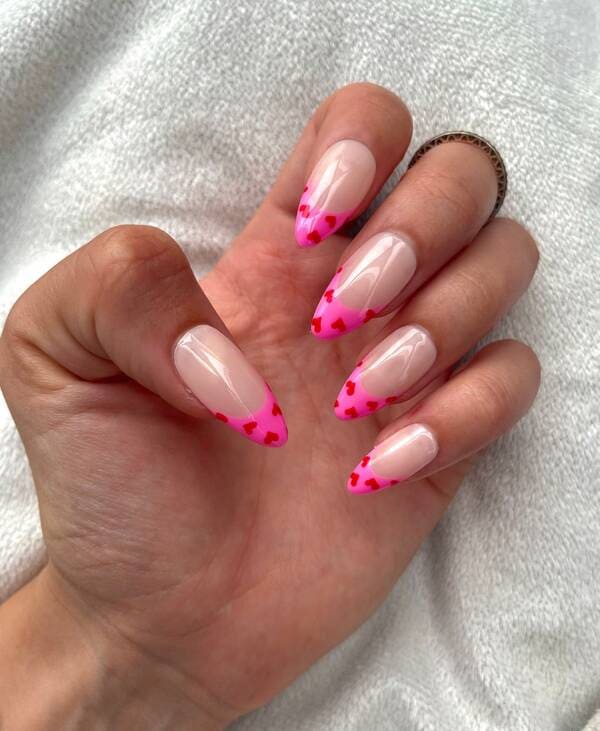 Gradient french tip nail designs
24. Pink gradient french tip press on nails.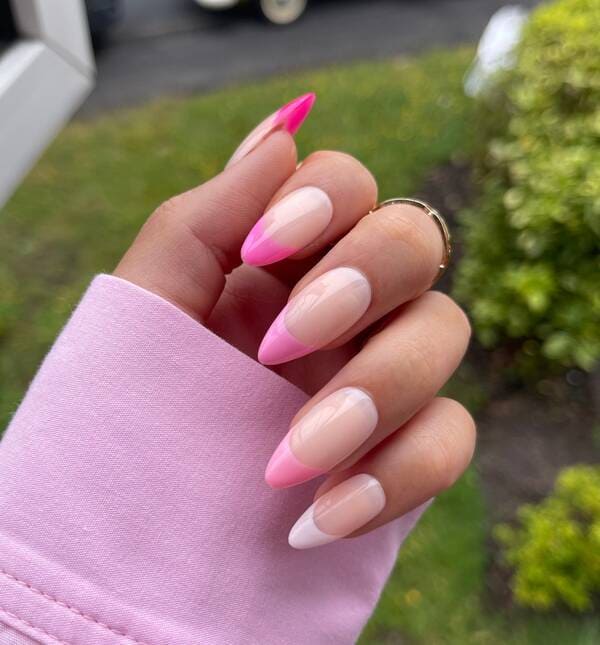 25. Minimal lilac french tip almond shape nails.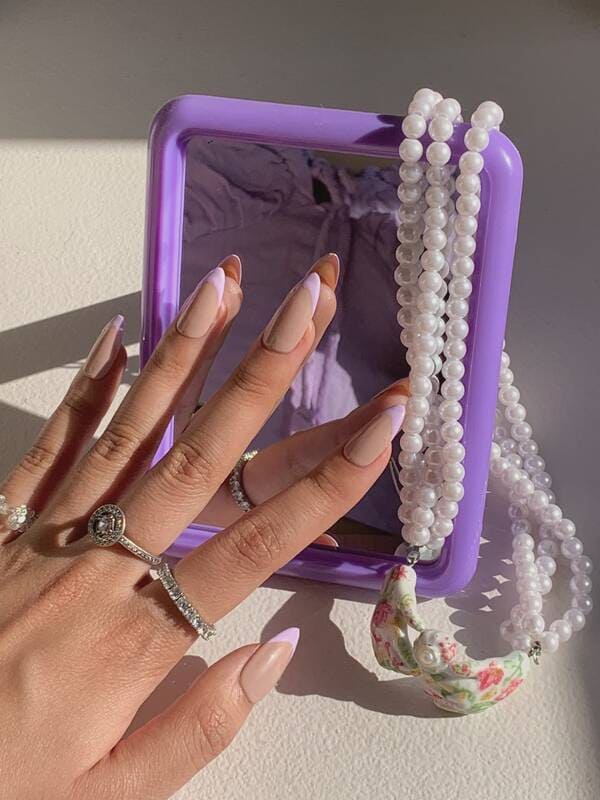 26. Pink magenta hearts french tip nails.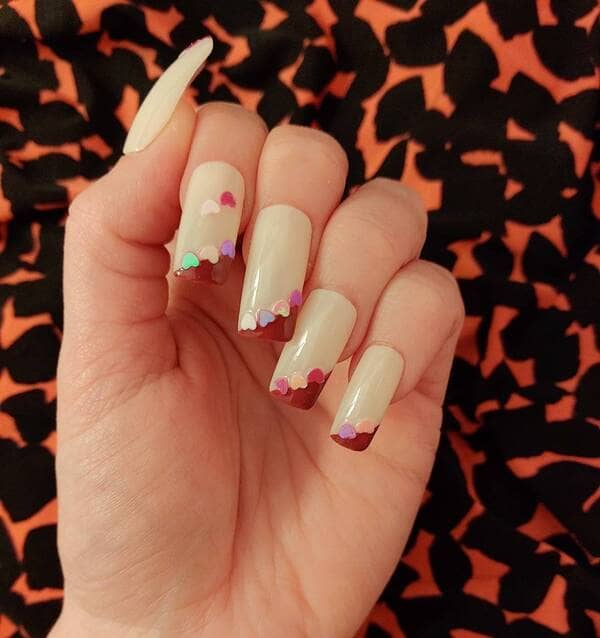 27. Aqua blue french tip nails with swirls.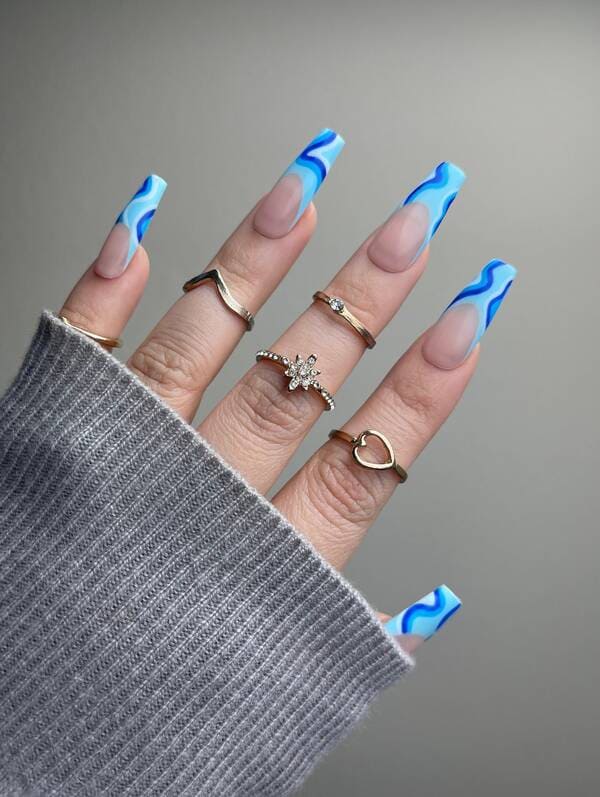 28. French canvas abstract french tips.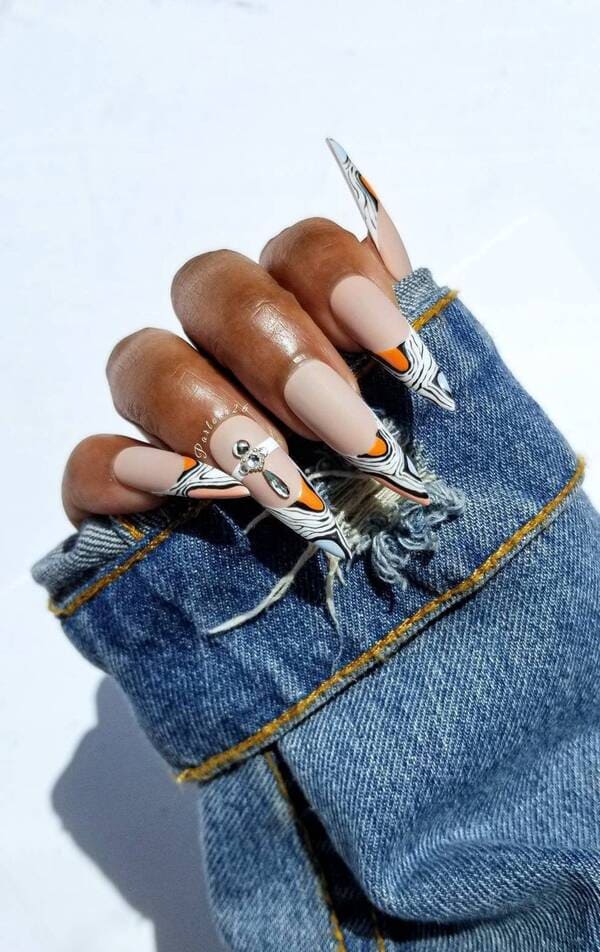 29. Abstract blue french tip nails ombre.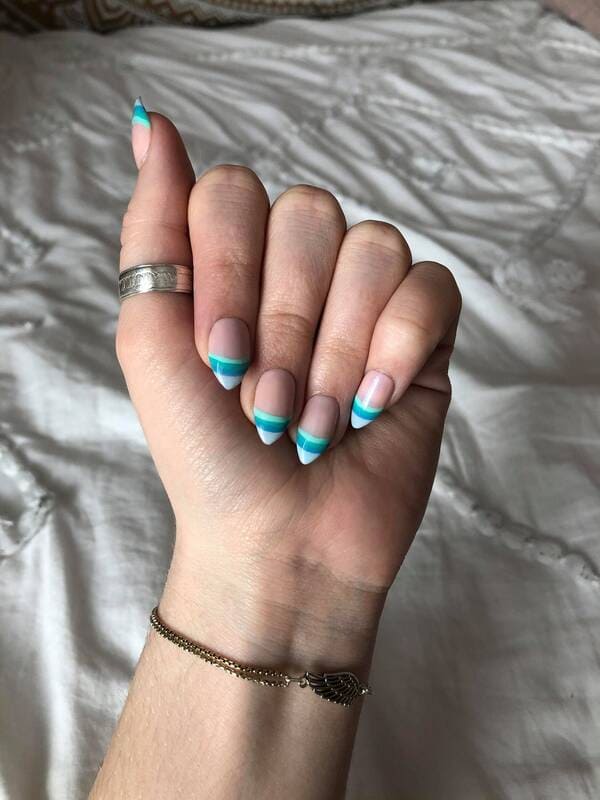 30. Rainbow love press on nails.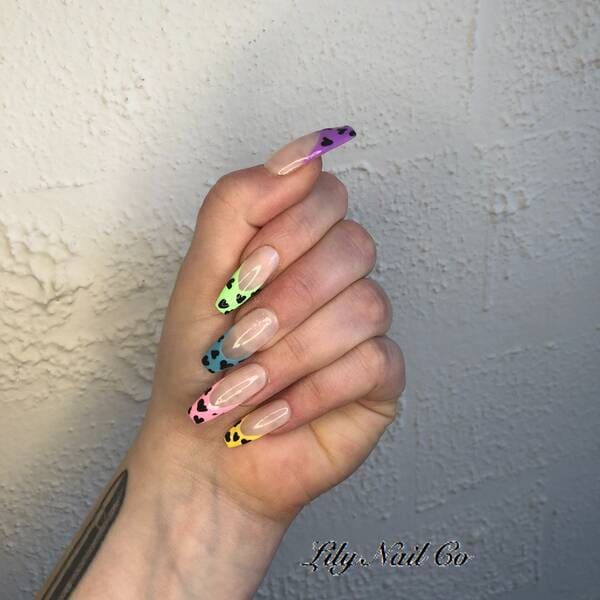 31. Pastel colored french tip nails.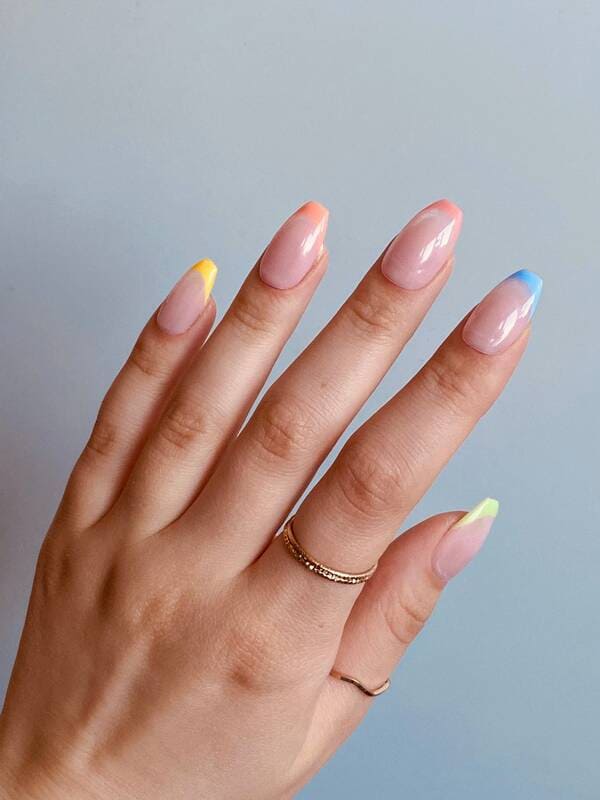 32. Groovy rainbow retro french tip nails.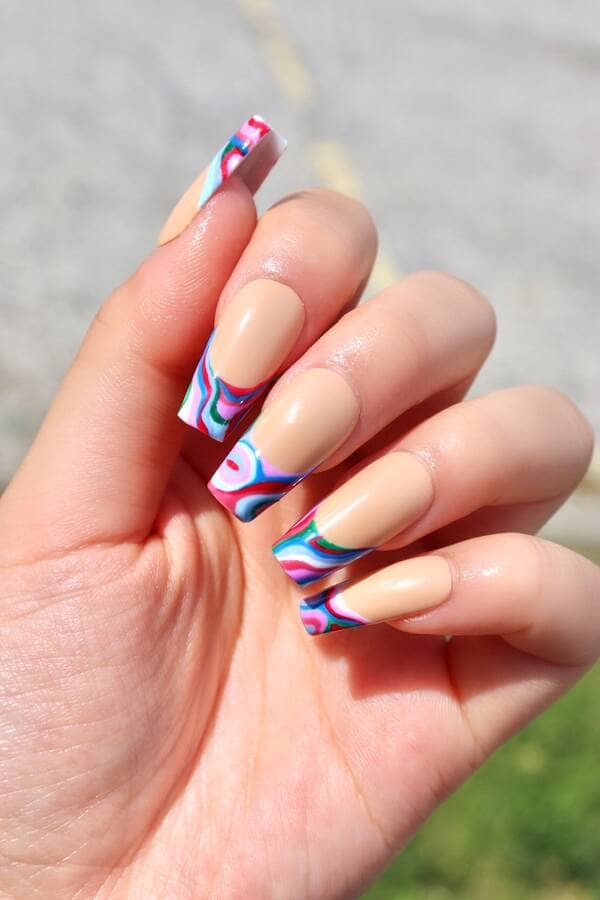 33. Sparkle me neon french tip colored bright nails.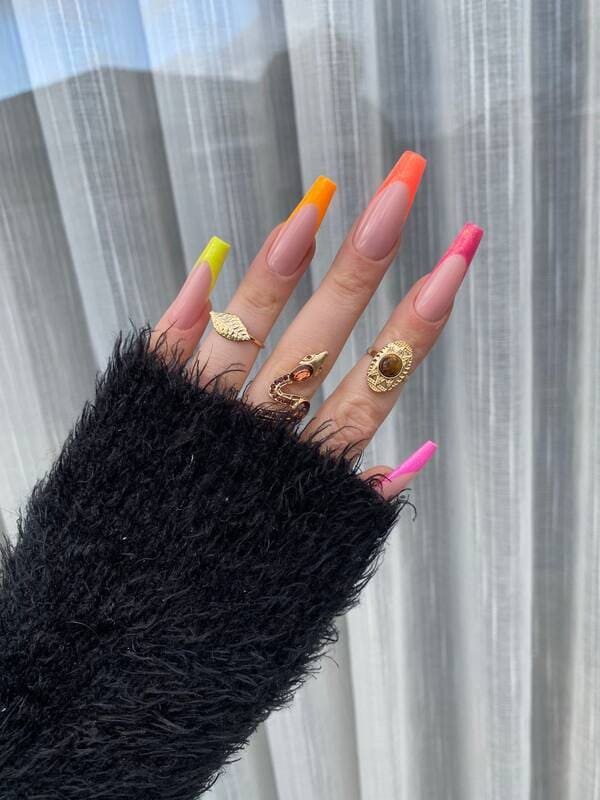 34. Rainbow french tips heart nail.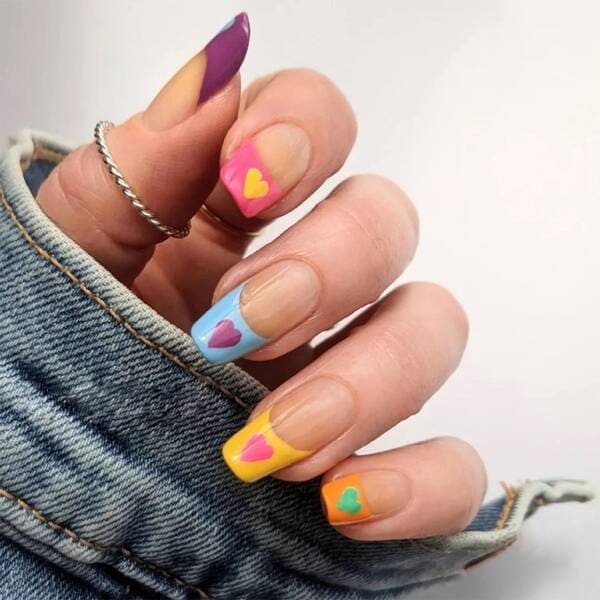 35. Blue & orange funky swirl french tip nails.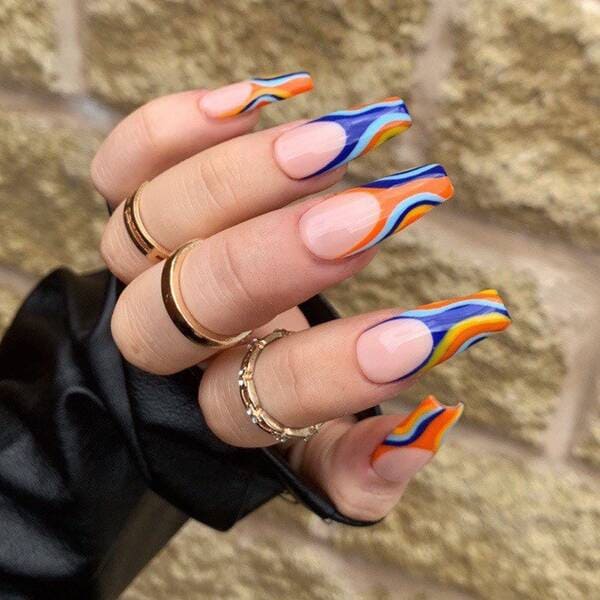 36. Swirly french tip press on nails.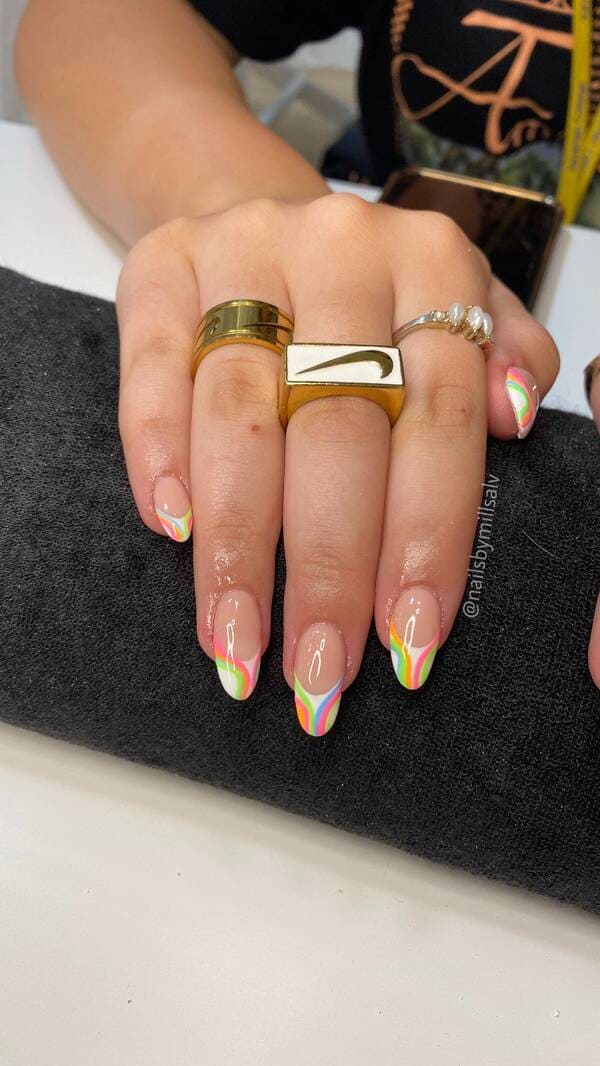 37. French tip smiley face blue nails.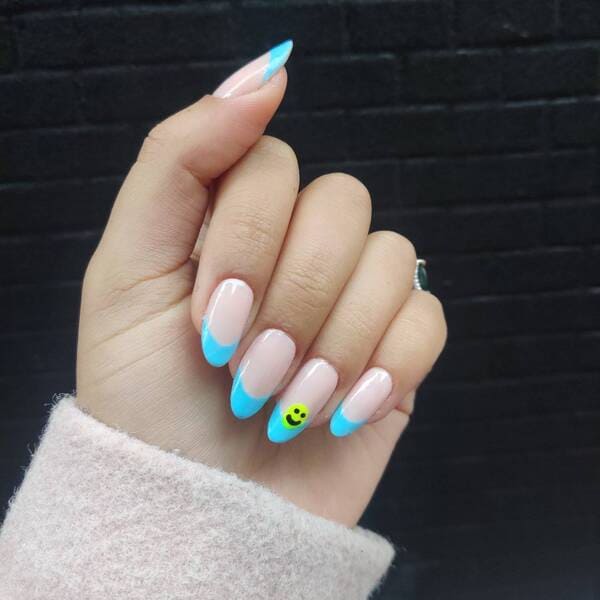 38. Rainbow glitter tips press-on nails.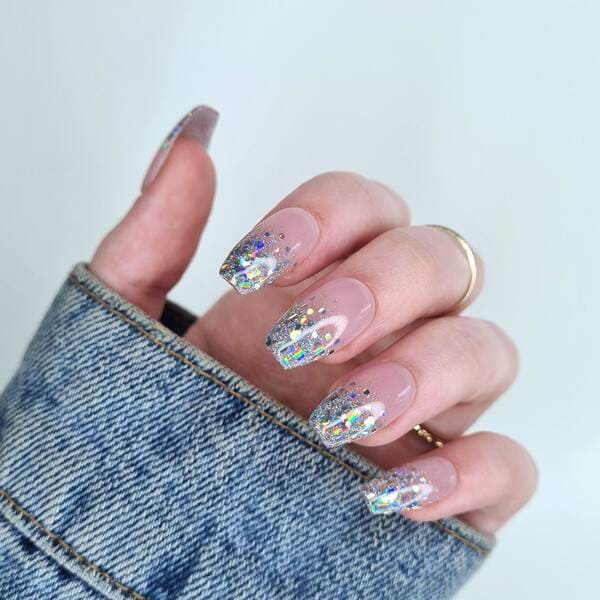 39. Rainbows and clouds french manicure nails.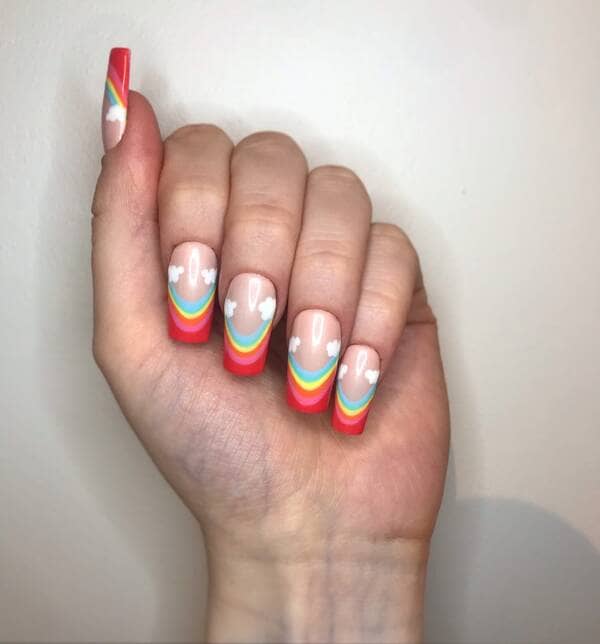 40. Bright rainbow gradient french tip nails.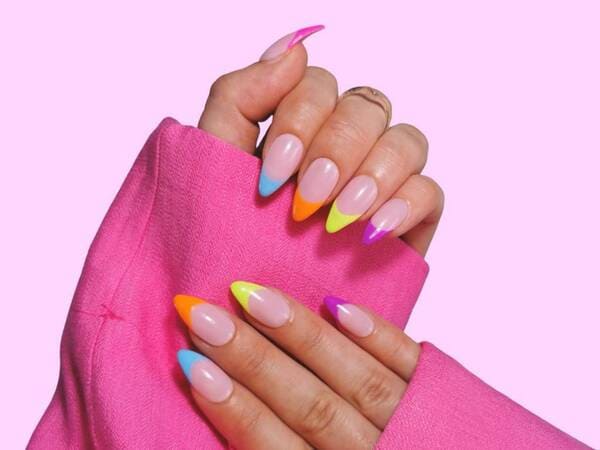 41. Color me pretty rainbow color nails.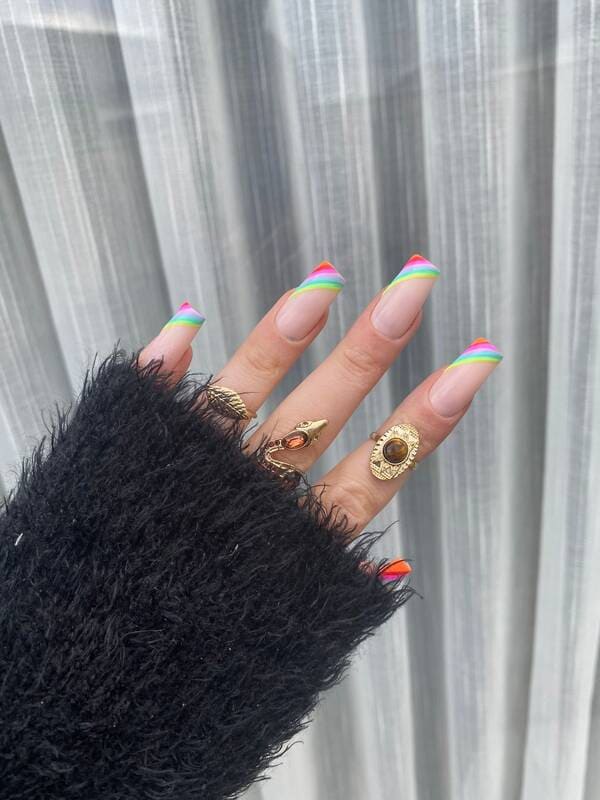 42. Burgundy and gold french nails.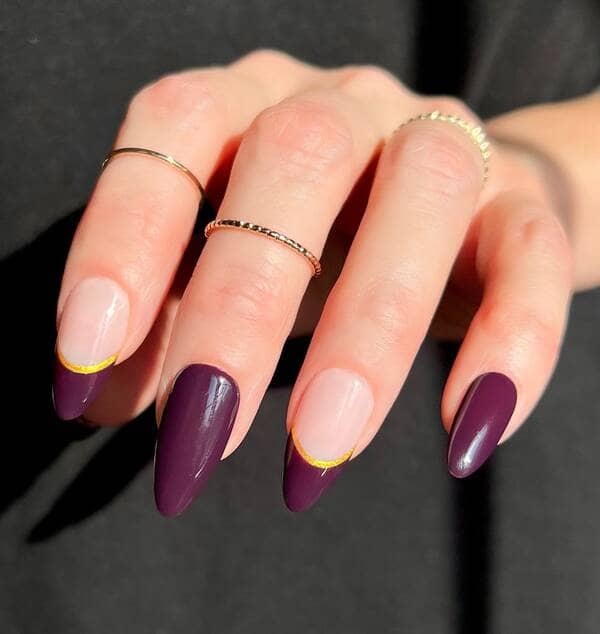 43. Poshy red Burgundy french manicure tips.
44. Barbie pink colored french tip nails.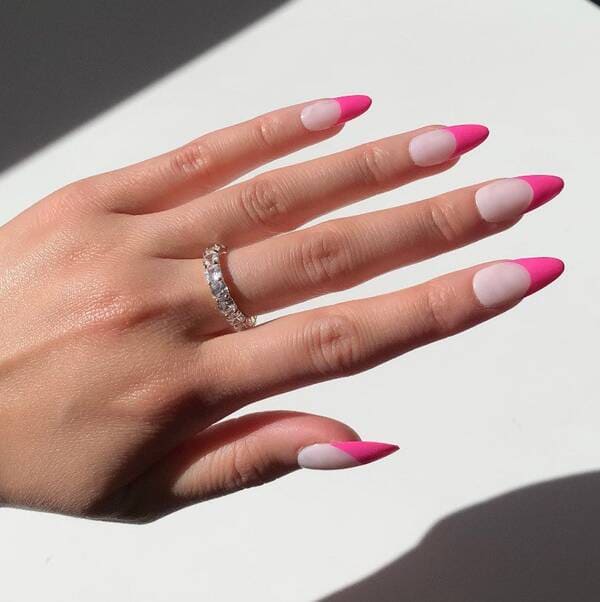 How do you apply french tip nails?
1) Wash hands thoroughly with soap or cleanser that is free of fragrances, dyes, oils, and all other unhealthy substances – this will ensure your skin stays healthy while applying polish.
2) File down nails including rough edges and the beds of the nails, using a nail filer.
3) Apply clear nail varnish, let dry completely.
5) Add tips to the end of the nails with french tip nail stencils if you are using nail polish.
6) Or use nail glue to press down on nails slightly to get the nails fitting in the proper place.
7) Leave for 10 minutes to let dry and settle in.
8 ) Done!
How do you take care of colored french tip nails?
Care Instructions:
Use a damp cloth or wipes to remove dirt and debris from your hands while you have the nails applied.
You can apply Vaseline, olive oil, or hand oil to the outside base of the nails to keep them soft and strong for longer.
To prolong the life of your nails, you should get them retouched or changed after three weeks if you see fast nail growth.
---
Colored french tip nails final thoughts.
These fashion-forward colored french tip nails will take you to nail heaven, whether you are keeping it simple with a one-toned french tip color or living the high life with rainbow french tips.
If you would like more french tip nail design inspo, you'll also enjoy these 55+ French Tip Nails For The Ultimate Feminine Look here!
What do you think about these colored french tip nails?
Let me know what you think in the comments.
Thank you for reading!
Hi, my name is Rebecca and I am the face behind Everything Abode! I am a lifestyle and wellness writer based out of Vancouver Island. When I'm not writing or exploring mountains and beaches with my furry rescue, I love spending time learning creative ways to manifest a healthy home. Thanks for stopping by!
Subscribe to Get the Tools That Make My Blog Successful!
When you join my newsletter, I'm going to send you insider advice and tools that I use to grow my blog! I only save the BEST for my email list so don't wait!