Do you want a minimalistic, feminine tattoo design? If so, these are the top small tattoos for women, whether they're for behind the ears, on the wrist, or anywhere else.
You might be wondering what the best tattoo ideas are for women…
Well, if you are all snuggled up and are cozy at home, and you happen to be looking for the best small and dainty tattoo ideas… We have you covered!
We came across a whole spectrum of tattoo aesthetics ranging from adorable little animal tattoos all the way to tiny cute dainty little flower tattoos.
Plus, since small tattoos have increasingly become more and more popular in recent years among women, we decided to hand-pick the top best small tattoos that will surely get you excited for your next ink session!
Let's get started!
Why get a small tattoo?
We all know that tattoos in general can make your body look more appealing and unique, depending on the tattoo's size, design, and where it's placed.
However, since small inkings can be placed almost anywhere on the body and they can easily be covered up with clothing… This is exactly why small tattoo ideas are something exciting to show you in picture form.
Additionally, even though small tattoos may be much smaller in comparison to larger tattoos, they can still have that wonderful impact and meaning behind them.
Small tattoos are also considered more feminine than larger tattoos, so it goes without saying that adding a little beauty to your body (by finding the perfect ink symbol) will make the process that much more enjoyable.
So to help you find lots of artistic and creative ways to get inked, this list is a compilation of the most adorable small-art tattoo designs for women.
76 Gorgeous Feminine Small Tattoo Ideas
Black cat tattoo
For an acute and unique look, try animal artwork. You can get small tattoos in many cute designs.
Turtles Tattoo
Cute turtles are also great for young people who really want a tattoo but don't want to go overboard.
Dragonfly Tattoo
These dragonfly designs are playful and small, making them a great choice for your first tattoo or as a matching tattoo with a childhood best friend.
Panda Tattoo
Panda tattoos are also simple and adorable.
Rose Tattoo
A small rose tattoo can be a great option because so many designs are adorable.
Flower with a word Tattoo
You can choose a tattoo that's fun, youthful, nostalgic, or playful with added words.
Compass Tattoo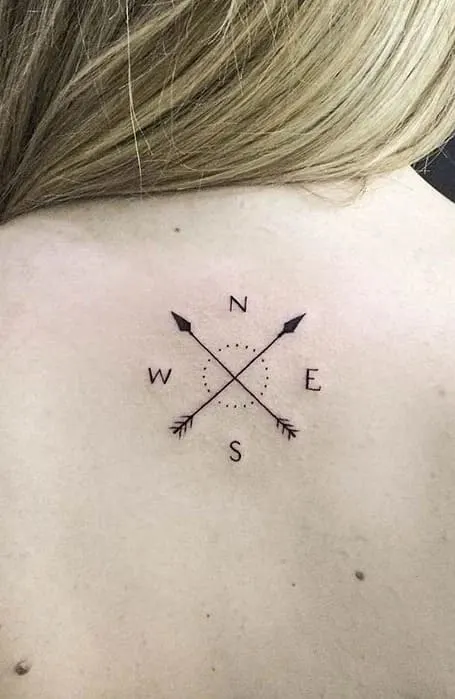 A minimalistic compass like this is very simple and sleek.
Small heart Tattoo
A small heart on a finger is very feminine and simple.
Elephant Tattoo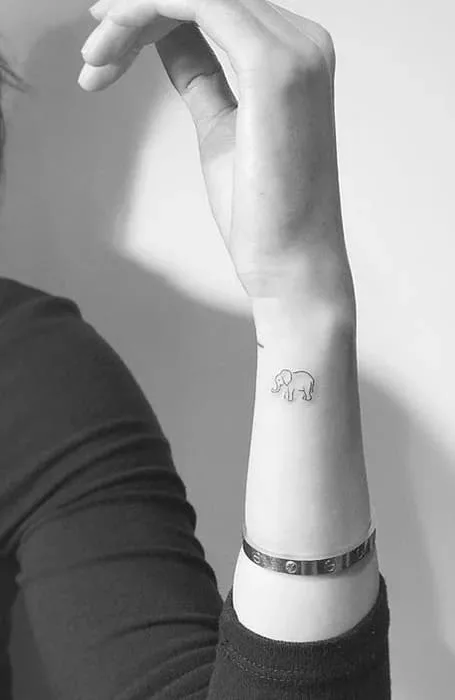 You can also choose to go with specific characters from childhood movies, franchises, or cartoons like this little baby elephant tattoo.
Hexagon cat Tattoo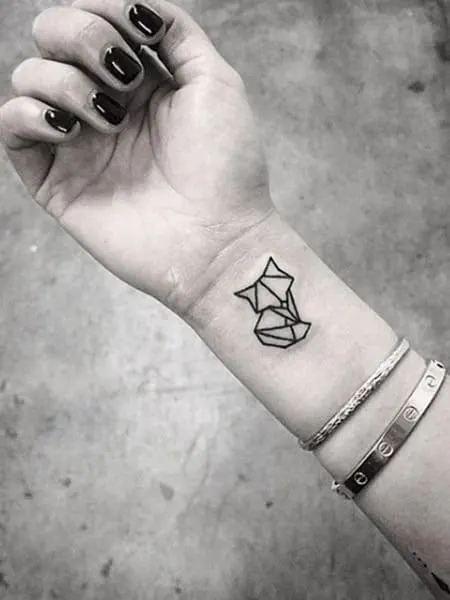 Play with different shapes and aesthetics to get the perfect-looking tattoo like this geometric cat tattoo.
Loving Dove Tattoo
This is such a loving symbol maybe for a loved one!
Quotes Tattoos
The most traditional minimalist tattoo always comes in simple quotes.
Hand-drawn art Tattoo
a simple hand drawing like this tattoo gives it that much more meaning. Try drawing a simple tattoo like this yourself!
Bright Cherries or fruit Tattoos
Cherries with a little bit of added color make this a fun tattoo idea.
Colorful flower tattoo
You can always add in some added bright colors to make your small tattoo pop, like this little dainty flower tattoo idea.
word art
Adding an affirmation like "breathe" as a small unique tattoo idea is a great way to always remind yourself to follow your values and strengths.
Affirmation tattoos
So simple but clever when you are reminded to rise up from your hardships every single day when you look at this tattoo.
An animal that has meaning tattoos
If you still have or maybe lost your cat that you love and adore, a simple small tattoo of your cat's face is something that will have a lot of meaning for the rest of your life.
Circular tattoos
Don't be afraid to play with unique shapes when it comes to small tattoos. Small tattoos can be shaped in so many amazing ways like this gratitude circle tattoo.
Quote tattoo ideas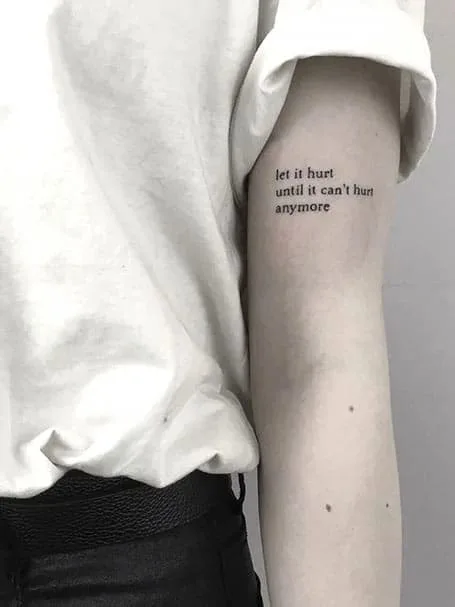 If you really want to make a statement that others will be able to read, you can always find a famous quote that you love, and place it in a place that can be easily read like this tattoo idea.
Courageous Bumble bee Tattoo
Get a tattoo that symbolizes strength and meaning.
Rose Stem Tattoo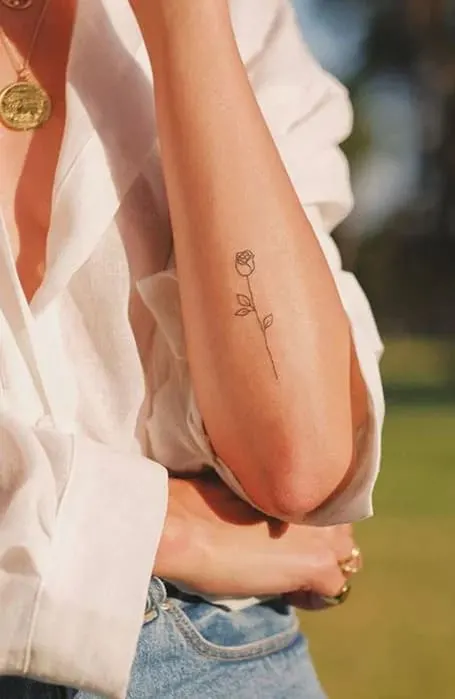 Go for a feminine look with a rose stem tattoo that looks like art.
Angel Tattoo
Remind yourself that you are being watched over by your guardian angel every day.
Love Tattoo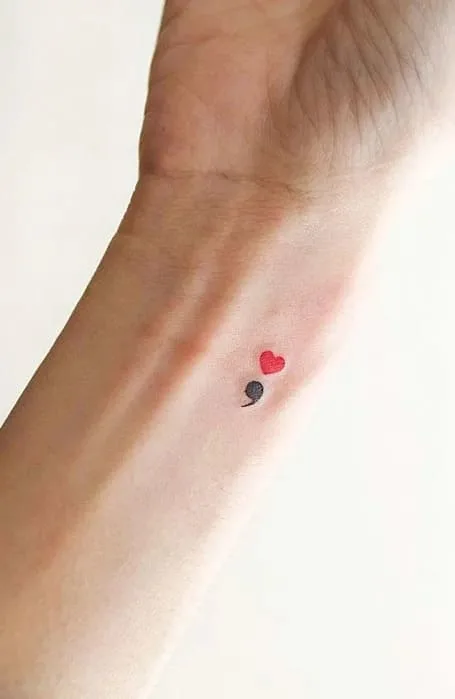 Get a symbol of love as a tattoo that will always have a positive meaning when you look at it.
Filled in Heart Tattoo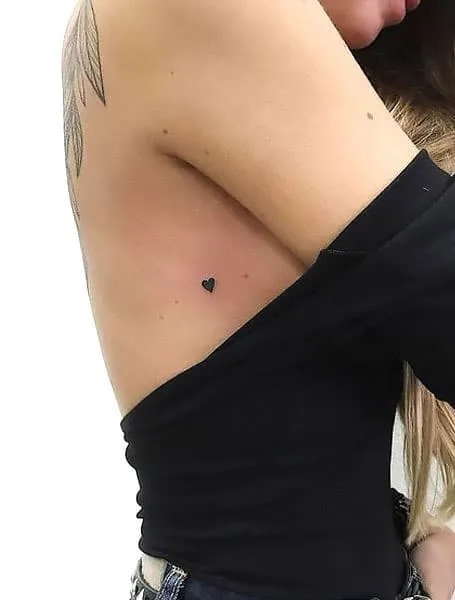 A simple heart tattoo is a tattoo that can be places literally anywhere on the female body.
Cross Tattoo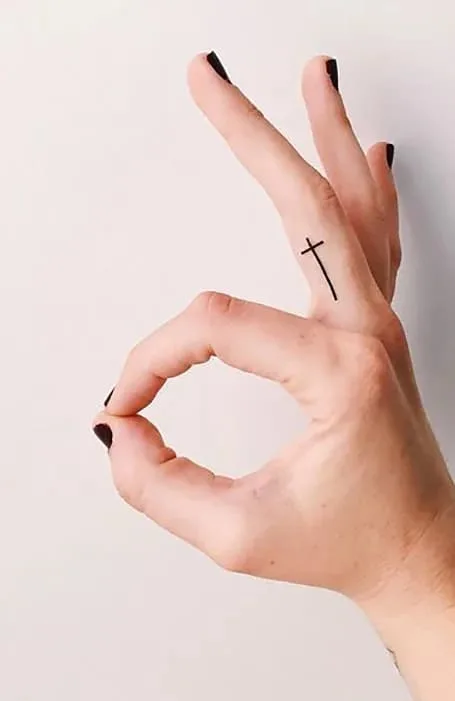 A simple cross tattoo is a very chic tattoo especially if you have it placed on one of your fingers.
Dragonfly Tattoo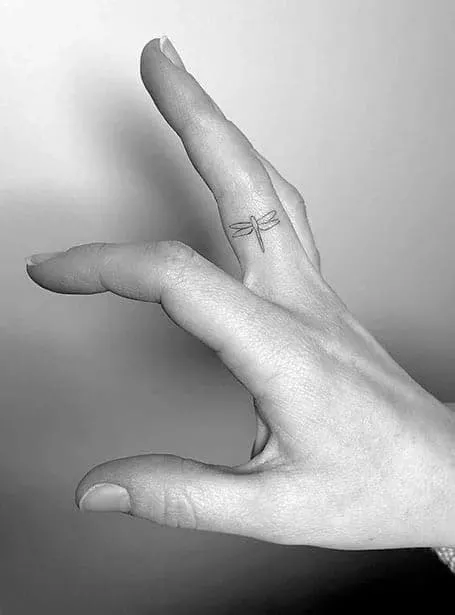 Little cute bug tattoos are great for adding a little flair to what is considered normal tattoos.
Heart outline Tattoo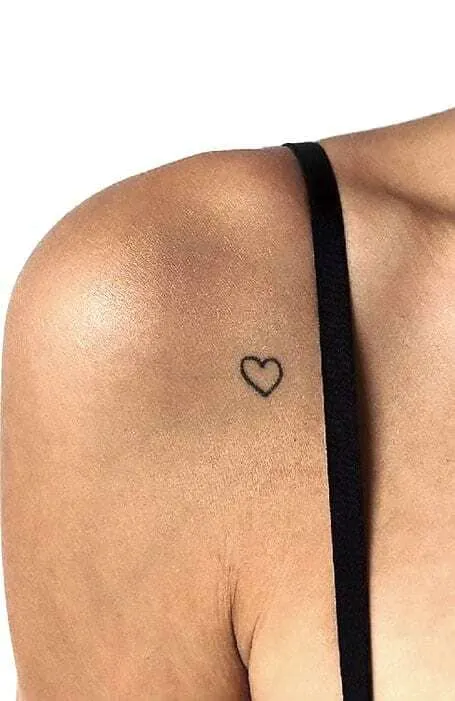 For the tiniest feminine tattoo idea for women, nothing beats a cute small heart outline.
Lotus tattoo for women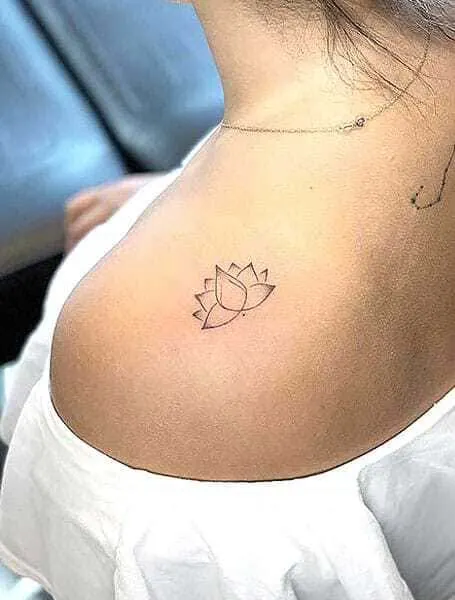 A lotus has many spiritual meanings that could coincide with your outlook on life.
Owl Tattoo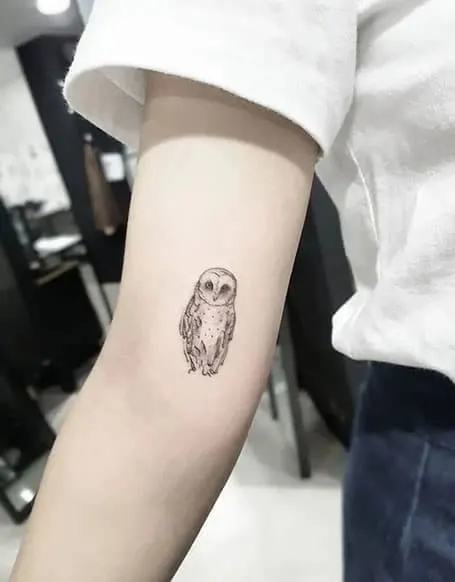 Owls are considered good omens, making them a great tattoo idea for women.
Foliage Tattoo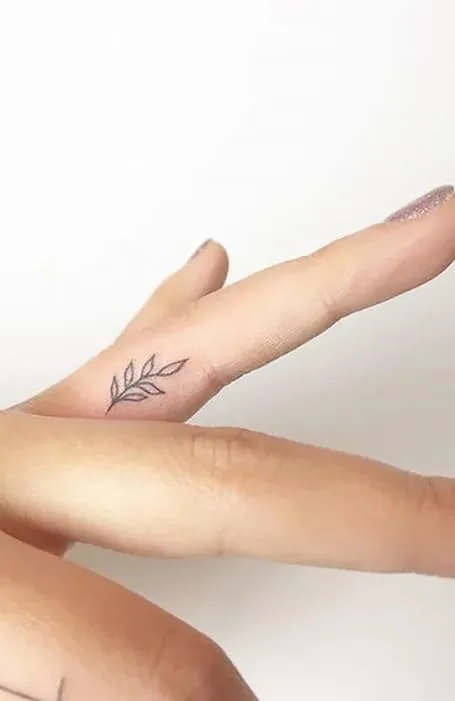 If you love plants, adding your favorite plant or foliage like this tiny leaf tattoo would make for a wonderful tattoo idea.
Moon and sun tattoos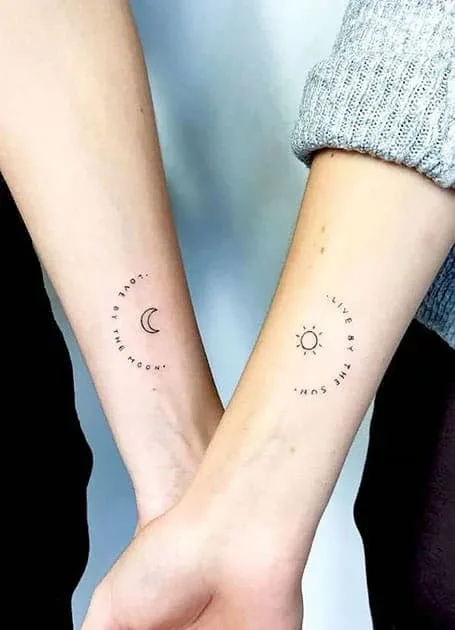 Both moon and the sun tattoos are such a great tattoo idea, especially if you are sharing this tattoo with your closest friend or family member.
Tree tattoo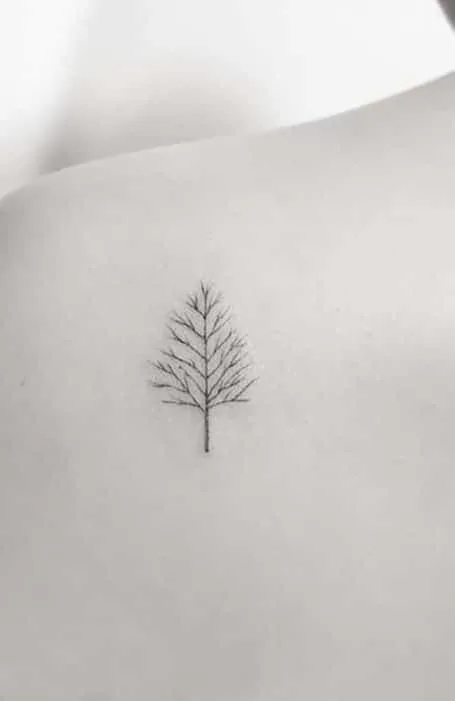 If you are a lover of the environment, a little tattoo of a tree would symbolize your nurturing side for mother earth very nicely!
Wolf Tattoo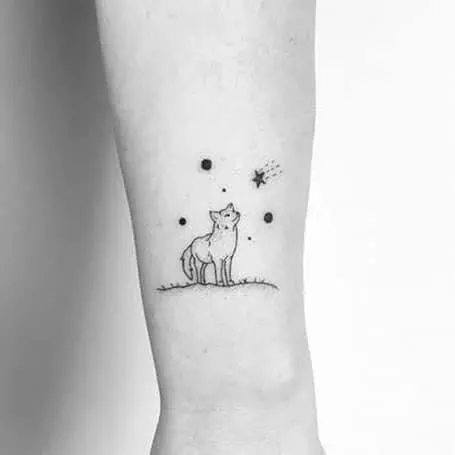 Wolves are also considered a good omen and getting a tattoo like this would symbolize your spiritual side very nicely!
Falling Flowers Tattoo
Don't be afraid to add some color to your small tattoo to make it stand out in a unique way!
Heart outline on the wrist Tattoo
The outline of a heart on the wrist is a delicate way to get your first small tattoo.
Butterfly Tattoo
Butterflies are such a beautiful symbol and would look great anywhere you place them.
Small anchor Tattoo
An anchor tattoo is a symbol of strength and would resemble that quite well as a small tattoo idea.
Light flower outline Tattoo
If you really want to have your small tattoo blend in well with your skin, you can always opt to get a tattoo that is tattooed with a color close to your natural skin tone.
Bee Tattoo
Bee tattoos are as adorable as bees themselves!
Butterflies Tattoo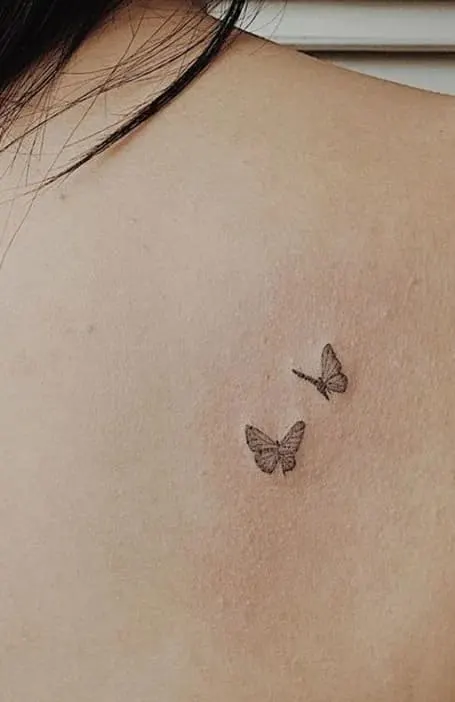 A cute pairing of butterflies is a great tattoo idea that would work well for two best friends!
A trio of roses Tattoo
Instead of one small tattoo, you could design three small tattoos together to make a little bit more of a statement.
Panda Anime Tattoo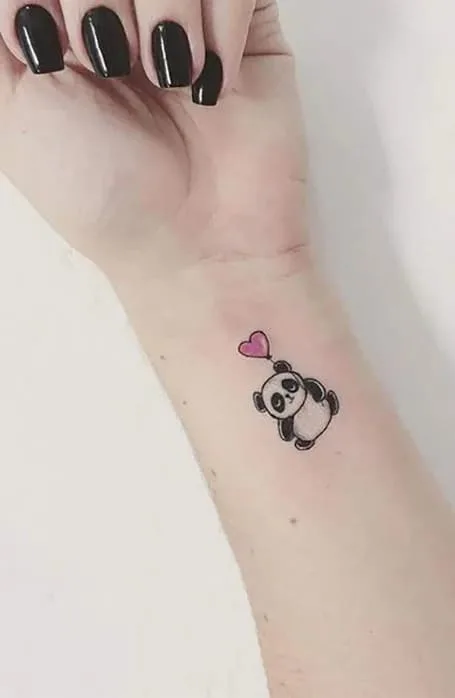 If you are running out of ideas for small tattoos, you can always turn to anime! All you have to do is pick something basic and then get your tattoo artist to design it in an anime way like how this panda was done!
Dog tattoo
This is an artistic flair to the basic animal portrait and makes for a really unique small tattoo idea.
Leaves Tattoo
Sweeping leaves look just as good on the skin as they do in the wind!
Dinosaur Tattoo
I don't know about you but cute dinosaur tattoos are something that will never go out of style (no matter how old you are)!
Cute aesthetic animal outline Tattoo
Abstract tattoos that are done so great that you know exactly what they are, are a great way to get less ink but still have a standout small tattoo.
Stars Tattoo
Stars look just as good on the skin as they do in the SKY and don't let anyone tell you different!
Cat Portrait Tattoo
Portrait tattoos are probably one of the best tattoo ideas for women as they are very personal but super cute especially if they were of a precious animal that you loved very dearly!
Lion Tattoo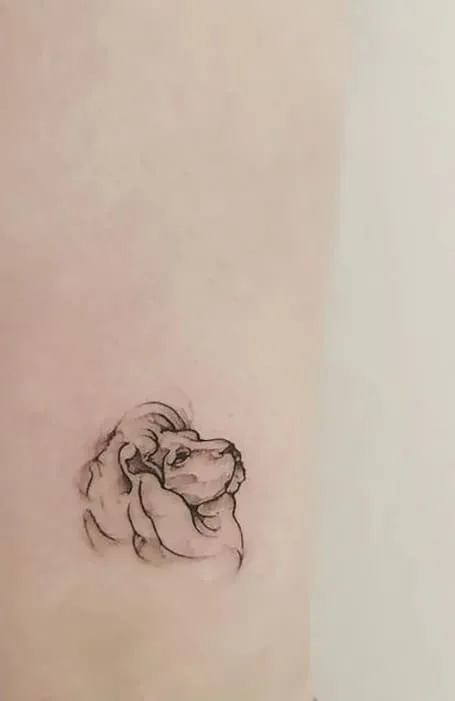 If you are a strong-headed Leo then no doubt a lion tattoo would make a great small tattoo idea for you!
Butterfly Outline Tattoo
The butterfly outline is another great way to add a feminine flair wherever you decide to place it.
Heart abstract with sun tattoo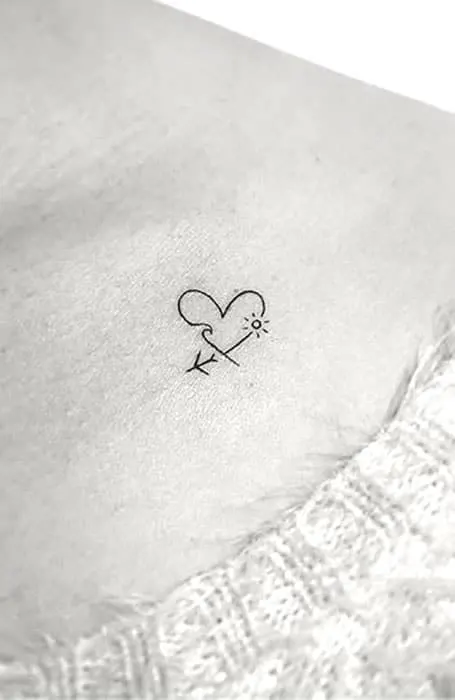 When it comes to great small tattoo ideas for ladies, you can sometimes take parts of many little things you like and then get your tattoo artist to recreate something original for you!
Motivational tattoo art
If you need more motivation, then pick a tattoo that will remind you to work hard and never quit.
Cute little cat Tattoo
Dark tattoos that are filled in can still look cute, especially if you can get a tattoo that is similar to this one!
Dandylion Tattoo
Quote ankle tattoo
Bright colorful fruit Tattoo
Smiling happy face outline
Phoenix Tattoo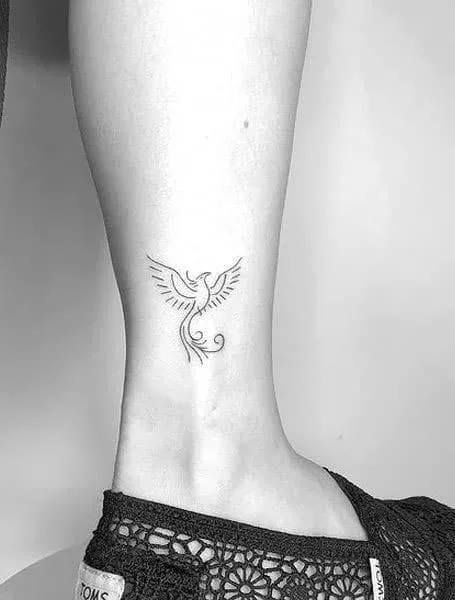 Handwritten tattoos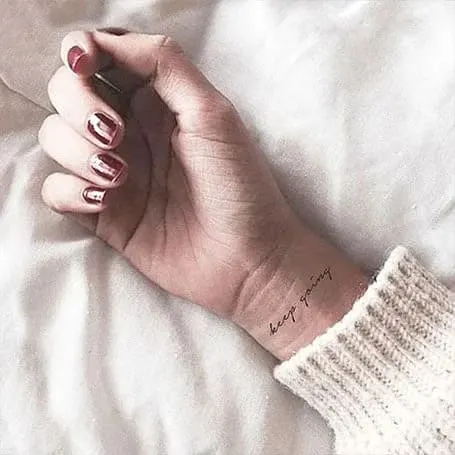 Butterflies behind the ears Tattoos
Cute and small floral armband Tattoo
Matching tattoos for friends
Hummingbird Tattoo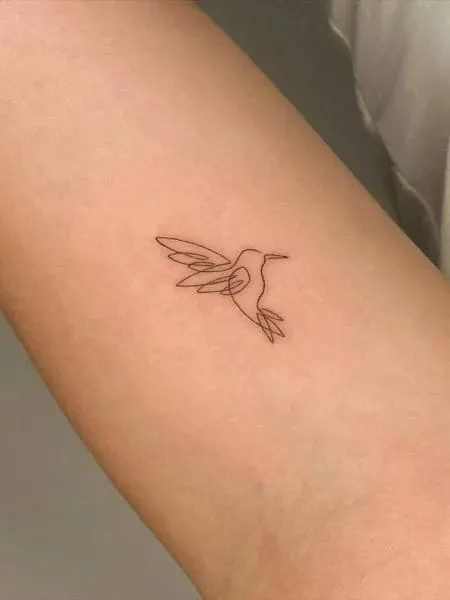 Cat on the moon Tattoo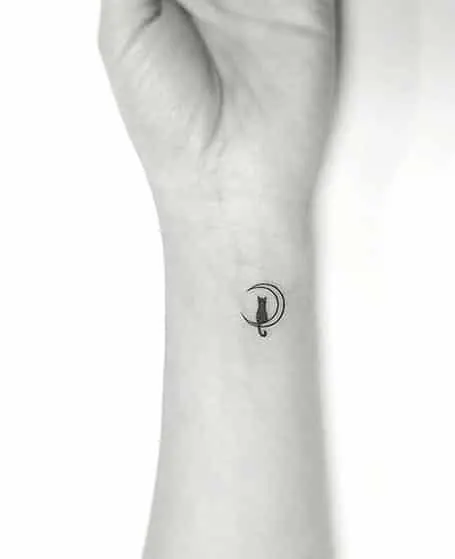 Cross behind the ear Tattoo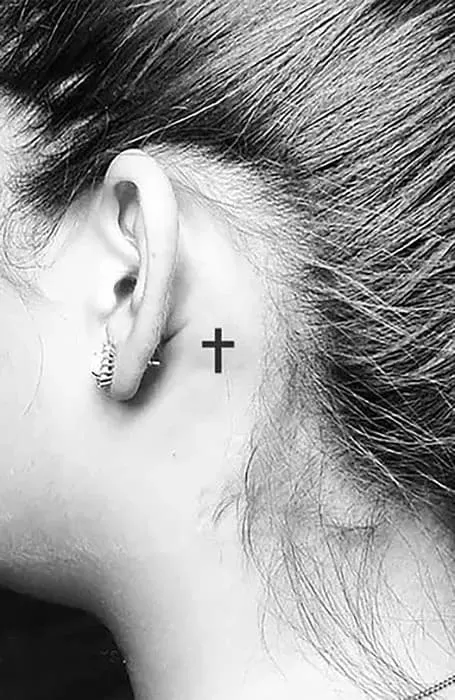 Baby elephant under the stars Tattoo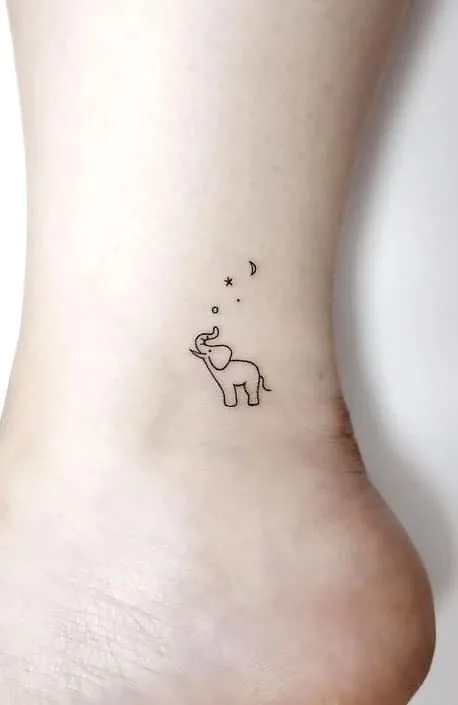 Mountains and scenery tattoo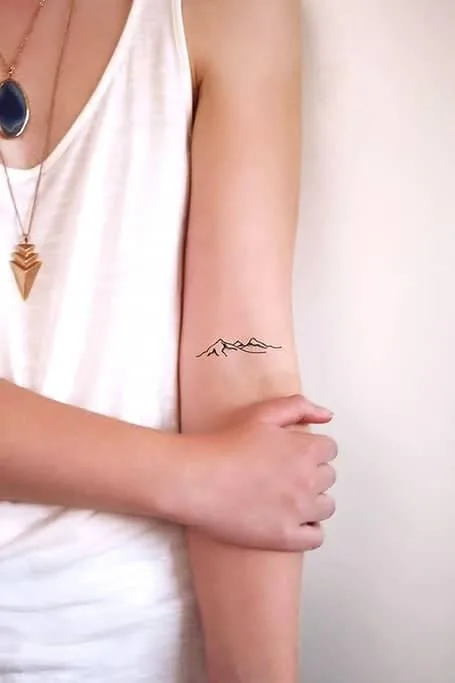 Classic snake Tattoo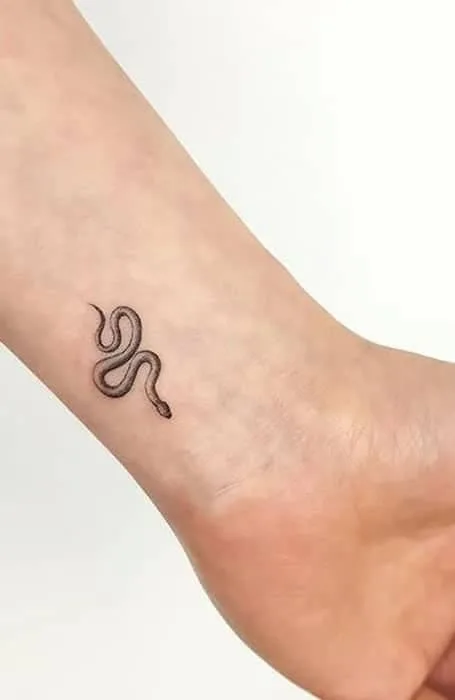 Sunflower Tattoo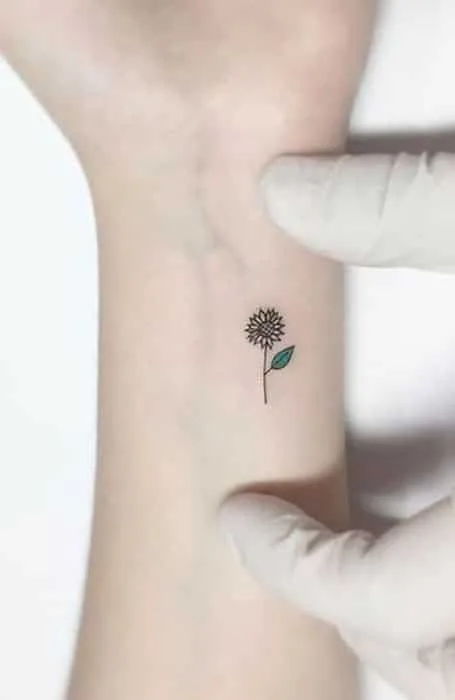 A speckle of small stars Tattoo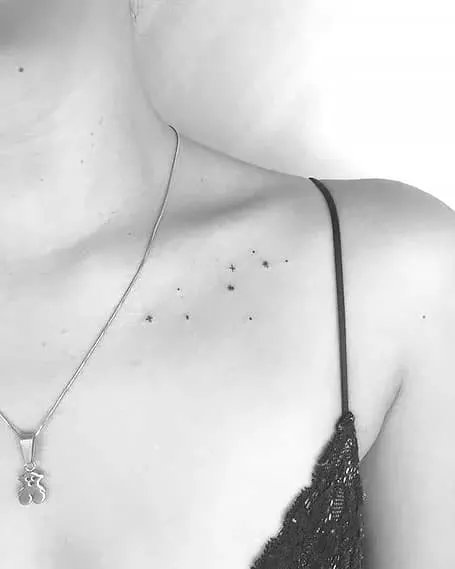 Galaxy tattoo ideas for women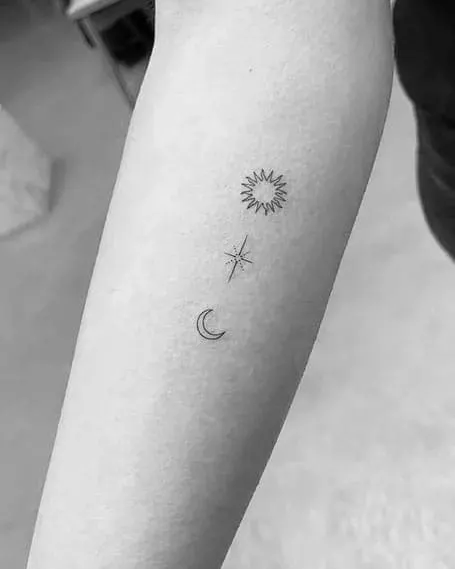 Geometric moon with stars Tattoo
Sun mosaic Tattoo
FAQ
Where should a small tattoo be placed on a female body?
You can have a small tattoo anywhere on your body. You want it to be visible in the best light. You can choose to place it on your wrist or ankle. These are smaller and more delicate parts of your body so a mini tattoo will not seem strange. Your collarbone, fingers, and ribs are all good places.
What is the average time it takes to get a small tattoo?
A simple design of around one inch will usually take less than an hour depending on the artist. You might only need 10 minutes for small pieces.
What is the cost of a small tattoo?
A majority of tattoo shops charge per hour so a small tattoo is possible. Some shops may have a minimum price. For something simple and inexpensive, expect to pay $50-$200. It will take longer and cost more if you add more colors and details.
Which tattoos are the most painful?
The most painful areas for tattoos are the head, center chest, and ribs. Because there is more protection and cushioning for nerve endings, the area with more fat and muscle will generally hurt less. Remember that every person experiences pain differently so be aware of your pain threshold before you jump in to get your small tattoo, even though it's small.
A little word of wisdom before you choose your next tattoo!
It is extremely important that you make sure that you are extra committed to your tattoo art and design before you have the work done by a skilled tattoo artist. Making a commitment to get permanent ink on your skin should not be taken lightly.
However, if you are new to tattoos, it's best to start really small with a tiny heart or small anchor tattoo for example.
Additionally, keep in mind that smaller tattoos are not as detailed as larger pieces of body art. Therefore, it is best to stick with simple designs to ensure quality.
---
Final thoughts on cute small tattoo ideas for women.
It's very apparent that even the smallest of tattoos can still be a unique and wonderful fashion symbol to add to someone's style.
Plus to make an impact, tattoos don't have to be large!
Small tattoos often always look more sophisticated than larger pieces of body art, due to the fact that they can also be more proportionate to the body and easier to hide.
This means that for women, small tattoos can be a beautiful statement, besides them being incredibly less painful to get.
With a little creativity and ink, there are many creative ways to express yourself.
I hope you enjoyed this small tattoo idea article. Thanks for reading!
Welcome to Everything Abode, your daily inspiration for every activity at home!
Our goal is to inspire you to live an elegant and chic lifestyle from the comfort of your home.
We'll help you express yourself through authentic style, aesthetic beauty, and stylish home decor.
Subscribe to Get the Tools That Make My Blog Successful!
When you join my newsletter, I'm going to send you insider advice and tools that I use to grow my blog! I only save the BEST for my email list so don't wait!