Kidcore aesthetic clothing is all about that nostalgic feeling for childhood. Satisfy your childish side with these 47 kidcore aesthetic outfits and accessory ideas!
If you are into fun fashion trends, then here enters Kidcore!
Kidcore is childlike clothing and accessories that draws its inspiration from children's culture bringing back the glory days of the '90s & 00s.
Kidcore has a distinctive aesthetic flair with bright, cheerful colors and after-school cartoons in a mix of pastels and rainbows.
The image below, which features pastel-infused color palettes as well as toy-inspired fashion statements, should give you a pretty good idea of what the kidcore aesthetic is.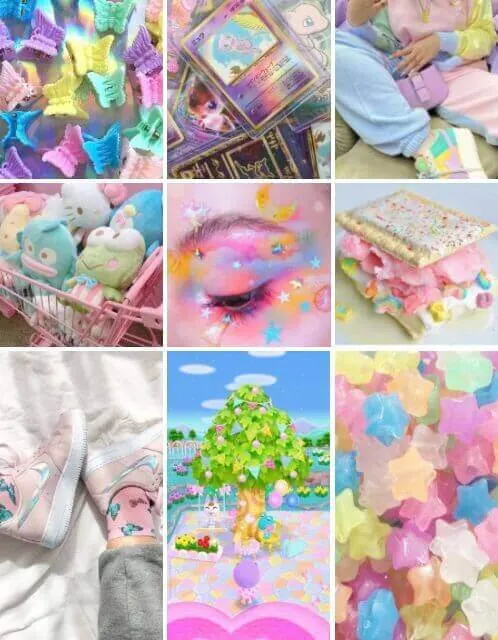 You could say, (after seeing the image), that down to the very core of the kidcore aesthetic, kidcore is all about being comfortable, fun, colorful, and carefree!
Moreover, since many indie brands channel their inner child through such iconic names as Arthur, Looney Tunes, and Sesame Street, kidcore really is an entertaining and enjoyable way to dress!
Besides who doesn't love the nostalgia of our inner child?!
So let's travel back in time and explore the Kidcore aesthetic that will surely inspire you with many different looks and accessories you'll love.
Don't forget to PIN this to Pinterest 🙂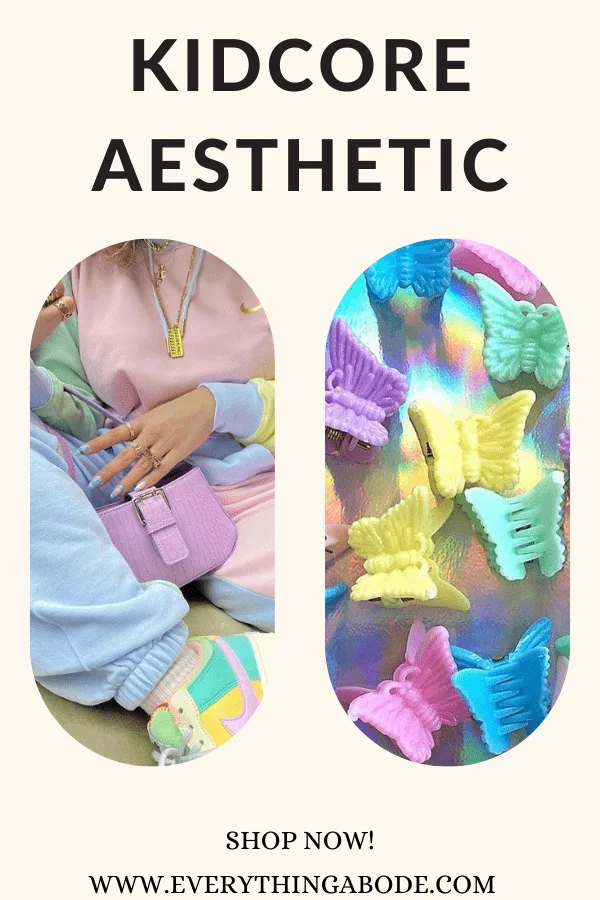 47 Cool/fun kidcore aesthetic outfits to try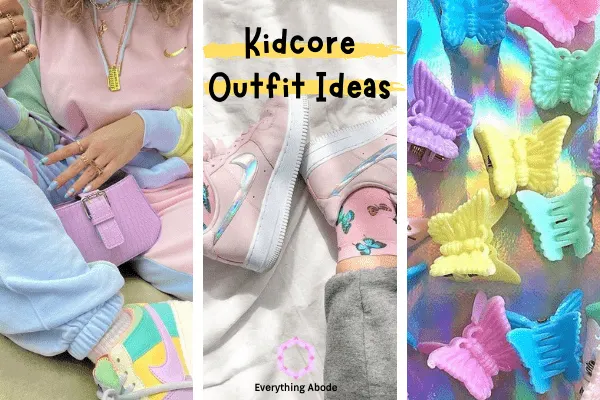 There are so many kidcore themes, such as rainbow kidcore, 90's kidcore and cartoon kidcore… Here's a selection of my favorite kidcore themes that I hand-picked.
This will give you an idea of the style you like and the style you want to create.
Pastel Kidcore aestehtic.
Pastel kidcore is when you bring out your inner child's creativity to the next level with favorite colors such as pastels pinks, blues, and yellows.
Pastel kidcore croptop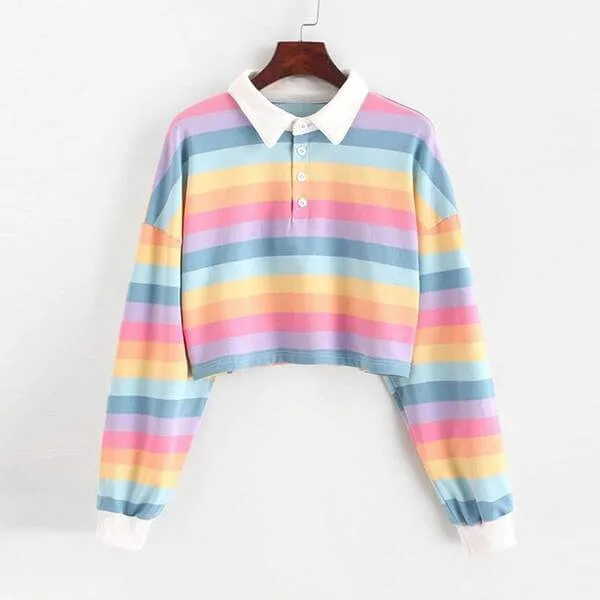 Cute kawaii rainbow bear.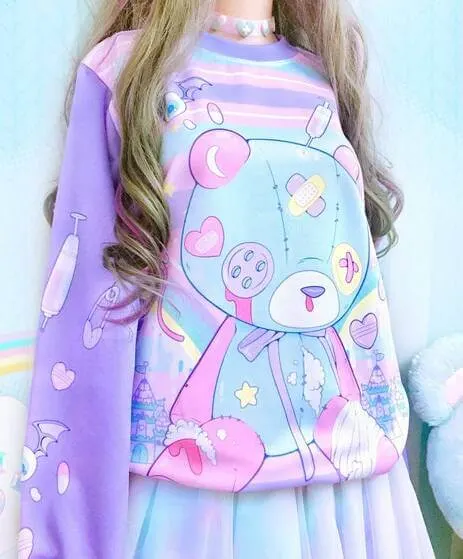 Care Bear Sweatshirt Baby Blue.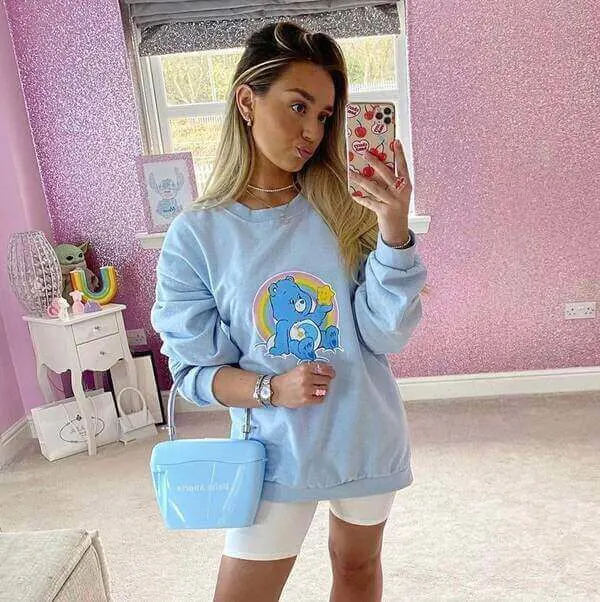 Kidcore unisex jogger pants.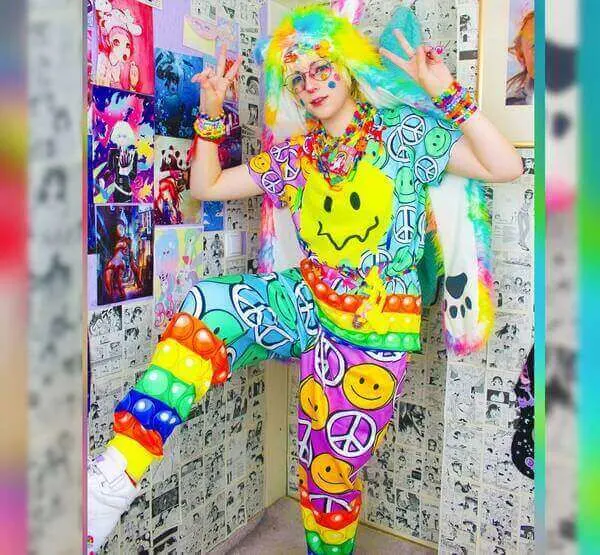 Don't really care bear kidcore tee.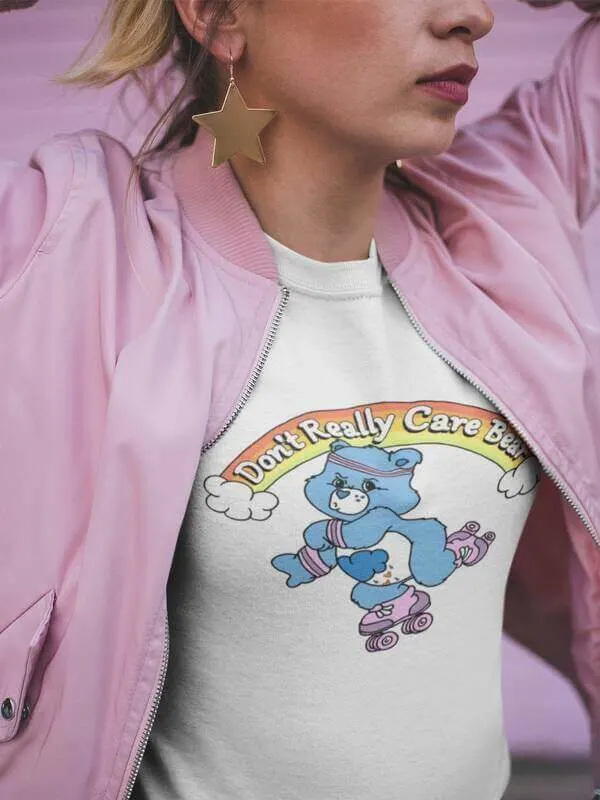 Pastel kidcore fruit tee shirt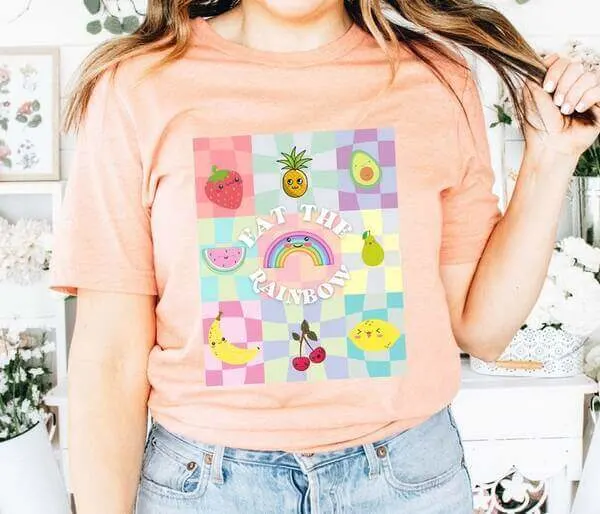 Cat Paw Graphic Thumb Holes Tee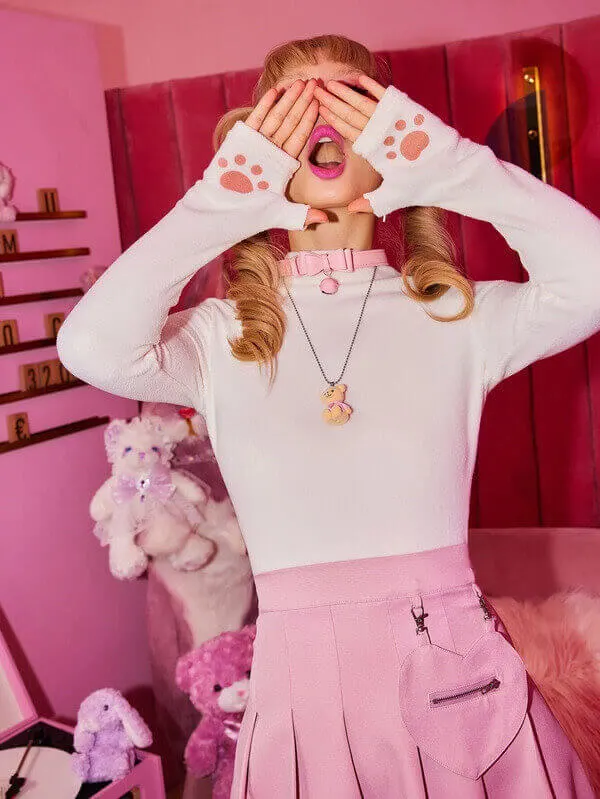 Kidcore Clothing 90s Smiley Face.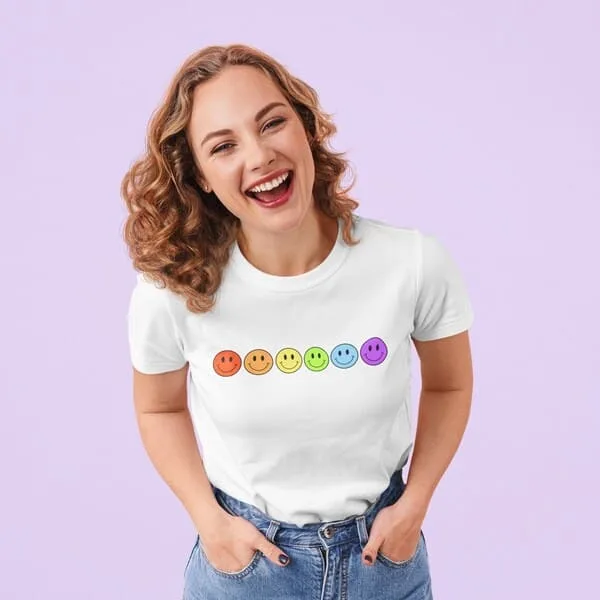 Kidcore pastel outfit crop top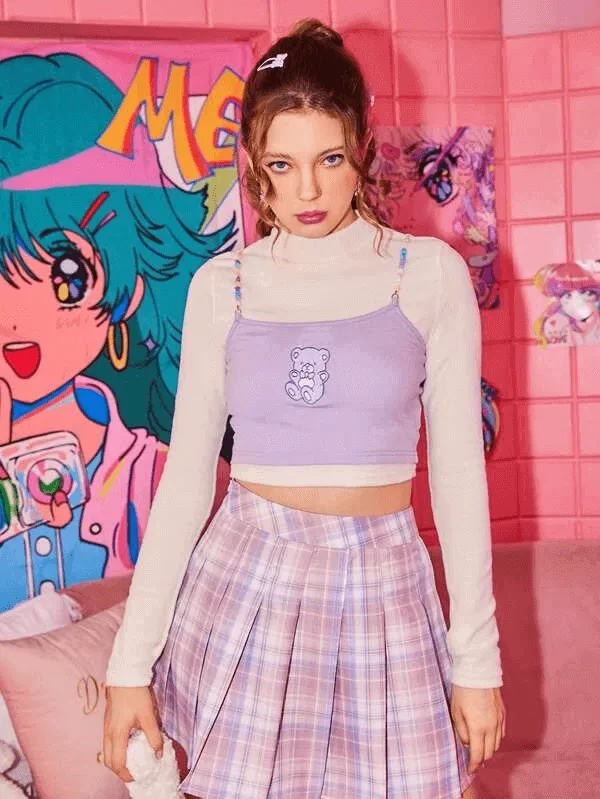 Kidcore aesthetic 90's smiley face T-shirt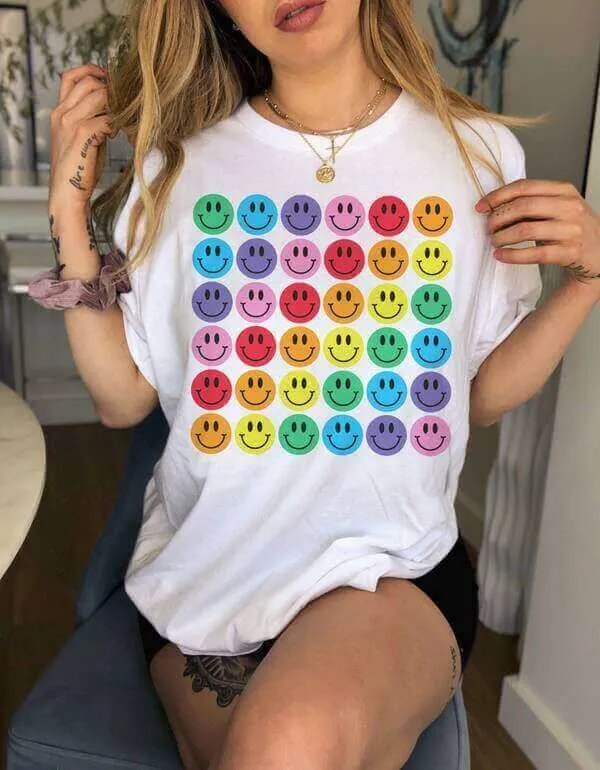 Cartoon & animals Kidcore aesthetic.
The cartoon kidcore aesthetic is all about celebrating old classic cartoons in the '90s and 00s (or animals with a cartoony flair) to bring a sense of fun to any outfit than what you would just typically wear on day to day basis.
Sheep blue pastel kidcore cardigan.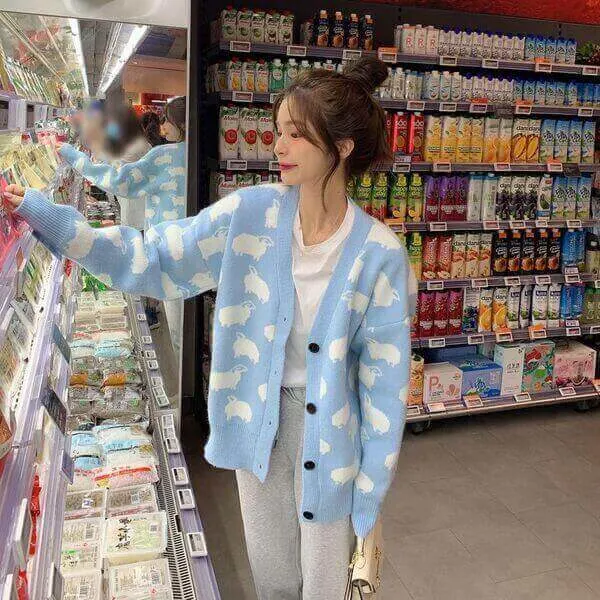 cartoon frog kidcore sweater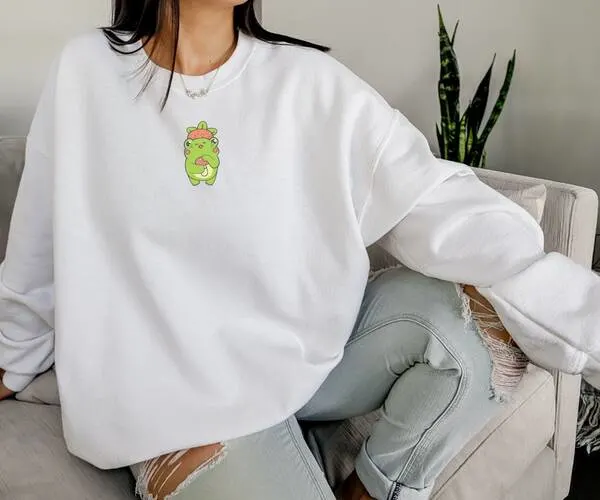 Disney Sweater.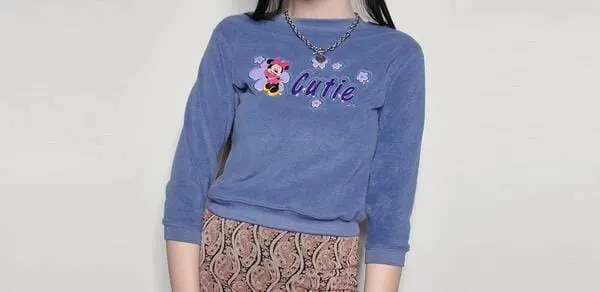 Care bear cartoon kidcore tee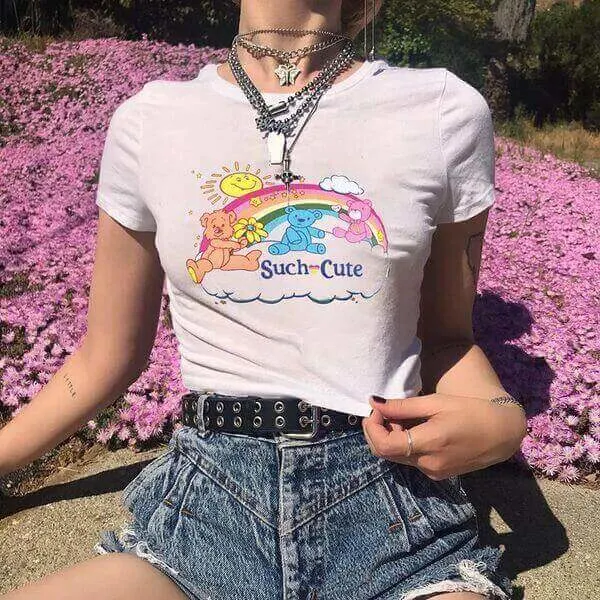 Cartoon overalls.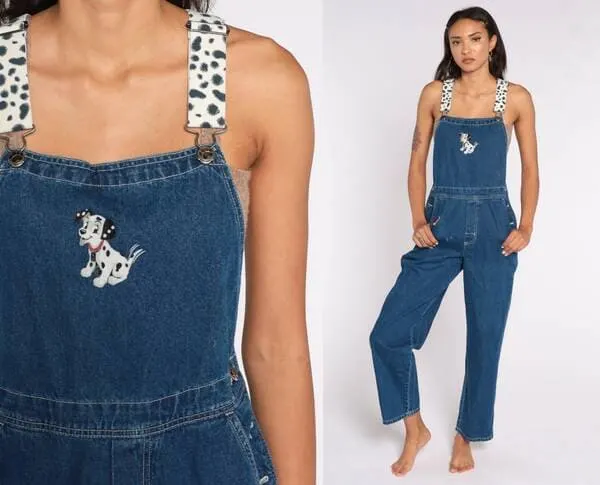 Cartoon Print Jeans.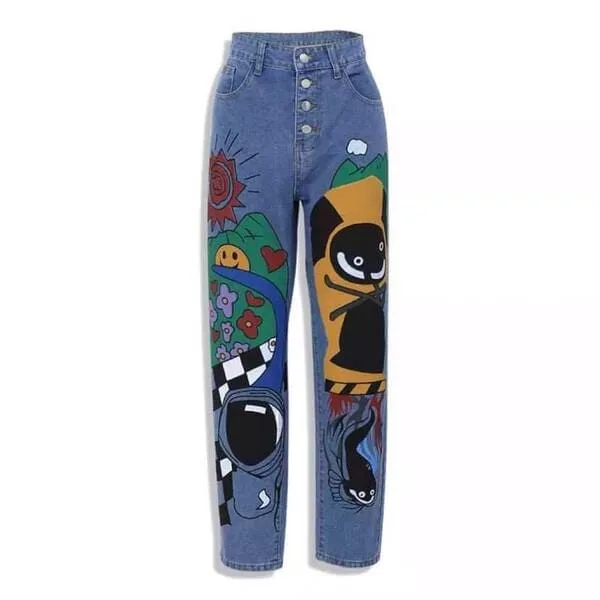 Cartoon go-go kidcore aesthetic boots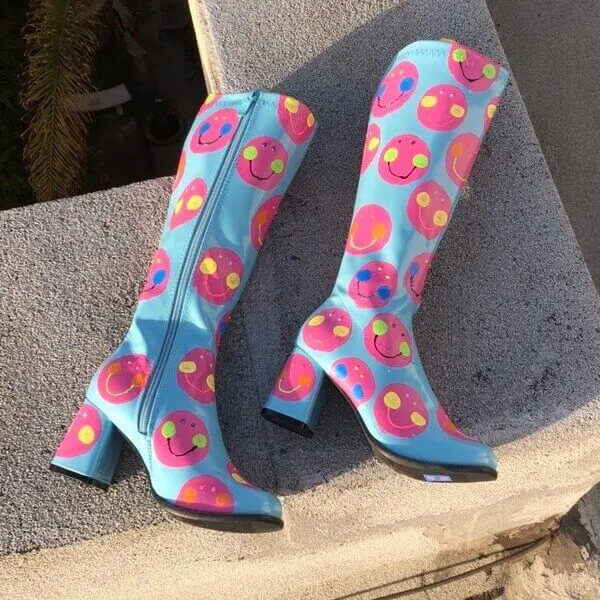 Rainbow Kidcore aesthetic.
The rainbow aesthetic kidcore look is all about color and has come to represent an attitude that's both passionate and free. The colorfully-hued outfits worn by performers like Fall Out Boy or My Chemical Romance are instantly recognizable because they perfectly capture what it means to be young at heart–and creative!
Over-sized Striped Rainbow Shirt.
Rainbow kidcore jacket.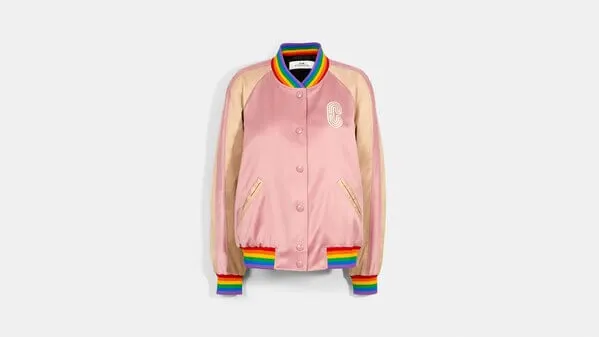 Rainbow Crop Tops.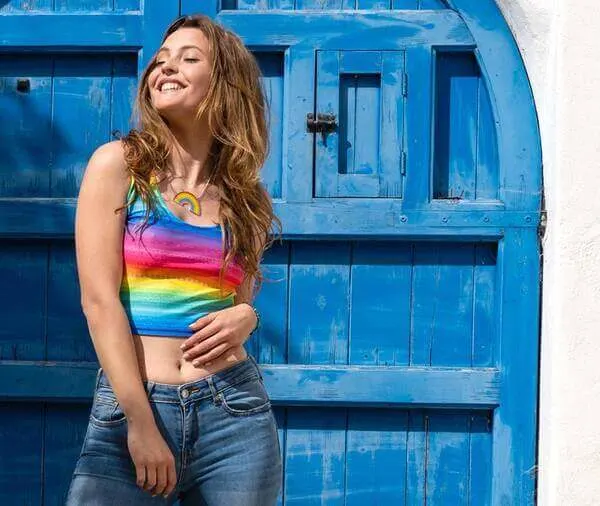 Retro rainbow kidcore tee.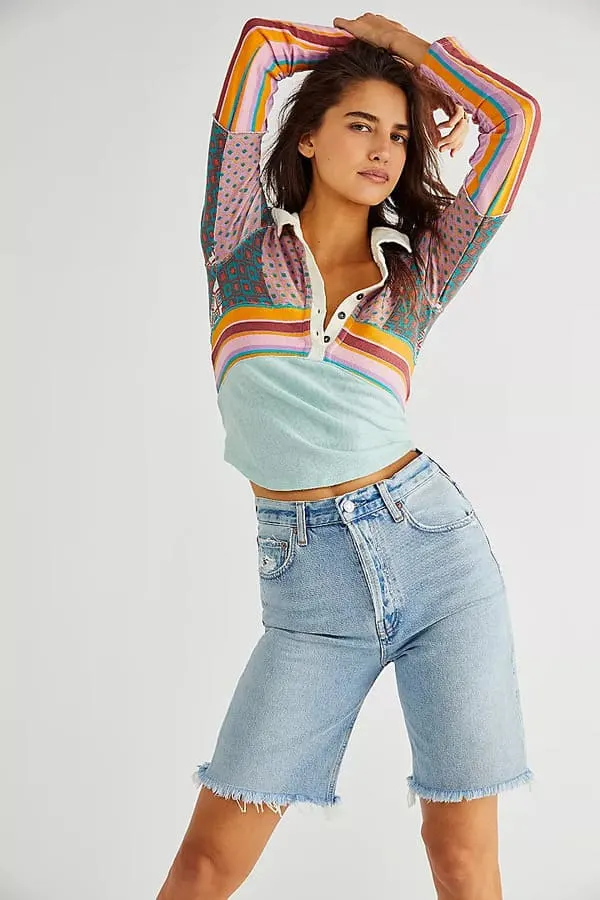 Rainbow kidcore Jeans.
Rainbow kidcore Sneakers.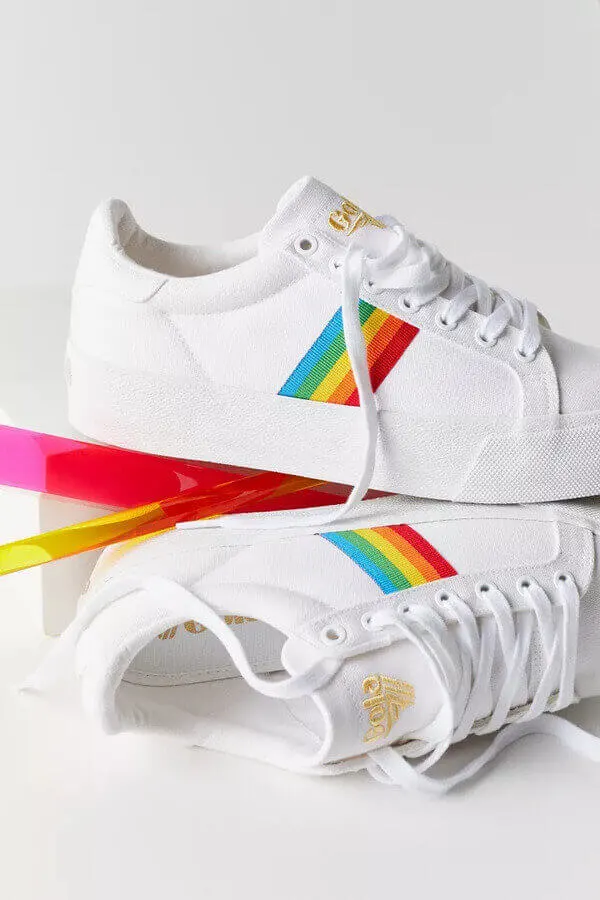 Rainbow joggers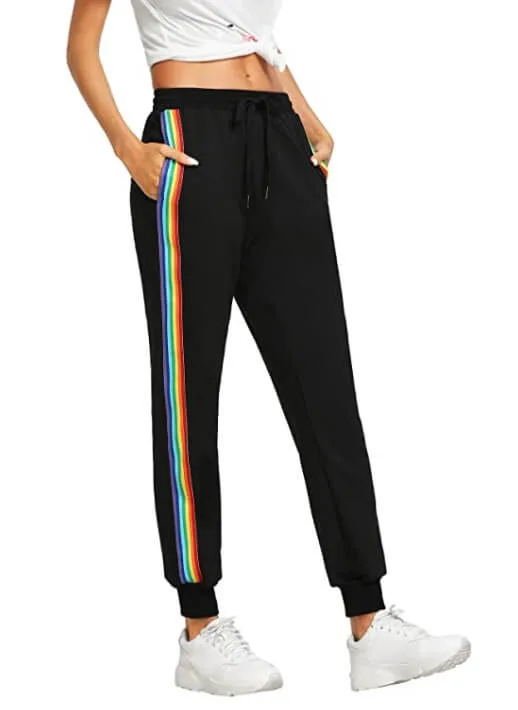 Rainbow midnight moon bomber.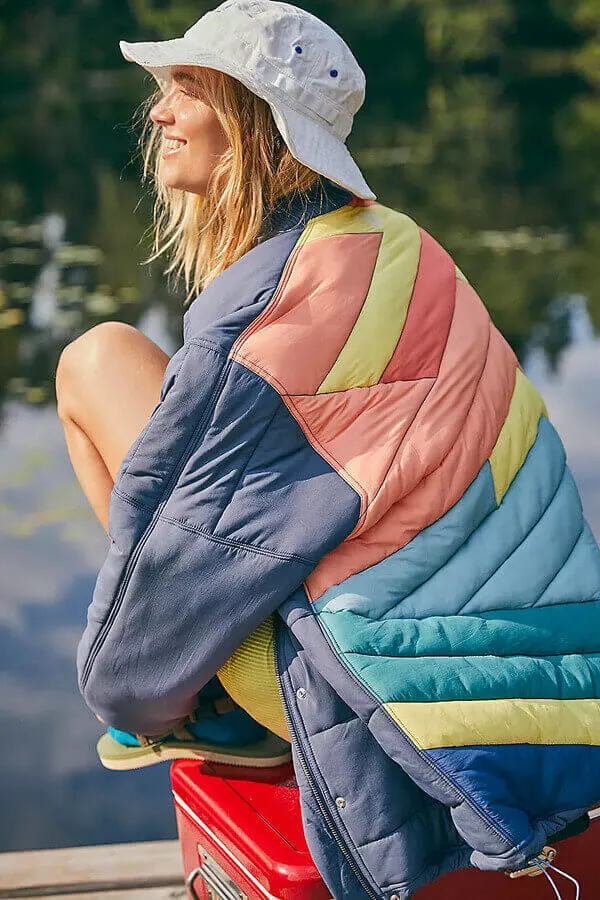 Color block Kidcore aesthetic outfit ideas.
Kidcore outfits are all about the color block. The color block is usually inspired by vibrant oranges, greens, reds, and pinks to make sure you stand out from the crowd!
crochet kidcore aesthetic cardigan.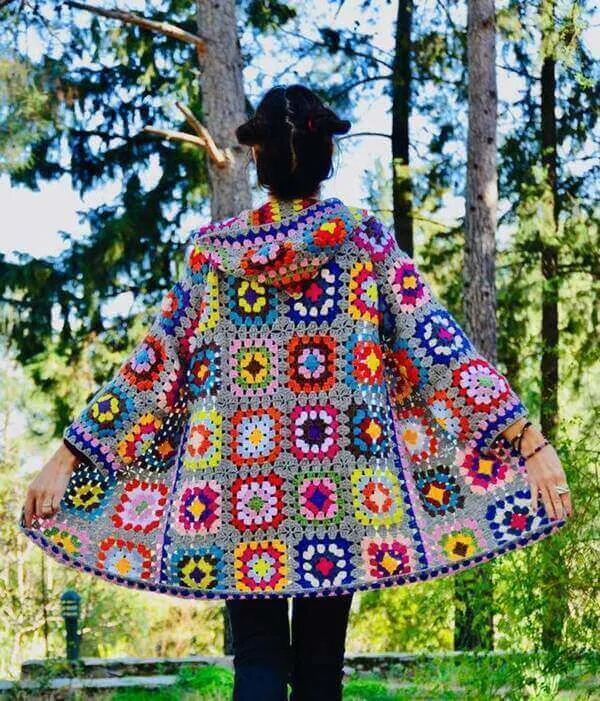 Color block kidcore romper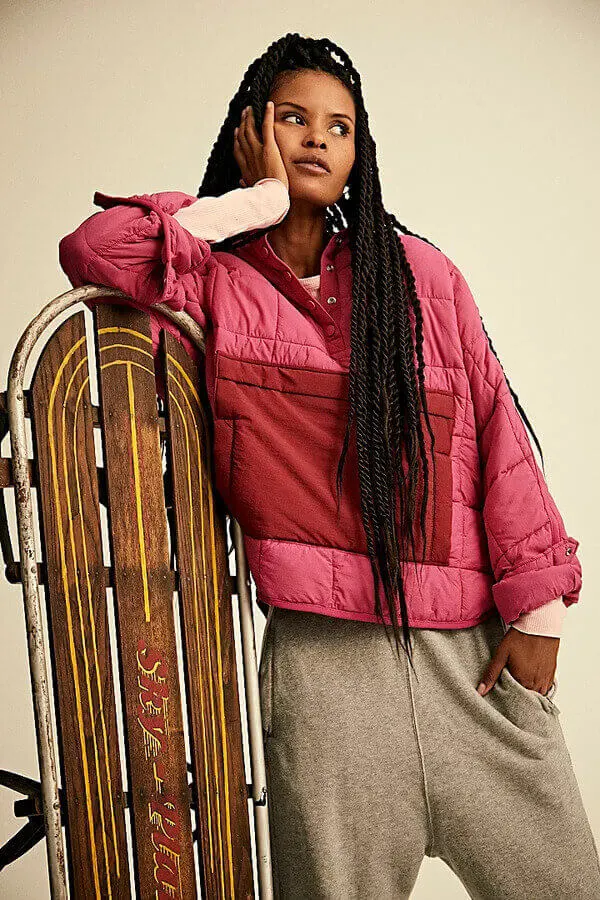 Color block sweater kidcore sweater.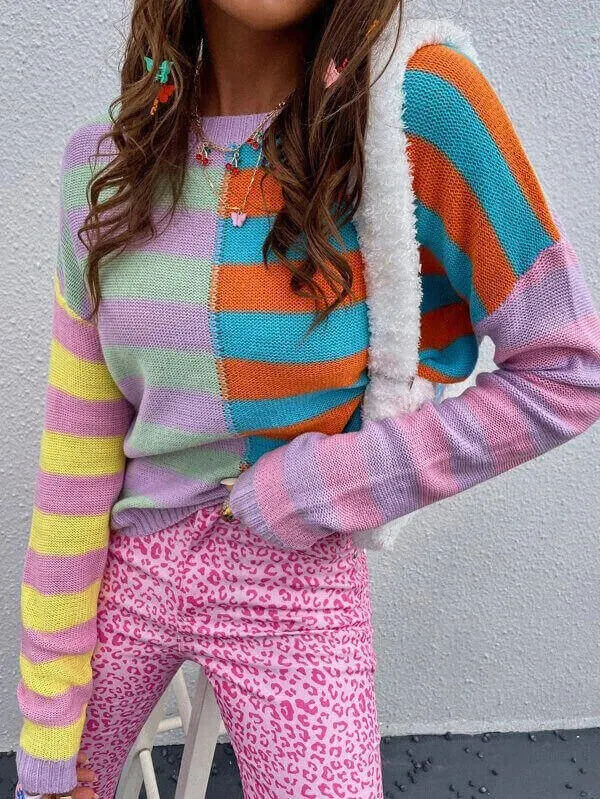 kidcore color block glove warmers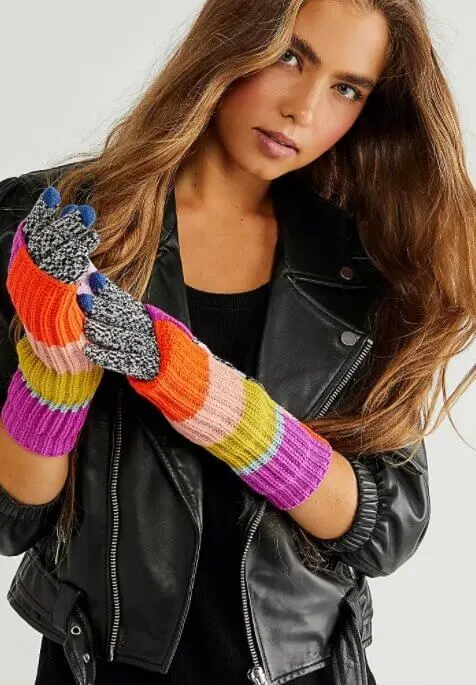 melting kidcore graphic tee.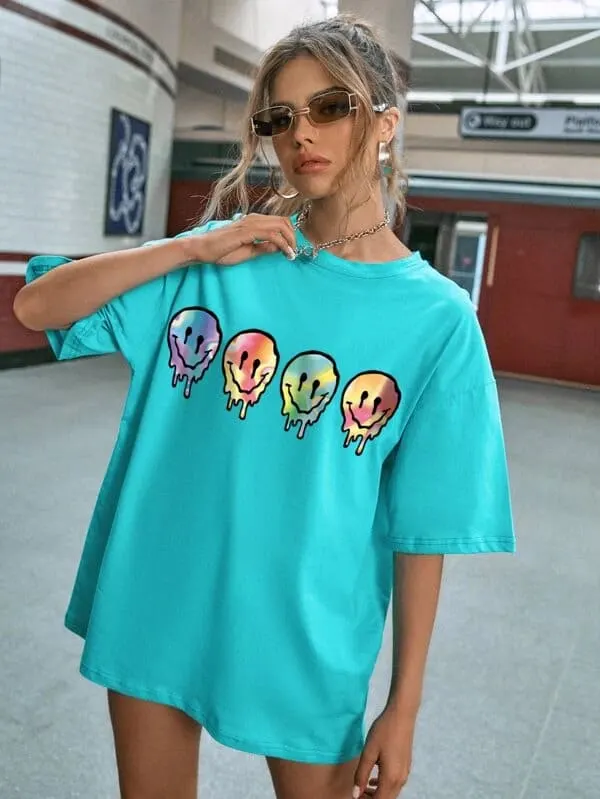 Color block kidcore stockings.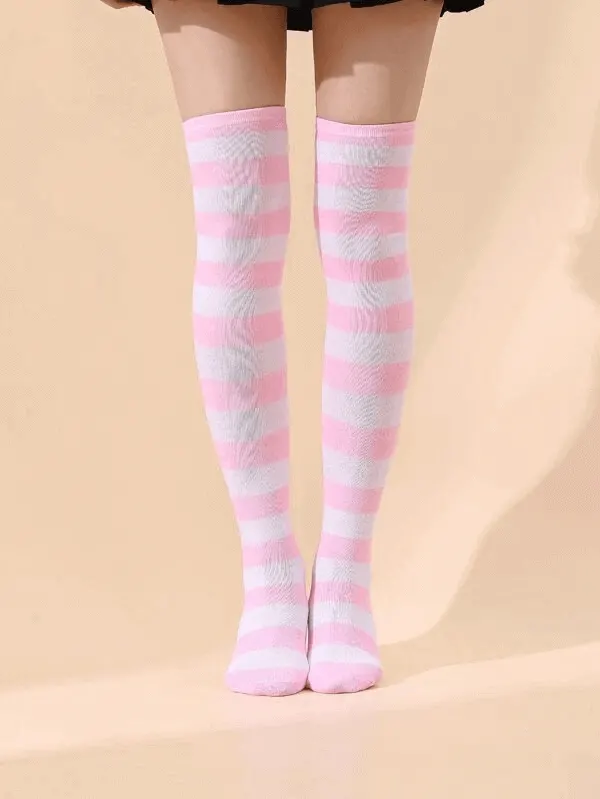 color block sneakers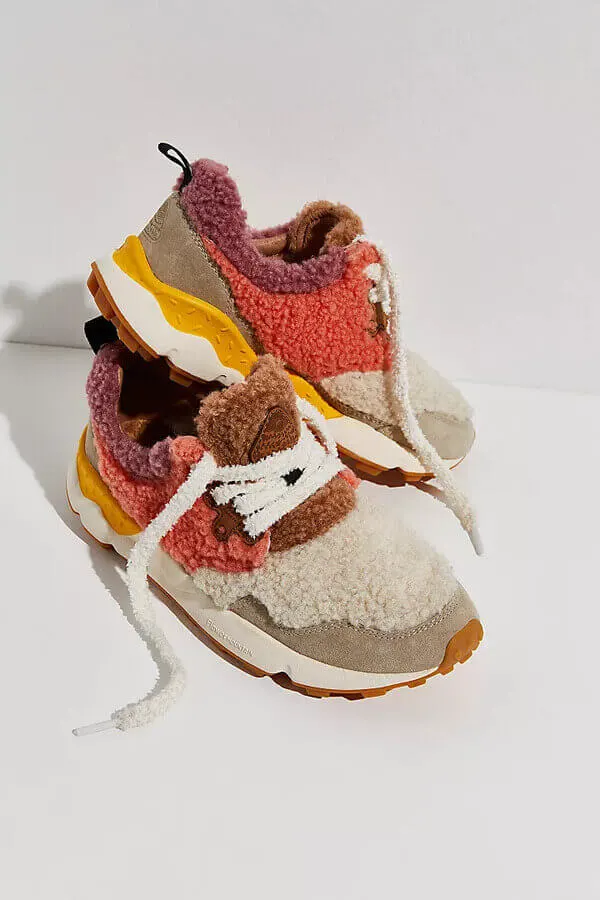 Denim Overalls.
Classic denim overalls are a perfect way to tie all of your kidcore clothes and accessories seamlessly together.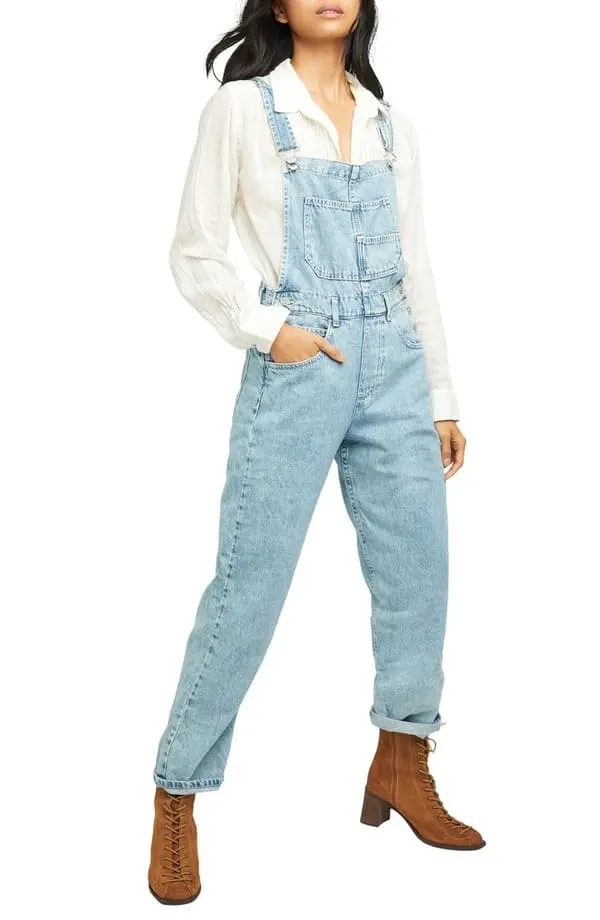 Kidcore jewelry.
A new trend in jewelry design, Kidcore aesthetic jewelry features bright colors and abstract shapes. It was created with children in mind but has been embraced by adults too.
Kidcore Bracelets.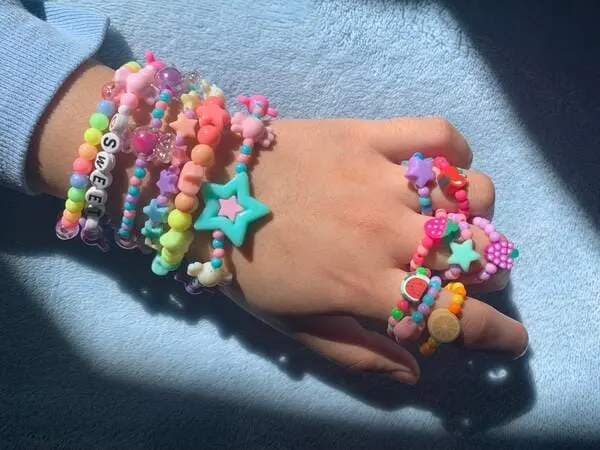 Kidcore charm Necklaces.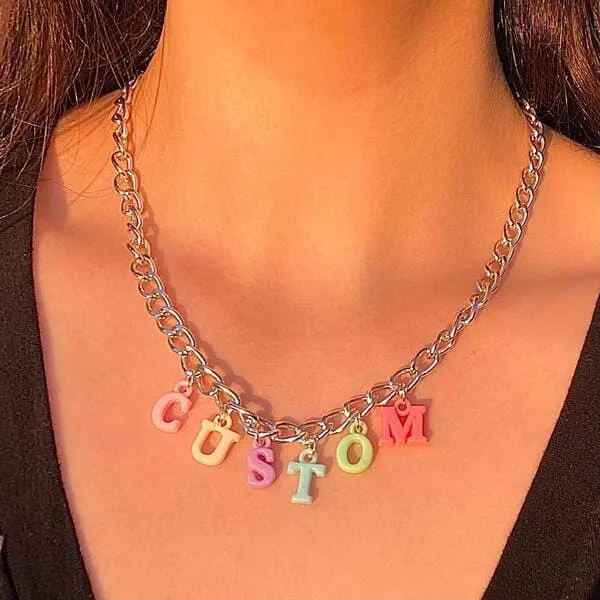 90s Jewelry.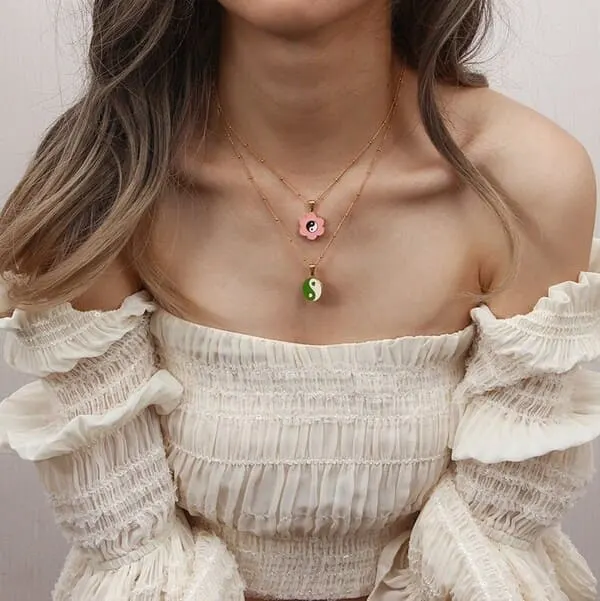 Kidcore Rainbow Earrings.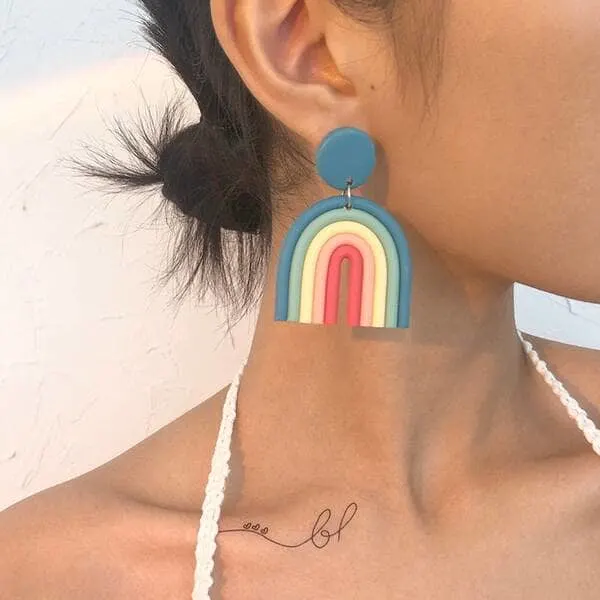 multicolor rainbow earrings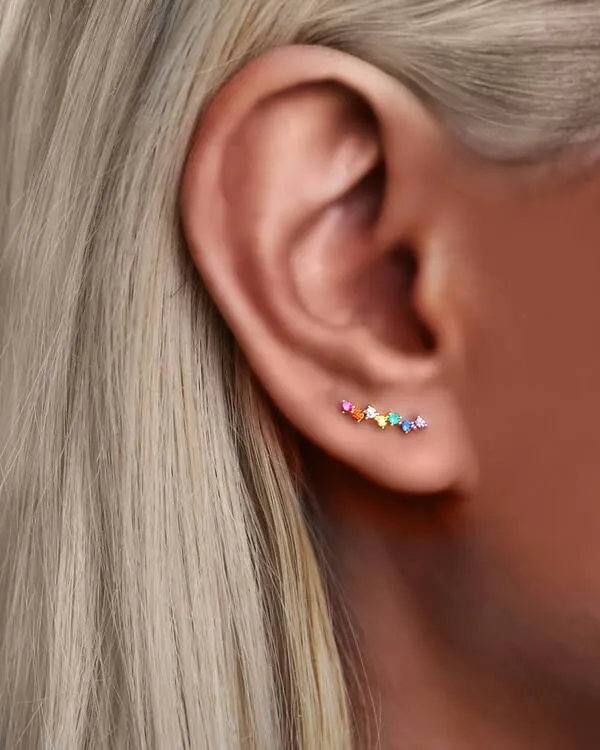 Kidcore Fruity Rings.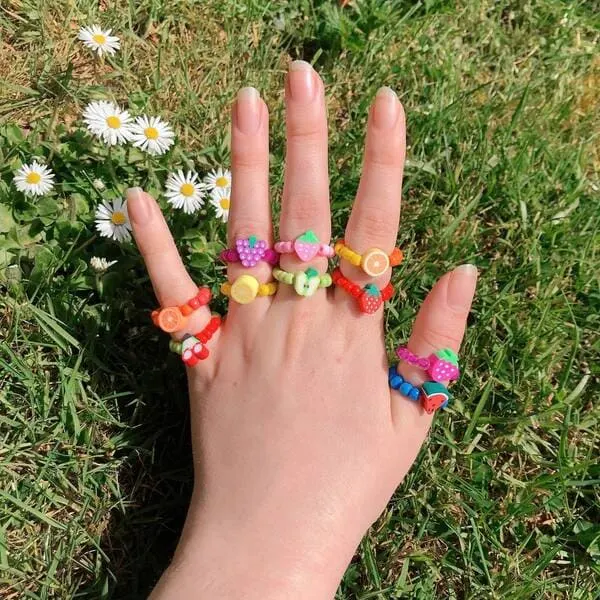 Kidcore beaded teddy near aesthetic necklace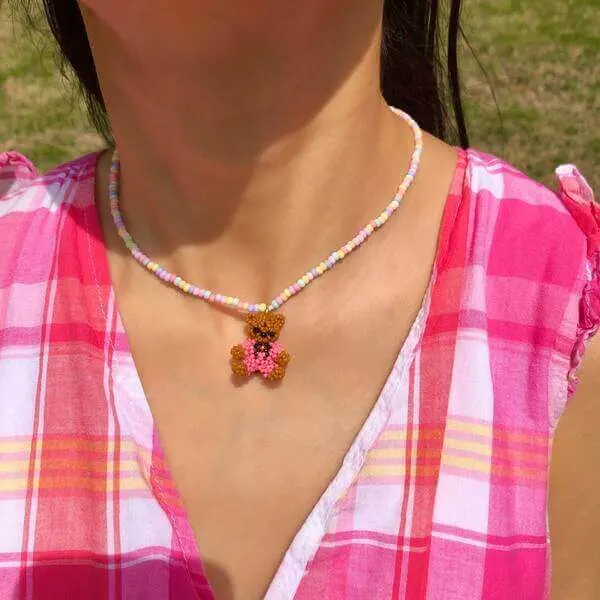 Kidcore accessories
Black belts for 90's kidcore outfits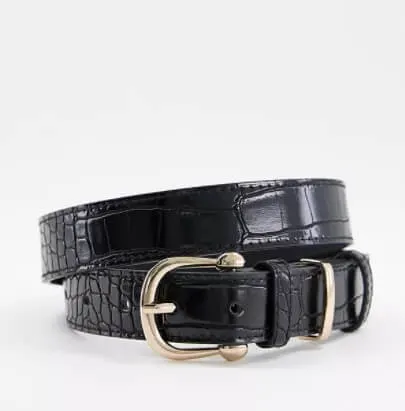 90's Sunglasses.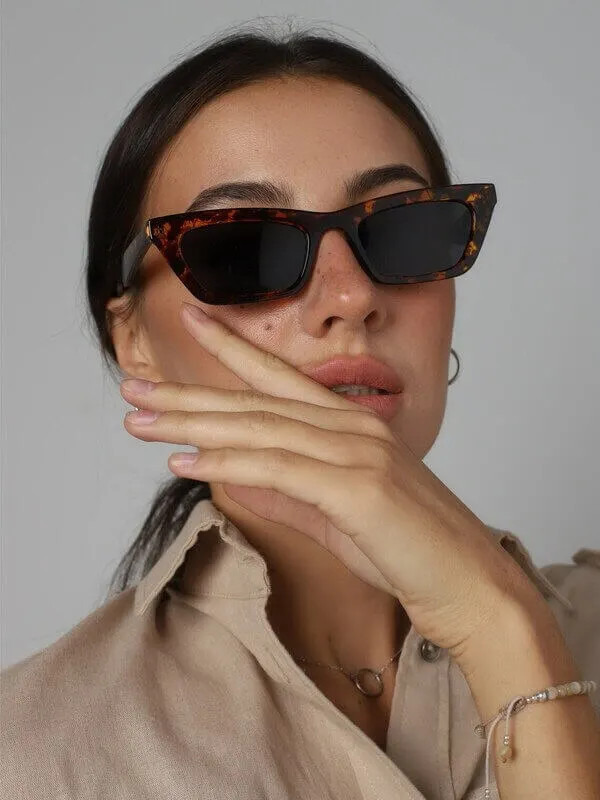 Two-Tone Cartoon Brooch Bag
unique 90's Belt.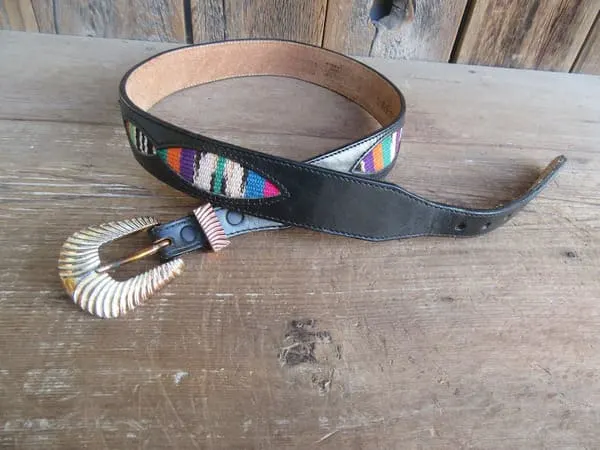 Kidcore butterfly embroidered bucket hat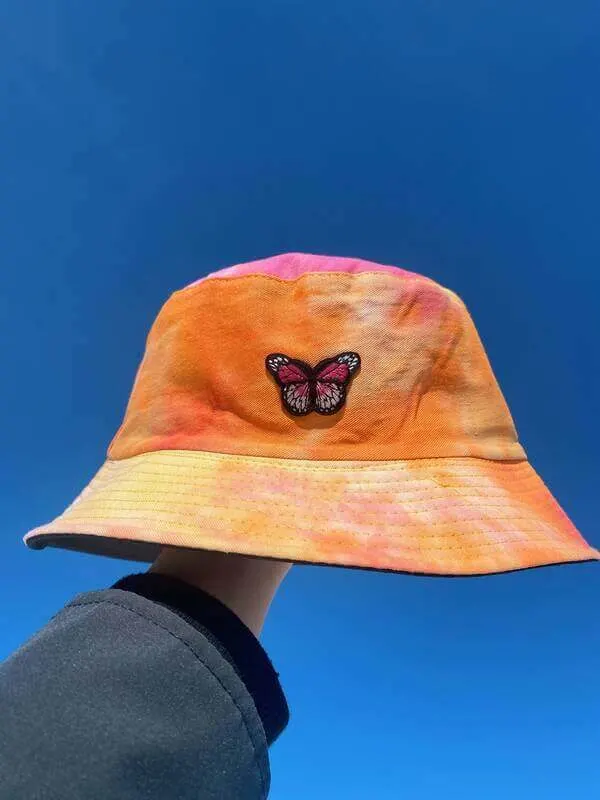 Cartoon Socks.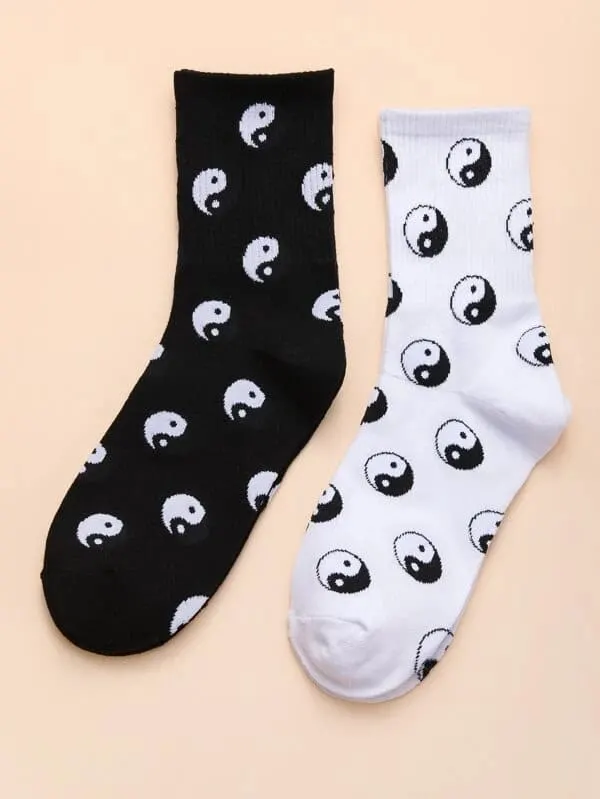 kidcore cartoon phone holders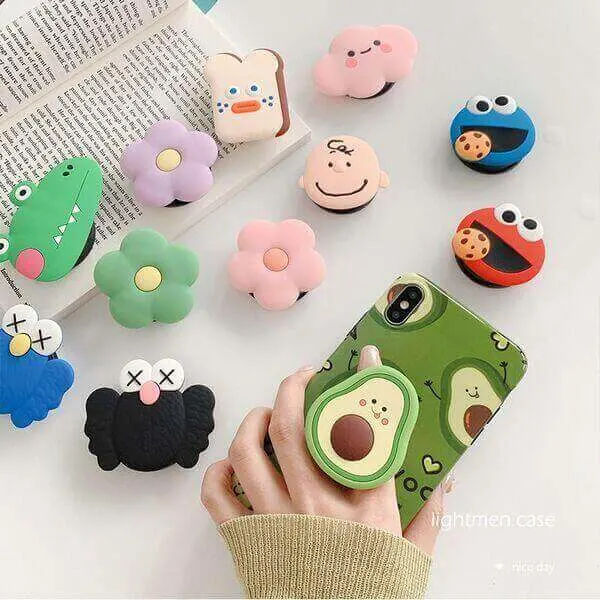 Kidcore aesthetic FAQs.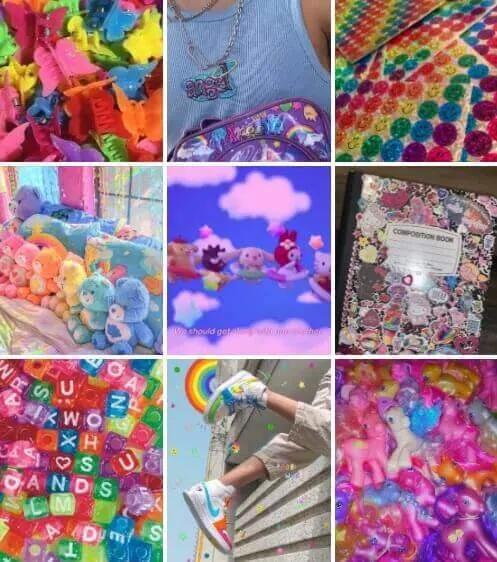 How can you dress like Kidcore?
You must dress Kidcore in color to get the ultimate kid core aesthetic vibe. This aesthetic focuses on the primary colors red, yellow, and blue. However, it can also be used to celebrate rainbow colors.
Is Kidcore a new form of casual?
Yes, kid core is very casual comfortable! For a more casual look, a striped rainbow knit can be paired with a denim coverall. You can also opt for wide-leg jeans, a color-block t-shirt, and sneakers.
The subcultures of this aesthetic style adhere to bright colors and layering of accessories. You want to imitate the fashion of children in the '90s, '00s with the kidcore aesthetic.
What is Kidcore's aesthetic?
This aesthetic celebrates the romanticization and fashion of childhood pop culture. It originated in the '90s but has since modernized to incorporate influences from earlier decades and the '00s. These include TV shows such as Sesame Street and Teletubbies.
There are also several subcultures to Kidcore, like the Japanese aesthetic from the 1990s with Hello Kitty and other cute motifs to add color and playfulness to fashion.
Are Kidcore songs trending?
Thanks to platforms like Instagram and TikTok, Kidcore songs from the '90s and 00s are viral right now. Searches for 'Mariah Carey and "butterfly eyes makeup" on Pinterest have increased ninefold, respectively.
Who founded Kidcore?
Matt Star, a new media artist, coined the term Kidcore. He created a line of apparel that was 'inspired by baby clothing.' These designs were created with a relaxed and playful aesthetic that many other brands do not offer. This trend gained popularity thanks to Instagram and TikTok users who embraced its child-like playfulness.
---
Kidcore aesthetics final thoughts.
Kidcore is the perfect aesthetic that focuses on bright colors, nostalgia for icons of the 90s, and kid themes for our inner child.
Additionally, wearing clothes that are reminiscent of our childhoods, which is considered fashionable, will always be fun, especially if your favorite shows were the Carebears.
Either way, you can be as comfortable as you like, wear as much color as you want, and still be fashionable while looking childlike in an adult way if you dress in kidcore aesthetic.
What do you think about these kidcore aesthetics clothes and accessories?
Let me know what you think in the comments.
Thank you for reading!
Welcome to Everything Abode, your daily inspiration for every activity at home!
Our goal is to inspire you to live an elegant and chic lifestyle from the comfort of your home.
We'll help you express yourself through authentic style, aesthetic beauty, and stylish home decor.
Subscribe to Get the Tools That Make My Blog Successful!
When you join my newsletter, I'm going to send you insider advice and tools that I use to grow my blog! I only save the BEST for my email list so don't wait!