Are you looking for some house cleaning rules that work? If so, here are 8 house cleaning rules that'll create a very streamlined (and tidy) home!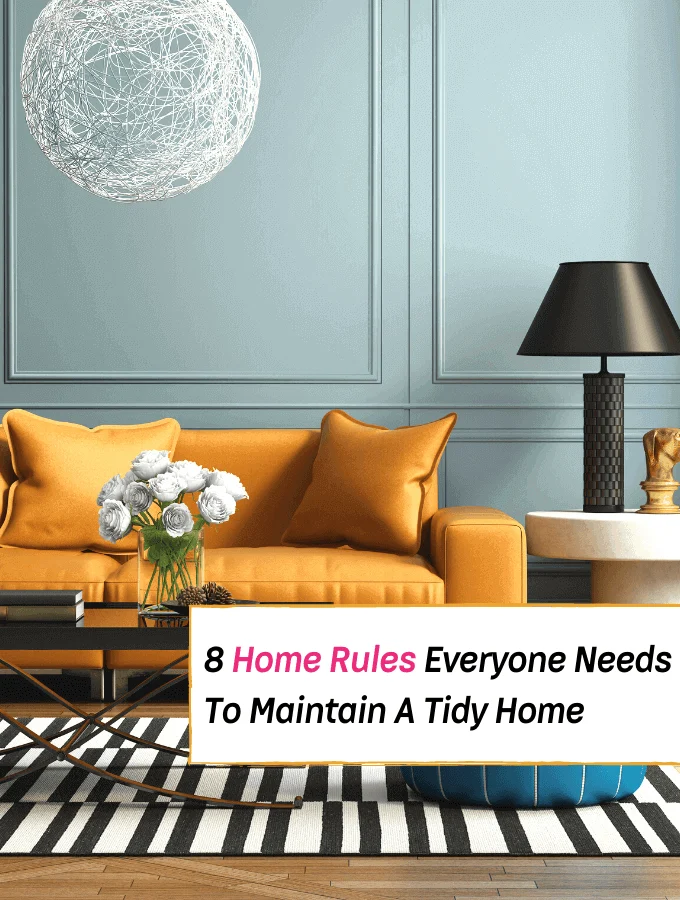 You are not the only one who wants to establish ground rules that will allow you to finally have an orderly home.
A neat and orderly home environment is something everyone wants.
This is because a clean home is a great reminder that we can do almost anything while keeping ourselves healthy.
Not only that but cleaning a messy house without some fantastic home rules to follow can leave us feeling overwhelmed and exhausted.
But don't fret! You are about to discover the best house rules that will help you keep your home extra tidy and clean.
Here are 8 cleaning home rules that will help you maintain an organized home in minutes.
Similar topics:
8 Home Organizing Rules Everyone Needs to Follow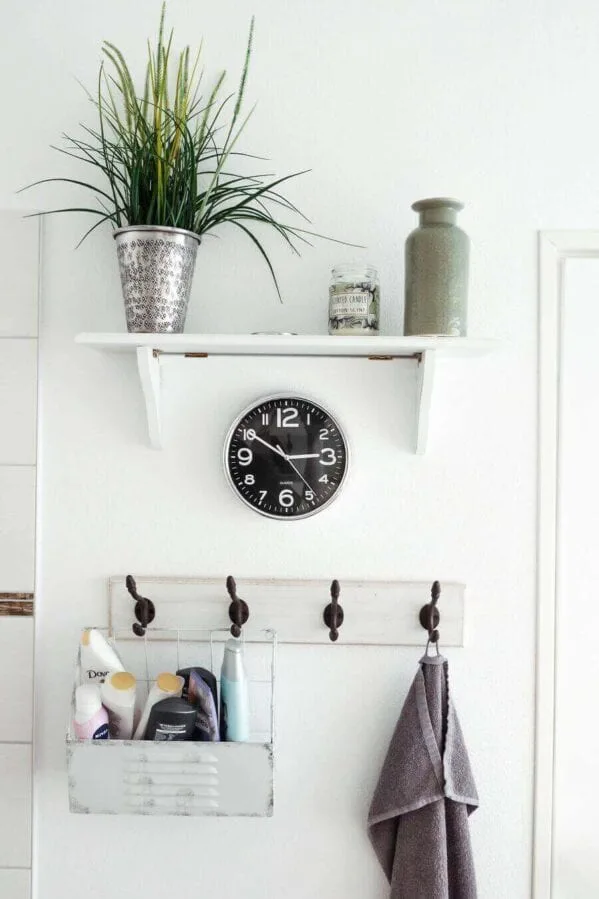 1. Pick up After Yourself.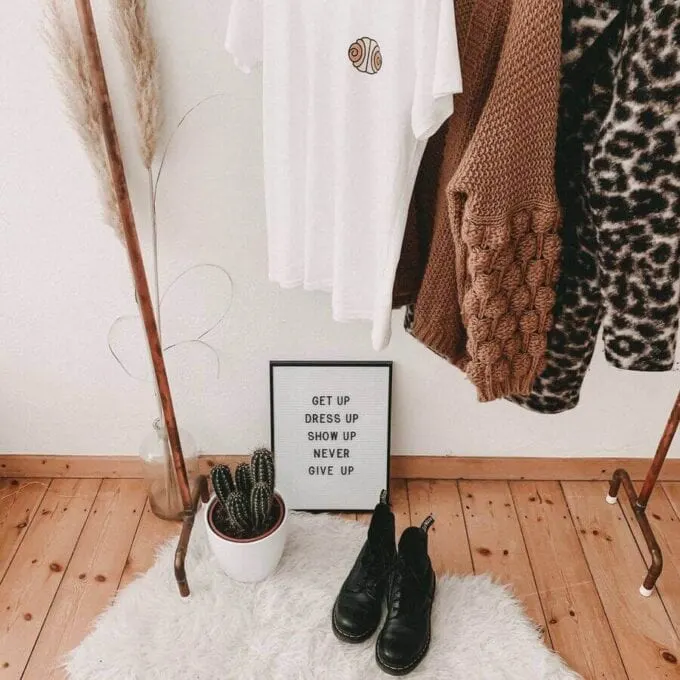 It's so easy to say "pick up after yourself!" because we can have so many excuses as to why we compiled such a mess.
But when it comes to doing the things that we don't want to do, especially if having a tidy home is high on the priority list, it will be in your best interest to always pick up after yourself.
Think about it this way, if you put things back in their rightful place, especially when it comes to clothing, for example, it will make it so much easier to find the items that you always love to wear.
Moreover, whatever excuses you or your household has, it's time to banish them and start making it a priority to put things back.
Better yet, if everyone in the home follows this house rule, at the end of the day, you'll be really surprised at how clean your home will stay.
Similar: Step by Step Guide to Thinning Out Your Closet
2. Create a "drop zone" for Your Most Important Things.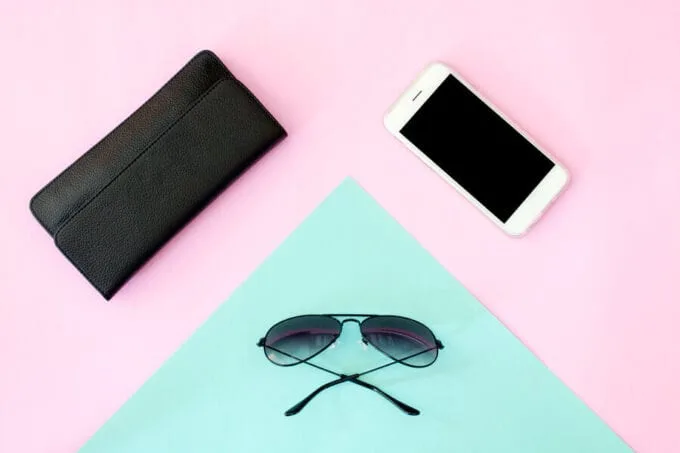 Another house rule that is extremely important to maintain an orderly home is to have a place for all of your most important things.
Essentially it's called a drop zone, and it's a designated place where you place all of the things that are important to you such as your keys, cell phone, wallet, make-up, sunglasses, and anything that you will need from day to day.
These items (and any other necessities that you may need from time to time), will always be waiting in your drop zone ready for you at a moment's notice!
You can choose a place but your front door, for example, so you never have to search for any forgotten item again.
3. Release items that don't serve a purpose.
If you're holding onto too much stuff by saving dried-up flowers, old lamps that don't work, or maybe a few memorable items that are outdated and don't serve a purpose anymore?
It might be time to rethink what you are holding onto. Of course, it is totally okay to pay homage to your past memories through the things that you own but holding onto things that don't sever a purpose can be a sure-fire way to have a messy home.
4. Plan your cleaning schedule.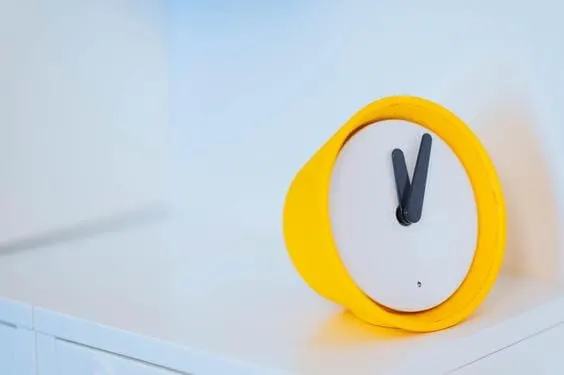 There's a wise saying that goes like this, "if you plan your work, you'll work your plan!".
All expert organizers know this because the key to having a really organized home is to simply have a plan.
You can create a cleaning schedule or plan to share chores with other family members.
However, you go about it, by intentionally creating a plan to clean and organize (especially planning to do the things that you've been putting off for months) you will be in awe of what you can accomplish.
Similar: 8 Laundry Room Organization Items to Make Your Life Easier
5. Follow the "Just One Thing" House Rule.
Pro organizers have a lot to say to "messy people" who just can't seem to get away from their clutter.
And is the "just one thing" rule!
This rule is kind of like picking up after yourself but with a little more emphasis.
Let's say you find yourself getting up from the sofa to go get yourself a snack. If you can find that 'just one thing' that you can easily put away, in between, walking from one room to the next?
Your home will turn into a very clean and tidy space fast!
6. Keep All Surfaces Clear.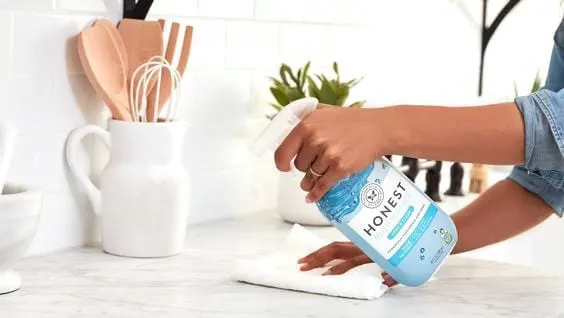 When it comes to maintaining a clean and orderly home, the clear surface rule is always going to be echoed time and time again.
And that's because it really is one of the most important home rules that one can implement to have a sparking tidy home.
Therefore, when it comes to keeping your home clutter-free, think about all the surfaces in your home that have a surface you can keep clear.
Surfaces such as tables, desks, floors, counters, nightstands, etc, tend to gather up a lot of clutter.
If you can keep them as clear as you can, and make this a home rule that the rest of the household can obey, you will have yourself a clean and tidy home!
7. Purge Every Three Months.
Through time, we can gather so many unnecessary things, objects, and stuff that we no longer need.
And that is why purging every three months is a fantastic home rule!
If you can stay in control of what you have and take action by deciding what you'd like to donate, sell, or throw out every three months, it will be so much easier to manage your home.
If you need a few ideas on how to purge your household items every three months, take a look at these ideas below!
How to declutter household items:
Begin by listing each room in your house that you want to organize.
Number these rooms in an orderly sequence from most important to least important. Doing so will allow you to complete the process of decluttering or purging from most necessary to least.
Define your decluttering goals and decide if you are ready to accept a more minimalist lifestyle. Sometimes we dream of having an organized home, but we just love "stuff" at the same time. So defining how you want your home to look means determining what goals you are realistically able to carry through with.
Invest in cleaning and organizing tools! Get some boxes, bags, or baskets for sorting items. Have empty Tupper wear containers ready to give you that extra boost you'll need come organizing day.
Inspect each item carefully and make a conscious choice on whether it serves a true purpose being in your space. Marie Kondo is the queen of organizing this way and you can learn all about how she does it in this organizing article here.
Sort everything into four piles; trash, recycle, sell, donate. Once you have everything in uniform, you'll be surprised at how easy the process of decluttering can be.
8. Store everything accordingly.
Lastly, when it comes to maintaining a home that stays clean, your belongings should always be stowed away accordingly.
For example, if you have a variety of cookbooks, novels, and textbooks, these are all books that should be sub-categorized and stored in their perfect and rightful place.
Another example could be things like nail polish being stored with nail polish removers and nail files. Or scarves stored with their rightful gloves. Whatever seems like they should be stored together, will also work wonders as a home rule to stay tidy.
This is also one of Marie Kondo's go-to rules in the KonMari approach so it's best to follow suit because it works to create order.
---
There you have it.
Isn't it nice to know that you don't have to spend multiple hours cleaning if you repeatedly follow some of these existing home cleaning rules?
Also, since these are general house rules that work to keep a home clean, you don't have to follow all of them at once!
Instead, focus your energy on making one rule stick. If you start with one and go from there, you'll have house rules that'll last a lifetime!
Also, if you would like to take your decluttering journey one step further?! Make sure to check out these 10 Habits Of People With Homes That Are Always Organized Next!
Thanks for reading!
You may also like:
house cleaning rules
Welcome to Everything Abode, your daily inspiration for every activity at home!
Our goal is to inspire you to live an elegant and chic lifestyle from the comfort of your home.
We'll help you express yourself through authentic style, aesthetic beauty, and stylish home decor.
Subscribe to Get the Tools That Make My Blog Successful!
When you join my newsletter, I'm going to send you insider advice and tools that I use to grow my blog! I only save the BEST for my email list so don't wait!