If you want to reboot your closet, take a peek at these 25 ways to dress thinner for ALL body types!
Dressing to look thinner can be a challenge many people face daily.
Whether trying to fit into a favorite dress for a special event or just looking for a way to feel more confident, there are some simple tips to help you dress in a way that can make you look and feel thinner.
However, before we start, this article aims to provide readers with tips and tricks for dressing to look thinner without resorting to crash dieting or other unhealthy habits.
It is essential to understand that looking thinner is not about being skinny; dressing to appear slimmer is about finding the proper clothing to accentuate your body shape and give you a more flattering silhouette.
You can also find the perfect outfit for any occasion — if you know how to dress for your unique body type — to look thinner in healthy and fashionable ways.
And no matter your size or shape, dressing to look slim will help you look and feel your best.
Let's get started!
How to Dress to Look Thinner: 25 Fashion Tips that Work.
1/25. Wear Vertical stripes.

Vertical stripes (in clothing) are, in fact, very slimming and help to create the illusion of a longer, leaner silhouette.
If anyone wants to look slim in a flash, then vertical stripes will create an optical illusion, making them appear taller and thinner.
Vertical lines also draw the eyes up and down, which elongates the body. The effect of the stripes also breaks up the body, making the wearer appear slimmer.
Tip: The contrast between the lines and the person's skin tone can also create the illusion of shadows, making a person who wears vertical prints appear thinner.
2/25. Choose darker colors.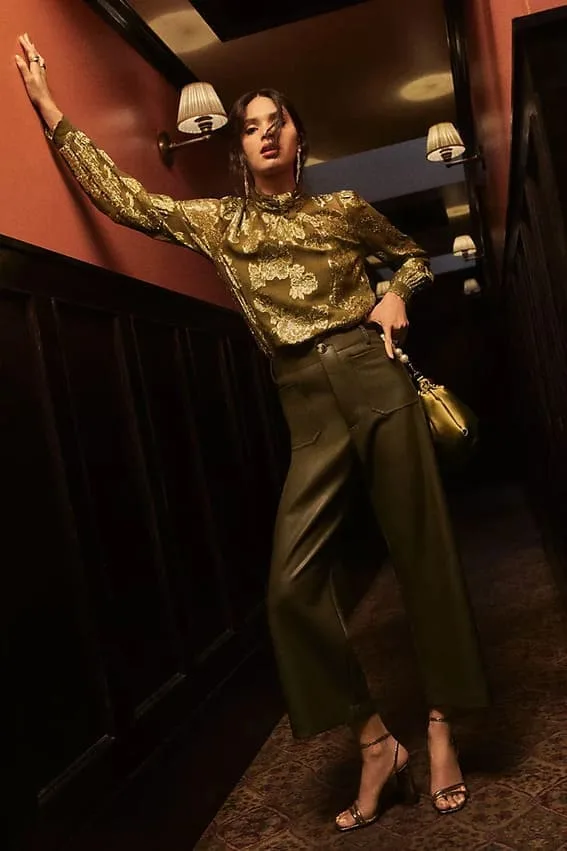 Even wearing dark colors can make people look thinner because dark shades and tones create the illusion of a slimmer silhouette.
It has a slimming effect because dark colors absorb more light, thus creating shadows that make the body look a whole lot slimmer.
Also, dark colors draw attention away from problem areas such as the waist or hips.
Tip: Darker-colored clothing such as black, navy, and dark gray are typicallly less expensive to buy.
3/25. Opt to wear monochromatic outfits.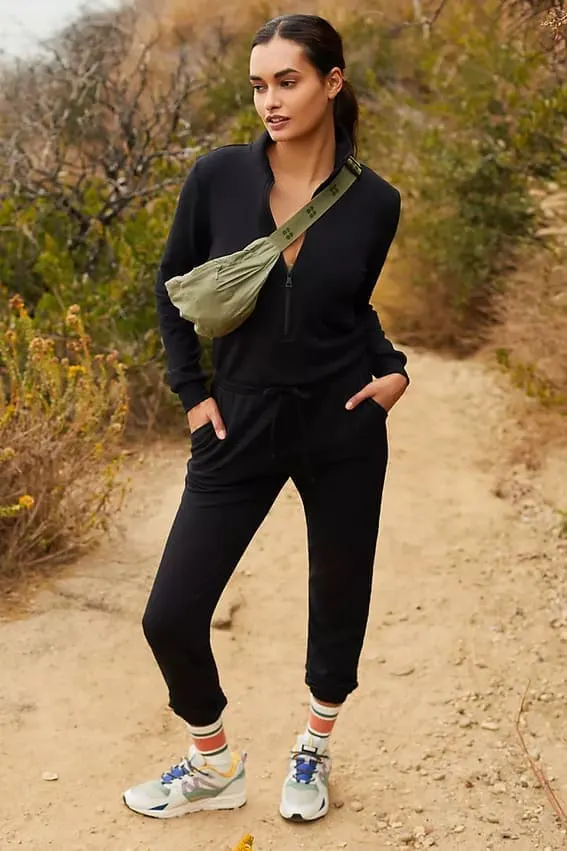 Monochromatic looks (like this outfit) can make almost anyone look thinner.
It has a slimming effect because monochromatic looks use one color to create a continuous line, which helps to elongate the body, which makes the whole outfit appear slimmer.
The lack of contrast also helps to blur imperfections and create a slimming effect.
Tip: monochromatic outfits (that are all one color) are much easier to style and accessorize.
You may also like: 20 Doc Marten Dupes For More Boot For Your Buck.
4/25. Avoid overly baggy clothing.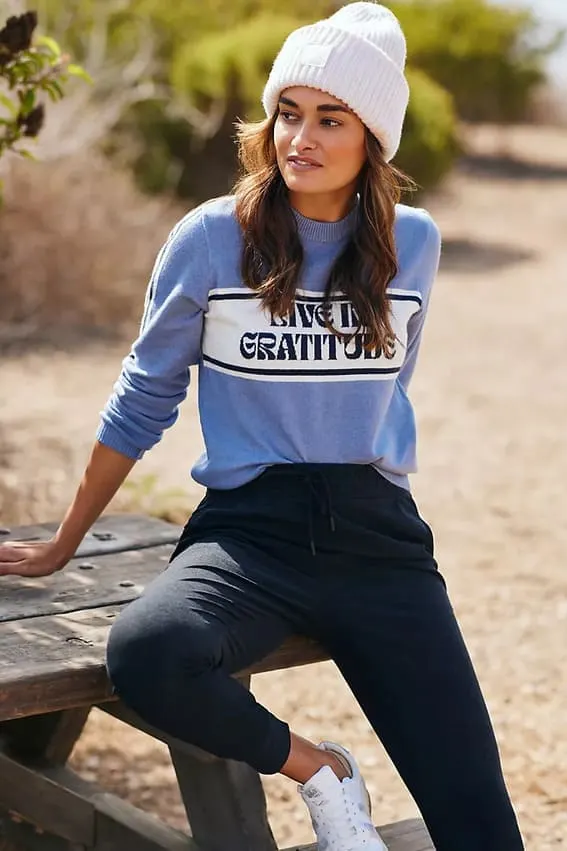 Extremely oversized or baggy clothing can make people look larger than they are, plus it adds extra bulk and creates an unflattering silhouette if not worn right.
Also, baggy clothes can make it difficult to determine the body's shape underneath, which makes it difficult to see a great figure (if it's there).
On the other hand, if you can shop for clothing with a slightly loose fit, it's still flattering and helps accentuate curves, show off toned muscles, and highlight a great-looking physique; this is the best way to dress to look thinner.
Tip: Wear fitted pieces that skim the body to make you appear slimmer than wearing extra oversized clothes.
5/25. Wear a tailored blazer.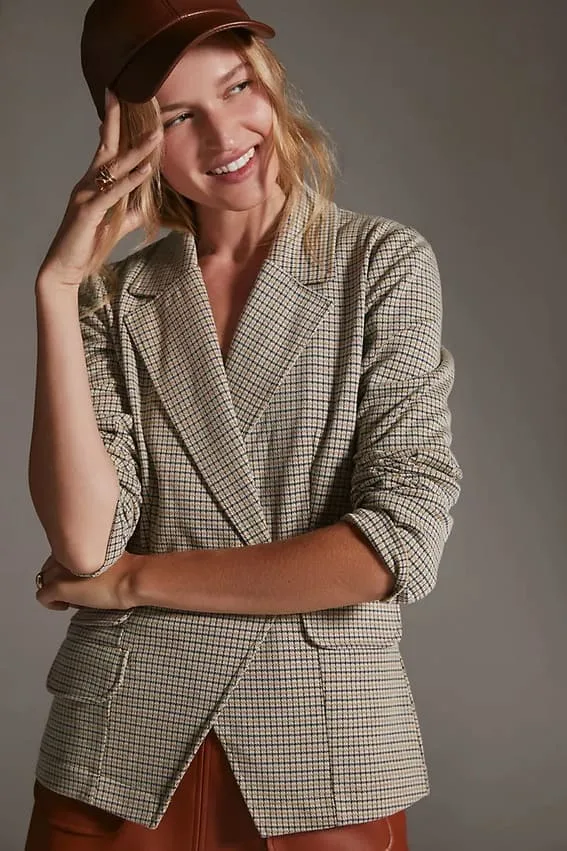 Yes, even a tailored blazer can help to make people look thinner!
It does this by creating a flattering silhouette. It also defines the waist, creates clean lines, and highlights the body's natural curves. Moreover, it helps to create the illusion of height.
Wearing a tailored blazer can create a more polished and sophisticated look than any other part of your clothing, primarily if you work in an office setting.
Tip: a fitted blazer accentuates the waist and makes it look slimmer.
SEE ALSO: 15 Brilliant DIY Clothing Fixes Every Girl Should Know.
6/25. Wear high-waisted bottoms.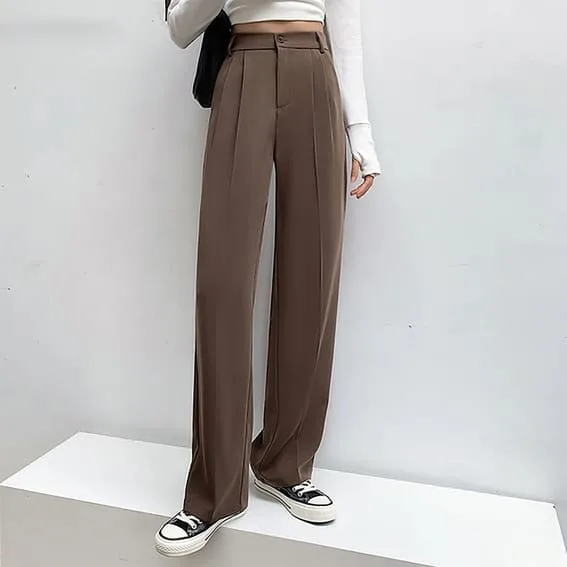 Now, if you want to appear much slimmer than you are, always go with high wasted — anything!
High-waisted pants create the illusion of an hourglass shape by cinching in the waist and accentuating the hips. This creates a slimming effect by giving the appearance of a smaller waist and longer legs.
Tip: The high rise also helps flatten the stomach, making people look thinner.
7/25. Wear waist-cinching belts.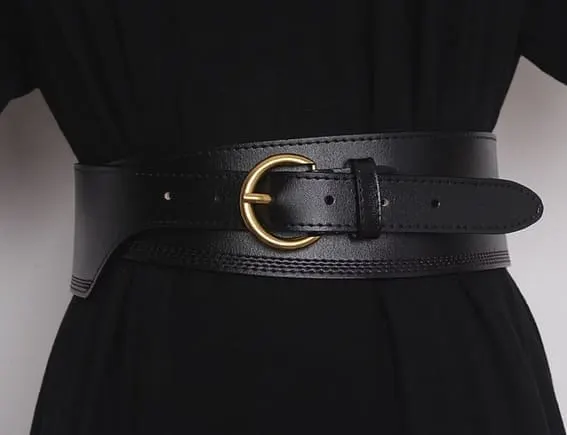 Waist-cinching belts are another way to appear thinner than you are because it creates an hourglass shape by accentuating the smallest part of the waist.
Opting to wear this belt type will emphasize the body's natural curves, making the core appear smaller and the hips wider.
Tip: drawing attention to the smallest part of your waist makes the rest of your body appear slimmer and more proportional.
8/25. Opt for boot-cut jeans.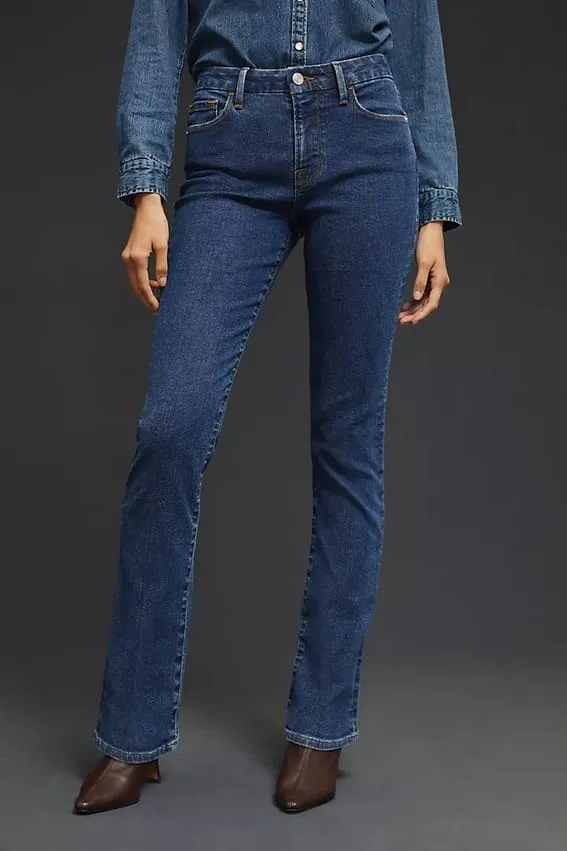 Boot-cut jeans make people look thinner because they are slightly flared at the bottom. And choosing jeans that balance your silhouette (like the boot cut style) will help elongate the body and create a slimming effect.
The slight flare can help balance curves and create an hourglass shape while choosing a dark color of denim further helps slim the body.
Tip: Boot-cut jeans are more flattering than straight-leg jeans as they balance out your hips.
9/25. Wear pointed-toe shoes.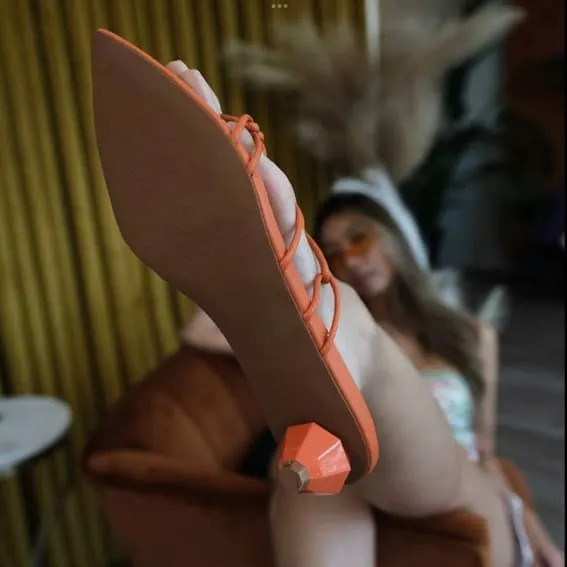 If you like to dress up your feet, pointed-toe shoes have a great way of visually elongating the legs, making them look longer and leaner.
The pointed toe also creates the illusion of a slender foot, which can help to make the entirety of the legs look thinner.
Tip: A pointed toe creates a visual line that draws the eye downward and away from the ankles, further emphasizing the illusion of a slimmer silhouette.
10/25. Avoid horizontal stripes.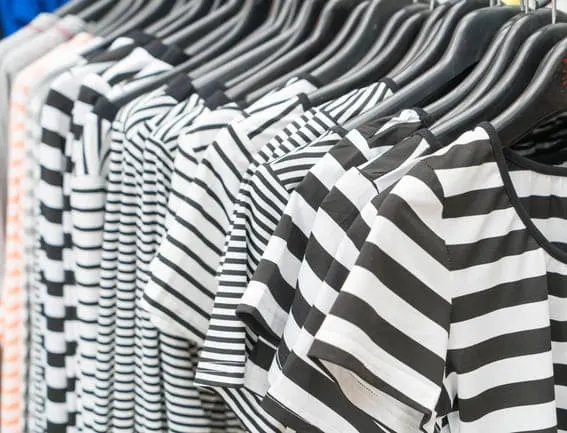 Speaking of appearing smaller with how we dress, did you know that horizontal stripes create an optical illusion that can make a person look wider?
It does this because the lines draw the eye across, making the person appear broader than they are.
Tip: By avoiding horizontal stripes, the eye is not drawn across the body and instead drawn up and down, making the person look slimmer.
11/25. Wear v-neck tops.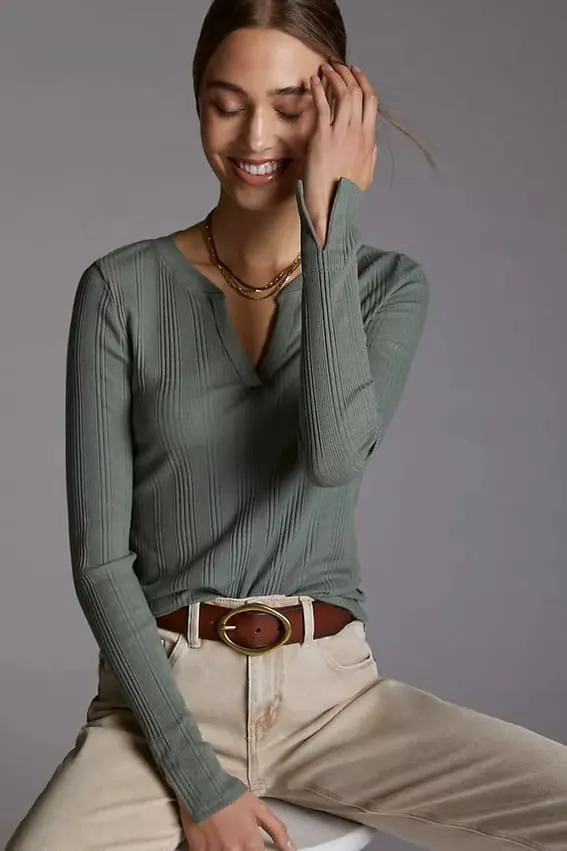 Dressing thinner has always been challenging; however, wearing V-neck tops (like this) can create the illusion of a longer, leaner silhouette.
The v-neck, in particular, helps create the appearance of a slimmer figure, as the neckline draws the eye down the body (and not across) in a flattering way.
In the fashion industry, V-necks also create a slimming effect by drawing the eye down and away from the midsection.
Tip: Opting to wear a V-neck elongates the neck and can be an easy way to dress thin in a moments notice.
12/25. Avoid flashy jewelry.
It's best not to wear such flashy and OTT jewelry when dressing to appear thinner.
Avoiding flashy jewelry can help people look thinner because large, bold pieces can draw attention to the body and make it appear larger.
Tip: Simple jewelry can draw the eye away from certain areas and make the body look more streamlined.
13/25. Layer your clothing for a slimming effect.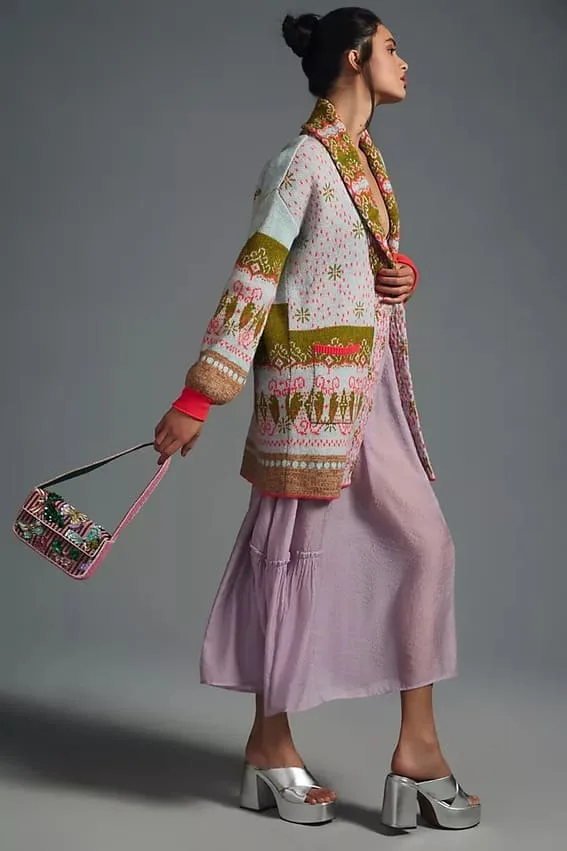 Layering clothing is another great way to help create an overall slimming effect.
Wearing multiple layers can also create an optical illusion that can make people look thinner. The layers help to break up the body, resulting in a more streamlined look.
Additionally, wearing various colors and textures can help draw the eye away from specific problem areas to help create the illusion of a slimmer figure.
14/25. Wear shapewear.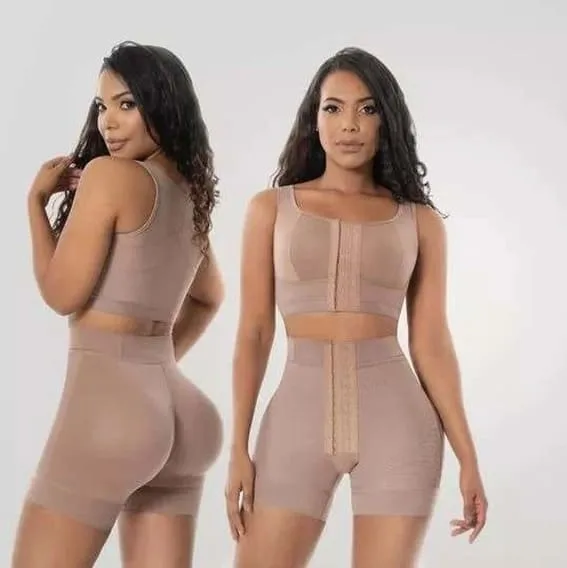 Shapewear is another wonderfully designed clothing piece to provide an extra slimming effect by compressing the body and creating a smoother, slimmer silhouette.
Shapewear also helps keep everything in place, allowing the wearer to look more toned and fit underneath whatever they choose to wear.
Overall, shapewear can help to smooth out any lumps and create a more streamlined look.
Tip: Compression clothes and shapewear helps to keep the body's curves in a more natural and flattering shape, reducing the appearance of lumps and bumps.
15/25. Choose clothing styles with minimal embellishments.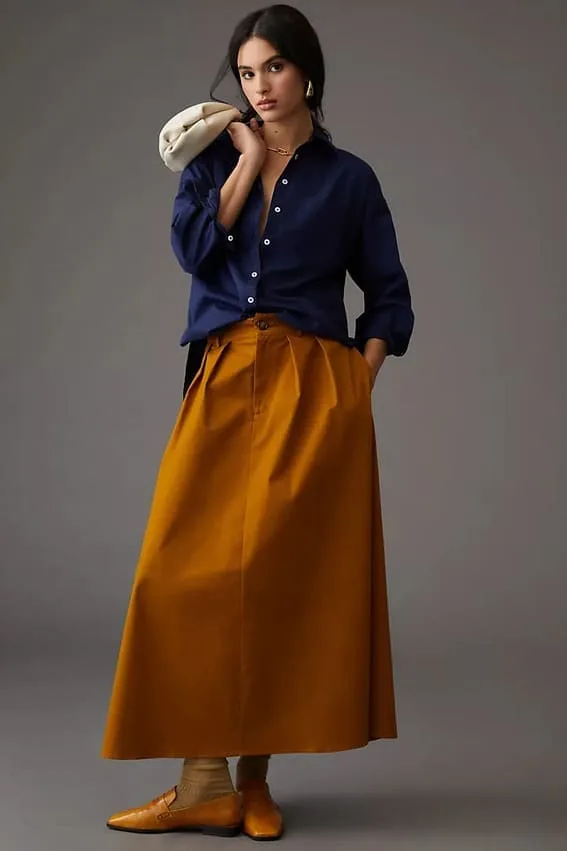 Choosing clothing styles with minimal embellishments helps create a clean and sleek silhouette, making a woman appear thinner.
Choosing to dress with fewer embellishments is essential to look thinner because the clothing is less distracting.
Tip: the eye can be quickly drawn to the body's shape rather than the clothing's details to appear slimmer.
16/25. Avoid large, bold patterns.
Avoiding large, bold patterns can make women appear thinner because they draw attention and can make the body look bigger.
Patterns with small, subtle details can be more flattering and help to create a slimming effect. They don't draw attention to specific body areas, making building a more streamlined and flattering silhouette easier.
17/25. Select clothing fabrics with a bit of stretch.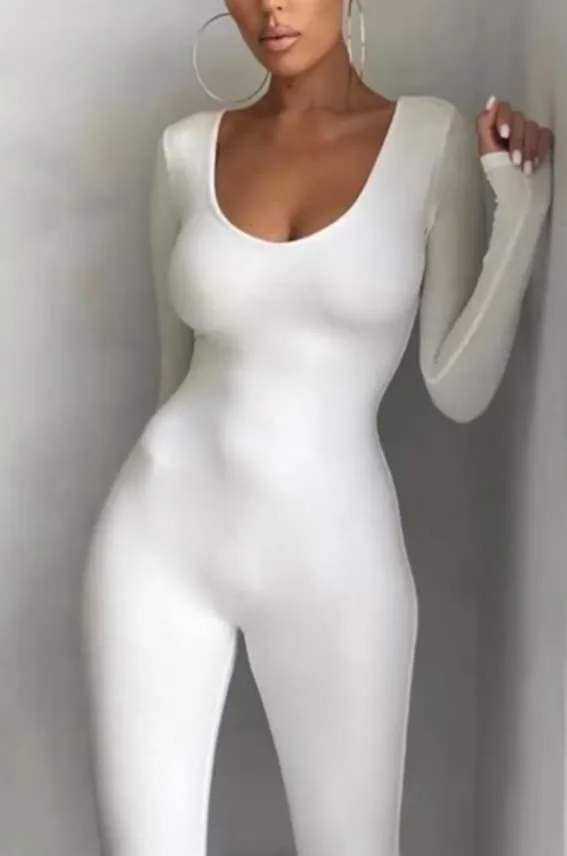 Yes, even clothing fabrics with a bit of stretch (like this) can create a slimming effect by following the body's contours more closely.
Dressing in stretchy clothing means that the clothing will hug the body better and create a flattering shape without adding extra bulk.
Tip: Stretchy fabrics also help create a smoother silhouette, which helps make the body look slimmer.
18/25. Wear high heels.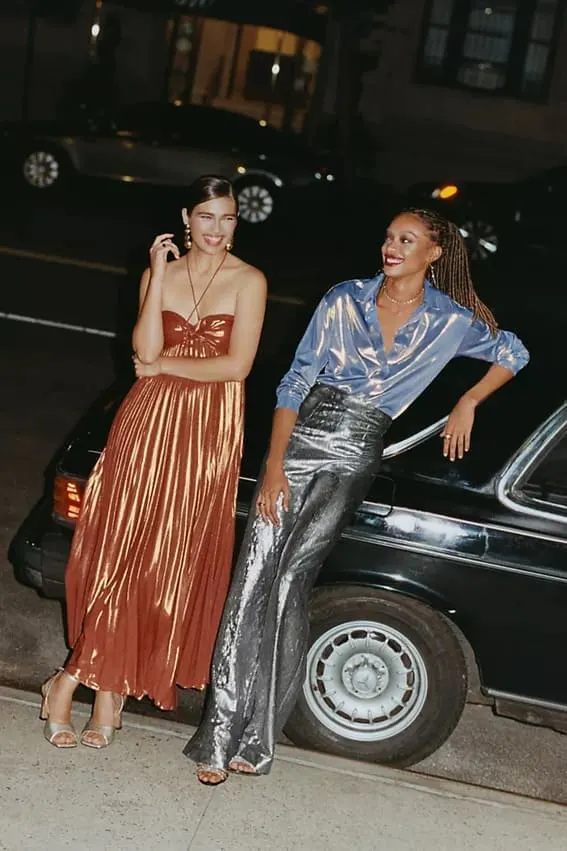 Wearing high heels can also help almost any woman (and man) appear slimmer by elongating their silhouette. They can make the legs look longer and more toned while making the waist appear narrower and the torso more slender.
Additionally, high heels will enhance the posture and give the wearer a more confident and attractive appearance.
Tip: Heels will lift the bottom and make the legs look longer, creating a slimmer appearance.
19/25. Accessorize strategically.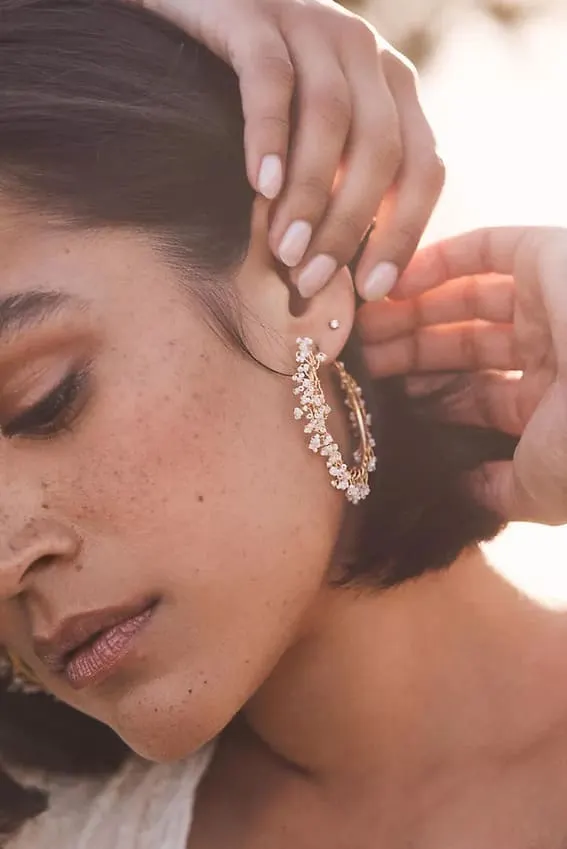 Accessorizing how you dress and adding accessories strategically can help almost anyone appear slimmer with their clothes.
This is because it draws the eye away from some areas of the body that the person may not be comfortable with.
For example, wearing a statement necklace can draw attention away from the waist or hips, a scarf or wrap can create the illusion of a smaller waist, while bold earrings can draw the eye up to the face.
Tip: Strategically accessorizing outfits can create a look that draws attention away from areas people wish to de-emphasize.
20/25. Wear fitted outerwear jackets.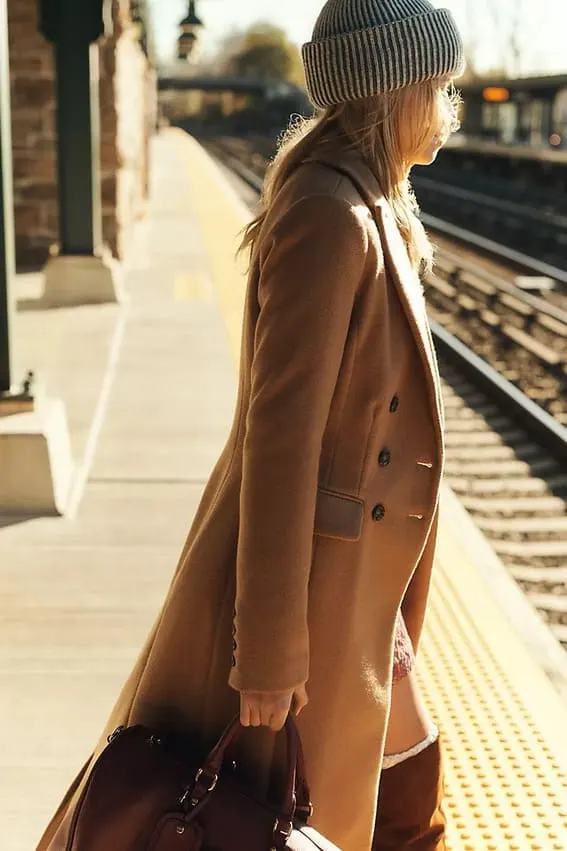 If anyone wishes to look slim out on the streets, they should consider wearing a fitted jacket to appear smaller because the tailored fit will help create a slimming effect.
The snug fit of the jacket helps to give the illusion of a more slender figure and can draw the eyes away from any areas of the body that you, the wearer, would feel self-conscious of.
Additionally, fitted jackets tend to be made of more structured materials, providing more support to help hold in any areas you wish to conceal.
Tip: Fitted jackets help define the waist, adding curves and creating an hourglass shape.
21/25. Wear clothes that are the correct size.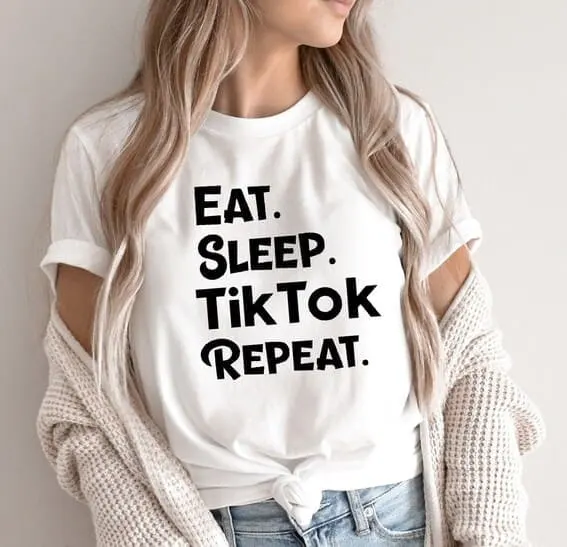 Wear clothes that are the correct size to appear slimmer (if that's the outcome you want) because ill-fitting garments (meaning too large) can make you look way bigger than you are.
Clothes that fit correctly can emphasize your best features while hiding any problem areas.
Tip: The right clothing size can also significantly affect how you look and feel.
22/25. Choose the proper undergarments.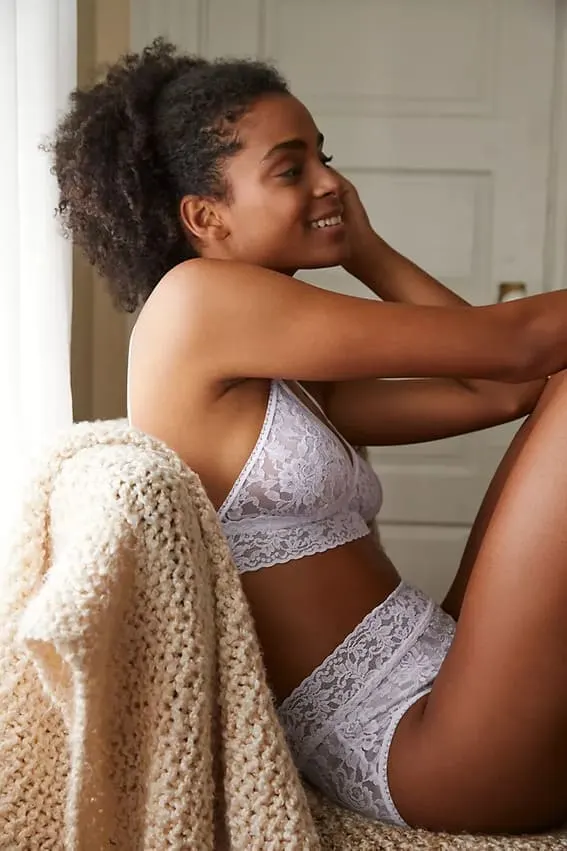 People who choose the proper undergarments appear slimmer because the wrong type of undergarments can add bulk and cause unflattering bulges, making it extremely difficult to achieve a slim silhouette.
Moreover, proper undergarments create a smooth, slender shape and a more flattering look, providing the necessary coverage and comfort to feel confident and secure throughout the day.
Tip: The right shapewear can help to target problem areas and smooth out lumps and bumps, while the suitable fitting bras can help to lift and support the bust, creating a more slender-looking look.
23/25. Avoid rounded shoes.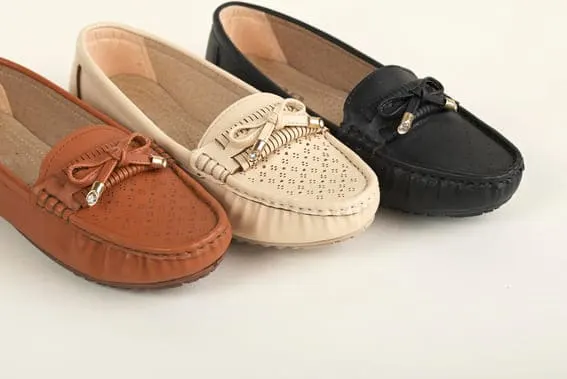 Rounded shoes can make your feet appear larger than they are, making your legs and overall silhouette look broader and less slender than a more fitted, pointy-toe shoe.
Tip: rounded shoes can draw attention away from the slimming lines. Therefore, it is best to avoid rounded shoes if you want to appear slimmer.
24/25. Avoid light-colored jeans and pants.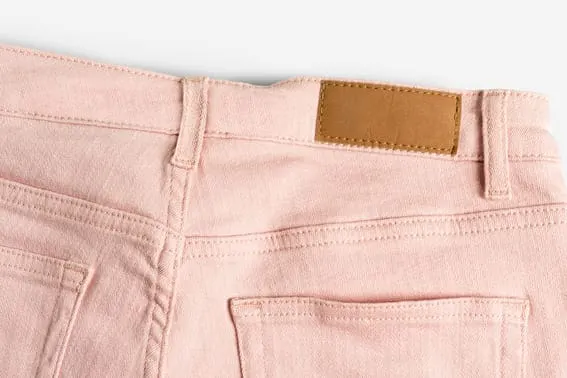 Why should people avoid wearing light-colored jeans and pants to appear slimmer?
Light-colored jeans and pants can make the wearer appear larger than they are because light colors reflect light, causing any imperfections to be more visible.
Additionally, light colors can make certain skin tones look washed out.
Tip: Dark colors absorb light, creating a slimming effect.
25. Use bodysuits and swim tanks as smoothers.
The last thing we want to reveal publicly is back fat, muffin tops, or a less-than-toned midriff. However, a simple black-sleeved bodysuit will create the slim, taut line you want.
Tip: Swim tanks are a saving grace for an outfit if you don't own shapewear to look thinner.
How to dress thinner for your body type:
Dressing for your body type to look thinner can be an empowering experience.
It can help you feel more confident about your body and overall appearance.
Although some may feel pressure to change their dressing style to look slimmer, it's important to remember that everyone's body is unique and beautiful.
It's okay to want to dress to appear smaller, but it's also important to remember that your health should be your number one priority.
With the right clothing choices, you can create a flattering and comfortable look while staying true to your style.
Plus, finding clothing that works with your body type allows you to look and feel your best.
Have you found your next best way to dress thinner from this list?
We hope you did! Tell us all about it in the comments section.
And don't forget to check the posts below if you're still looking for more fashion inspiration.
Get More Styling Outfit Ideas…
20+ Stunning Bohemian Style Outfit Ideas You'll Love
57 Plaid Pants Perfect For Fall And Spring (All Under $35)
47 Fun Kidcore Aesthetic Outfits You Need to Try
Welcome to Everything Abode, your daily inspiration for every activity at home!
Our goal is to inspire you to live an elegant and chic lifestyle from the comfort of your home.
We'll help you express yourself through authentic style, aesthetic beauty, and stylish home decor.
Subscribe to Get the Tools That Make My Blog Successful!
When you join my newsletter, I'm going to send you insider advice and tools that I use to grow my blog! I only save the BEST for my email list so don't wait!