Almost black or dark wallpaper for iphones is taking off these days. If you have an iphone take advantage of these free mobile backgrounds!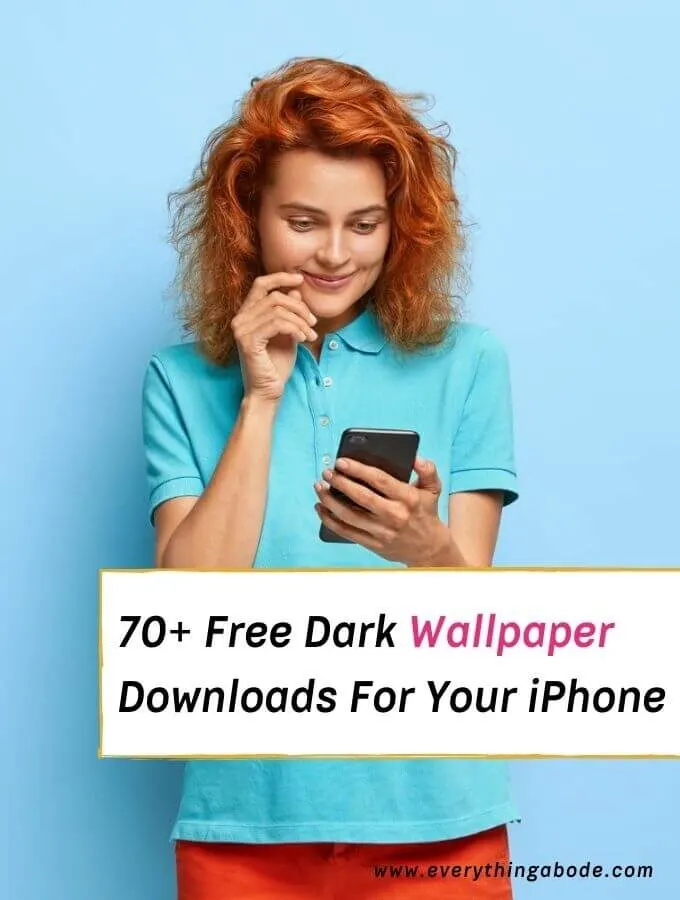 If you're looking for aesthetic wallpaper for dark backgrounds: check out these beautiful iphone backgrounds you'll love to look at.
Since there are tons of black and dark wallpapers out there, but we've selected the best black wallpaper for you iphone lovers.
After all, black is a color that will soothe you and make you feel more relaxed, and it will also give an elegant vibe for your phone because darker colors sometimes look like they have some depth making them voluminous!
Check out these dark iphone-ready wallpaper images, FREE to download below!
How to Download Your Free Dark Wallpaper Background.
Step 1. Look below through the 70+ photos until you see which dark wallpaper makes the cut for your iphone.
Step 2. On desktop – Right-click the dark mobile wallpaper of your choice and click 'save as' and save the wallpaper to your downloads. On mobile – Press on the dark wallpaper for 3 seconds until it says 'add to photos' and click save. Or screenshot it and you'll have it automatically saved to your phone.
Step 3. When you are done downloading the ones you like, just set the black wallpaper as your iphone's background and all you need to do is look at it every time you look at your iphone.
It doesn't get any easier than that!
70+ FREE Dark Wallpaper Backgrounds For iPhones
Abstract dark blue wallpaper
Botanical Dark Background
Sparkly Night sky Dark Background
White Smoke Dark iPhone Background
Pink Smoke Dark iPhone background
A black festive neon mobile wallpaper
Monstera Leaves Dark Background Wallpaper
Cave in Maltese islands dark iPhone background
Dark purple smoke wallpaper background
Paint texture background wallpaper
Night sky full moon dark wallpaper
Cat in the dark, dark wallpaper
Tulip border frame dark background
Celebration stars iPhone wallpaper
Tinsel ribbons wallpaper
Black abstract wallpaper
Abstract dark triangle background
Abstract dark retro background
Galaxy dark wallpaper
Black very dark layered marble
Dark leaves wallpaper
Shiny golden calathea leaves background
Black layered marble
Water wave wallpaper
Metallic shaving mobile wallpaper
Blue brushed and painted abstract background
Basic Black gradient for phone wallpaper
Black eyeshadow powder background
Green sugar snap peas food background
Pink moon illustration wallpaper
The universe in the night mobile illustration
Rose gold and black background
Space galaxy flower art wallpaper
Rocket wallpaper illustration
Earth aesthetic style wallpaper
Aesthetic earth universe dark background
Pink neon frame patterned background
Abstract frame dark black background
Bird flying under night sky wallpaper
Summer at night dark wallpaper
Abstract black water frame wallpaper
Neon rose very dark black background
Two-toned dark background wallpaper
Tropical botanical leaves on dark gray background
Neon leaf mobile screen wallpaper
Gold leaf moon and black background
White snowflakes on black background
Gold stars on black background
Aesthetic abstract neon blue dark background
Floral frame on black wallpaper
Doodled flowers on dark black background
White tulip and white dots wallpaper
Black blue floral perched frame phone background
Black floral dark wallpaper
Neon flower on black wallpaper
Fresh flowers on a dark blue background
Starry night sky background
Floral dark blue background
Abstract botanical black background
Abstract dark gray wallpaper
Abstract Neo illustration
Black geometric frame
Tiger in dark jungle mobile wallpaper
Shimmering dark blue background
Shimmering dark background
Dark green swirl background
Deep blue sea design wallpaper
Trippy neon purple leaves wallpaper
Marine life phone background
Epipremnum tropical dark background
Nestled in the woods stargazer
---
There you go! Almost black or dark wallpaper for iPhones is taking on the trend these days, significantly when seasons change. And since black invokes a sense of calm and elegance, it's perfect to have this type of background in your iPhone!
For more black wallpaper ideas, make sure to check out these 50+ FREE HD Black Wallpaper Downloads For IPhones Here.
Welcome to Everything Abode, your daily inspiration for every activity at home!
Our goal is to inspire you to live an elegant and chic lifestyle from the comfort of your home.
We'll help you express yourself through authentic style, aesthetic beauty, and stylish home decor.
Subscribe to Get the Tools That Make My Blog Successful!
When you join my newsletter, I'm going to send you insider advice and tools that I use to grow my blog! I only save the BEST for my email list so don't wait!