Leverage & grow your following on Instagram!
Lots of people want to become well known on the Internet these days, there's no questioning that. And when you open up Instagram, you can find someone famous for almost any specialty.
Instagram has allowed so many fashion, beauty, and health entrepreneurs, become so much greater than ever before! It's astonishing really.
If they made it happen and are making a living entirely off of their own idea, then why not you?
So, for today's post, I am going to list 9 key factors that essentially anyone can do, if they commit their time to do them each and every single day, to grow their Instagram for success!
9 effective ways to grow your Instagram following

1. Determine what you're good at
Whatever you like doing, or better yet like learning… doing something that you are interested in is always going to be the best way to start your Instagram career.
So to carve your path off right, begin with doing something that you are good at or something that you are amazingly intrigued by.
Regardless of whether you want to be a fashion blogger, a recipe creator, or an Instagram health guru once you decide your angle, start with giving your audience access to what you have learned so far.
You'll start seeing those comments and likes develop the more you learn and relate with your audience and your audience can learn alongside you!
2. Make your photos as pro as possible

Taking photos of your travels or food will be a lot simpler if you have a good digital camera. Don't have a digital camera? That's perfectly fine!
Just try to make your photos look as pro as possible. All you will require is a little creativity matched with some basic tools and most smartphones have exceptional cameras that can catch extraordinary photography these days.
So, if you want to be a fashion blogger (taking pictures of everyday outfits)? Or you want to be a foodie (taking photos of your morning smoothies)?
Try to always set it up like a professional photoshoot. Illicit a friend or companion to take your photos, or get a phone stand to capture what you can't if you are alone.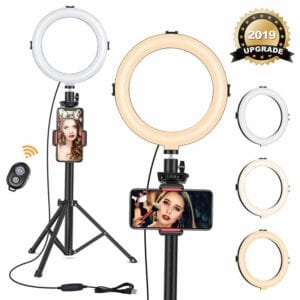 3. Use natural lighting whenever possible

Make sure to use natural lighting whenever possible. Learning how to use light is the first and most significant rule to use your camera to capture great photos.
So, stop using your flash for natural light, and take advantage of the light during the day. You can flatten your picture with a flash and wash out your subject. Plus, it'll make your photos richer and clearer and give you that competitive edge that you are going for if you start using natural light from here on out.
Did you know that a great trick to pro lighting is you can use a Sun Lamp instead? I personally have this Sun Lamp and it works for seasonal affective disorder and Instagram! I've used it for several lighting issues before! Be creative and play around with it.
4. Accessories hold weight

You'll notice certain decor pieces that famous Instagrammers always have in their photos on Instagram. They arrange from succulent plants, macramé wall hangings, crisp white bedding to marble counters that showcase their food.
Having an alluring image or home is the thing that can separate you from your competition but this does not mean that you have to spend your entire life savings to make your Instagram dreams come to life.
There are many ways to go around this and you can trick the photoshoots to start off! For example, if you want to showcase your smoothie bowls and you don't have marble counters?
Try purchasing a marble slab from a kitchen store and use that as a backdrop for your food. Or better yet, you can order food boards on Amazon.
Your Instagram fans will have no clue that you don't have marble counters or that you took to DIY for your décor and style and your feed will look astounding for it.
5. Use your descriptions to serve a higher good

Let's be honest, an image says a thousand words, however, did you realize that your Instagram write-ups hold the same weight?!
Almost all famous Instagrammers use their photo descriptions to serve a higher good! Even if it's for themselves.
It's where they connect, relate, give tangible advice, showcase their new findings, and clarify their lifestyle all in one little write-up. So the next time you write up your description… Try looking for inspiration to better serve your message!
Take a stab at giving substantial and tangible advice and hacks that you've learned that helped you up until this point, and attempt to be as relatable as possible. This will not only help your audience relate to you but it will also allow you to connect with your audience on a deeper level.
---
Popular Posts Now
---
6. Invest in a good photo editing tool
Do you know those beautiful photos that you see on Instagram… They are most likely edited and altered and probably for good reason!
Most Instagram stars realize that a professionally edited photo will take their feed to the next level and investing in a good editing tool will eventually separate you from your competition.
Try using photo editors like Snapseed, VSCO, Pixelmator, and apps like Afterlight, Perfect365, and Facetune, to take your photos to the next level. Plus, your pictures will continue showing signs of improvement the more you get to know the tools and what works and what doesn't.
7. Post often – Monday to Friday

Whether you are posting to your Insta-stories or your Instagram account, posting every single day matters if you want to see monetary values coming your way.
So, start with posting every single day and make sure that you commit to making it a daily habit. You can certainly post in-between-posts like quotes or home life pictures, but make sure that you post something very meaningful at least once a day or at the very least from Monday to Friday.
As long as you are giving great advice, informative information, and making your photos stand out like a pro, as far as I can see it, there's no stopping you!
8. Add overlay text to 'some' of your images
Adding overlay text to your pictures can be a straightforward method to grab the attention you deserve and to help take more eyes back to your profile page.
Are you a foodie that would like to list out the ingredients in your images? Or better yet, do you want to list out your outfit-of-the-day details in fancy fonts?
Try using apps like Typic, Font Candy, or Canva. These apps will work wonders for getting your voice out there alongside your beautiful pictures!
9. Don't forget hashtags

We can't leave out hashtags. Instagram made the hashtag so it's as important as your photos on the platform.
Did you know that hashtags are a trending word that people are actually looking for? The beauty of that is you never know what hashtag will bring more eyes back to your feed until you start experimenting.
Try using strategic hashtags that your audience will engage with. Are they in love with a certain theme like bohemian décor or home life? Are they obsessed with certain Instagram stars that are using these hashtags already?
Why not use what the stars are using or better yet… why not come up with your own hashtag?!
Rules that make up a great hashtag:
1. easy to spell
2. easy to remember (very important!)
3. not too long
I also wrote a very detailed post on Pinterest hashtags if you use Pinterest to market your Instagram or blog.
---
These are just a few simple ways to start your Instagram career. You never know, you may very well get sent free products or even get paid to post sponsored content!
The world is your oyster, so go after it.
Hi, my name is Rebecca and I am the face behind Everything Abode! I am a lifestyle and wellness writer based out of Vancouver Island. When I'm not writing or exploring mountains and beaches with my furry rescue, I love spending time learning creative ways to manifest a healthy home. Thanks for stopping by!
Subscribe to Get the Tools That Make My Blog Successful!
When you join my newsletter, I'm going to send you insider advice and tools that I use to grow my blog! I only save the BEST for my email list so don't wait!