Here are 12 home cleaning remedies that'll help you with your spring cleaning this year. Keep your home sparkling clean, smelling fresh, all done naturally!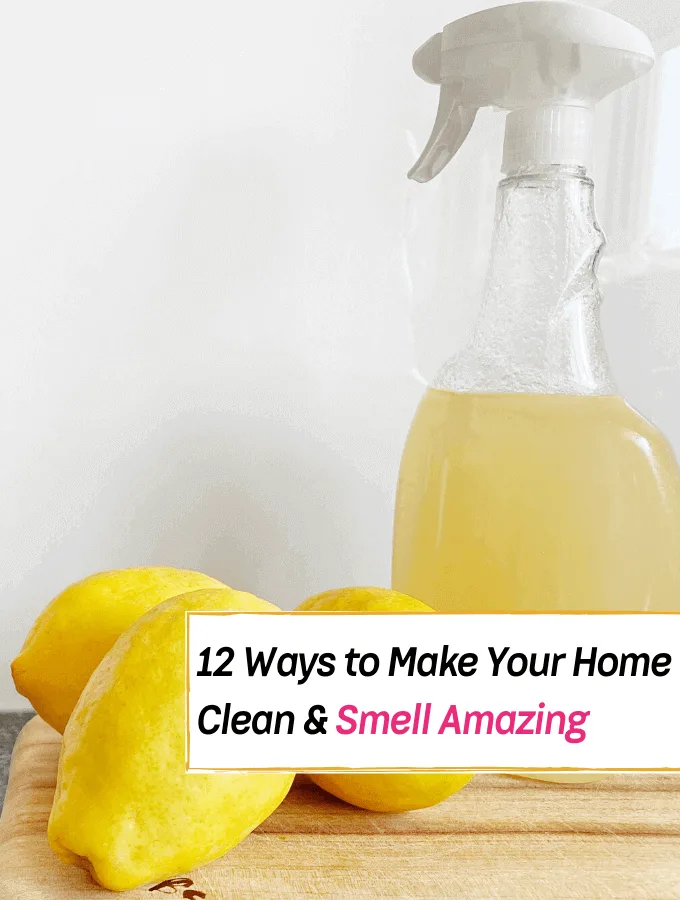 Striving for a deep clean at least every couple of months is hard.
Getting your home to smell good after you clean is equally as hard. That's why one of these simple home cleaning remedies is waiting for you to try one of them out!
Here are 12 home hacks to help you with your spring cleaning tasks that'll help you keep your home sparkling clean and smelling really fresh after!
Similar topics:
12 Ways to Make Your Home Really Clean & Smell Amazing
1. Home cleaning remedy: Use Disinfectants and Bleach That Are Pre-Scented.
The easiest way to clean your home and make it smell good is by purchasing cleaners and disinfectants that are already scented.
There are bleaches, floor cleaners, multipurpose cleaning sprays, and pre-moistened disinfecting cloths that are scented with flowers, lemon, "mountain breeze" scent, "clean laundry" scent, etc.
Clorox and Pine-Sol are just some examples. You can choose what smells best for you and use that.
2. Home cleaning remedy: Use Distilled Vinegar.
Distilled vinegar has been a cleaning product for decades. It has the dual property of disinfecting while making your home smell clean.
The scent of distilled white vinegar quickly fades, but it actually kills the odors of other, smellier substances.
You can use it straight from the bottle, dilute it into a bucket for floors, or dilute it into a spray bottle for a very "green" means of cleaning.
3. Home cleaning remedy: Use Lemon Juice as a Cleaner.
Lemons are a natural degreaser and bleaching agent.
When you rub lemons onto a stain and hang the item in the sun to dry, the lemon juice is activated by the warm sun and bleaches the stain.
When you apply a lot of lemon juice onto grease, the lemon juice breaks down the grease so you can easily wipe it away.
The only downside is that it takes a lot of lemons to clean your whole house this way. A lot of people combine lemon and vinegar for a multipurpose cleaner.
4. Home cleaning remedy: Wintergreen Oil Freshens as It Cleans.
Wintergreen is not a member of the mint family, despite what you might think. It is closer to aspirin in terms of natural compounds.
It is commonly used in toilet bowl cleaners to provide a freshness that eliminates the smell of urine.
Buy a small bottle of pure wintergreen oil. Mix a few teaspoons with dish soap and water and place in a spray bottle. It will clean and freshen just about anything.
5. Home cleaning remedy: Lavender Oil Diluted in Water.
Lavender oil can be diluted in water.
About five drops in two cups of water make for a deodorizing cleaner that you can just use as a surface cleaner when and where the odor is more a problem than cleaning or disinfecting is a problem.
A lot of people love the lavender scent, and it works very well in areas where pets sleep or have previously made a pet mess. It provides your home with a very natural home smell.
6. Home cleaning remedy: Baking Soda mixed with essential oils.
Baking soda turns into a very gritty substance when wet, which makes it great for scrubbing tough, sticky areas of your house.
Baking soda also neutralizes odors, which is why boxes of it are placed in your refrigerator or freezer to control food odors.
If you have a really troublesome spot, scrub and rub the baking soda into the area first, and then spritz it with vinegar and an essential oil blend, which creates an enzymatic chemical reaction to lift stains and stuck-on messes quite well.
7. Home cleaning remedy: Hydrogen Peroxide mixed with baking soda and essential oil.
Hydrogen peroxide has the unique ability to destroy, break up, and eliminate blood on surfaces and in textiles.
It is also an antifungal, which means it can remove musty, mildewy odors and destroy mildew on any surface. When you need to remove mildew or mold, peroxide does the trick.
Cleaning your home this way is quick and easy. And as a deodorizer, since hydrogen peroxide (breaks down) natural odors, mix it with baking soda and put in places where odors have accumulated, such as refrigerators or dishwashing machines.
8. Home cleaning remedy: Rubbing Alcohol with lemon juice.
Believe it or not, hospitals don't use bleach unless they really have to. Most of them use rubbing alcohol and/or vinegar to clean.
The effects are the same, but with a much less harsh odor.
Just add 3 tablespoons of lemon juice, 1/2 cup rubbing alcohol, and 1/2 cup of water together. Add these ingredients to a spray bottle then fill in the rest of the way with water. Shake well and clean!
Rubbing alcohol is a natural germicide and one of the cheapest home hacks.
The vapors quickly evaporate leaving your home smell fresh.
Just avoid mixing rubbing alcohol with ammonia (i.e., urine in a bathroom or cleaning ammonia) to avoid a very unpleasant odor. Additionally, you should never mix rubbing alcohol and bleach.
9. Home cleaning remedy: Olive Oil and Lemongrass.
Olive oil and lemongrass aren't just for Asian cooking! Add lemongrass leaves to a bottle of olive oil and let it steep for a few days. Then pour into a spray bottle and use to clean all wood surfaces, including wicker.
The oil saturates the wood to keep it from drying out, cracking, and splitting, and the lemongrass adds a lovely lemony scent, perfect for home cleaning the natural way.
10. Home cleaning remedy: Use a nice smelling Toothpaste to also clean.
Toothpaste sounds so weird as something for cleaning your home, but really it isn't.
Consider that it is a surfactant, mild abrasive, and an antibacterial agent that cleans your teeth, and it is easy to see how this common bathroom product can be used to clean things other than your teeth.
If you buy toothpaste with peroxide as a whitening agent in it, then you get even more out of the toothpaste as a cleaning agent.
It also leaves a very minty fresh scent (or cinnamon, if you prefer). Use your minty-smelling toothpaste for cleaning grout, mirrors, and any other surface you'd like to leave a nice lasting shine to.
11. Home cleaning remedy: Use Cedar Oil on your wood surfaces.
Some older homes have cedar closets, which helped keep moths and other insects from consuming clothing and other cloth items.
If you have a cedar closet but have lost its cedar scent, purchase cedar oil to wipe down the interior of the closet.
Make sure to include an all-natural cloth in your home cleaning kit and use it to spread the oil into the grooves of the boards in the closet, to saturate the wood well.
Leave the closet to air out for a day or two, and then return items to the closet to store them.
12. Home cleaning remedy: Mulling Spices for an inexpensive home smell.
When you want an intoxicating aroma without cooking up something sweet, boil mulling spices.
You can either make cider with apple juice and spices or just boil the spices.
Either way, your whole house smells like the scents associated with fall and Thanksgiving or Christmas. It is a very warm and lovely natural home smell/aroma and it doesn't cost much.
---
There you have it! Nice smelling home cleaning remedies that cost next to nothing and will leave your home smelling really fresh just after you clean it!
You may also like:
Welcome to Everything Abode, your daily inspiration for every activity at home!
Our goal is to inspire you to live an elegant and chic lifestyle from the comfort of your home.
We'll help you express yourself through authentic style, aesthetic beauty, and stylish home decor.
Subscribe to Get the Tools That Make My Blog Successful!
When you join my newsletter, I'm going to send you insider advice and tools that I use to grow my blog! I only save the BEST for my email list so don't wait!