Are you looking to elevate your beach experience? Designer beach towels are an excellent way to provide functionality and style when lounging poolside or on the sand.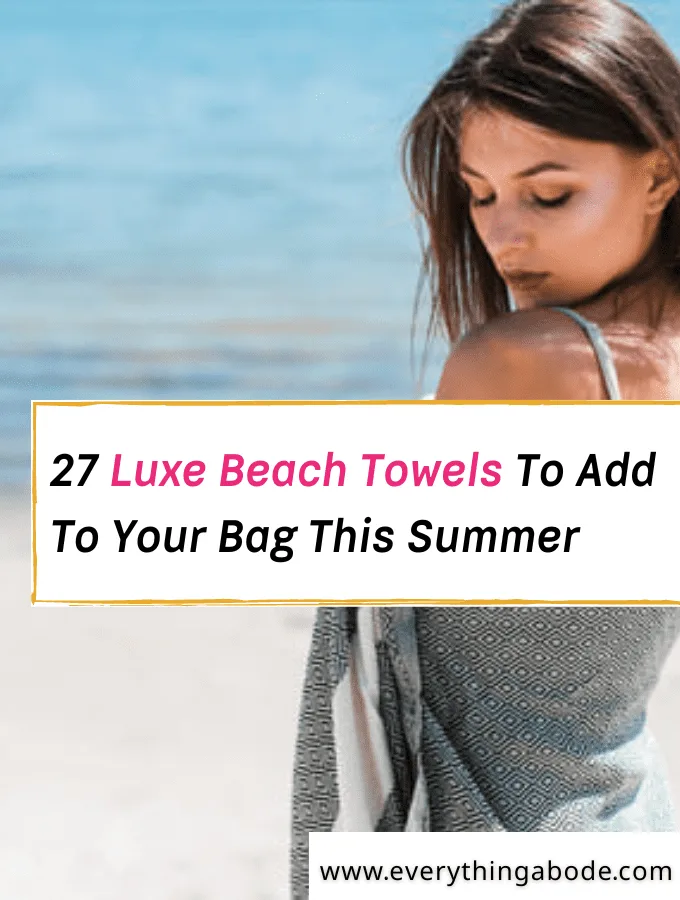 You'll always need a soft and stylish towel when packing your beach bag.
And since summer 2023 has arrived hot, we're picking our top designer beach towels to add luxury to your ensemble. Because what better way to enjoy the warm weather than lounging on the beach?
To elevate your experience and add a luxe element, designer beach towels offer plenty of stylish solutions that can easily upgrade your experience at the lake or on a yacht.
For instance, Louis Vuitton and Tory Burch are two luxury brands that have released beach towel collections with distinctive designs and features, making the selection process more complex.
Some even sport designer logos or monograms for an added layer of luxury, and that's why we compiled this list of the chicest designer beach towels so you can find exactly the right beach towel for you – fashionable, absorbent, or large sizes are all included here!
Take a look at these top 27 designer beach towels worth buying this summer.
27 Luxe Designer Beach Towels to Elevate Your Style by the Water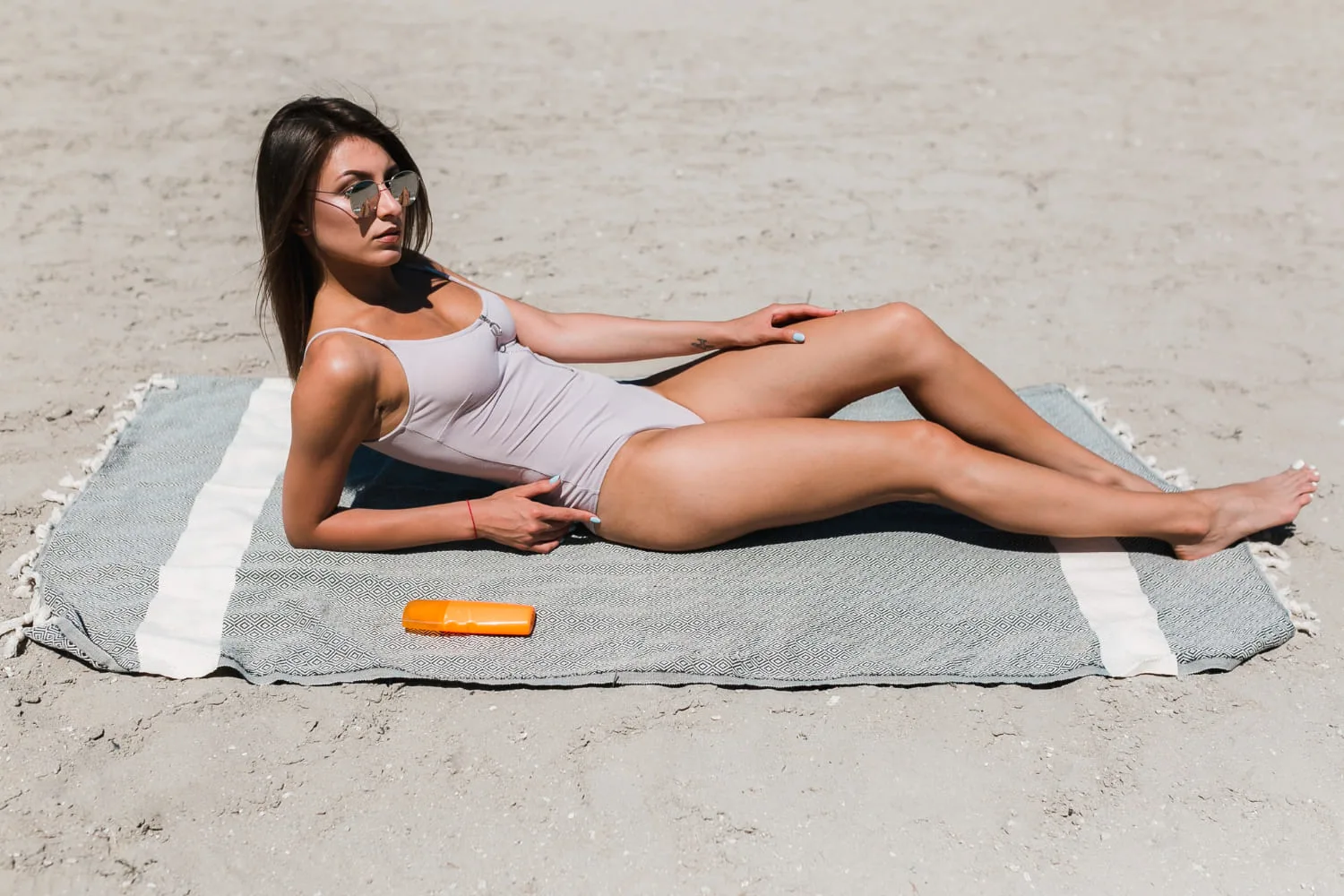 What is the Average Price Range for Designer Beach Towels?
Designer beach towels typically range in price from around $50 to over $600, depending on their brand, size, and material composition.
More expensive towels typically feature higher-grade materials and unique designs, while less costly towels may have more straightforward layouts with cheaper materials used for their construction.
These towels are perfect for those who wish to make an impression and a statement while lounging by the water's edge or at a pool party.
1. Louis Vuitton Monogram Classic Beach Towel, $640.00.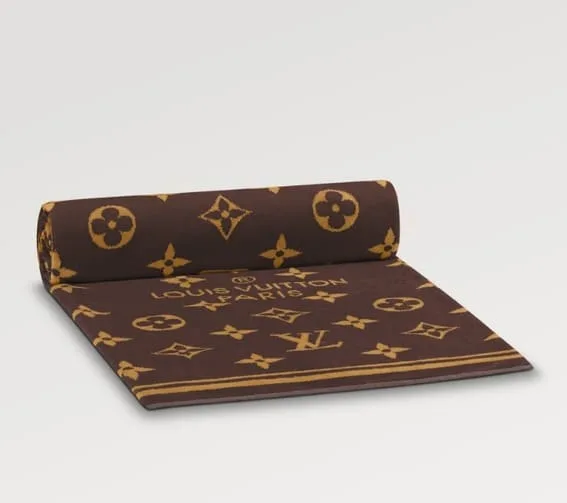 This luxurious towel is made with high-quality cotton and features Louis Vuitton's iconic monogram pattern. It's a must-have for anyone who loves designer fashion and wants to show off their style at the beach. Available at Louis Vuitton.
2. Giacomo Beach Towel Missoni Home -$252.00.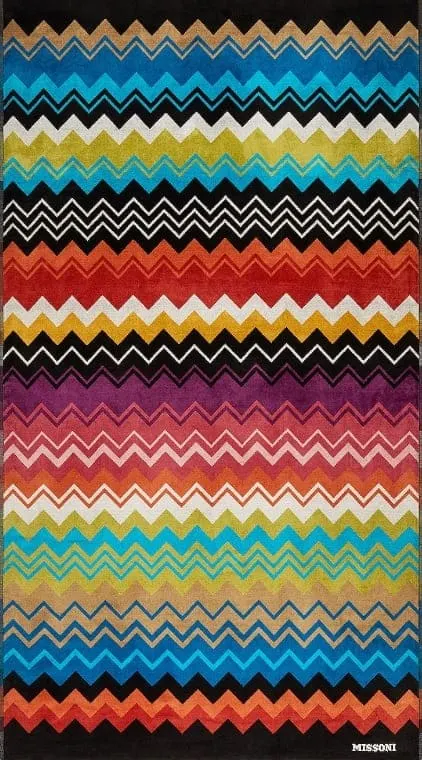 This beach towel features Missoni's signature zigzag pattern and is made from soft cotton velour. You'll be comfortable and dry as you sunbathe.
Available at Revolve.
3. Bottega Veneta Beach Towel, $400.00.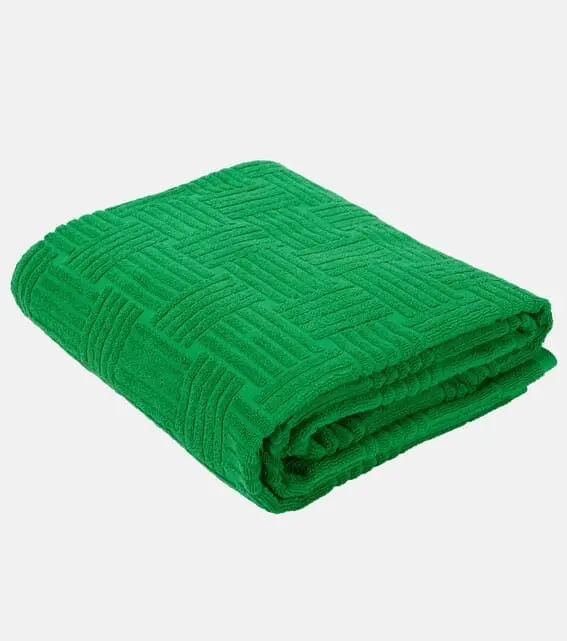 Bottega Veneta is all over this terrycloth towel. The label's trademark Grass Green is featured throughout, with an intercciato pattern. Perfect for the beach! Available at My Theresa.
4. The Beach People Palma Round Towel – $109.00.
Transport yourself to a lazy day beneath the palms with the new Palma Roundie. Designed in Australia, made from 100% soft and plush cotton with an exclusive print illustrated in-house. Perfect for beach days, picnics, and everything in between. Available at The Beach People.
5. Dolce & Gabbana Casa Beach Towel, $720.00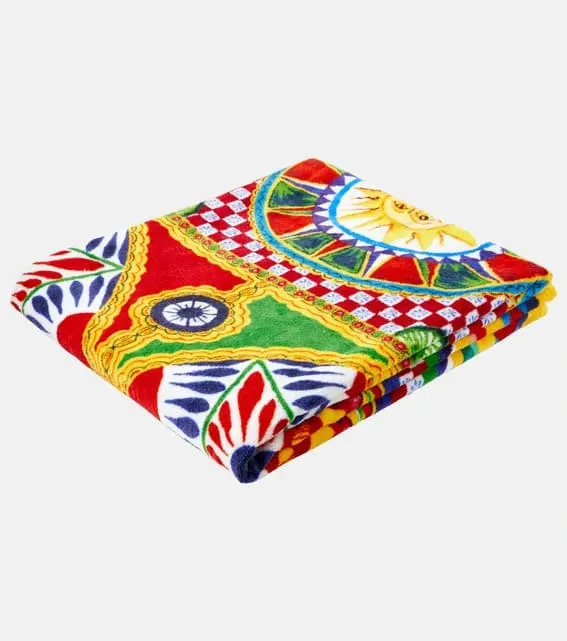 Dolce&Gabbana's Casa motif is instantly recognizable by its patterns and vibrant colors and is an exciting revival of the island's folklore. The pure cotton towel also celebrates the unique colors of the island. Available at MyTheresa.
6. Hermes Jin et Leo beach towel, $680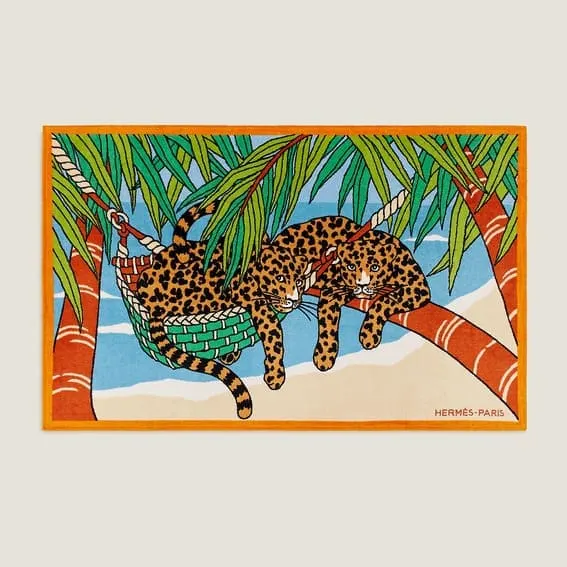 This beach towel is made of terry cloth with a "Jin et Leo" print. The 100% cotton designer beach towel is woven in Germany and screen printed in France, which only Hermes beach towels do best!
7. Celine Cotton Beach Towel, $475.00.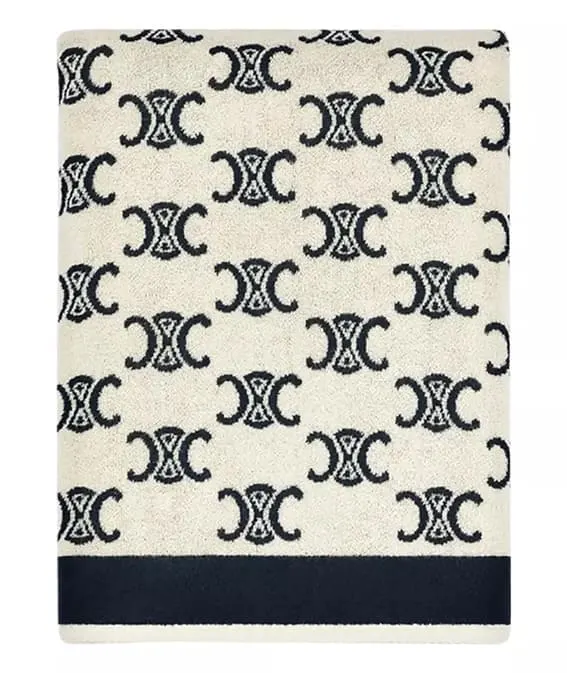 Monograms were the rage in the past, but we do not see them going away in 2023, especially at the beach. This 100% pure cotton Celine towel is designed in Italy and adds a playful touch to any beachgoer looking to bring life to the sand.
8. GIVENCHY Black Logo Square Towel, $520.00.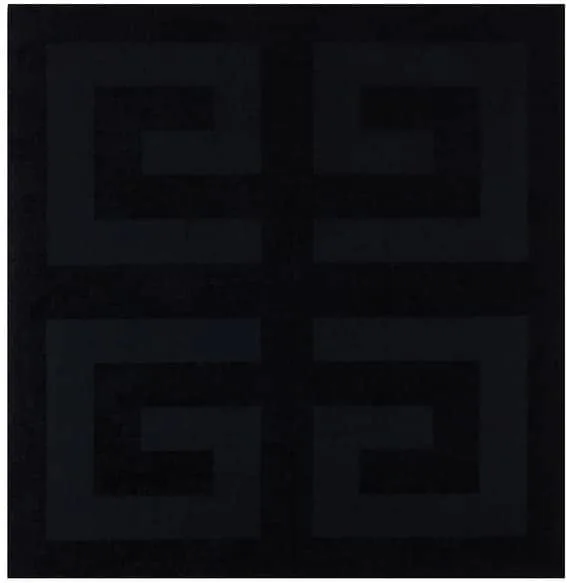 This square cotton terrycloth towel in black features a tonal logo is woven throughout that you can just see when the light hits it right. Available at SSENSE.
9. Anthropologie Kassatex Amalfi Beach Towel- $75.00.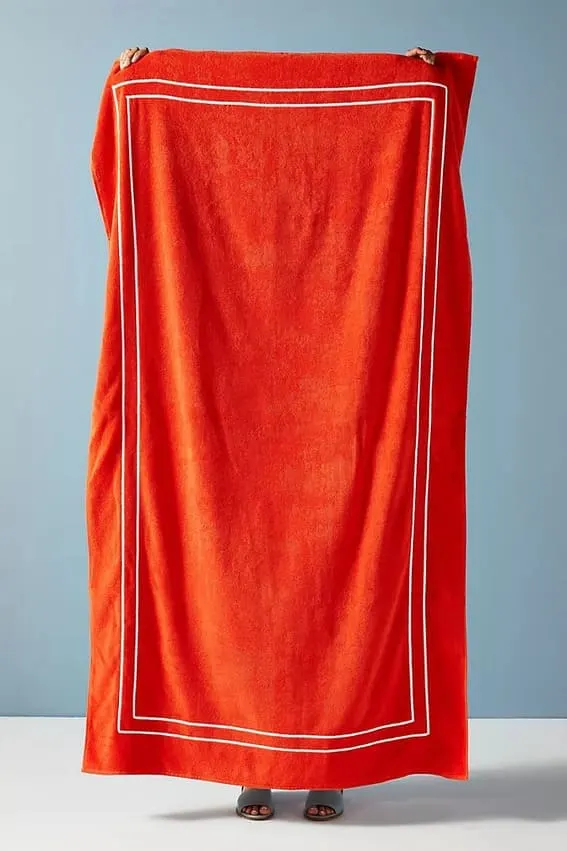 This towel features a fun tassel trim and is made from soft, plush cotton. It's available at Anthropologie.
10. Vera Bradley Oversized Island Floral Beach Towel -$65.00.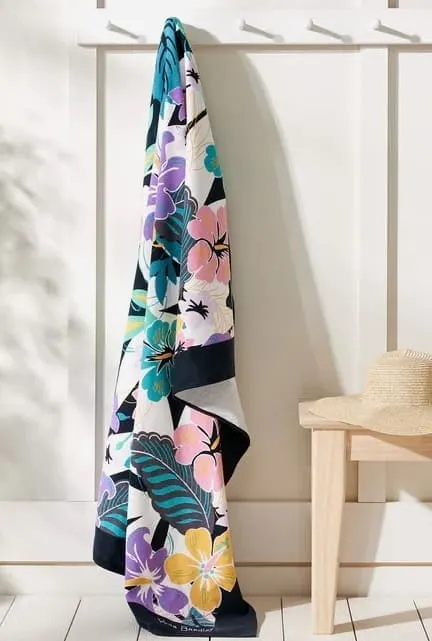 This towel features one of Vera Bradley's colorful and playful designs and is made from soft cotton terry. Whether oceanfront or poolside, you'll love drying off with this super-sized beach towel. Available at Vera Bradley.
11. Versace I ♡ Baroque Beach Towel – €575.00.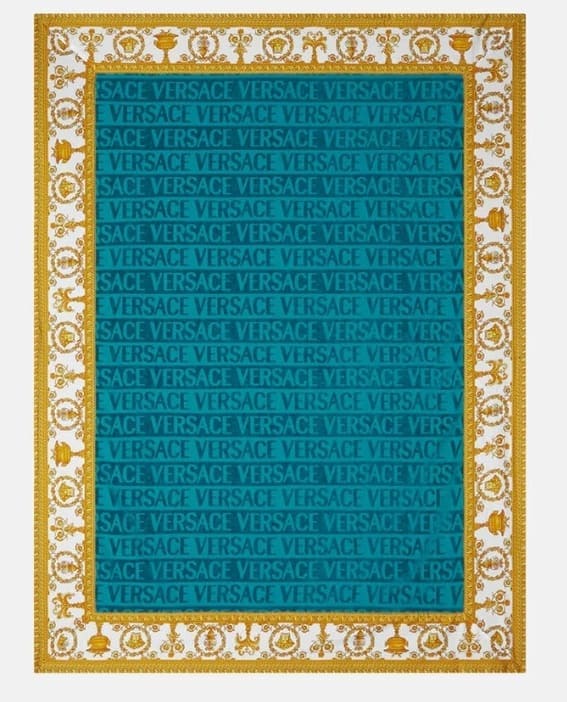 This luxuriously soft cotton terry beach towel features Versace's iconic baroque print and is made with soft, absorbent cotton. It's an excellent choice for anyone who wants to add a touch of luxury to their beach day. Available at Versace.
12. Tory Burch T-TILE Beach Towel – £135.00.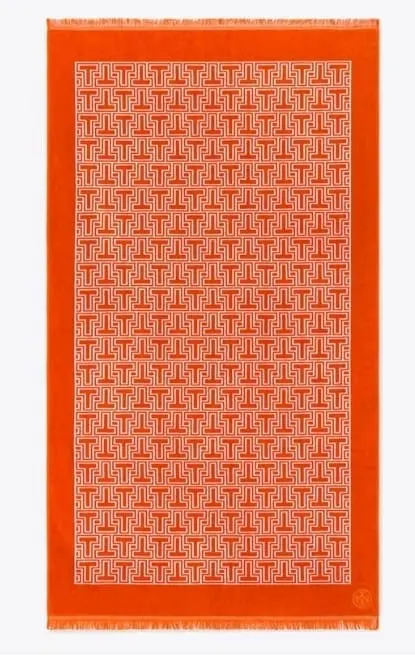 Luxuriously oversized and superabsorbent, the T-Tile Beach Towel is made from thick, soft, brushed cotton. Woven on unique jacquard looms, it's fully reversible and finished with a solid border and fringe. Available at Tory Burch.
13. Jonathan Adler Snake Beach Towel – $98.00.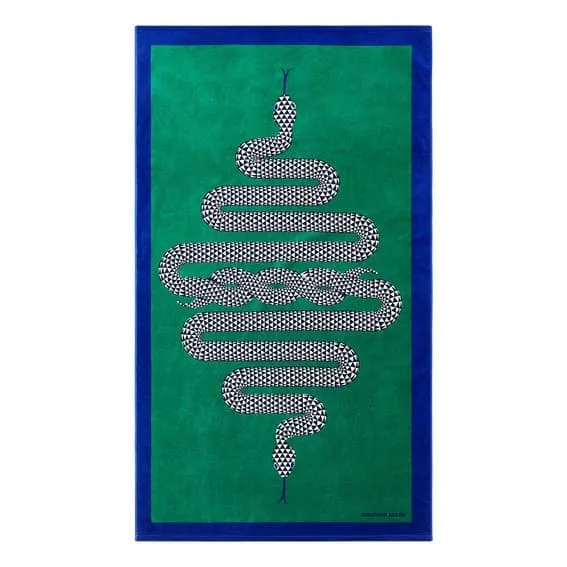 This Johnathon Adlers towel channels the spirit of resort glamour with a generously sized, thick, and thirsty beach towel. Ooze beach chic with a shimmering pair of gold serpents on an emerald background. Available at Jonathan Adler.
14. The Beach People Blossom Beach Towel – $89.00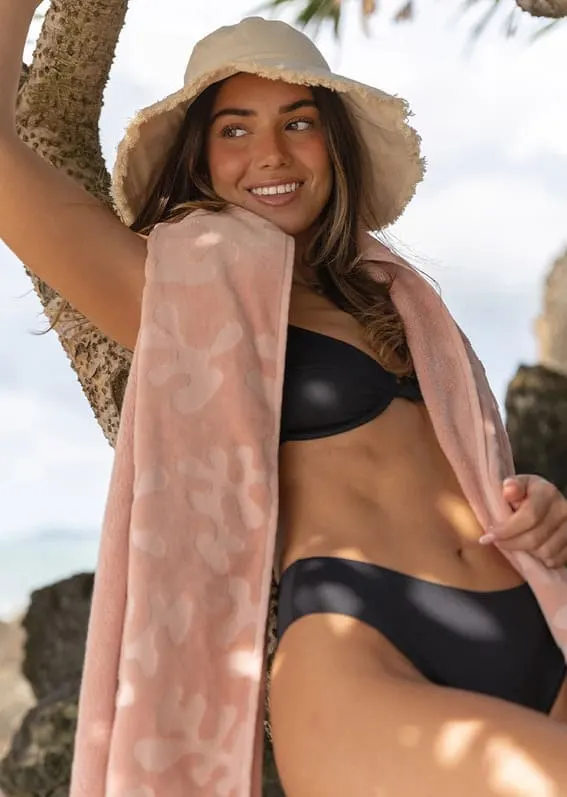 Your new seaside staple, the Blossom Beach Towel, was designed for fuss-free beach days and lazing by the pool. Designed in Australia, made from 100% soft cotton and available in three fun and bold hues. Available at The Beach People.
15. Gucci GG Jacquard Beach Towel -$590.00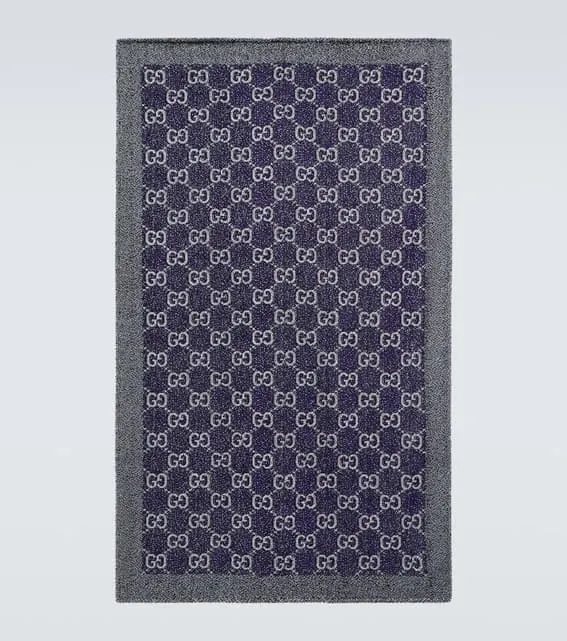 This towel is made from soft, absorbent cotton and features Gucci's iconic GG pattern. It's perfect for anyone who wants to make a stylish statement at the beach. Available at My Theresa.
16. Jil Sander Logo-Tape Cotton Beach Towel – $304.37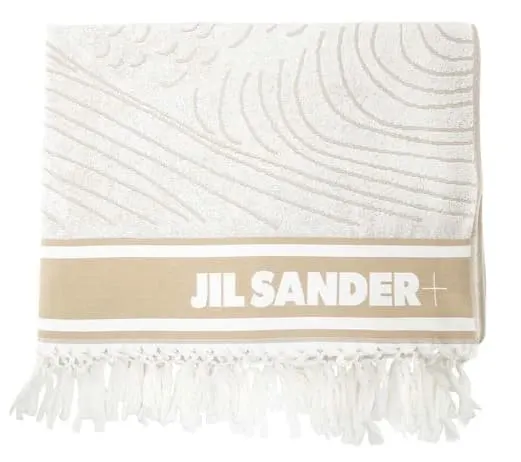 Jil Sander is the mastermind behind the minimalist aesthetic. This classic towel features a fringed edge. The simple design is awash in neutral colors and looks like a private cabana. Available at Cettire.
17. Totême X Browns, 50 Biarritz Monogram-Print Beach Towel – $120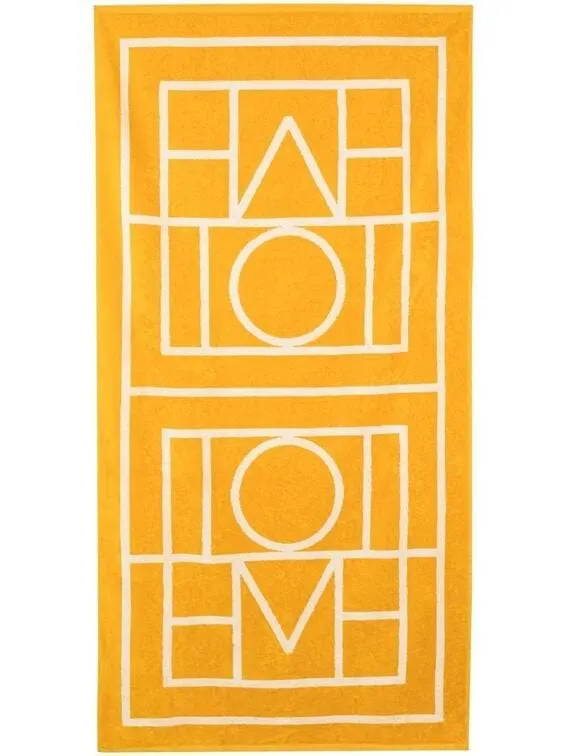 Toteme's signature monogram looks incredibly chic in this towel. To make a bold statement with this vibrant yellow, visit the brand's website for other options. Available at FarFetch.
18. Loewe, Anagram cotton-terry jacquard towel – $650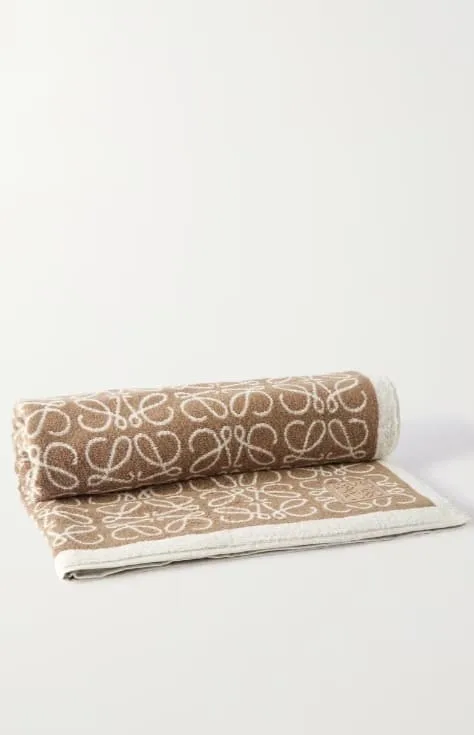 A warm weather holiday awaits with this Loewe Anagram beach towel made from absorbent cotton terry that feels plush and will be easy to spot on your lounger thanks to the 'Anagram' logos. It's large enough to wrap yourself in after dips in the sea. Available at Net-a-porter.
19. Versace Medusa Beach Towel – $525.00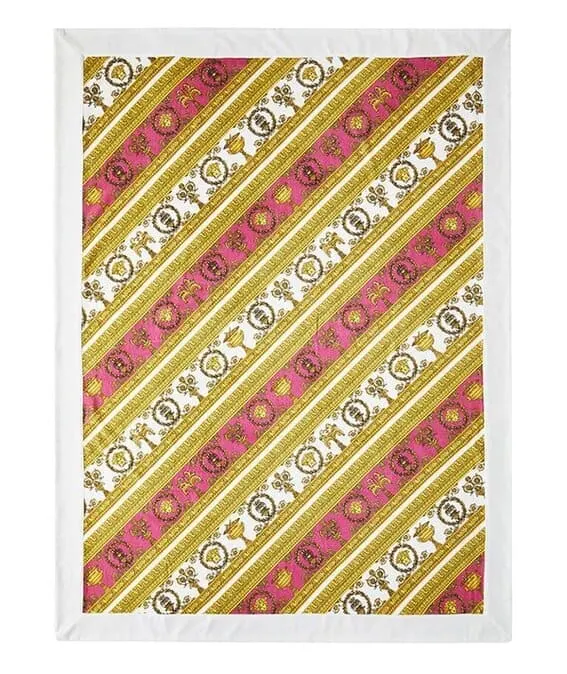 Medusa is Versace's most iconic beach towel for those who prefer a more opulent aesthetic. Available at Neiman Marcus.
20. Bottega Veneta, Cotton Terry Bach Towel – $650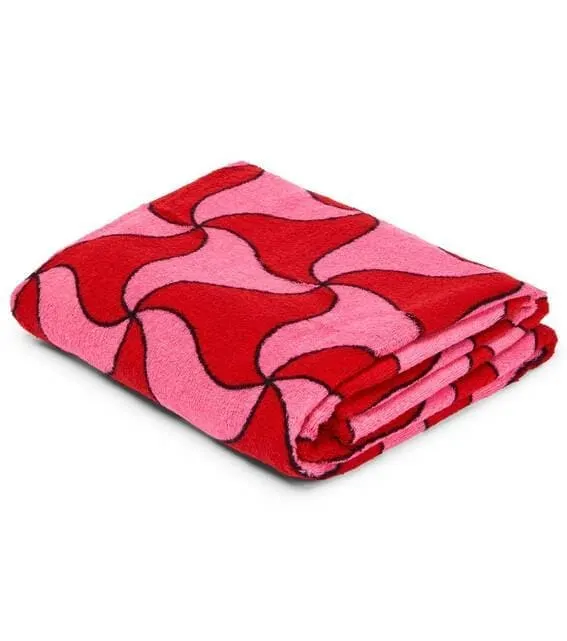 The Bottega Veneta two-toned beach towel makes an influential investment for the beach. It's available at My Theresa.
21. Burberry Location cotton jacquard towel – $600.00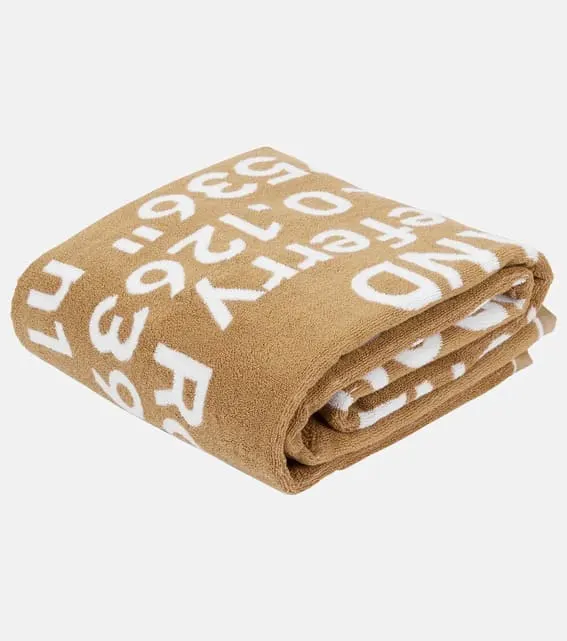 The "Location" jacquard motif on this Burberry beach towel has coordinates for the London headquarters. It's made from organically-cultivated cotton with cotton-blend binding on the border. It's available at My Theresa.
22. Loro Piana The Suitcase Fringed Striped Webbing-Trimmed Cotton-Terry Beach Towel – $475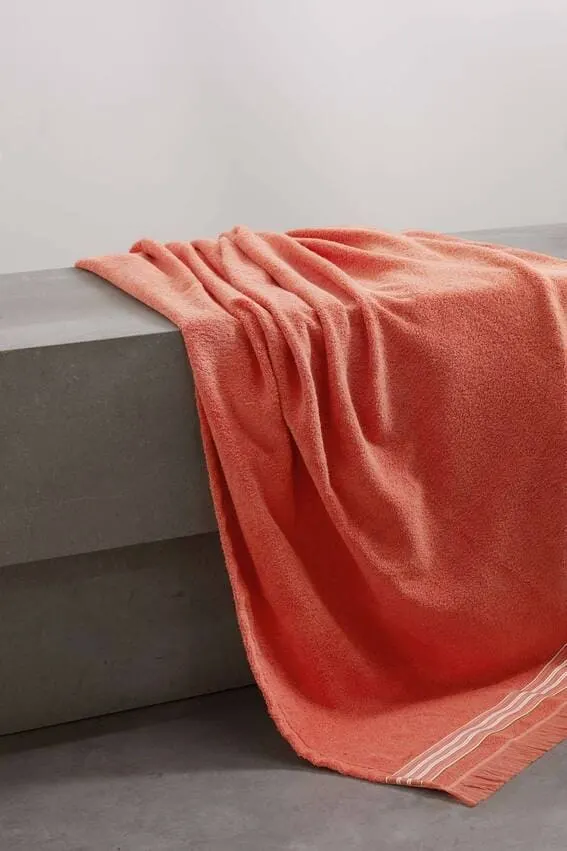 The generously sized beach towel by Loro Piana is perfect for draping over a chair or on the sand. Made in Italy, it's made from cotton terry with a fringed edge and stripes and is available at Net-a-porter.
23. Tom Ford Fabulous Cotton Beach Towel – $450.00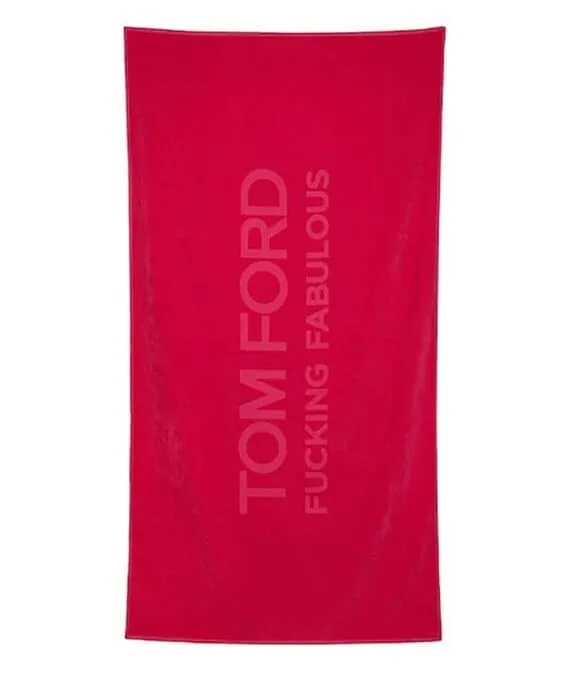 Tom Ford's beach towel is a masterpiece. You should reserve this towel for adult-only trips. Available at Luisaviaroma.
24. Alexander McQueen Black 'McQueen' Beach Towel – $270.00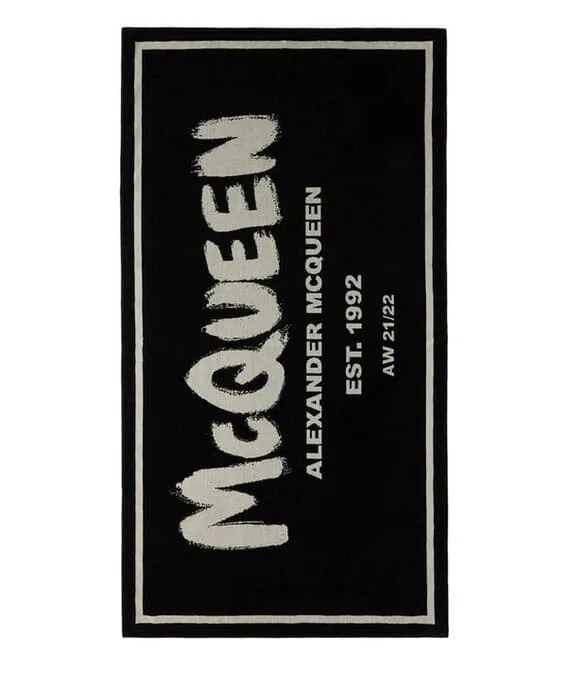 Alexander McQueen Black 'McQueen' beach towel is a rectangular cotton terrycloth towel with the woven iconic logo, 'McQueen,' and stripe in off-white throughout. It's available at SSENSE.
25. House No 23 Monroe Towel – $84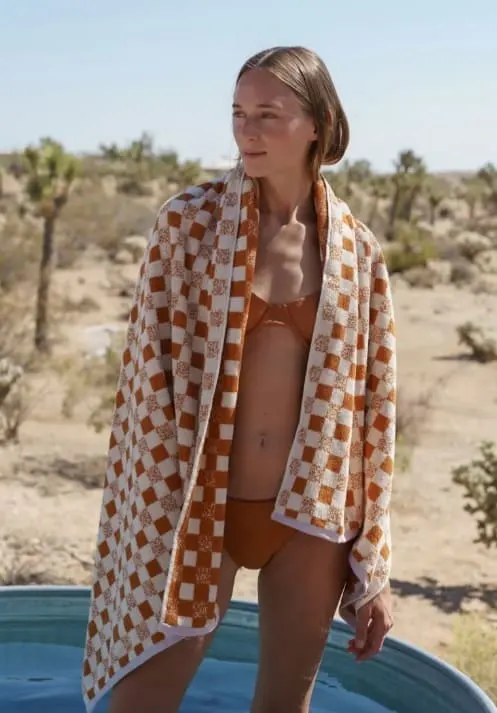 If you are looking for a hot designer beach towel that doesn't break the bank, here's an under-$100 pick that feels fun and fresh for any outdoor beach party. Available at Nordstrom.
26. AMI Striped Beach Towel – $133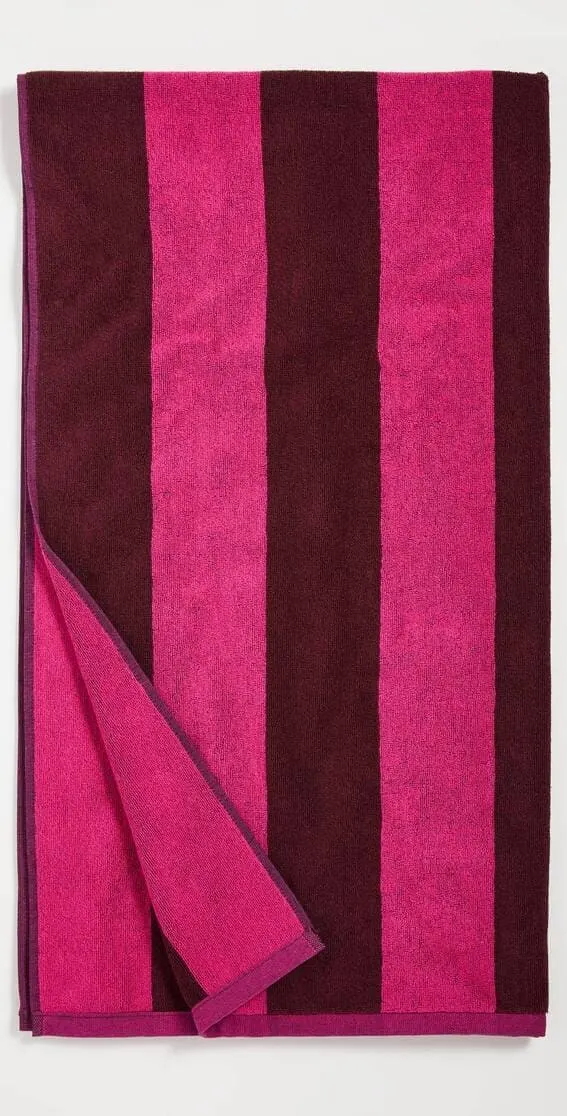 This luxurious AMI Striped beach towel is made with Terry cloth, and the shell is 100% cotton, making any beach day soft and cozy. Available at ShopBop.
27. Pendleton White Sands Beach Towel -$59.50.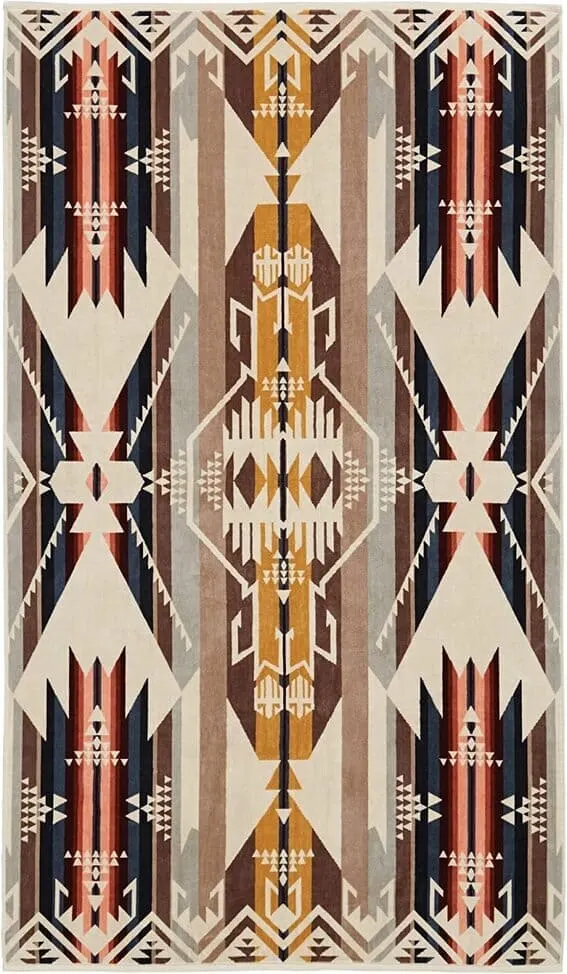 The Pendleton 'White Sands' beach towel features a bold geometric pattern and is made from super soft cotton velour on one side for luxurious softness and looped on the other for superior absorption. Available on Amazon.
Frequently Asked Questions
Which are the top-rated designer beach towels?
The highest-rated designer beach towels are those made of top-quality materials with unique designs, are highly absorbent, durable enough to withstand frequent use and washing cycles, and can withstand regular usage cycles.
What brands make the best beach towels?
Louis Vuitton, Gucci, Versace, and Missoni are known for producing designer beach towels with top-of-the-line materials that boast unique designs while being durable enough for beach use.
What features should I look for in a beach towel?
When searching for luxe designer beach towels, it is essential to consider material, size, and absorbency.
A high-quality material should provide soft comfort while remaining durable enough for frequent use and washing; its length should cover your body while staying manageable to transport; its absorbency must ensure fast drying times as soon as you hit the beach!
Are There Eco-Friendly Designer Beach Towels Available?
Yes, eco-friendly designer beach towels can be found and manufactured from sustainable materials such as organic cotton, bamboo, or recycled material.
---
Luxe Designer Beach Towels Final thoughts.
Designer beach towels aren't just practical; they're also highly stylish!
Boasting bold prints, vibrant hues, and eye-catching patterns, they are definitely in a league of their own from the standard beach towels.
Designer beach towels can add an elegant and luxurious feel to your beach experience. They are functional and long-lasting, and their aesthetic addition will elevate your beach days!
Next up: How To Dress To Look Thinner: 25 Fashion Tips For ALL Body Types
Welcome to Everything Abode, your daily inspiration for every activity at home!
Our goal is to inspire you to live an elegant and chic lifestyle from the comfort of your home.
We'll help you express yourself through authentic style, aesthetic beauty, and stylish home decor.
Subscribe to Get the Tools That Make My Blog Successful!
When you join my newsletter, I'm going to send you insider advice and tools that I use to grow my blog! I only save the BEST for my email list so don't wait!