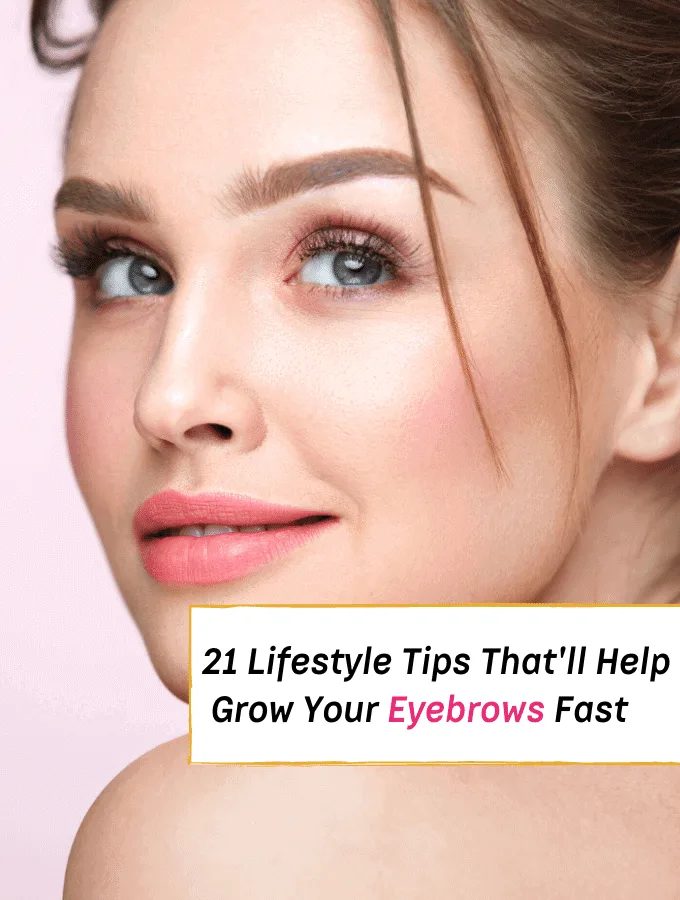 Want thick eyebrows that look amazing? Or are your eyebrows too thin, and do you want fuller-looking eyebrows that are easy to work with?
If so, having thick eyebrows means having fuller-looking and long hair on your eyebrows, which everyone wants these days.
So if you want to grow your eyebrows thicker, then it's time to do something about it.
Also, like many who have incredibly fine hair, you'll have to incorporate at least one of these eyebrow hair growth hacks listed below to get the best results for the thicker and fuller eyebrows you want.
We'll also discuss how to fill your brows "in" with makeup to make them look thicker and fuller.
So let's make the most out of your brows with these 21 eyebrow growth hacks and lifestyle tips that'll help you thicken your eyebrows back to their natural and fuller state.
Similar topics:
7 Clever Habits of Women Who Age Slowly
12 Skincare Mistakes You Have To Avoid For Incredible Skin
8 Amazing Skincare Tips For A Glowing Radiant Look
How to Grow Thick Eyebrows Fast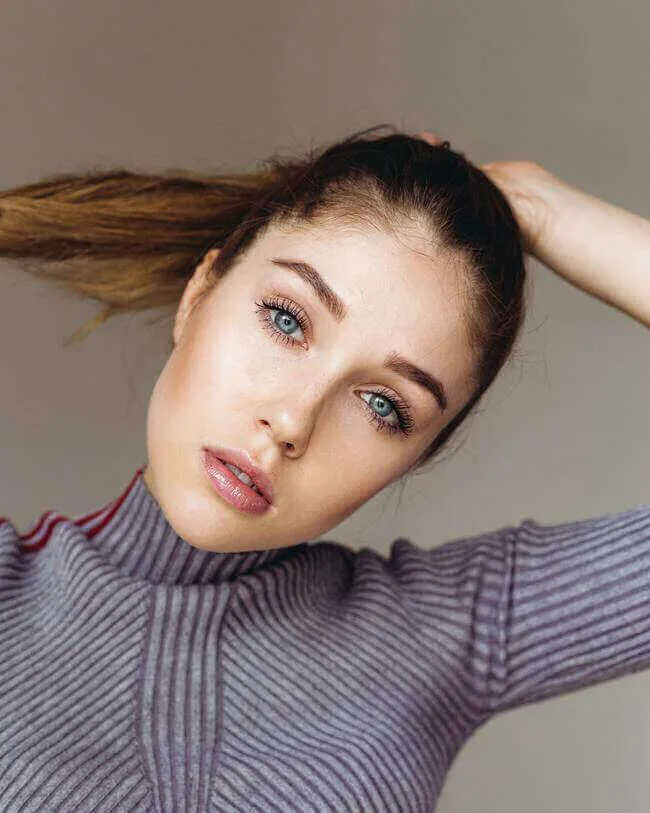 Why are thick eyebrows trending?
Thich eyebrows are trending in the beauty industry because a darker eyebrow frames the face much better than thin and light eyebrows. Dark and thick eyebrows also enhance the cheekbones and eye color and give a feminine look because, in our youth, our hair grew much faster.
And while power brows peaked in the eighties, razor-thin eyebrows were also a trend that dominated the nineties.
However, what's "trending" today might not be there "tomorrow," and it's safe to say that when it comes to our eyebrows, our eyebrow hair can only go so far!
But right now, full and natural eyebrows are taking center stage!
And there are many things that you can do to help stimulate faster hair growth if you would like fuller and thicker-looking eyebrows.
Here are a few things you can do to help stimulate faster eyebrow hair growth in under a week:
Eat biotin-rich and healthy foods. Biotin is a vitamin that helps hair growth (explained more in tip #14).
Avoid wearing makeup.
Avoid applying lotions and creams.
Massage your eyebrows frequently with minimal pressure.
Gently comb to stimulate extra hair growth.
Drink lots of water.
Now let's see the 21 lifestyle choices you can effectively make to grow those eyebrows thick and long!
21 ways to grow thick eyebrows
1. Eyebrow Serum.
Since most brow artists recommend that you regularly use a brow serum for your eyebrows since they speed up hair growth, an eyebrow serum is a top choice.
Using an eyebrow serum will effectively make your eyebrows grow fast because it has been specially formulated to stimulate eyebrow hair growth.
Grab a top-reviewed eyebrow serum and start using your fingertips, gently giving a micro-massage to your brow bone with the serum.
When buying an eyebrow serum, an excellent brow serum should also be able to condition your hair and revitalize each hair follicle. This minimizes breakage and repairs each strand for thicker natural eyebrows.
Most eyebrow serums already have a conditioning agent, which will help spur new hair in under 30 days!
Recommended:
You'll enjoy this serum since it includes humectant panthenol, two peptides that promote keratin growth and an antioxidant green tea extract.
2. Coconut Oil with Vitamin E.
Coconut oil is excellent for hair growth and has various benefits. It is filled with iron, vitamin E nutrients, and proteins, which promote the growth of thick and healthy eyebrows.
Another added advantage of using coconut oil is that it can make your eyebrows darker. If you can get your hands on coconut oil with added Vitamin E, it'll also help spur faster hair growth, as vitamin E is essential for healthy skin and rejuvenation.
This blogger tried coconut oil on her eyebrows for 30 days, and the results are amazing!
How to use Coconut oil on your eyebrows:
Step 1: Dip a cotton swab in pure organic coconut oil and rub it all over your eyebrows and the surrounding region for 15 seconds.
Step 2: Massage your eyebrows to boost the blood flow in your eyebrows, then gently massage a few drops of oil into your brows and keep it on overnight.
Step 3: In the morning, wash it out with cool water with a soft and natural face soap. Do this once or twice a day for at least a month.
Recommended:
Pure Vitamin E Infused Coconut Oil – Bio Coconut Oil for Hair and Skin
3. Castor oil is a popular way to grow thick eyebrows.
Castor oil is mixed with a blend of fundamental ingredients and two essential peptides, plus Vitamin B (everything your eyebrow hairs need to grow).
How long does it take for castor oil to work on eyebrows?
It takes approximately 4 to 6 weeks to see results using castor oil. Castor oil is a thick, heavy-weight oil that often results in damage to the hair follicles if rubbed in persistently, so using it at bedtime as your overnight beauty regimen will get you the best results.
How to use Castor Oil on your eyebrows:
Step 1: Take a few drops of castor oil on your fingertips and massage it in between your fingertips to heat it up.
Step 2: Apply that oil to your eyebrows and massage in a few minutes.
Step 3: Leave it on for 30 minutes during the day or overnight and rinse it with a make-up remover before cleaning it with warm water.
Recommended:
Briogeo B. Well Organic + Cold-Pressed 100% Castor Oil for Healthy Hair, Eyelashes, Eyebrows
4. Natural Olive Oil helps grow thick eyebrows.
To enhance your eyebrow growth, try using olive oil. And in case you are allergic to castor oil, olive oil is an excellent substitute.
Olive oil is rich in vitamins E and K, and is also known for its essential fatty acids that are good for your hair follicles, and its hydrating properties are complete magic for your skin.
Each night before bed, massage a small amount of olive oil gently into your eyebrows — doing this conditions your eyebrows — but be careful when applying it around your eyes.
According to Skin Care Ox, olive oil is just as beneficial for your eyebrows as it is for your hair since the fatty acids and Vitamin E and K all work to soften, moisturize, repair, and protect your hair and hair follicles.
How to apply olive oil to grow thick eyebrows:
Step 1: The first thing you want to do before going to bed is wash your face and let it dry before applying the olive oil to the eyebrow area.
Step 2: Apply a small dime of olive oil on your eyebrows and the region around your eyebrows, gently massaging for 30 seconds to stimulate blood flow.
Step 3: Leave it overnight to set in and wait to wash it off until the next morning for fuller and thicker eyebrow hair.
Recommended:
Extra Virgin Organic Olive Oil dropper 4 oz – Cold-Pressed Unrefined – Use For Face, Skin & Hair.
5. Jojoba Oil is used to grow thick eyebrows.
Jojoba oil is a fancier oil that does a great job unclogging your hair follicles, making your eyebrows grow faster.
It also nourishes your hair follicles to give your eyebrows a natural shine while protecting and healing your hair.
All you have to do is use a few drops of jojoba oil, massage it into your eyebrows using your fingertips, leave it to set in overnight, and wash it off in the morning.
To get the best results, keep using Jojoba oil daily for at least 30 days. And if you would like to read a review on how Jojoba oil works, Bianca, who runs The Green Creator Blog, has a review on how to use jojoba oil that helped her enhance her eyebrows.
Recommended:
Jojoba Oil is Certified Organic, 100% Pure, Cold-Pressed, and Unrefined. Revitalizes Hair & Skin
6. Onion juice or paste can be used to grow thick eyebrows.
It might sound surprising, but onion juice is also a home remedy for hair loss.
Since keratin and sulfur are both considered to be essential to help stimulate healthy hair growth. Therefore, when onion juice is applied to the eyebrow region, it will support high and healthy hair development while avoiding hair loss because it contains these two important essential proteins.
How long does it take for onion juice to regrow hair?
Research has discovered that hair growth usually starts following two weeks of using onion juice when applied to the region twice daily. Approximately 74 percent of participants had some hair regrowth following just four weeks of use, and at six weeks, 87 percent of participants experienced hair regrowth with the use of onion juice.
How often should you use onion juice for hair growth?
Three times a week is very suitable for this method for faster eyebrow growth, especially if you are uncomfortable applying it twice daily with the unpleasant smell it emits.
How to make homemade onion juice:
Chop the onions into tiny bits.
Juice the onion by either squeezing it by hand in cheesecloth to extract the juice using a juicer or chopping up the onion and mixing or blending it into a thick paste.
How to use onion juice for eyebrow hair growth:
Step 1: Apply the remedy to the eyebrow hair roots of the hair, gently massaging the hair follicles for five minutes.
Step 2: Leave it on for at least 30 minutes (longer if you can endure the smell) and then rinse it off. If the aroma is too much to handle, add a little bit of lemon juice or rose water to improve the treatment.
Step 3: Use this eyebrow treatment twice daily or 2-3 times weekly for the best results.
7. Vaseline (petroleum jelly) is an inexpensive way to grow thicker eyebrows.
Simply put, your hair grows faster and more resilient when your skin is extra hydrated, so grab a tub of Vaseline and use it to your advantage.
Vaseline locks in moisture for up to 18 hours, speeding up your skin's natural recovery.
It is also an occlusive balm. Therefore, it can help your eyebrow growth because it doesn't add moisture to your face. What Vaseline does is seal already existing moisture within your skin.
How to use Petroleum jelly for eyebrow hair growth:
Step 1: Just clean and dry your eyebrows first, apply Vaseline over them at least three times each day, and lock the moisture you need to stimulate faster eyebrow hair growth. You can place Vaseline over your eyebrow makeup during the day and leave it on overnight.
Step 2: Wipe the skin with a soft wet cloth in the morning.
Recommended:
Vaseline Petroleum Jelly With Nourishing Vitamin E
8. Egg yolks can be used to grow thick eyebrows.
Everyone's hair, as well as the hair on their eyebrows, is composed of keratin. If the degeneration of this protein persists, this results in hair loss, thinning, or bald patches in the eyebrow area.
Since egg yolks include biotin, one of the best components for healthy hair growth because it boosts keratin levels naturally, it's a fantastic way to help increase the hair to its fullest and natural state.
You can simply try to eat more eggs to enhance the production of faster hair follicle growth, or you can also take it a step further and apply the yolk of the egg itself (which contains all the essential proteins you need) to help stimulate faster eyebrow growth.
How to use Egg yolks for eyebrow hair growth:
Step 1: Separate the egg yolk from the egg white. Ensure that the egg yolk is evenly beaten before proceeding to step 2.
Step 2: Add the egg yolk to the eyebrows using a Q-tip. Try to use egg yolk sparingly on the skin surrounding the brow to dry and acne-prone skin, if possible, as it can lead to acne. Using this treatment three times a week for 30 days is enough to start seeing results.
Step 3: Rinse the skin's surface with warm water after 20 minutes to get the best results.
9. Rice Water is a surprising way to grow thicker eyebrows.
Thin and patchy eyebrows are prevalent these days, and many people are searching for a swift remedy for them.
Did you know that rice water is very nutritious for the skin and nutrient-rich? If you opt to use rice water each night for a few weeks, you may find that your brows will also get darker and thicker.
How to make rice water for eyebrows:
Pour 1/2 a cup of rice into a container. Mason jars are great to use to keep the rice water fresh longer.
Using a water-filled container, apply 1/2 a cup of water to the rice jar and let the rice sit for several hours at room temperature before cooking.
Transfer the rice to a pot, add another 1/2 cup of water, and boil the rice.
Let the rice and rice water cool to room temperature.
Strain only the rice water into a clean jar and keep it in the refrigerator.
How long does rice water last?
Since rice water is a natural product with no added preservatives, it does have an expiration date. Rice water can last up to 5-7 days if stored in a refrigerator, but if left out at room temperature, it can spoil in less than four days.
How to use rice water for eyebrows:
Step 1: Soak your eyebrows in rice water every night and then leave it overnight to set in.
Step 2: Simply rinse and remove in the morning until you see your desired hair growth.
Recommended:
Nourished Organic Rice Protein to Help Regrowth & Repair Damaged Hair
10. Aloe Vera Gel.
You can also apply Aloe Vera to your eyebrow overnight treatment for further moisturization. Aloe Vera is one of the best skin moisturizers on the planet as it helps heal your brow skin area, especially if you have been overplucking or waxing the eyebrow area.
A rich component of Aloe Vera is called aloenin which also helps promote hair development. Aloenin has the same structural component as keratin, which adds more strength to your hair, making hair less brittle with time the more you use it.
Aloe Vera gel is also non-sticky and may be used daily. It can also thicken up the eyebrow hair and open up hair follicular pores, thereby promoting faster eyebrow hair growth.
Recommended:
Ere Perez – Natural Lash + Brow Aloe Vera Gel Mascara (Clear)
Similar beauty articles you make like:
7 Clever Habits of Women Who Age Slowly
12 Skincare Mistakes You Have To Avoid For Incredible Skin
8 Amazing Skincare Tips For A Glowing Radiant Look
How to Grow Thick Eyebrows with Make-up Products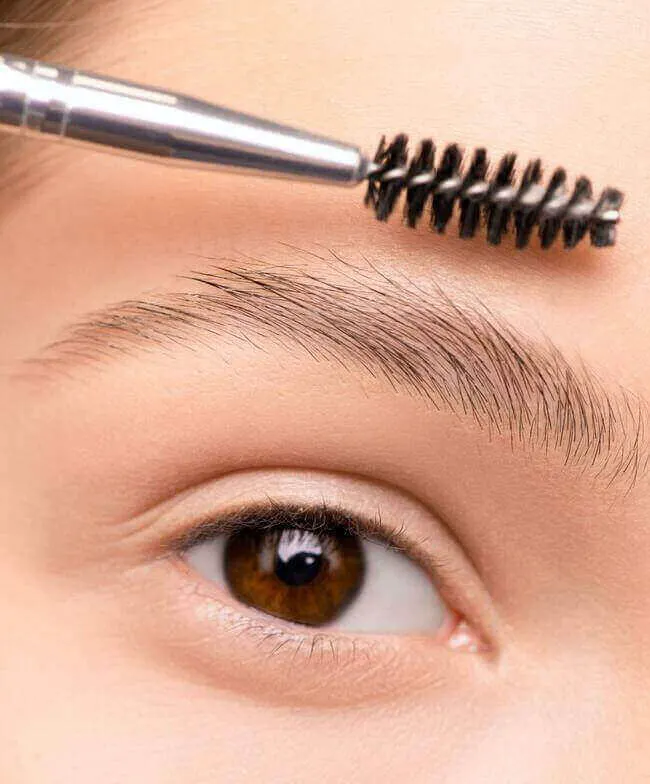 11. Use an Effective Eye Brow Conditioner.
While conditioning agents can't make your brow hairs grow long, they sure can help make them appear they have!
Moreover, looking for products filled with nutrients for your brows is critical.
Formal trichologist Gretchen Friese suggests RevitaBrow, filled with peptides, lipids, and botanicals, to improve hair suppleness and make eyebrow hair more pliable. How to apply: Apply directly to clean, dry eyebrows once a day for stronger, healthier-looking brows.
Recommended:
RevitaBrow Advanced Eyebrow Conditioner Serum, Physician Developed & Cruelty-Free
12. Brush Your Eyebrows to Stimulate Faster Hair Growth.
As mentioned earlier, ensure that you always comb your eyebrows. When you brush your eyebrows, it stimulates the blood capillaries. Hence, it increases blood circulation, oxygen, and nutrient transportation to the stem and root of the hair. This helps enhance your eyebrow growth.
Recommended:
Folding Eyelash Comb, 4 PCS Eyebrow Comb Metal Teeth, Professional Tool for Define Lash & Brow
13. Try an Enhancing Eyebrow Tint Gel for thick eyebrows.
If you would like to add an extra layer to make your eyebrows stand out, use a clear eyebrow gel to add texture and create a 3D natural and perfect eyebrow look.
Brushing through the natural eyebrow will add thickness, volume, and the texture you need, especially while you wait for your eyebrows to grow.
Plus, it makes your makeup look more complete and will give you big and beautiful eyebrows more naturally.
It's also great for brow shaping, used to tame unruly brows, and will boost your brow color with its waterproof tint making eyebrow-enhancing gel one of the best makeup choices for perfect eyebrows.
Recommended:
KAJA Brow Blowout | Fiber Gel Brow Definer | Waterproof, Smudge-proof Brow Tint | 03 Medium Brown | Vegan, Cruelty-free
14. Eat Biotin-rich foods or gummies.
Consider adding biotin-rich foods into your daily routine. Biotin is one of the best vitamins that helps spur hair growth. It does this by boosting your keratin production while supporting your amino acids. If you add Biotin-rich foods to your diet, they will also improve your blood circulation and hydration!
Foods that are rich in minerals and vitamins that promote your eyebrow hair growth:
Walnuts
Sweet potatoes
Dark leafy greens
Mangoes
In addition to your regular nutrition, you can take a chewable hair supplement containing Biotin. The antioxidants in these products help your hair grow and ensure that your skin stays healthy.
Recommended:
Biotin Gummies for Hair Growth | Max Strength Biotin 10000mcg Prevents Thinning and Loss
15. Eat the right Vitamins for thick eyebrows.
Minerals and vitamins play a significant role in hair growth and reproduction.
Important nutrients and vitamins that can help stimulate eyebrow hair growth are:
Vitamin A: Foods such as sweet potatoes, red peppers, and carrots.
Vitamin C: Foods such as lemons, oranges, broccoli, and papayas.
Vitamin E: Foods through various nuts such as almonds and peanuts or foods such as basil, spinach, and olives.
Don't forget your omega-3 fatty acids. You can receive Omega-3 fatty acids from avocados, walnuts, olive oil, and salmon.
16. Ever heard of Viviscal Supplements? They are specifically made to grow thick eyebrows.
According to Viviscal hair experts, Viviscal supplements are a great way to stimulate extra hair growth as they are clinically proven to nourish thinning hair and help reduce hair loss.
Recommended:
Viviscal Women's Hair Growth Supplements for Thicker, Fuller Hair | Clinically Proven with Proprietary Collagen Complex | 60 Tablets – 1 Month Supply
17. Increase Blood Flow for thick eyebrows.
Did you know that tapping over each brow for roughly 30 seconds will also help boost blood flow in the area, spurring faster hair growth?
Better yet, if you can increase the blood flow by making a habit of tapping every day, coupled with an eyebrow hair growth hack above, you'll get better and faster results in no time!
18. Stay extra hydrated.
It is also essential to always stay hydrated and drink water often. Drinking sufficient water not only improves your body's overall health but also improves fast eyebrow hair growth.
Recommended:
Giotto 32oz Leakproof BPA Free Drinking Water Bottle with Time Marker & Straw
19. Avoid wearing makeup, creams, and lotions for 30 days.
Using creams with pore-clogging formulants may result in brow thinning or loss. If you can, try to maintain a clean and clear complexion (at least for your eyebrows), while undertaking one of these eyebrow hacks for 30 days. Doing so will help speed up the hair growth process, thus restoring your eyebrows back to their natural healthy state.
20. Quit over-plucking your eyebrows if you want thick eyebrows!
If you often tweeze your eyebrows, you may want to take a break and allow them to grow out before you tweeze them into the desired shape.
Your eyebrows take about three to four months to grow out fully. Ensure you do not pluck any of your eyebrow hairs until twelve weeks have passed.
During that period, groom your eyebrows using a brush. You can then pluck your brows out since they will be fully grown. When plucking them, ensure that you only pluck ones that are not close to your brow line.
You should preferably book an appointment with a professional and have them tweeze your eyebrows to the desired shape you want.
You can do it yourself if you are confident in your tweezing abilities. However, according to experts, you should ensure that you are tweezing them in soft dull light. The best time to do this will be in the afternoon.
Avoid tweezing your eyebrows in the morning since there will be too much light, and you will end up overplucking your eyebrows. Joey Healy, a brow expert, says that you should also avoid magnifying mirrors.
21. Have patience!
Although attempting to develop a bushy brow is certainly only going to be a matter of time, having patience is a virtue.
Remember, the hair on your eyebrows is like the hair on your head; the challenge is real, especially if you're struggling with bald spots or patches.
In the meantime, use cosmetics to mimic natural-looking fullness and ensure you are using as little pressure as you can on your eyebrows to help your eyebrow hair grow faster and have patience between the treatments you use.
Having natural and fuller eyebrows will take time.
---
There you have it. The tips provided above can certainly help you grow your eyebrows fast.
However, you will have to be patient since some may take time.
It is also important to note that each method may work differently for each person. One person may get faster results, while another may take longer.
Employ one tip at a time. Do not use different oils at a go. If you decide to use coconut oil, stick with it for some time and monitor the change.
If you do, you can weigh out your options; that way, you can find the best solution for your eyebrows to get the results you are looking for!
Welcome to Everything Abode, your daily inspiration for every activity at home!
Our goal is to inspire you to live an elegant and chic lifestyle from the comfort of your home.
We'll help you express yourself through authentic style, aesthetic beauty, and stylish home decor.
Subscribe to Get the Tools That Make My Blog Successful!
When you join my newsletter, I'm going to send you insider advice and tools that I use to grow my blog! I only save the BEST for my email list so don't wait!