Small bedroom organization ideas: If you are looking for simple solutions to help you organize a small bedroom? Here are 11 ways to maximize space and still keep your bedroom looking stylish!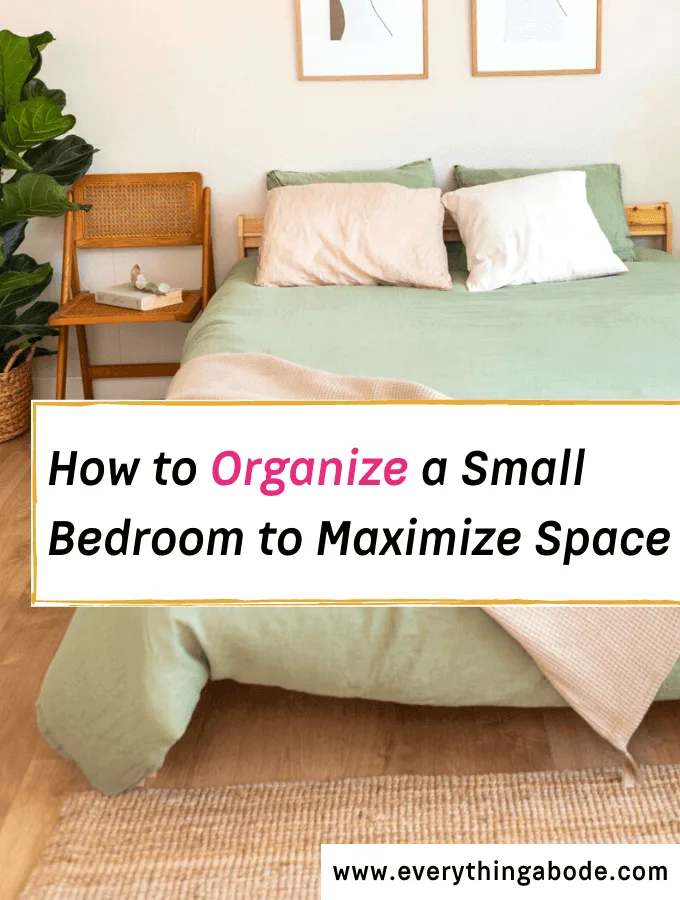 Is your bedroom full to the brim with clutter? How about space, are you lacking storage ideas because your bedroom is too small?
It can be difficult to organize a small bedroom. And it can be very difficult to organize everything in a small space.
However, today I wanted to show you a few tips for organizing a small bedroom.
These small bedroom organization ideas can simplify your life and hopefully inspire you to organize your bedroom in a way that still looks good.
Moreover, bedroom organization doesn't have to be hard work.
All you need are a few simple and straightforward organizing tricks that'll bring order to your room.
Also, you won't have to sacrifice style because these bedroom organizational ideas are not only innovative they will keep your bedroom looking stylish!
Let's get started!
Similar Topics:
8 Solid House Rules To Keep Your Home Clean
10 Genius Organizational Tips from Tidying Up with Marie Kondo
11 Stylish Small Bedroom Organization Ideas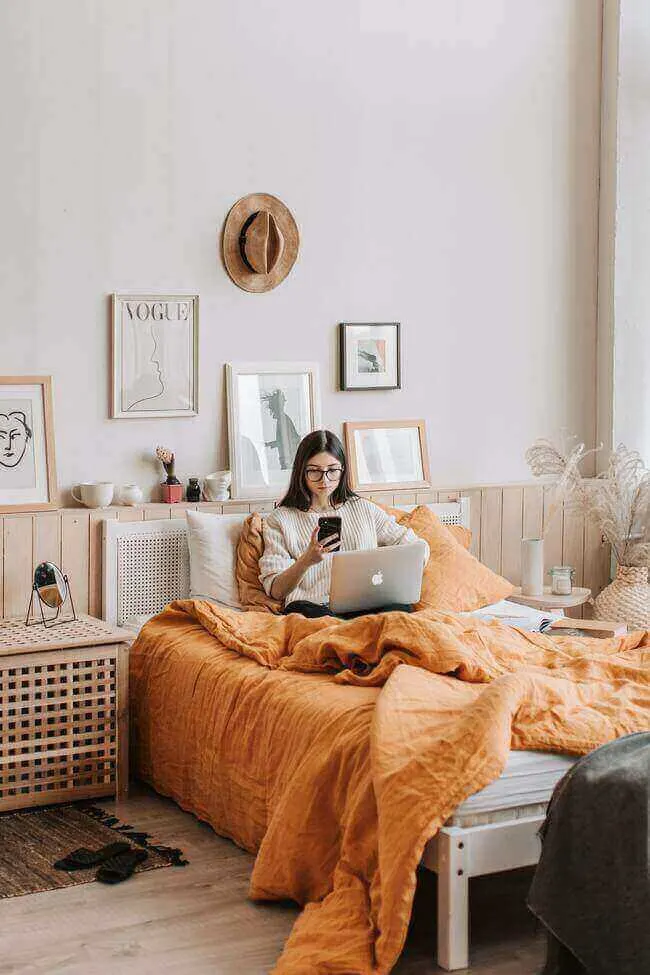 1. Store seasonal wear under the bed.
You don't have to struggle with not knowing how to store your extra clothes in your small bedroom anymore. Utilizing the extra space under the bed is the best place to create the extra space you need.
Whether you want to build it yourself ( this DIY is great!) or get some extra help with these roller crates either way creating extra storage space under the bed will act like extra drawers you thought you never needed but did.
2. Show off your nice-looking clothes.
If your closet doesn't have enough space in your small bedroom and you have some nice clothes that can be displayed out in the open? Then a garment rack is exactly what you need.
Whether you make it yourself or buy one, whatever you choose, displaying your clothes will provide extra storage and double as an added stylish look for your small room.
Similar: 8 Laundry Room Organization Items to Make Your Life Easier
3. Book Shelves Over the Bed.
If you are an avid reader and have tons of books piling up in your small bedroom, don't forget to utilize the vertical space that is above your bed.
Verticle space is often overlooked especially above the bed and this is a big mistake! You can install multiple bookshelves above your bed to store all your books or place one long wall shelf that'll help complete the look.
Here are a few small bedroom wall shelf ideas:
When you are hanging out in your room and your walls are still empty, even after you have your books displayed, there's absolutely no need for you to guess what to do.
All you need to add is to hang up a bedroom wall organizer. Wall organizers are great because they give you a little more space in your small bedroom to pin up ideas, hang jewelry, and display items in a stylish manner.
If you would like to make it yourself, this easy DIY wall organizer has a handy mirror for quick makeup touch-ups, hooks for keys or jewelry, and what makes it really cool is that you made it!
Of course, if the DIY route is not for you, you can always check out this wall organizer here if you are wanting to get the same look!
5. Closet organizer.
It can be difficult to find the extra space you need if your closet is bursting at the seams.
But have no fear! The solution is as simple and straightforward as this… Organize your closet in neat categories with closet organizers!
Closet organizers are very popular and the reason they are popular is that they work. Besides, you'll never get tangled up trying to find what to wear again if you know where everything is!
6. Separate overflowing items.
Are your bras, socks, and accessories poking out of your drawers? If so, another great idea to save space for a small bedroom is these honeycomb-style drawer organizers.
These handy little organizers will help keep all of your smaller items visible in your drawers. That way they will help keep your drawers organized and so much easier to tolerate.
Plus anything you can do to prevent items from peeking out and making your room look messy is a must, especially for a small bedroom!
7. get a laundry hamper.
Having a designated laundry hamper for the bedroom is probably one of the most important tips to keep a small bedroom organized.
If there's a designated place for all your dirty clothes (instead of living on your bedroom floor), you will be so much closer to having a bedroom that is cohesive.
Otherwise, if you don't use a laundry hamper then your bedroom will most likely start to look like a laundry facility.
Plus, there are so many nice-looking hampers for the bedroom (like this one) that'll add to your bedroom decor quite nicely!
8. Have a place for garbage.
Did you know that most interior decorators never sacrifice style even when it comes to dealing with garbage?
In fact, they say if you allocate a little small area in your bedroom for a small yet stylish garbage bin, doing so will not only help keep your bedroom stylish but help it remain clean at all times.
You can even buy an inexpensive metal garbage can and spray paint it gold (how amazing!). Or garbage bins like this one can still look chic while providing a place for your used tissues, scraps of paper, and all the other small pieces of trash that trickle their way into your room over time.
Similar: 25 Items You Must Declutter to Live a Minimal Lifestyle
9. Get creative with accessories.
Try looking for art pieces, statement pieces, or anything you can simply display as art on your walls.
For instance, if you have stylish pieces in your wardrobe, such as a great hat collection? Why not turn those hats into an art display on the wall?!
Or you can simply grab some scrap wood from the beach, hang it on the wall with a few strings and it can serve as a place to hang your scarves, belts, jewelry, you name it.
Again, when you are working with a small space, creativity is a must!
10. Create a wall wardrobe.
If you have very limited space in your bedroom or if your bedroom lacks a closet altogether, you can always use wall shelving to mimic a wardrobe on your walls!
All jackets, sweaters, and dresses can be hung up just above your door space or above a desk. Or you can create a whole wall wardrobe that takes up one entire wall in your room. You can even use a stylish ladder to create a chic bedroom aesthetic to help you reach for your clothes.
When you start looking at your small bedroom with creative ideas like this, you'll find that your room is budding with loads of potential even with a lack of space!
11. Take charge of your closet on a monthly basis!
Since closets are the first place where clutter usually builds up in the bedroom, organizing your closet on a monthly basis will help you keep that calm home feel.
Not only that but having a serene bedroom (that you can turn to at the end of the day) is what a bedroom is all about.
So if you would like to take charge of your closet, due follow this step-by-step closet cleaning guide here. The guide details how to deep clean your closet, all the way to getting it organized just right.
---
Small Bedroom Organization Ideas final thoughts.
See, you really can bring your bedroom to life (and not sacrifice style), while tackling the chaos to be more organized!
If you try one of these small bedroom organizational ideas out for yourself, let me know in the comments how they improved the overall look and feel of your small bedroom.
Thanks for reading!
You May Also Like:
10 Genius Organizational Tips from Tidying Up with Marie Kondo
16 Everyday Habits for a Clean Home
How to Stop Being Messy – 10 Habits for a Cleaner Abode
The Beginner's Guide to Minimalism
Small Bedroom Organization Ideas
Welcome to Everything Abode, your daily inspiration for every activity at home!
Our goal is to inspire you to live an elegant and chic lifestyle from the comfort of your home.
We'll help you express yourself through authentic style, aesthetic beauty, and stylish home decor.
Subscribe to Get the Tools That Make My Blog Successful!
When you join my newsletter, I'm going to send you insider advice and tools that I use to grow my blog! I only save the BEST for my email list so don't wait!