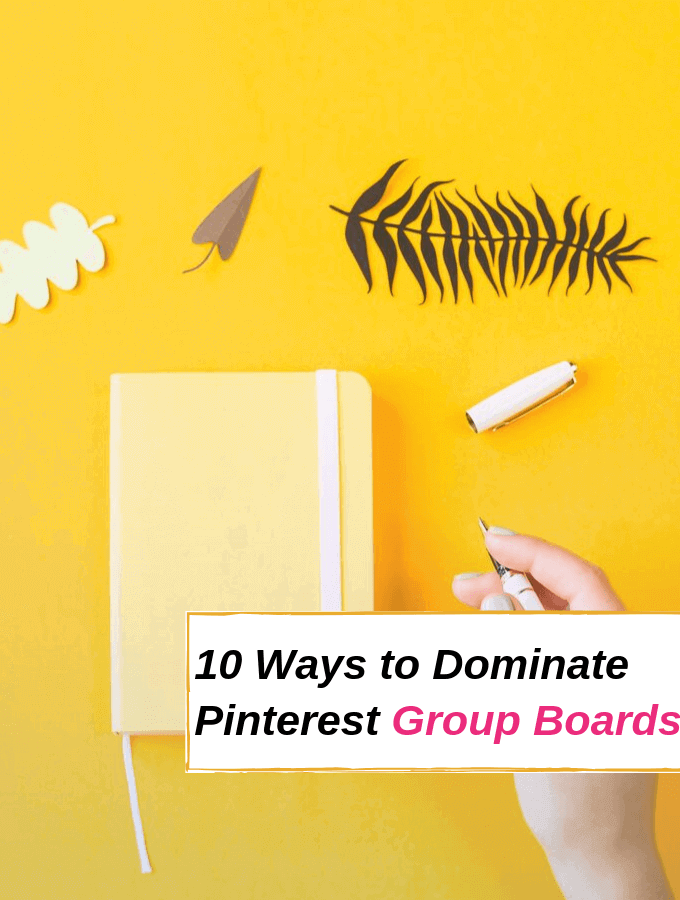 {this post may contain affiliate links, see disclosure for details}
IF you are familiar with Pinterest…
Then you already know that Pinterest has recently said that they are focusing less on group boards and more on personal niche boards.
But I am going to tell you that Pinterest group boards are STILL a great strategy!
So getting accepted to high-quality group boards should STILL BE a very important part of your Pinterest strategy.
The high-quality group boards that you participate within can still give you the reach that your Pinterest profile needs to support the pins that you make and to support the blog posts that you publish and put so much effort into.
You basically just need to be aware of the good practice standards that Pinterest is looking for (I think that's really all it is) and fit those pinning rules into your Pinterest marketing strategy and you'll be all good.
So below, I'll go over what Pinterest is looking for in terms of participating with the right group boards, the good practice standards you should use with those group boards and it's owners, and what you should avoid.
Make sure that you stick around for the bonus tip at the end…I'll show you how to find really good group boards to join (the best of the best!).
10 Group Board Pinterest tips for new bloggers

Here's Why You Need Pinterest If You Own A Blog Or Business:
Build your brand.
Free blog traffic (TONS!!)
More people are using Pinterest as a search portal
Any size of a blog can thrive (even with as little as 10 posts!)
Let's check out the 10 ways to improve your Pinterest marketing strategy using and pinning to the right group boards. If you need help with Pinterest, then you need to check these out.
1. Periodically review your existing GB's.
Now, this tip is for the blogger that is already ACTIVE with group boards, and are actively pinning to their group boards AND are scratching their heads wondering if, in fact, these boards are really helping them out with their reach on Pinterest for their blog…
So to figure this out you need to periodically review the group boards (I'd say once a month!) so you can see if they are performing well.
How do you review your boards? Well to do this, you have to have a handy tool called Tailwind for this! I know, I know, Tailwind is constantly being repeated as the best tool for bloggers and I have to tell you… it really is!
Their analytics alone is just something that you need if you are super serious about competing against the other bloggers in your niche and that already have Tailwind in their blogging arsenal.
If you have Tailwind, the board analytics tool is very helpful.
2. Know the difference between GOOD group boards and BAD ones so you're not wasting your time.

There definitely are GOOD group boards and there are definitely BAD ones.
You know the bad ones… Those are the ones that have virtually no rules and allow almost every niche out there to contribute to it and also have very unattractive pins.
The ones you do want to join should be niche-specific, owned by quality pinners, and have a good number of followers on them. Honestly, my group boards are doing very very well, which I'll tell you why at the end of this post, keep reading!
3. Choose boards where the owners moderate pin usage & pin design.

Now, this one is huge when it comes to joining the right group boards. And I'll try my best to explain why…
When it comes to Pinterest group boards I'm not so picky about how many followers new contributors have.
That's because I was once starting out too and I really appreciated the boards that accepted me when I was new.
So when it comes to choosing the right boards, choosing boards where the owner's moderate pin usage is really what you want to look for when deciding to take the time to send a request to be invited.
With that being said, I am STILL accepting new accounts!
Like I said before, I was once new, and being new is not a deal-breaker. What the deal breaker is, is how you pin to them and how your pin styles look.
I personally own five popular group boards that are ALWAYS in my top ten high ranking boards in my Pinterest analytics and Tailwind analytics.
I really do contribute this to reviewing what kind of content gets added and how many times that content gets added.
If you add multiple pins that are the same, chances are you will be deleted. That goes the same for your pin styles.
Whether you are using small square pins or really bad photos, that all adds up to being a good group board member too.
Simply put, if your pins are not attractive then chances are you won't be added onto the group board you requested.
This is not to be mean. Group board owners simply want to have an attractive, niche related board so it climbs high within the Pinterest feed.
So this just means that you need more experience if you are not getting added after you are sending your requests.
Remember, Pinterest is a VISUAL platform.
And I personally think that Pinterest really likes it when group board owners are picky and passionate about what goes onto their boards, especially how it's designed, and not having multiple pins, pinned over and over again, which brings me to the next point…
4. Have a good Pinterest profile with strong keywords.

Know that having a good profile with strong keywords in your profile description will take your Pinterest profile to go really far.
Doing this will help make the decision process just that much easier for the group board owners that you are applying to.
When those group board owners are first viewing your account (which they always do), they want to see how you are speaking to Pinterest through your pins and your website.
If all the contributors within the group board are speaking the same language to Pinterest with strong niche-specific keywords, then that helps the board substantially get higher in the feeds.
You'll also get bonus points if you have board covers but they are not at all necessary! They are just an added flair that you can add to your Pinterest profile to make it look clean and detailed.
Plus, it just makes your Pinterest profile attractive for your new followers to admire and may get you more followers for it.
5. Keep your boards orderly.
Let's face it, group boards can get really messy, so making sure that implement the use of the drag and drop feature in your Pinterest account to order your boards instead of showcasing the last pinned too, will really make you stand out from the crowd.
This will ensure that the boards you own are at the top of your profile and not buried underneath your group boards if you strategically dragged and dropped them there to be seen.
As a group board owner, and I think I speak on behalf of most group board owners for this because I always look for this.
I usually go down three or four rows down to see what boards you are most active on. And if I don't find your own original boards, I give up and drop the invite.
You have to remember that most group board owners don't want to waste their time to find your original pins to see if you are a good fit for their group boards.
6. Make sure that you are correctly sizing your pins.
To get the most out of Pinterest, you should spend the extra time to create attractive pins that are correctly sized.
Both Picmonkey and Canva are the two leading competitors for pin creation that most bloggers use and they are a great start to starting your career with making money on Pinterest.
It's also a good thing to know that square pins are out and vertical pins are in!
You'll notice that most group boards will not accept anything BUT vertical these days. So you have to always stick to what's trending on Pinterest if you want to get your pin engagements up in the millions.
You too can totally play around with my pin sizes because I really think that Pinterest loves this and it's fun to change things up, but always stick with a verticle ratio of 1 to 2 or 1 to 3.
Here are some pin sizes that reference these sizes:
564 x 846 (standard good pin size)
564 x 1074
564 x 1348
564 x 972
600 x 1260 (long pin!)
436 x 1578 (This pin is really Long, so make sure your title is located in the middle of the pin, as Pinterest cuts off the bottom and the top of the pin in the feed!)
Now, these sizes are all in pixels, by width and length and hint, 564 px width seems to be the most popular amongst the popular pinners!
So make sure that you are using pin designing tools like Picmonkey and Canva, and turn your pins into professional templates that you can use over and over.
It'll be a bit of a time investment creating those pins but it's SO worth it if you figure out your own style and go from there!
You can really take pride in your own personal progress as a blogger if you develop your own designing skills through practice, plus you'll be a skilled pin designer to boot as time goes by.
7. Follow all the standard rules.
For the love of everything that goes into the land of Pinterest marketing, please always follow the rules because you want to be very careful to follow all board rules so you don't get kicked off.
My rules aren't posted at the top of each of my group boards but most group boards rules go as follows:
1. Pin relevant niche related content.
2. Repin other contributors pins for every pin that you add.
3. Don't post the same URL multiple times. This is considered spammy and you will for sure get deleted from the board
Another added note, if the group board owners ask that you contact them through their site, DON'T send them a direct message through Pinterest.
It's annoying and the people who do that for my boards were getting kind reply's to contact me through my site, but I think I am going to just stop that altogether. It takes too much time and if an owner is asking you to go through their site, it's best to just follow suit and follow the rules.
8. Follow the Group Board owner BEFORE you make a request.
This is a no brainer but definitely follow the group board owner BEFORE you make the request to be added as a contributor. All of us group board owners know how to see if you've followed us and our board very easily.
9. Steer clear from spammy group boards.
You want to stick with the boards that have a lot of attractive pins with good re-pin rates to boost the visibility of the board and also your account.
And since most Pinterest users are attracted to professional-looking pins, if your pins are associated with other professional pinner's pins, this tells Pinterest that you are pro too!
So steer clear from spammy boards with unattractive pins on them that also have no relevance for a specific niche. Those pin everything boards, I've stopped pinning too.
Actually, I've just recently archived my "Pin Everything" boards, to see if Pinterest likes that and I am eager to let you know ASAP if it worked!
So, how do you get accepted to the really good group boards?
Check out this bonus tip below on how to find the best of the best!
10 . How you find the top-ranked group boards on Pinterest!
Here's a tip on how to find the top-ranked group boards. It's a little sneaky way that has helped me grow my Pinterest account.
Simply type in a keyword into the Pinterest search bar that corresponds to your niche…
Let's say you are either a blogger that blogs about cooking, social media tips, life hacks, or lifestyle like me….
The top 10 pins that show up in the feed after searching your keyword will ALL represent the top pinners that are associated with that niche.
Those pins and those pinners are a great insight for you.
Click on those top pinners profiles and see what group boards they're using!
Those are the ones you want to apply to as they will likely fit the same niche that you write about and those group boards will likely have been successful for that top pinner.
If you would like to be added to my group boards, get in touch with me!
I know I promised a little update for you as to WHY my group boards are performing so dang well. So I'll explain why…
Here are the top 3 reasons (that I believe) why my group boards are consistently among my top-performing boards…
1. They all have under 50 contributors. I'm guessing less is now more for Pinterest when it comes to group boards. To be honest I may do the cutoff when they reach 50 contributors so apply ASAP if you want to join. You can view my boards on my Pinterest profile here!
2. They all are niche-specific. I only accept niche-specific pinners and I am not afraid to delete someone if their content isn't up to par.
3. They are ACTIVE. I am a very active user of my own group boards, just as I am with my other group boards. I repin from them (which is super important!). I want them to succeed. So I may repin one of your pins to one of my personal boards too if you join!
The Top Three Group Boards (that I own) That Are Always In My Top 5 Best Performing Boards Are:
1. All Blogging group board
2. Money & side hustle tips
3. All things home!
The lifestyle group board that I have is always a close 4 and my vegan group board is consistently in the top 10.
So if you want to apply to any of these boards, please send me a request through my contact form!
These are great results since I have well over 250 boards!
---
Do any of these Pinterest group board strategies give you any clarity?!
I personally love the "how to apply for the best of the best group board's" because I am finding great group boards this way!
My focus as a blogger is all about my Pinterest account right now and I love it!
To learn more about Pinterest and see more of my articles related to Pinterest marketing (because there is SO many) you can view ALL of my Pinterest articles here!
IF you are a new blogger or are deciding to start a blog OR you are new to Pinterest then know that the more you work at your pinning strategy (every single day) the better your profile will become in the eyes of Pinterest and your readers.
Now before we end it here, and like I said earlier, if you are a blogger or are considering blogging as a creative outlet? I strongly urge you to focus on Pinterest first before you go embark on other social media platforms.
Starting a blog takes a lot of time and commitment and Pinterest is the golden tool, along with Tailwind that will help you get more traffic back to your blog.
And I also explain in more detail why and how I started my blog here if you want to know why and how I started this blog!
So before you go, below are some of my favorite tools that help me every SINGLE day with growing my blog other than Pinterest. I hope you enjoy it!
My Favorite Blogging Tools:
Bluehost – My current hosting company. They are reliable, fast, and more importantly affordable. Check out my SUPER easy step by step guide: How to Start a WordPress Blog in under 20 mins here!
ThemeForest – Blog themes are super important to retaining and keeping your traffic on your blog. ThemeForest has TONS of beautiful blog themes. You can go and view some samples here!
Tailwind – This is a blogger's best friend and their MOST favorite scheduling tool for sharing content on Pinterest because Tailwind saves SO much time and increases your traffic and followers. WORTH EVERY PENNY!!!
Share a Sale – This is a great place to find TONS of affiliate programs so you can start earning money on your blog with affiliate sales!
ConvertKit– This is a VERY popular email newsletter provider. Many bloggers love using Convert Kit to grow their email list! It's totally worth the monthly fee because it's super easy to create email courses AND give away freebies in just a few quick simple steps.
Don't believe me that Convert Kit is that easy to use? Check out this free Convert Kit guide below!
Pin + Share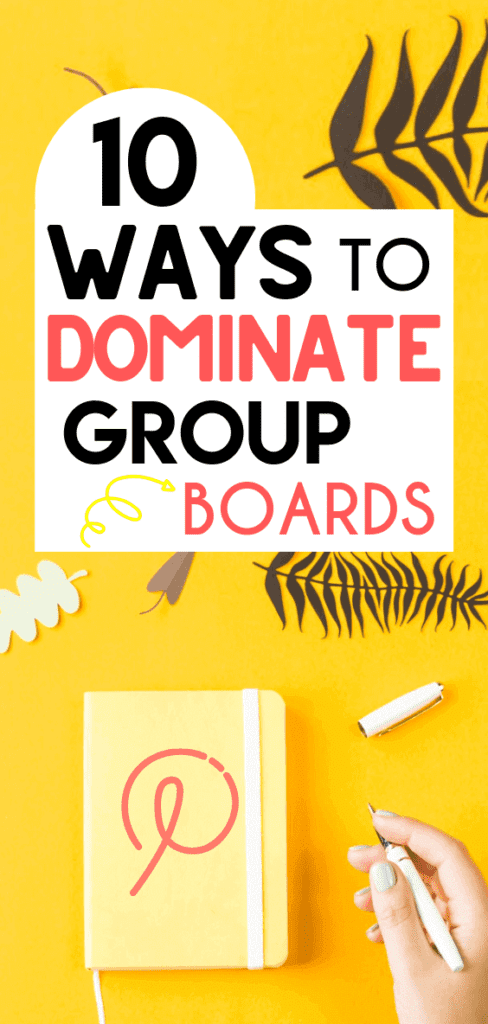 Now I want to hear from you!
Which Group Board Tip will you implement? I'd love to hear from you! Leave a comment below!
Hi, my name is Rebecca and I am the face behind Everything Abode! I am a lifestyle and wellness writer based out of Vancouver Island. When I'm not writing or exploring mountains and beaches with my furry rescue, I love spending time learning creative ways to manifest a healthy home. Thanks for stopping by!
Subscribe to Get the Tools That Make My Blog Successful!
When you join my newsletter, I'm going to send you insider advice and tools that I use to grow my blog! I only save the BEST for my email list so don't wait!