If you are looking for intentional ways to be more healthy at home? Here are 5 powerful ways to be more healthy at home backed by intention!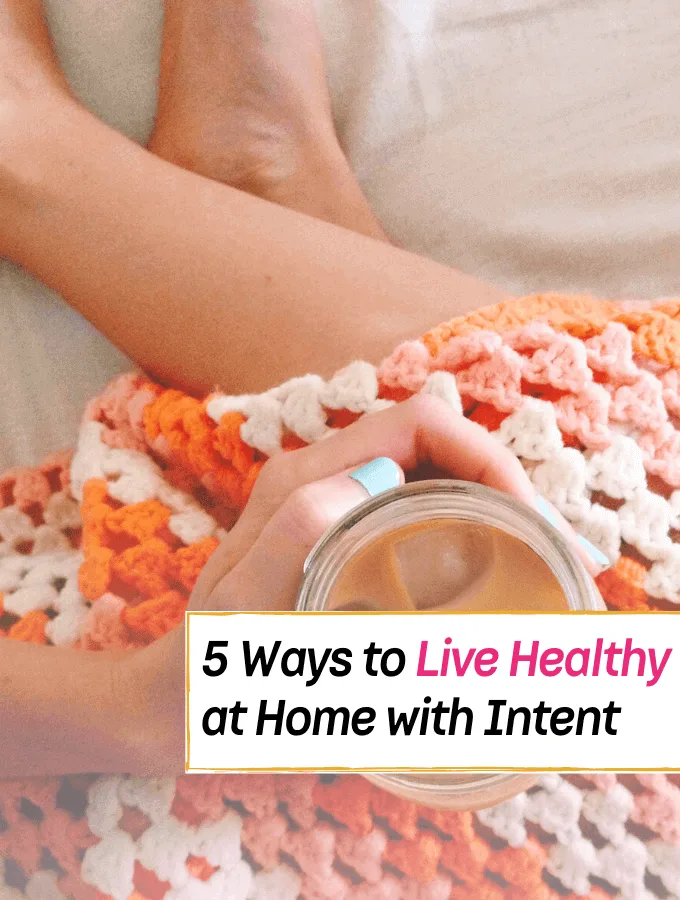 Are you trying to stay extra healthy at home this year?
Healthy living at home is especially important if you're working a remote job or staying indoors for an extended period of time.
Moreover, although it's easy to become sluggish when staying in, there are a few ways to combat feeling physically and mentally unwell.
Here are just 5 simple ways to stay extra healthy at home with a little bit about why it's important to live intentionally at home after the tips!
Similar topics:
What is intentional living?
Intentional living refers to any lifestyle that is based on a group or individual's conscious efforts to live in accordance with their beliefs and values. These lifestyles can be based on ethical, political, or religious values as well as self-improvement.
How can I live a healthy lifestyle at home?
For starters, you can live a healthy lifestyle at home if you wash your hands, get enough sleep, drink more water, and keep learning new ways to stay in tip-top shape.
But besides those tiny ways to stay healthy at home, here are five intentional ways to stay more healthy at home that you might not have tried yet!
5 Ways to Healthy Living at Home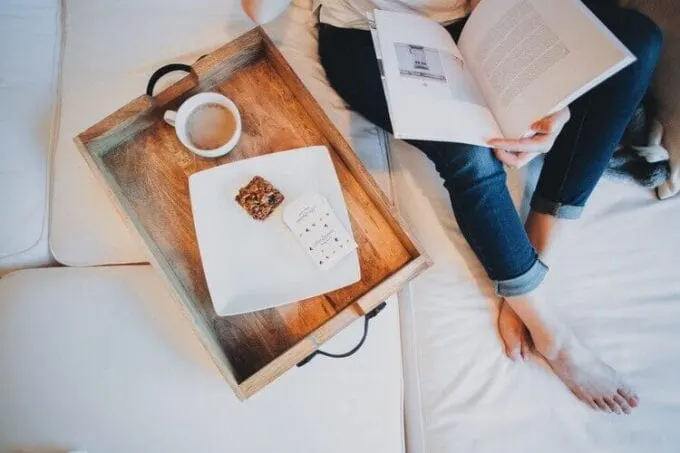 1. Feng shui.
Feng shui is an ancient practice that focuses on the harmony of the environment in that which we reside in.
It directly translates to "wind" and "water" in Chinese and by using feng shui to organize a healthy home, your living environment will be designed for the natural flow of good energy.
By decluttering a room, finding the right colors, and using soft light, the process of creating a peaceful calm home can be meditative in itself.
If you work at home, designing an office with feng shui in mind can be a daily calming presence as well. Just keep in mind that furniture should generally be facing the door without being directly in front of it.
Diagonal positioning is also key when adopting a comfortable focus, and believe it or not, lucky houseplants are also a great thing to add to your home if you want to up your healthy home vibe instantly.
2. Fitness.
Most people assume that in order to maintain a lean and fit fascine that it's required that they have to pay for it — both in sweat and money.
But working out does not require going to the gym at all!
In fact, small workouts that are done throughout the whole day can be just as effective, and these small bursts of exercises can be done at home and do not require expensive equipment either.
Simple cardio exercises for your home life can include jumping rope or doing jumping jacks in front of the TV. Even just five minutes at a time can help boost your heart rate and increase your health at home.
For toning, yoga and stretching can also be done without equipment. Posture exercises such as the downward dog position can also help increase muscle tone.
While many yoga classes may be intimidating to beginners, doing it from home can be a chance to try something new without feeling self-conscious.
Moreover, when starting to get physically fit, pay close attention to how your body responds to certain poses. Overstretching can cause pain and soreness, too.
However, exercising a little bit every day will help you gradually increase strength over time and ensure that you are increasing your health at home while doing it!
3. A old-fashioned book.
Most of us who have a computer spend a lot of the day reading. Unfortunately, reading articles online and skimming emails is not the same experience as reading a good old-fashioned book.
After all, if you are reading about how to live with intention at home more, did you know that just by sitting down to fully engage in a real book, you are training your brain to concentrate for longer periods of time and to focus only on one task?
For the 21 century, this is a bid deal!
Studies also suggest that reading can have a positive outcome for preventing dementia in old age and reading can also sharpen our vocabulary as well as our empathy.
Besides, immersing ourselves in somebody else's shoes by what we read, we are better able to see ourselves in many different situations from all around the world.
So whether you enjoy reading nonfiction, short stories, or romance novels, any type of reading can help the mind stay healthy and occupied to embrace new ideas.
Your home life will undoubtedly be improved if you try to incorporate reading just a wee bit more.
4. Healthy Organic cooking.
Cooking has long been considered more healthy than eating out since restaurants add ingredients that we may or may not choose to put in ourselves.
In addition, restaurants serve us far larger portions than what is usually considered healthy.
That means cooking almost anything at home is generally thought of as a healthier alternative than eating out.
Organic cooking, in particular, can play a huge role in having a healthy home life too.
Whether you're a stay-at-home mom with little ones to cook for or you want to be more healthy at home, using organic food has many benefits.
Depending on where you shop, organic food usually doesn't include chemical fertilizers or herbicides.
It can be more expensive, but if you can stick to thin-skinned fruits and leafy greens when buying organic — you are on the right road.
Organic food is also often fresher, usually tastes better and baking pies is especially tasty when using fresh fruit!
5. Creative outlets.
There are many benefits to exploring your creative side especially if you are at home for a longer period of time with nothing to do.
Additionally, the right at-home projects, indoor hobbies, and productive activities can help you process your emotions better and help your express ideas that you may not have realized you had.
There are a variety of options when it comes to having more creativity at home.
Some people like to paint or sketch, others prefer decoupaging while others like to redecorate to keep them organized.
If you're out of ideas, simply singing as a creative outlet can also have a meditative quality that'll help release your inner voice as your very own therapy tool in itself.
Being creative also doesn't have to be visual and it doesn't have to cost anything either.
Intentionally being creative at home is rightly yours for the taking, and it all depends on what excites you most!
There is no right or wrong way to express yourself creatively and freedom of choice can be one of its best qualities.
SEE ALSO: 60 Indoor Hobbies You Can Do At Home
Final thoughts for living with intention at home
Having and maintaining a healthy lifestyle at home does not just happen overnight.
For many people who work or live primarily at home, their home life still has to be intentionally planned for it to pan out.
Therefore, intentionally leading a healthy lifestyle at home takes dedication and can be difficult if it is only you who must enforce the rules.
But regardless of who else is around, health at home is essential for both the mind and body and can be done with the right self discipline.
In addition to the many healthy choices that can be made at home, there are also behaviors that are best to be avoided…
Here are a few things to keep in mind to live more intentionally at home:
Sugary sodas and large quantities of processed foods eaten at home may be more difficult to process if exercise is not a part of your lifestyle.
Social isolation is also a potentially dangerous habit. Loneliness can have a negative impact on anyone and its effects can be harmful to both the mind and body if left untreated.
Not staying in touch with those you love. This doesn't necessarily mean you have to physically be with someone, but calling a close friend or messaging on social media instead of just looking at photographs or status updates can be especially helpful for your mental health.
Getting adequate sleep. Even if you spend your time primarily at home, eight hours of sleep is still considered the best optimal time for both emotional and physical well-being.
---
There you have it!
Living healthily at home (with intentions to do so) can be easily achieved if you are conscious of your efforts and strive to make little changes.
You'll be doing your emotional, mental, and physical health a favor if you change your old bad habits to these powerful intentional home habits over time.
See Also:
Check out, 7 Brilliant Ways to Create a Relaxing Home, next!
Want More? You'll also like these…
7 Powerful Self Care Ideas to Treat Burnout
9 Things You Should Always Do Before Bed
5 Good Paying Side Hustles You Can Do in Your Spare Time
8 Best Productivity Tips for Working from Home
5 Easy Ways to Stop Being Broke Right Now
8 Best Productivity Tips for Working from Home
Welcome to Everything Abode, your daily inspiration for every activity at home!
Our goal is to inspire you to live an elegant and chic lifestyle from the comfort of your home.
We'll help you express yourself through authentic style, aesthetic beauty, and stylish home decor.
Subscribe to Get the Tools That Make My Blog Successful!
When you join my newsletter, I'm going to send you insider advice and tools that I use to grow my blog! I only save the BEST for my email list so don't wait!