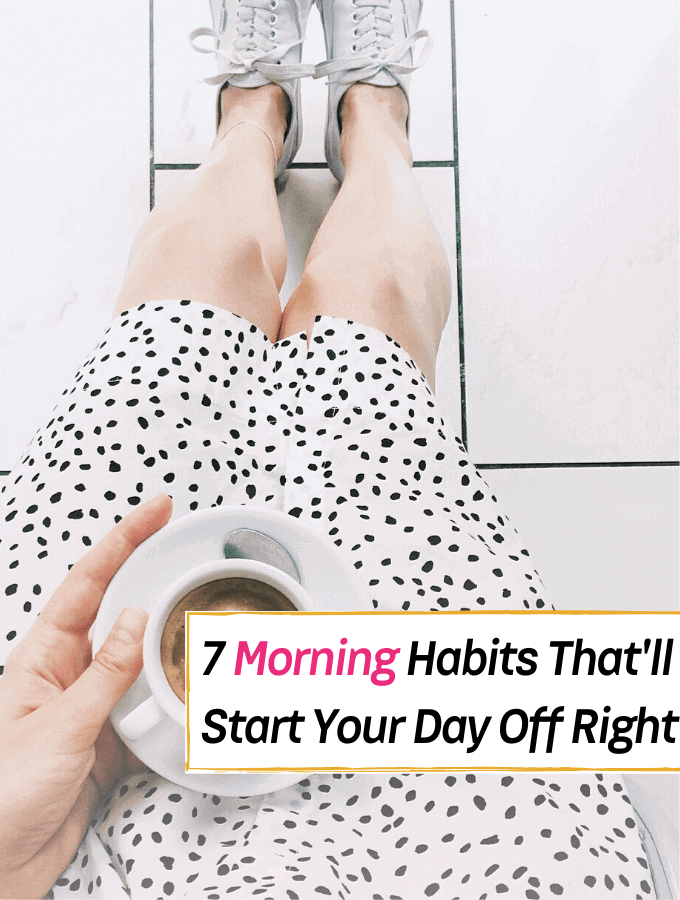 Even the hardest working people among us find that morning can be a battle.
The morning and evening rituals are considered the 'bookends of our day, which also prevents life from falling apart in between.
So whatever occurs between your morning hours and your evening journaling, your morning rituals should be extremely easy to do so you can get you ready for the day ahead.
To help you do that, here are the top 7 morning habits to help you master your mornings so you can be more productive for the rest of your day ahead.
Similar topics:
7 Simple Morning Routine Habits for a Better Day

1. Try to avoid technology when you are still sleepy.
If the main thing you're doing after you wake up is searching your mobile for texts or work emails, you're doing yourself a disservice.
You are forming a reactive mentality right after you wake up, rather than creating a constructive one.
Which can cause you to start your day in a defensive state, rather than starting from a position of inner peace and power.
So instead of waking up this way, try steering from technology for your first hour upon waking up.
That way you are allowing your brain to fully function and wake up normally than bombarding it with world news and tasks that it's just not mentally ready for.
2. Hydrate right away, especially before coffee or tea.
Drinking a glass of water in the morning after going without it for hours can be a great way to replenish your body.
Try the Ayurvedic method of adding lemon into a warm glass of water too. It'll make such a big difference in your mornings so that it can extract contaminants from your digestive tract that usually build up overnight.
Plus it provides a great source of vitamin C, livens your skin, strengthens your muscle, and enhances your digestion for the day ahead.
3. Plan the night before.
If you are not utilizing your night routine to spend at the very least 15-20 minutes each evening to plan and organize your day ahead… You are really putting a damper on your mornings.
Doing this will save you loads of time when you're too exhausted and in a rush in the morning.
So pack school treats, load/unload the washing machine, and put out your breakfast supplies the night prior so that your moring personality is ready for them.
If you do this, you are really going to outshine for the next day. So set yourself up to win so you can officially start your day off on the right foot.
Similar:
4. Soak in natural light or a get a sunlamp.
Are you aware that introducing common sources of light within an hour of waking can provide assistance in soothing the generation of melatonin, raising the generation of serotonin, and clearing up your feeling of being reinvigorated to tackle anything the day throws at you?
A good dose of daylight in the morning can also help prevent a sleeping disorder by re-establishing the circadian rhythm to a healthy and sound routine.
Of course, natural light is the most suitable, but if it permits, a sun lamp can work just as well.
5. Make your bed.
It might seem like a waste of time, unimportant or pointless (you're only going to get in it again at night), but making your bed might be the simplest yet profound thing that you can do before you leave the house.
When you do this, you're going to be able to start your day feeling achieved — and what better tone to set for the day than a sense of pride and success?
Taking control and performing basic little tasks like this will provide you with the organization mentality to take on more tasks that show up throughout your day.
6. Work out and get your cells moving.
Whether it's a simple yoga routine, a brisk walk with your dog, a fast series of sit-ups and push-ups, or visiting the fitness center to work off dinner from last night…
Beginning your day with training stimulates the body and mind and is going to make you feel really great.
So decide what sort of workout is best for you and schedule it out.
It doesn't have to be complex, long, or painful, but it does have to have some sort of movement. Your day ahead will thank you for it.
Similar:
7. Put together a to-do list.
Take a few minutes to write down a to-do list. It doesn't have to be everything, but it should outline your most pressing tasks for the day.
Sometimes our minds need a little bit of time to process our day and this is a great way to see what you can fit and what you can delay.
Also, if you were to have 3 to 5 items on it — try ranking them in an order system to make sure you manage the key pressing tasks that you really need to get done.
Doing this one act can help clear up the mental chatter so you can feel so much more relaxed before you head out the door.
---
You must owe yourself a sense of reason to get up and accomplish living each and every day.
And these really are the most actionable steps that you can take to take control of your life so you can start enjoying your mornings a little bit more.
You may also like:
Hi, my name is Rebecca and I am the face behind Everything Abode! I am a lifestyle and wellness writer based out of Vancouver Island. When I'm not writing or exploring mountains and beaches with my furry rescue, I love spending time learning creative ways to manifest a healthy home. Thanks for stopping by!
Subscribe to Get the Tools That Make My Blog Successful!
When you join my newsletter, I'm going to send you insider advice and tools that I use to grow my blog! I only save the BEST for my email list so don't wait!