For real self-discovery, we all need a bit of self-reflection …
And certain prompts for journal self-discovery are exactly how to do it!
Self-reflection can access, analyze, and direct us on what we are currently doing right so that we can be the awesome co-creators we want to be in our future lives!
That is all in the name of personal self-improvement and development. To see what we're doing well that works right now and to see what isn't. This way, in the future we will produce better outcomes.
To find the best way to analyze and dig deeper, let's see how the past year has gone (in this case, 2019), where you're headed to 2020.
What needs to change in order for you to accomplish your wildest dreams and goals?
Here are 33 journal prompts that'll help you think about where you are headed so that you can make this year a year for change!
Related Articles:
But first, here are two things I'd like to address with you before you start:
1) Be extremely detailed…
The more you know what you're looking for, the easier it is to get it. It's awesome to want to travel more, but where would you choose to go? When you break it down like that (by choosing a destination rather than having a wish), it creates a narrower vision for your life.
When you do this, your goals and dreams will become more realistic and you'll be better able to strive to have the goals that you desire all because you made an actionable plan.
2) Go with the rhythm, but don't force things!
Some of these prompts might not strike a chord with you. Feel free to leave or skip them. You may also find that your mind takes you in an entirely different direction as you respond to one of these ideas below. If that happens, let your mind wander, because you may be onto something so profound that you've never thought of before.
33 Journal Prompts For Self-Reflection For The New Year

Reflecting on the past year (2019)
1. My most happiest and favourite moment was __________.
2. My biggest hurdle and challenge was __________.
3. The biggest surprise and aha moment for me was __________.
3. I learned an incredible lesson this year, it was __________.
5. Regrets are lessons, and my biggest regret this year was __________.
6. Accomplishing this milestone, made me feel __________.
7. I feel happy about __________.
8. My self care activities this year were __________.
9. I wasted time/energy on __________.
10. I liked ____________ in 2019 and would like to do more of it in 2020 by __________.
11. The biggest lesson I learned was __________.
12. I am most grateful for __________.
---
Similar: 6 Habits That Will Help You Be More Mindful
---
Looking ahead to the new you in the New Year!
13. I'm most excited about this for 2020 __________.
14. I envision and plan to __________.
15. Some things that worry me about the new year, that I would like to change are __________.
16. My emergency back p plan when things don't work out will be __________.
17. My main wish for 2020 is __________.
18. My whole intention and main goal for this year will be __________.
19. My self care for 2020 will look like __________.
20. Every day I plan to create a habit that sticks like __________.
21. This year I want to do more things such as __________.
22. I will give and help others this year by __________.
23. I will learn more of this skill by __________.
Prompts to turn your big dreams into tangible goals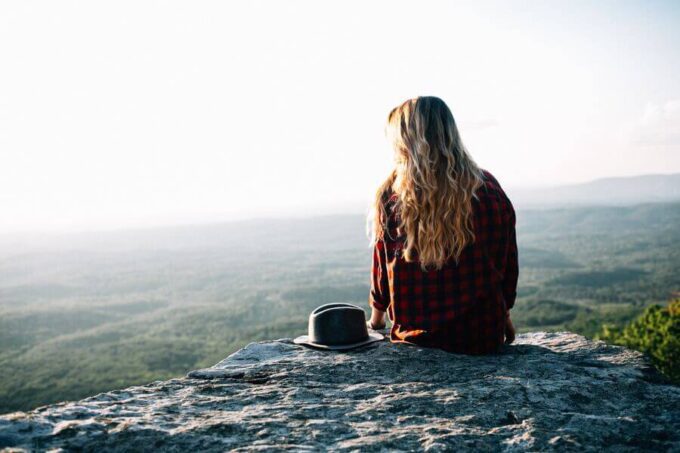 Take all of your ambitions from the previous prompts above and make them something you can immediately start preparing for.
If you have a clear picture of the kind of life you want in your mind and the kind of year that will help you get there, you're in the right headspace to turn those ideas into practice.
24. What should I do in 2020 to get me closer to my ideal future?
25. How do I see myself next year in December?
26. What does 2020 look like and how can I begin to live this life right now?
27. What have I accomplished, and if I had it my way, what would I accomplish in 2020?
28. What makes me the happiest?
29. What genuinely brings me joy?
30. How can I do more of things that bring me joy in the New Year?
31. What passions of mine makes time just go by so quickly?
32. If I wasn't worried about time or money, what would I do, be, or have?
33. What kind of person am I and what does my ideal life look like?
---
Popular: How to Attract More Money in 2020 using These Four Techniques!
---
These prompts above will help you narrow your wants and desires into more realistic tangible goals. Also, by doing this regularly, you can create your life and manifest your intentions just that much more in the coming year!
Read also:

Check out this next: 6 Habits That Will Help You Be More Mindful at Home.
You may also like…
Hi, my name is Rebecca and I am the face behind Everything Abode! I am a lifestyle and wellness writer based out of Vancouver Island. When I'm not writing or exploring mountains and beaches with my furry rescue, I love spending time learning creative ways to manifest a healthy home. Thanks for stopping by!
Subscribe to Get the Tools That Make My Blog Successful!
When you join my newsletter, I'm going to send you insider advice and tools that I use to grow my blog! I only save the BEST for my email list so don't wait!